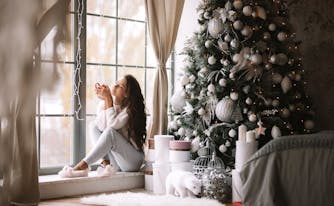 8 Loungewear Sets to Gift This Holiday Season
With many of us expected to continue spending the majority of our time at home for much of 2021, there's no better gift to give this year than a stylish (but most importantly comfy) loungewear set.
Here, we've rounded up our favorite loungewear sets of the year to inspire your holiday shopping. While most of our picks are super-affordable, we did include a few splurges in case you want to spoil someone special (including yourself!).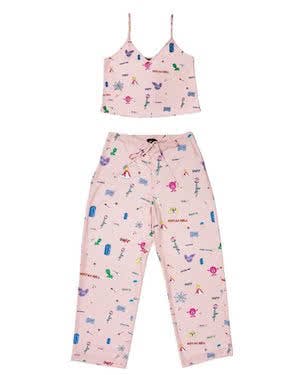 Hot Lava Art Girl Pajama Tank and Pajama Bottom
Best loungewear for women
If you or a friend have been extra-down this year about having to stay home more often than ever, a cute matching loungewear set could be just the thing to boost spirits. Check out these fun loungewear sets for women this holiday season.
Hot Lava Art Girl Pajama Tank ($38, shophotlava.com) and Pajama Bottom ($52, shophotlava.com): Hot Lava is a woman-owned brand based in Los Angeles. This pajama set was made in collaboration with artist Grace Miceli and features an eye-catching print. The top and bottom are available in sizes up to 3XL, making it easy to find the right fit for everyone on your list.
Zara Long Knit Jumpsuit ($69.90, zara.com): Want an effortlessly chic and ultra-comfortable loungewear set that won't break the bank? Zara's got you covered. Looking at these knits makes me want to crawl under my fluffiest comforter and take a midday nap just because I can.
Felina Modal Tank Chemise & Wrap ($60, felina.com): If you like the heater blasting and room to breathe in the winter, this loungewear set is perfect. When you're hanging out around the house, pair the nightshirt with the cozy sweater wrap. When you're ready for bed, pare down and enjoy the roomy sleep shirt.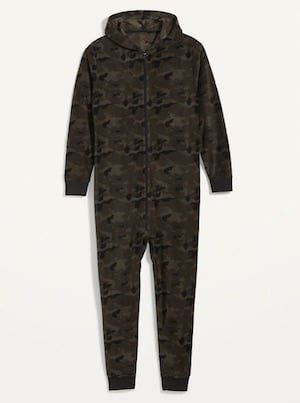 Old Navy Patterned Micro Performance Fleece One-Piece Pajamas
Best loungewear for men
Get the guys in your life some fresh loungewear to ring in 2021. Here are our favorite picks for men.
Old Navy Patterned Micro Performance Fleece One-Piece Pajamas ($45, oldnavy.com): Ever wanted to see your man in a one-piece? Now you can! He'll love how he feels in this soft fleece onesie that's available up to size XL and even comes in tall sizes.
ASOS DESIGN Lounge Waffle T-Shirt and Shorts Pajama Set with Cut and Sew Panels ($35, asos.com): ASOS branded items come in plus size and tall sizes, which makes shopping for the man in your life a breeze. This waffle set is cozy and fashionable—a major upgrade from the typical henley and sweatpants look most guys are used to wearing at home.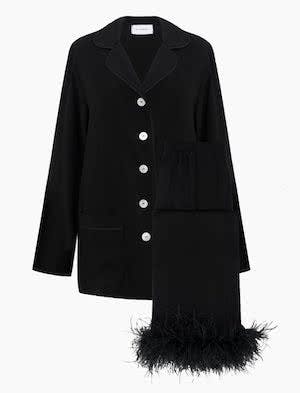 Sleeper Party Pajama Set with Feathers
Best loungewear sets to splurge on this year
2020 was a rough year—which is why we fully support treating yourself—or a loved one—to something nice this holiday. We've got these splurge-worthy loungewear sets on our holiday wish list this year.
Sleeper Party Pajama Set with Feathers ($290, sleeper.com): Nothing says glamour like feathers. These feather-trimmed pajamas are chic enough to wear in public (if that's ever a thing again)—and when you're at home, you'll feel like an elegant Hollywood starlet straight out of the '50s. They come in a variety of colors and are available in sizes XS to 3XL. The feathers are even detachable for easy care.
Barefoot Dreams Luxe Milk Jersey Short Sleeve Piped PJ Top & Boxer Set ($118, barefootdreams.com): If you want a no-frills, ultra-comfortable loungewear set, then this option is ideal. Choose from long or short sleeves and three soothing colors (faded rose, pewter, and blue water).
Lunya Restore Travel Kit ($298, lunya.co): While traveling is still off-limits, that doesn't mean you can't plan for the future. This loungewear set comes with everything you need to be comfortable on the road—a long-sleeve shirt, tank, pants, socks, sleep mask, and a bag to carry it all in.
In need of more gift ideas? These sleep essentials will help everyone on your holiday shopping list catch more Z's.