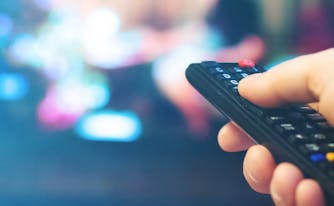 New Commercials Show What Mattress Shopping and Car Shopping Have in Common
Shopping in person for a mattress and shopping for a car have a lot in common: pushy salespeople, mysterious pricing, and steep markups because both mattress stores and car dealerships have to cover a wide range of costs, from rent to sales commissions to inventory fees. (That's why buying online is such a good deal.)
Add to the list another thing they have in common: Funny ad campaigns featuring elevator operators. In an instance of great creative minds thinking alike, Saatva and Hyundai have hit the airwaves with similar commercials showing just how awful traditional mattress and car shopping can be, guided by elevator operators who navigate customers to a better buying experience.
In Saatva's commercial, which launched in September 2018, our Sleep Guide takes a couple in need of a new mattress for a ride in a gilded elevator, with stops along the way at a search-engine bazaar, a mattress showroom full of scary salespeople, and a windswept desert where a guy pleads in vain for someone to help him schlep his heavy bed-in-a-box upstairs.
"If only there was a place where luxury mattresses and affordable prices lived in perfect harmony," says the Sleep Guide, "a place where people inform and guide instead of push and pressure, where white glove delivery is free and your old bed comes with us." With that, the elevator doors open, and they enter the peaceful world of Saatva, "where your mattress isn't put in a box, and neither are you!"
In Hyundai's commercial, which will make its debut during the 2019 Super Bowl, an elevator operator, played by the actor Jason Bateman, meets a car-shopping couple. Instead of up to sleep enlightenment, his elevator heads down, past the dentist's office, jury duty, middle airplane seats, and other hated places, until they arrive at the nadir: a car dealership. The couple decide they'd rather shop with Hyundai, which has a Shopper Assurance program that provides better transparency on pricing. Bateman reverses the elevator and takes them up to their new destination.
The bottom line: Both commercials prove that mattress shopping and car shopping don't need to be painful. Now if only we had an elevator operator to help us solve the rest of life's problems.
Ready for a New Mattress? See What Saatva Has to Offer
Saatva Classic Innerspring
Our flagship luxury mattress is expertly engineered with coil-on-coil construction for durability, a layer of memory foam for enhanced back support, and a cushiony Euro pillow top for extra comfort.
Shop