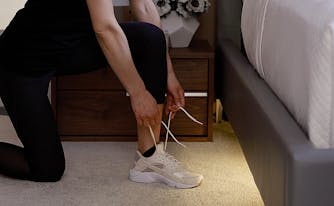 Saatva Gets a Shout-Out From Runner's World
Runners take sleep seriously, so we were especially proud this week when Runner's World, the country's premier running magazine, named Saatva one of the "Four Best Mattresses for Runners." In its review, Runner's World praised Saatva's ability to alleviate common runners' ailments like hip pain and low-back pain, citing our lumbar zone enhancement as a key to pain-free sleep.
RW's reviewer, Joe Auer of Mattress Clarity, also highlights Saatva's Lineal adjustable base: "Runners are familiar with the need to Rest, Ice, Compress, and Elevate sore feet. Saatva makes that easier for runners with its adjustable base." He especially likes Lineal's "zero gravity" function, which allows sleepers to raise their legs and torso at the same time, promoting circulation and relieving pressure on the low back and hips.
Learn More About Saatva's Best Products for Runners
Saatva Classic Innerspring
Our flagship luxury mattress is expertly engineered with coil-on-coil construction for durability and a layer of memory foam for enhanced back support.
Shop
Should you get an adjustable base?
Adjustable bases can make life easier for non-runners too. Along with providing pressure relief, they're great for anyone who likes to sit up in bed to read, watch TV, or work on a laptop (though not at bedtime!). Elevating your torso during sleep can also help people who suffer from acid reflux. And with a split king base and side-by-side twin XL mattresses, couples can have totally customized sleep experiences, each with its own elevation setting and comfort level.
Check out the "Four Best Mattresses for Runners" here.
Take a closer look at the Lineal and its features here.