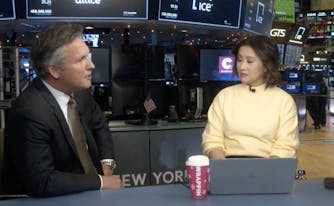 Watch: Saatva CEO Interviewed About Flagship Retail Store Opening
It's been a big week at Saatva: We opened our very first brick and mortar location, a first-of-its-kind Viewing Room at 969 Third Avenue in New York City. To talk about the decision to open a physical location, Saatva CEO Ron Rudzin sat down with the anchors of Shakers on Cheddar TV.
Watch the full interview here:
In the clip, Rudzin explains how the Saatva Viewing Room is different from traditional mattress stores. "We don't want to pressure the consumer," he says. Inside the 3,300-foot-square-foot space, you'll find iPads next to every mattress, so you can take your time to learn about the options and find the mattress that's best for the way you sleep. Visitors can also check out Saatva's upholstered bed frames, organic sheets, pillows, and more.
"With our new Viewing Room, we've created a beautiful, tranquil oasis for customers that's unlike anything else in the bedroom furnishings market," Rudzin previously told us. "An extension of our online presence, it's another way to experience our commitment to delivering white-glove customer service and high-quality, premium products that don't come in a box."