Saatva Introduces All-Natural, Organic Latex Hybrid Mattress
Eco-consciousness is at the heart of what we do at Saatva. Since the beginning, we've been committed to bringing you products that are good for the environment—and good for your health.
That's why we're thrilled to introduce the Saatva Latex Hybrid, an all-natural, organic mattress that combines the pressure-free support of latex with the classic innerspring feel you love. Our new Latex Hybrid is handcrafted with pure, nontoxic materials for the ultimate in cool and healthy sleep.
What's inside the Saatva Latex Hybrid mattress
At the heart of the Saatva Latex Hybrid is a plush layer of 100% natural Talalay latex, the most comfortable and breathable latex you can find.
Talalay's unique production process yields latex that is highly durable, consistent, and responsive, for unmatched pressure relief and support. Our Talalay latex, along with our cotton and wool, meet the highest standards for organic certification.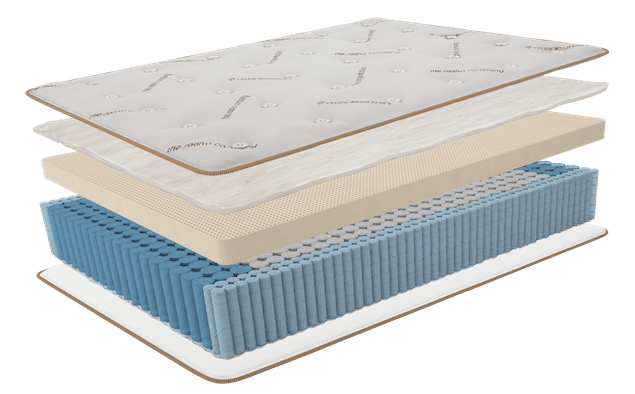 From the top down, here's a look at what's inside the mattress:
The hand-tufted finish locks mattress layers in place to ensure no shifting or separating. When paired with naturally resilient latex, this virtually eliminates the chance of body impressions.
The organic cotton cover is soft, breathable, and hypoallergenic. It's also protected with Guardin®, our exclusive botanical antimicrobial treatment.
The organic wool layer is free of harmful chemicals. 100% organic New Zealand wool acts as a flame retardant and provides additional breathability for cool sleep.
The Talalay latex layer is conforming and responsive. It provides excellent back support and pressure relief.
The individually wrapped recycled steel coil base responds and contours to your body, while also minimizing motion transfer.
The organic eco-loft pad provides a stable base for the layers and anchors the hand-tufting.
Saatva Latex Hybrid mattress certifications
If a mattress is certified by a third party to be organic and free of harmful chemicals, you can have confidence that your purchase is good for you and the planet. The Saatva Latex Hybrid has the following certifications:
GOTS: The Global Organic Textile Standard (GOTS) is the leading textile processing standard for organic fibers. Fabrics that carry the GOTS symbol must be made with at least 95% organic fiber, free of toxic chemicals, colored with nontoxic dyes, and meet strict social and environmental criteria. Saatva Latex Hybrid features 100% GOTS certified organic cotton and wool.
OEKO-TEX®: The OEKO-TEX® Standard 100 is the internationally accepted standard for certifying textiles and home furnishings. Materials, like our natural Talalay latex, that carry the OEKO-TEX® Standard 100 seal have been tested to ensure they're free of toxic chemicals.
Cradle to Cradle: Cradle to Cradle Certified™ is a globally recognized measure of safer, more sustainable products. A material with the Cradle to Cradle Certified™ seal, such as our Talalay latex, has to meet the standards in five sustainability categories: material health, material reuse, renewable energy and carbon management, water stewardship, and social fairness.
Rainforest Alliance: The Rainforest Alliance is an international nonprofit with the goal of protecting forests and improving the livelihood of farmers and forest communities. Rainforest Alliance certification focuses on biodiversity and resource conservation. The Rainforest Alliance Certified™ seal assures that our Talalay latex meets social, economic, and environmental sustainability criteria.
Eco-Institut: Eco-Institut is a German organization responsible for testing products for harmful chemicals. Materials with the Eco-Institut certification are guaranteed to be free of pollutants and emissions, meaning they won't off-gas in your home.
Try Our New All-Natural, Organic Mattress
Saatva Latex Hybrid
This all-natural, organic mattress combines the pressure-free support of Talalay latex with the classic innerspring feel. Handcrafted with pure materials for the ultimate in cool and healthy sleep.
Shop
Try Saatva Latex Hybrid for yourself
As with all of our luxury mattresses, you can enjoy a home trial of the Saatva Latex Hybrid before making a commitment—it's yours to try for 180 nights. A queen Latex Hybrid is $1,799. Head to saatva.com to learn more, and give us a call at 877-587-2575 with any questions.
Read our guide to hybrid mattresses to help choose the right one for you.