Doctors, nurses, and other first responders around the country are facing shortages of protective face masks as they work tirelessly to treat coronavirus patients.
When Stuart Carlitz, who runs Saatva's manufacturing network, heard about the mask shortage affecting front-line workers in New York City-the epicenter of the coronavirus pandemic in the United States-he was moved to action.
"When New York was being prepared to be overwhelmed, Governor Andrew Cuomo came on the news and talked about the shortage of supplies, his worries and concerns, and asked if there was any way to get manufacturers to convert to being able to make protective supplies," Carlitz says.
Governor Cuomo spoke specifically about the shortage of masks-and how some companies were charging exorbitant prices to take advantage of the situation.
"I had a mask in my hand at that moment," Carlitz recalls. He immediately looked into what materials were needed to make masks and realized that many of them were things Saatva already used to produce its mattresses. "I've always noticed when looking at these masks that they use certain nonwoven materials that have similarities, and in some cases are identical, to what we use in our mattress manufacturing."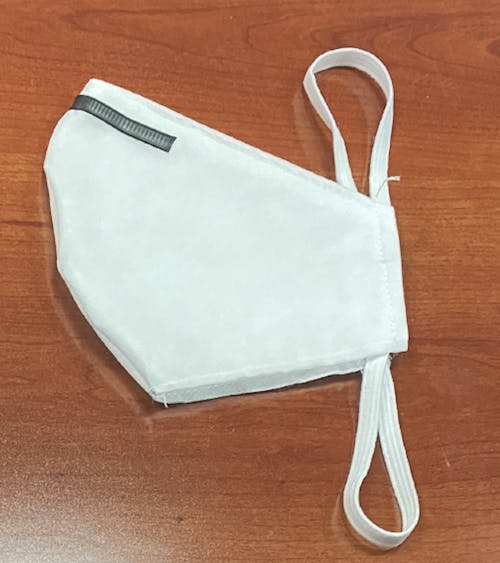 One of the masks produced at a Saatva network factory
Carlitz quickly reached out to suppliers to secure other materials he needed to make protective masks, including elastic for the ear loops and filter fabric. Once he had those in hand, he worked quickly to put together prototypes and an instruction manual for factory workers.
That first day, about a month ago, the team produced 40 masks. By the third day, they were up to 500 masks. "Some of our local hospitals were in such dire need that they were coming to our facility daily and picking up hundreds at a time," he says.
Carlitz then distributed the instruction manual to all of the manufacturers in Saatva's factory network across the United States. Now our 16 factory partners are producing approximately 75,000 masks a week, which they are donating to local hospitals, police stations, fire departments, rescue squads, and others on the front lines of the coronavirus pandemic.
Is your company interested in making masks for health care workers? Reach out to us at info@saatva.com. We'd be happy to share our instruction manual with you. Masks can be made using an embroidery machine or cut and sewn by hand.
Disclaimer: Face masks produced by Saatva's manufacturing network have not been examined, tested, or approved by the U.S. Federal and Drug Administration, do not meet the N95 respirator mask standards, and are not designed to block the spread of, or prevent a person from contracting, COVID-19.
Overwhelmed by the continuous stream of coronavirus news? We've put together a list of our best tips for managing nighttime stress and keeping your bedroom germ-free so you can sleep easier tonight.