Twin Size Bed Dimensions Guide
Whether you need an extra bed for guests or have a young child who's ready for a "big kid bed," look no further than a classic twin mattress.
"Twin beds are great for kids' bedrooms, guest bedrooms, and creating spaces with bunk beds," says Prudence Bailey, founder and principal designer of Prudence Home + Design in Connecticut.
Here's how to determine if a twin mattress is right for you, from twin bed dimensions to design considerations to keep in mind.
Twin bed dimensions
A twin mattress (also known as a single bed) measures 38 x 75 inches. A twin mattress size is considerably narrower than a full size mattress, which measures 54 x 75 inches. It's also shorter than a twin XL mattress, which measures 38 x 80 inches.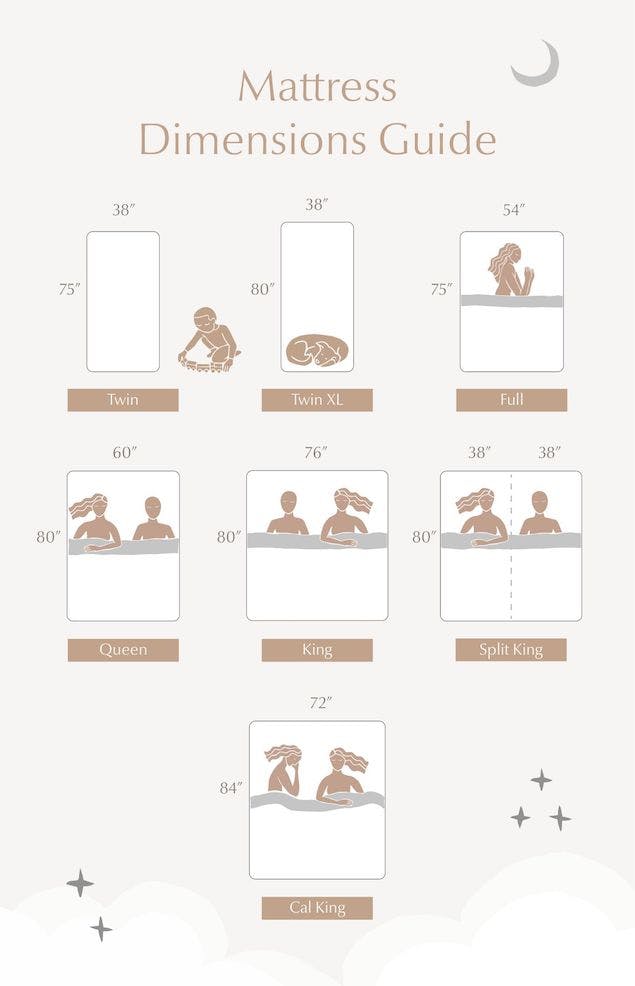 Benefits of a twin mattress
If you're thinking through twin bed dimensions to determine whether this size is a viable option, weigh these benefits:
A twin mattress is great for growing children. It's an ideal size between toddler beds and the full size mattress they may use as teenagers. It also fits nicely into kids' rooms. "Twin beds are so fantastic for kids' rooms because you don't need much space for them," says Bailey. "They can function as a bed or even a day bed."
Bailey adds that having two twin mattresses in a room is perfect for kids who love throwing sleepovers—or siblings who share a bedroom.
A twin mattress size is versatile—it can be used in bunk beds, day beds, and for solo sleepers in studio apartments. (Keep in mind, your bedroom should be 7 feet by 10 feet at minimum to fit a twin size mattress.)
Since a twin mattress is the smallest mattress size, it naturally comes with the smallest price tag and it's a piece of cake to move.
Our Best Twin Size Mattress for Children
Saatva Youth
This dual-sided innerspring mattress provides optimal support and comfort to children of all ages. Simply flip it over from the 3+ side to the 8+ side when your child is ready.
Shop
Drawbacks of a twin mattress
There are some downsides of twin bed dimensions to think through as well.
It's too small for two. Given that a twin mattress is only 38 inches in width total, it doesn't afford much space for two people. A queen size bed, which measures 60 x 80 inches, is the ideal mattress size for couples because each sleeper gets about 30 inches of space to themselves.
Because it's only 75 inches long (which translates to 6 feet 2 inches), a twin size mattress may not be long enough for taller teens or adults. If you're over 6 feet tall, or you suspect your teen is still growing, a twin XL might be a better option because it offers an additional 5 inches in length.
"Twin beds feel small for most adults, so they are a much better option for children," says Bailey.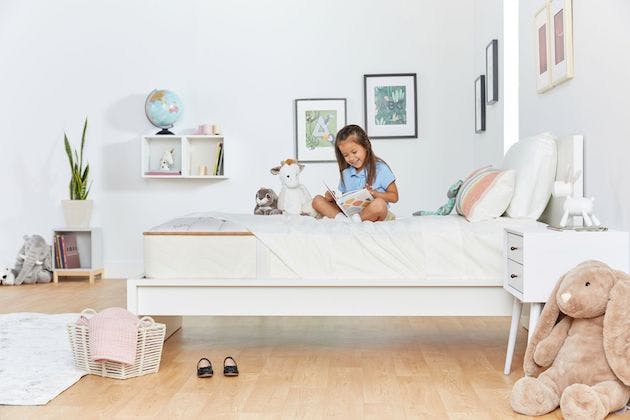 Think about where you'll place a twin size mattress in your child's bedroom before choosing other furniture.
Design considerations for a twin mattress
Whether you're setting up a kids' room with a twin mattress as the focal point, outfitting your studio apartment, or planning a guest room, here are some design tips to contemplate.
First things first: Consider what's happening in the room besides sleeping. "We just put a single twin in a boy's room because his room serves as a playroom also, so this gave him ample floor space," says Bailey. "Additionally, we created a custom day bed with a twin mattress for a nursery so Mom or Dad could sleep in there if needed."
Then, think about where the mattress is going to go in the room—this will inform what other furniture you need. "When choosing a twin, make sure you know the placement before choosing other furniture," she says. "You may only need one nightstand if the bed is against the wall, for example."
Lighting is an important choice too. "Since most of the time, a twin is in a child's room and the lamps tend to be smaller, hang an overhead light such as a flush mount for regular ceilings or a fun pendant or chandelier for higher ceilings," says Bailey. This will give great accent lighting to the space."
Looking for a Twin Size Bed for Your Guest Room? Shop These Saatva Mattresses
Saatva Classic
Our flagship luxury mattress is expertly engineered with coil-on-coil construction for durability, a layer of memory foam for enhanced back support, and a cushiony Euro pillow top for extra comfort.
Shop
Twin mattress foundation
Lastly, you'll need to think through the foundation. In general, twin mattresses can be paired with several foundation types—just be sure to double-check with the manufacturer to see what your mattress is compatible with.
A traditional box spring foundation historically contained actual springs in a wood box, but today, it's more of a fabric-covered or exposed wood frame that supports the mattress and creates a comfortable height for your bed.
A platform bed is a modern option meant to be used without a foundation since the mattress rests directly on the platform. Some platform beds come with built-in storage, a great option for kids' rooms or adults in small apartments.
A bunk bed features two twin mattresses stacked around 3 feet apart. It's typically used in children's rooms to maximize space.
A day bed is a multipurpose piece of furniture—it's a couch that doubles as a bed, making it a suitable option for guest rooms or small spaces. There are many different daybed styles—some are on platform bases without arms or a back (in which case you'd need to add pillows so someone could sit back while resting on it), while others have arms and a back made from wood or metal.
Decided on a twin mattress for your child's room, but not sure which bed is right for your child? Here's how to choose the best kids' mattress.