Saatva Celebrates Earth Day
Saatva introduces its new Latex Hybrid mattress and collection of eco-friendly, organic bedding.
Since its inception, Saatva has been committed to designing and manufacturing products that are good for the environment and good for the health of its customers while delivering an incredible sleep experience. From award-winning mattresses in every category to striking, sustainably sourced designer bed frames, to a sumptuous range of eco-friendly bedding and pillows, Saatva uses materials that are held to the highest standards of safety and environmental responsibility. Eco-consciousness and healthy sleep are integral to Saatva's brand values. 
A green ethos is built into the company's infrastructure. Saatva's national network of 19 factories and more than 150 delivery partners brings the brand within 60 miles of 85% of households in the continental U.S. for efficient white-glove delivery, which means it is able to lower carbon emissions while supporting local economies. On this Earth Day, Saatva proudly champions the newest addition to its mattress collection, the Latex Hybrid, an all-natural, organic mattress that combines the pressure-free comfort of sustainably-harvested natural latex with breathable organic wool and cotton atop a base of steel innersprings. Layer by layer, it is thoughtfully designed with the purest, natural materials to allow for healthier, more restorative sleep.
"Environmental consciousness has always been at the heart of what we do here at Saatva. We use eco-friendly and responsibly-sourced materials in all of our mattresses, including our newest addition, the Latex Hybrid. All of our mattresses are covered in organic cotton that's free of harmful chemicals and protected with a botanical antimicrobial treatment. Even our business model is green: Our national network of manufacturing and delivery partners means mattresses generally travel less than 100 miles from the factory to the customer's home, which keeps our carbon footprint low." Ron Rudzin, CEO
The Latex Hybrid, Saatva's natural and organic hand-tufted latex hybrid mattress
Like all Saatva mattresses, the Latex Hybrid is made-to-order as part of the brand's no-waste philosophy. Each layer is handcrafted using the highest quality eco-friendly materials, sustainably sourced from nature. It features naturally hypoallergenic, natural latex, which repels dust mites, mold, and other common indoor allergens. Latex, which comes from the sap of rubber trees, is free of toxic chemicals, emissions, and pollutants. It is paired with an individually-wrapped, recycled steel coil base that supports and contours to the body for the ultimate in healthy, restful sleep.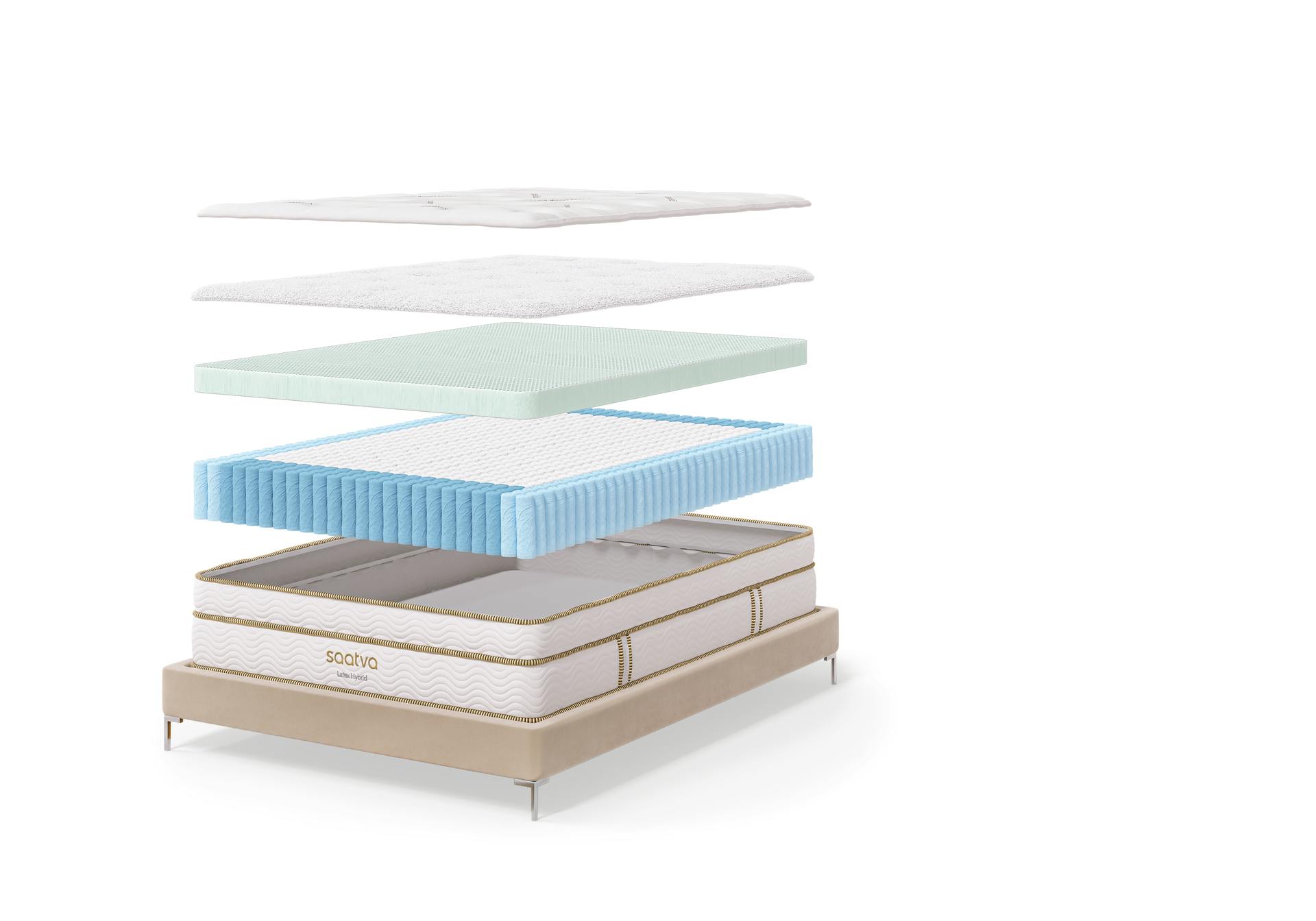 The soft and breathable GOTS-certified organic cotton cover is hand-tufted with a cushioned Euro top design. It's also treated with our exclusive Guardin™ botanical antimicrobial treatment
Free of harmful chemicals, its second layer is made exclusively of 100% GOTS-certified organic wool, a natural flame retardant that regulates your body temperature for extra breathability
The five distinct density zones in the natural latex layer provide enhanced support in the lumbar region and maximum pressure-point relief
Three unique zones of recycled steel coils work together to respond to your body's movements. This minimizes motion transfer and offers excellent edge support
The bottom layer, an organic eco-loft pad, is made of a combination of  100% GOTS certified organic wool and cotton and securely anchors the hand tufting to prevent the base layers from shifting
One of the easiest things people can do at home to make a difference for the Earth—and their health in the process—is to switch to eco-friendly, non-toxic bedding. Organic cotton is grown without chemical insecticides or synthetic fertilizers, which reduces negative effects on soil and local water systems. Because organic cotton doesn't contain chemicals, it's also less likely than conventionally grown cotton to irritate sensitive skin.
Saatva produces bedding using premium, long-staple, GOTS (Global Organic Textile Standard) certified organic cotton in various weaves based on different sleep types. The Sateen Sheet Set features silky-soft cotton with timeless elegance for those who prefer a warmer sleep environment. The Percale Sheet Set offers a crisp and cool experience with a luxe matte finish. The responsibly-sourced, all-natural Belgian Linen Sheet Set stays cool in the summer, warm in the winter, and gets softer with every wash. All three collections are made in Fair Trade Certified™ factories with the most rigorous standards of economic and social responsibility for their workers. 
Check out these related reads on the Sleep Enlightened Blog
For press inquiries please contact:
Shari Ajayi - Senior Public Relations Manager
For media inquiries or image requests, contact Shari Ajayi at press@saatva.com
For influencer relations and social media partnerships, sign up here
For other inquiries, please contact us at info@saatva.com