Saatva opens its Southern California Viewing Room in Los Angeles
The DTC mattress company's modern retail experience arrives to Southern California in time for World Sleep Day
Saatva, America's Smarter Luxury Sleep brand, has opened in Los Angeles, just in time for National Sleep Week. The Saatva Viewing Room, in the vibrant West Hollywood district, is the company's first location in Southern California. The immersive 3,960-square-foot space was conceptualized by renowned interior designer Vicente Wolf. Designed to be more than a standard mattress store, Saatva's new Viewing Room is the ultimate destination for integrated mattress exploration, education, and a modern retail technology experience. 
"We're thrilled to be opening our newest Viewing Room in the heart of one of LA's major design districts," said Saatva CEO, Ron Rudzin, of the Melrose Avenue location. "An extension of our online presence, it's another way to experience our commitment to delivering white-glove customer service and made-to-order, premium mattresses that don't come in a box."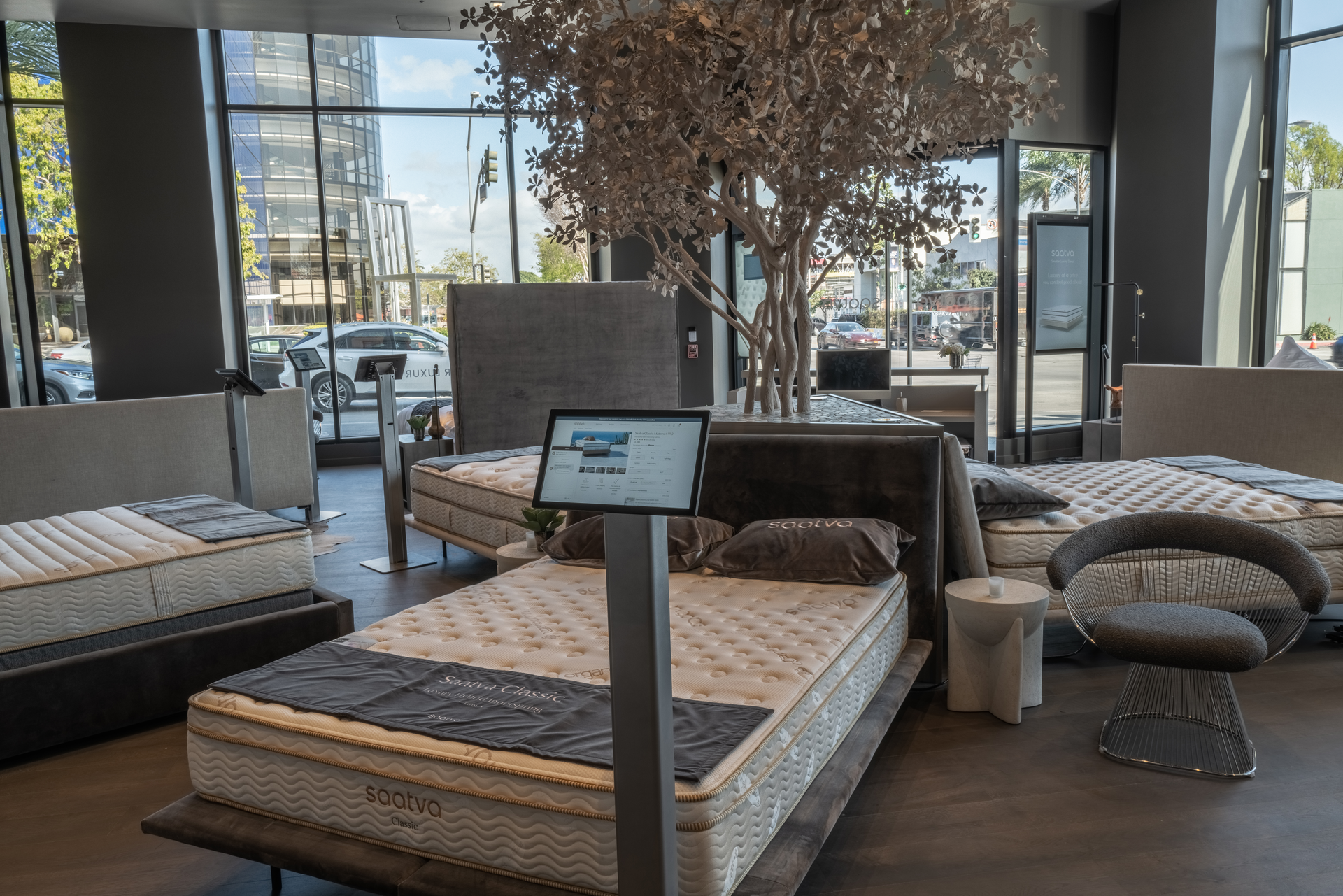 Innovative Design
With its neutral color palette, soft lighting, and aromatic fragrance, Saatva Los Angeles, like all the Saatva Viewing Rooms Wolf has designed, offers an inviting respite from the city's bustle.  In a nod to its LA surroundings, Wolf added local flair with a modern, architecturally embellished environment, evoking both drama and romance.  At first glance, one notices the beds positioned under silvery trees.  Striking, tree-etched clear acrylic panels hang above, seemingly shading the beds from the elements.   The result is a clean, unfussy atmosphere that is simultaneously calming and visually enticing, with a touch of fantasy.
Wolf, who also designed Saatva's three previous Viewing Rooms, in New York, Washington D.C., and San Francisco, took advantage of the unique corner location to create a light-filled showcase for Saatva's luxury bedding collections. In addition to the full lineup of made-to-order mattresses—featuring innerspring, memory foam, latex, hybrid, adjustable air, youth, and crib options—the Viewing Room will offer a first look at Saatva's latest introduction, the Modern Foam mattress.  Saatva's suite of luxury bedding products will be on display, including the new Organic Velvet Diamond quilt and the Organic Channel Cotton quilt, perfect for upgrading one's sleep sanctuary.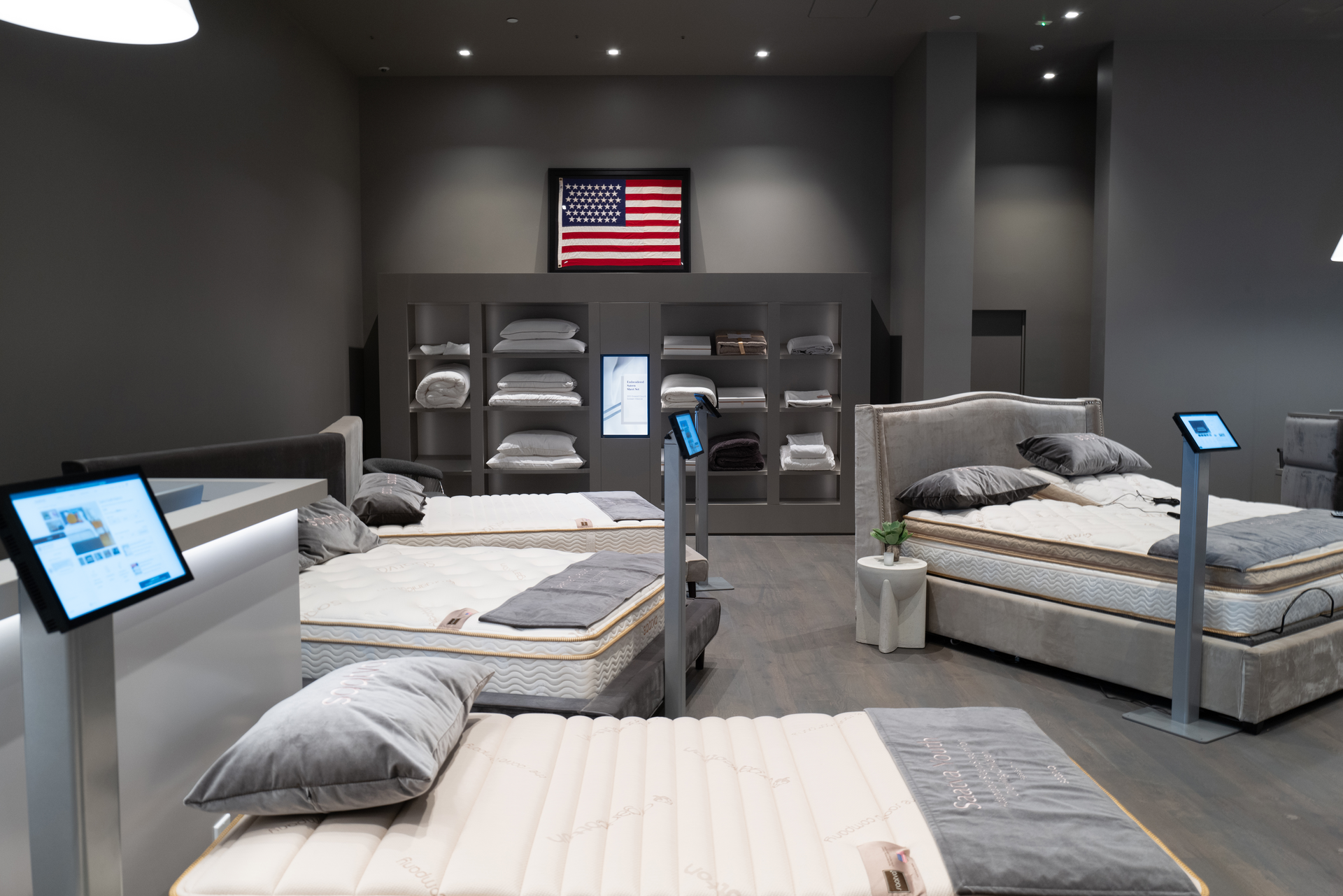 Cutting-Edge Technology
Thanks to a partnership with Samsung, the LA Viewing Room is outfitted with the latest displays and state-of-the-art behavior-sensing technology to help customers discover, personalize, and build their ideal sleep experience. Visitors can use the information kiosks at each bed display to interact with the collection at their own pace, with knowledgeable Sleep Guides on hand to assist and answer questions.
"Samsung is committed to helping retailers provide unique and enhanced customer experiences by leveraging data and in-store behavior," said Chris Mertens, Vice President of Sales, Display Division Samsung Electronics America.  "Our continued partnership with Saatva is a testament to how our display technology and software solutions continue to improve the customer journey from the moment the consumer enters the store."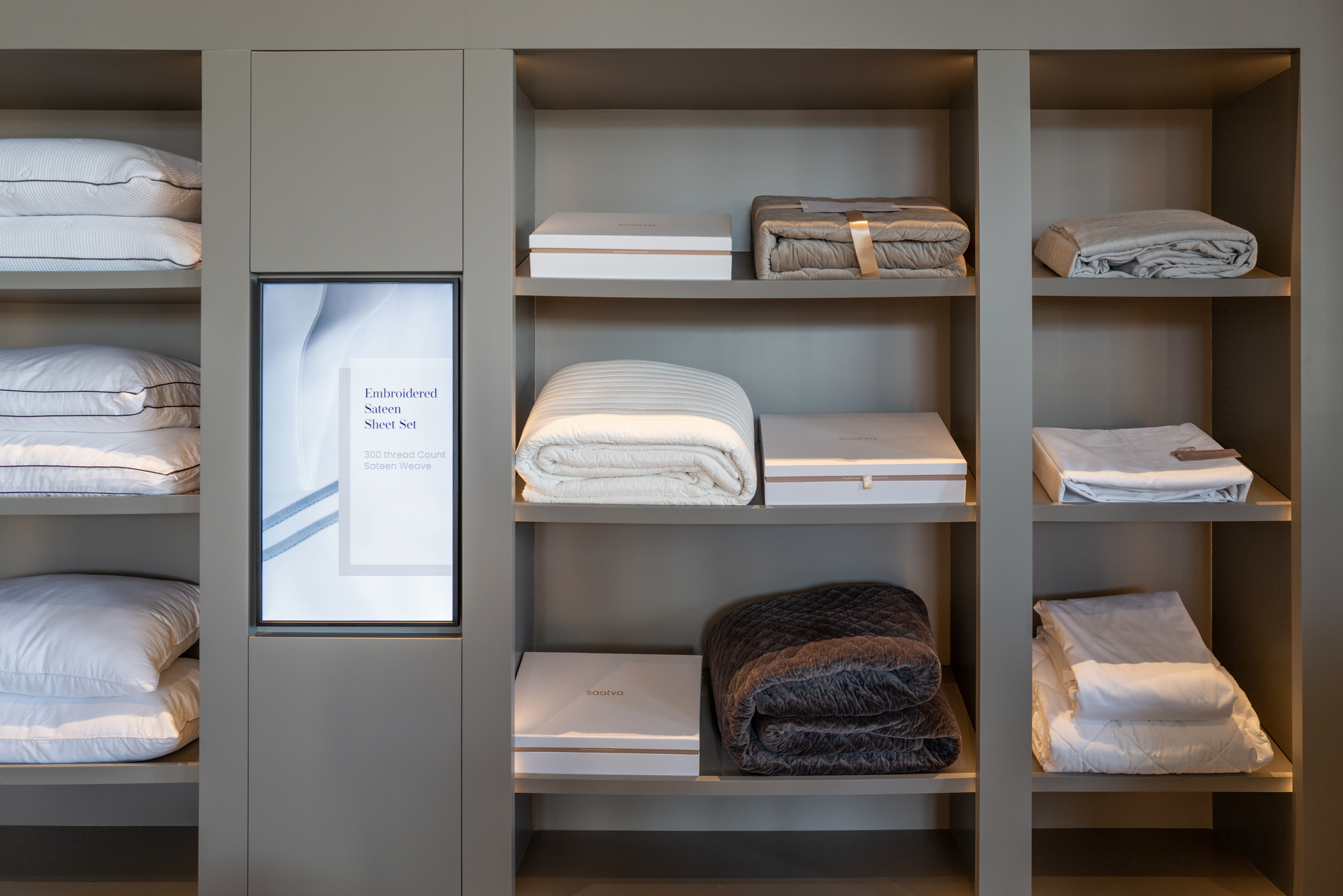 As customers explore bedding, pillow, and other top-of-bed accessories, for example, an LED display embedded in the accessories wall changes to display pertinent product information. In the children's bed area, kids can interact with the Flip, a 55-inch whiteboard with a touch screen for drawing. 
"Samsung's technology allows us to optimize and automate store campaigns and product information based on real-time integrated data to deliver the content and information that our customers care about most when shopping," said Rudzin.
The Viewing Room opens just in time for National Sleep Week, which takes place every year when the clocks "spring forward." Now, LA residents can discover how to make the most of their sleep all year long with a curated selection of best-in-class luxury mattresses and a giftable assortment of eco-friendly and organic bedding products. Visit the newest Viewing Room to experience what makes Saatva the Smarter Luxury Sleep company.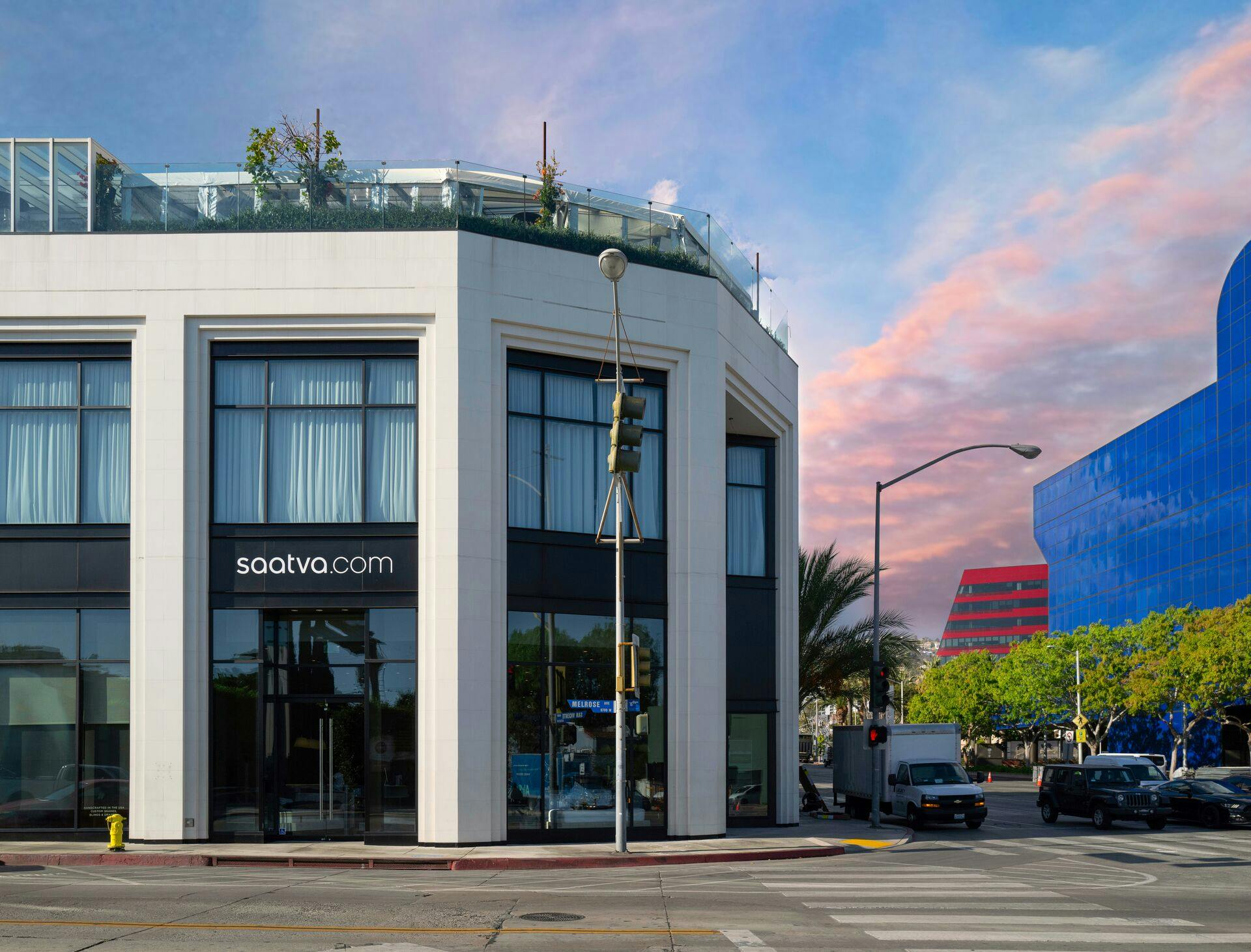 Viewing Room Information:
Saatva Los Angeles
8715 Melrose Avenue
Los Angeles, CA 90069
Hours of operation: Monday - Friday 10 AM - 7 PM, Saturday 10 AM - 6 PM, Sunday 11 AM - 6 PM
323.943.1300
Check out these related reads on the Sleep Enlightened Blog
To receive the press kit please contact:
Shari Ajayi - Senior Public Relations Manager
For media inquiries or image requests, contact Shari Ajayi at press@saatva.com
For influencer relations and social media partnerships, sign up here
For other inquiries, please contact us at info@saatva.com