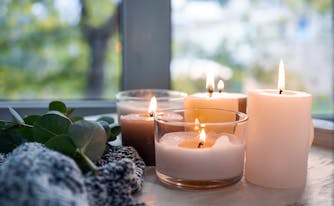 12 Best Candles for Better Sleep
Sipping a cup of hot tea while a scented candle wafts through my bedroom is one of my favorite ways to relax before bed. It never fails to quiet my mind and let my internal clock know that sleep is on the horizon.
It turns out that some candle scents have real science behind them when it comes to relieving sleep-disrupting anxiety and stress.
Best candles for sleep
To help you understand which candles are best for sleep, here are few notable scents that are proven to relax your mind, slow anxiety, and ease you into sleep faster.
Bonus: These candles make great gifts for the holiday season—and they're also a perfect "treat yourself" purchase if you're looking to make sleep a top priority during the holidays and beyond.
Lavender candles
One study found that participants who inhaled lavender before bed reported better sleep quality than those who did not. Other studies have found that lavender is effective at helping to stabilize moods and treat anxiety.
Here are a few lavender candles for sleep we recommend: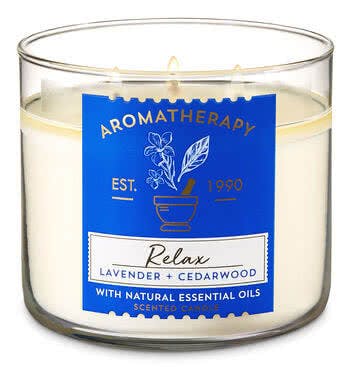 Bath & Body Works Lavender Cedarwood 3-Wick Candle ($14.50, bathandbodyworks.com): Bath & Body Works candles are great for filling the entire room with a scent. This three-wick candle burns evenly and is made with essential oils to do the trick of calming you down before bed.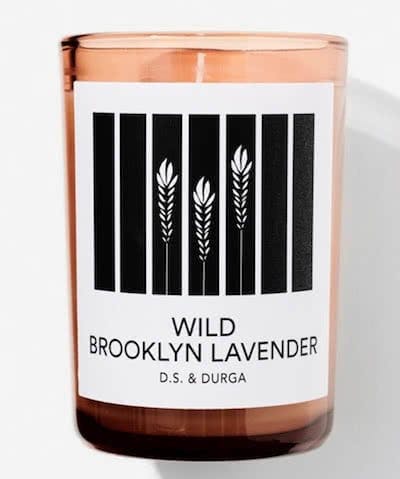 D. S. & Durga Wild Brooklyn Lavender Candle ($65, thesleepcode.com): This candle is 100% vegan and produced to be foam-free, recyclable, and biodegradable. It's the perfect gift for the insomniac in your life who also likes to be environmentally-conscious.
Jasmine candles
According to sleep expert Michael Breus, PhD, inhaling jasmine before bed will not only help you fall asleep but will also promote more restful sleep throughout the night. If you have trouble staying asleep, this could be a great scent for you to start with.
Here are a few jasmine candles we recommend: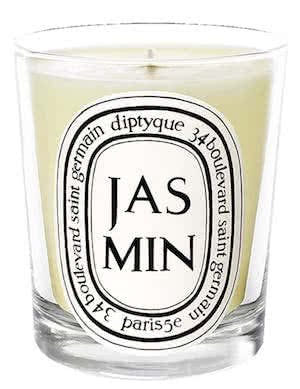 Diptyque Jasmine Candle ($68, diptyque.com): Diptyque candles are known for being a pricier option—but they have a long burn time (60 hours), and their scent fills any room immediately. Plus, when you've burned it all, you can scoop out the remaining bits at the end and use the chic container in your bathroom or vanity to hold Q-tips, lipsticks, and more.
Aubert & Amandine KIEKAN Luxury Sandalwood Jasmine Scented Soy Candle ($21.97, aubertamandine.com): This candle is made with essential oils and is highly concentrated to give off a noticeable jasmine scent. The decorative jar it comes in can be used as home decor later.
Chamomile candles
Chamomile has been used as a mild sedative to help induce sleep for centuries. Chamomile's calming effects are believed to come from an antioxidant called apigenin, which helps ease the brain into relaxation. You've probably already heard of sipping chamomile tea for bedtime, so why not up the ante and sip your tea as a chamomile candle burns in the background?
Here are a few chamomile candles we recommend: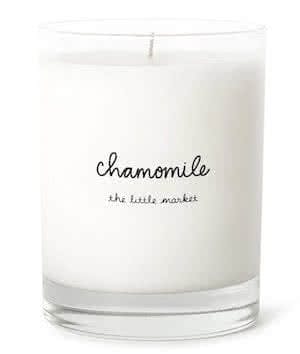 The Little Market Chamomile Candle ($36, thelittlemarket.com): The Little Market is a non-profit fair trade shop that aims to empower women and close the gender pay gap. This candle will not only fill the room with a relaxing chamomile scent, but profits go to artisans at Prosperity Candle who have resettled as refugees in the United States.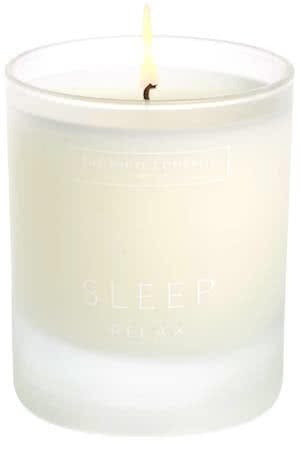 The White Company Natural Sleep Candle ($26, thewhitecompany.com): This candle combines chamomile and lavender to produce an exclusive mix designed for sleep. Reviewers love that you smell the fragrance mix and not the wax smell typical of some cheaper candles.
Vanilla candles
Vanilla might relax you by reminding you of freshly baked cookies in the oven during the holidays, but it also has real benefits for helping you sleep. According to Psychology Today, the smell of vanilla "can reduce hyperactivity and restlessness, quiet the nervous system, and lower blood pressure." One study showed that people who breathed in a vanilla-like scent during an MRI had less anxiety during the procedure than those who didn't.
Here are a few vanilla candles we recommend: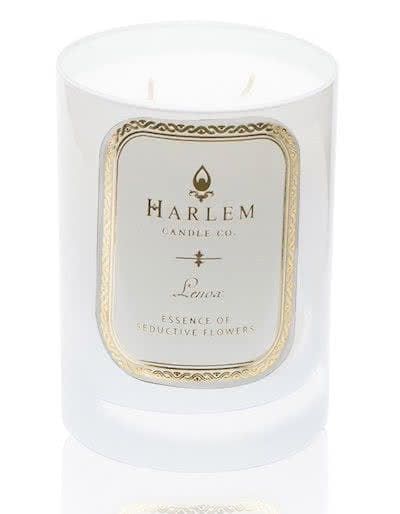 Harlem Candle Co. Lenox Luxury Candle ($45, harlemcandlecompany.com): This candle features vanilla and sandalwood, plus tangerine and green apple. It's designed to burn for up to 80 hours and mimics the diverse range of scents found on Lenox Avenue in Harlem, New York.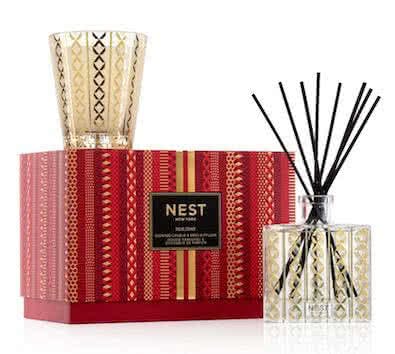 Nest Holiday Classic Candle & Diffuser Set ($75, nestnewyork.com): The holiday set from Nest also includes a diffuser and a decorative box, making it an easy way to put something together for someone you love. This set includes a candle made from vanilla, amber, clove, and cinnamon to give a relaxing wintry vibe to your candle burning session.
Neroli candles
While neroli isn't as popular for sleep as chamomile and lavender, you shouldn't discount it. One study published in Evidence-Based Complementary and Alternative Medicine found that inhaling neroli before bed helped "decrease anxiety and increase sleep quality in cancer patients" and promote better sleep overall.
Here are a few neroli candles we recommend: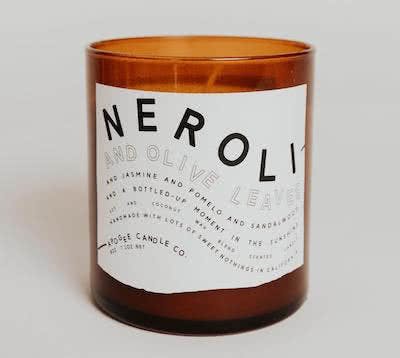 Apogee Candle Co. Olive Leaf + Neroli Candle ($23, etsy.com): Apogee Candle Co. candles are handmade in California. This candle comes in your choice of 4- or 10-oz and combines neroli, olive leaves, jasmine, pomelo, and sandalwood. The graphic design plus dark glass jar work together to add a modern touch to your apartment or home.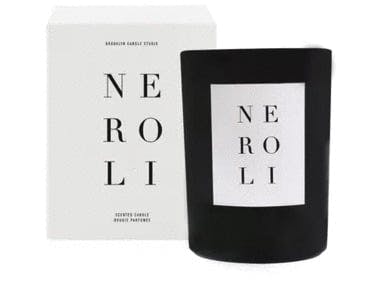 Brooklyn Candle Studio Neroli Candle ($38, shen-beauty.com): If you're dreaming about the next time you can visit Brooklyn, a great way to stay connected is by supporting the local businesses there. At Brooklyn Candle Studio, each candle is hand-poured, vegan, and cruelty-free. This neroli-scented candle also features dream-inducing fragrances like jasmine and santal.
Sandalwood candles
Simply saying the word "sandalwood" makes me feel dreamy already. And the science is there to back up why this scent is so good for helping you sleep. Research has shown that sandalwood has sedative-like effects that help induce sleep faster.
Here are a few sandalwood candles we recommend: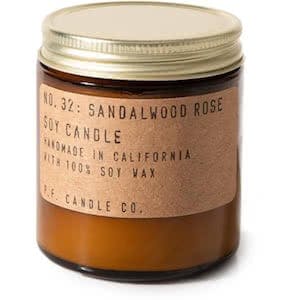 P.F. Candle Co Sandalwood Rose Candle ($20, pfcandleco.com): P.F. Candle Co started as an Etsy shop in 2008, and is now sold in major retailers across the country. This heavenly sandalwood and rose candle is made from soy wax and fragrance oils and is designed to fit perfectly on nightstands. Light it before bed before you're ready to drift off to sleep.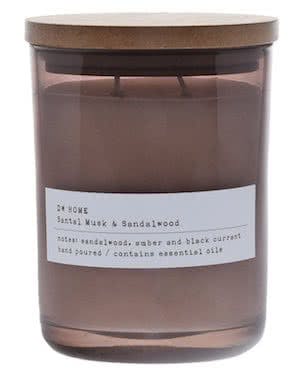 DW Home Santal Musk & Sandalwood Candle ($16, dwhome.com): This relaxing candle blends warm musk with sandalwood, amber, and vanilla bean. Reviewers describe it as warm and rich without being overpowering—the perfect nighttime treat.
For more ways to unwind before bed, we've put together this list of the top nighttime activities to help you relax.