When you're shopping for a mattress, there are plenty of decisions you have to make: innerspring vs. memory foam, firm vs. soft, cotton cover vs. bamboo cover, adjustable base vs. traditional box spring…and the list goes on.
However, the first decision you'll often make is mattress size. While some shoppers may debate between a king mattress and a queen, those with slightly less space may be weighing the options between a queen mattress and a full mattress.
Is a full or queen-size mattress right for you? Our full vs. queen guide will help you determine just that.
Full mattress size
A full-size mattress measures 54 inches wide by 75 inches long.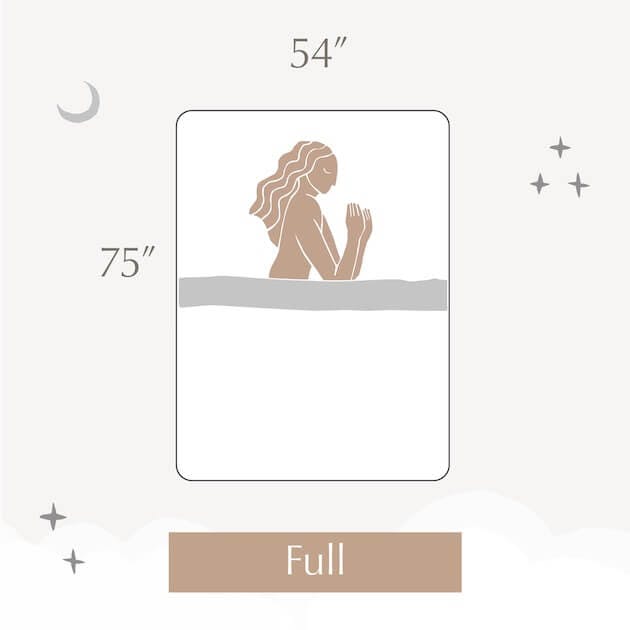 Pros of a full
Thinking of buying a full-size bed? Here are the top four benefits:
Full-size beds offer an ideal situation for solo sleepers. If you live by yourself, a full-size bed will provide ample room.
This mattress size is a natural fit in downsized spaces. Those who live in apartments or who have small bedrooms will find that a full-size bed is a good option. A full-size bed can fit comfortably into a bedroom that's at minimum, 10 feet by 10 feet.
Full-size beds are a great option for children. That's because a child typically won't outgrow the bed until they leave home.
They're also usually less expensive than their larger counterparts and easier to transport than bigger mattresses.
Cons of a full
A full-size mattress isn't without its drawbacks. Consider these points before shopping for one:
They don't provide adequate space for most couples. In a full-size bed, each person will only have 27 inches of space for themselves. Queen- and king-size beds are much roomier, offering 30 inches and 38 inches per person, respectively.
Since they're not especially long, full-size beds aren't a great option for tall folks. A full-size bed is just barely over 6 feet in length, so you're looking at feet hanging over the edge of the bed if you're a few inches over 6 feet tall. Taller individuals will be better suited to a queen, or if you have the space, a king-size mattress.
Queen mattress size
A queen-size mattress measures 60 inches wide by 80 inches long.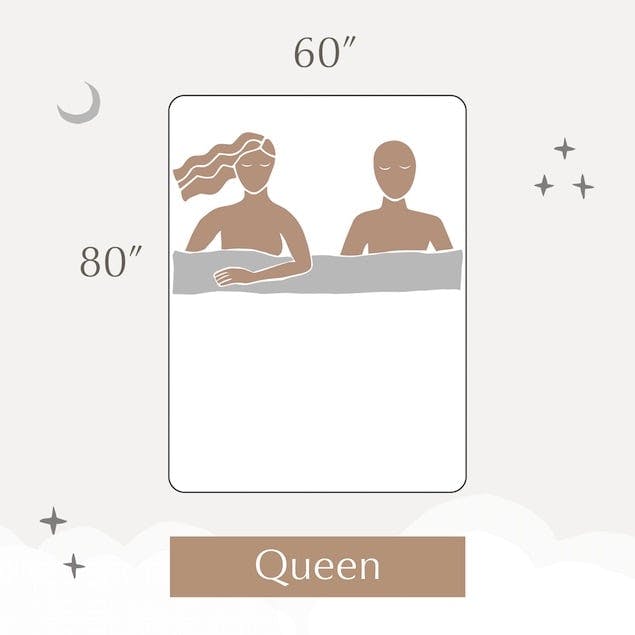 Pros of a queen
There are plenty of reasons to choose a queen size bed. Here are the main benefits:
It's versatile, making it an outstanding option for couples and solo sleepers alike. Each sleeper gets about 30 inches of space to themselves. This gives couples plenty of room to move around. If you're a combination sleeper—someone who switches positions throughout the night—you should have enough room in a queen-size bed so you won't disturb your partner.
You'll have enough room for kids and pets as well. Although a queen-size mattress isn't quite as large as a standard king, you should still comfortably be able to snuggle with your family.
Cons of a queen
In our humble opinion, there aren't really many drawbacks to a queen-size bed. Still, here are a couple of things to keep in mind before purchasing one:
Naturally, a queen-size bed doesn't offer as much room for couples and/or families as a king-size bed. You'll have 16 inches less in width in a queen-size bed than you would in a king.
If you have a very small bedroom, a queen size bed is still sizable enough to cramp your space. You should only choose a queen-size mattress if your bedroom is at minimum, 10 feet by 10 feet.
Things to consider before buying
Now that we've reviewed the pros and cons of full- and queen-size mattresses, here are a few more points to consider before making a decision.
Room size and layout
For many people, the biggest determining factor for buying a full vs. queen mattress will be room size. According to Sherri Monte, co-owner of Elegant Simplicity, an interior design and professional home organizing firm in Seattle, ideally you should aim to have at least 26-30 inches on either side of the bed and 30-36 inches between the foot of the bed and a wall.
"This not only allows for enough space that you don't feel cramped when getting in or out of bed, but it also allows ample room to layer in decorative accents or nightstands that feel like the correct proportions," explains Monte.
Other things to consider are where additional key elements in the room are located such as a closet, window, or door, Monte reminds. "These will all play a role in your furniture layout, what you need from your bedroom, and in how large of a bed you can have in a particular space," she says.
Number of sleepers
Deciding between a queen mattress and a full mattress can also come down to how many sleepers are going to be snoozing on the bed. If you're sleeping alone, the decision may be based more on room size and budget, but if you're sleeping with a partner, kids, or pets, you'll want to factor them into your mattress decision as well.
A traditional twin mattress measures 38 inches wide and 75 inches long. A full mattress is the same length as a twin but provides an additional 16 inches of width—perhaps all you need for a small furry sleep-mate, but definitely snug if your bed partner is human.
Sleeping style
Your sleep position can also weigh into your decision for finding the right mattress size for you. While stomach sleepers often stay fairly compact, back or side sleepers may have more of a tendency to sleep spread eagle and appreciate the extra space of a queen mattress.
Sleeper body size
While room size is a key element in your mattress decisions, it's also important to factor in the body size of the sleeper as well. If you're taller or bigger-bodied, you'll want to ensure that you select a mattress that will not only fit your body size but provide the support and comfort you need for a good night's sleep. A queen mattress is 6 inches longer than a full-size bed, so it may be a more comfortable option for someone over 6 feet tall.
Budget
In general, the smaller the mattress is, the less expensive it will be. However, the price difference between a full vs. queen mattress varies greatly by brand. On average, most queen mattresses are 10%-15% more expensive than the full mattress of the same style and brand.
Choose the right full- or queen-size mattress for you at Saatva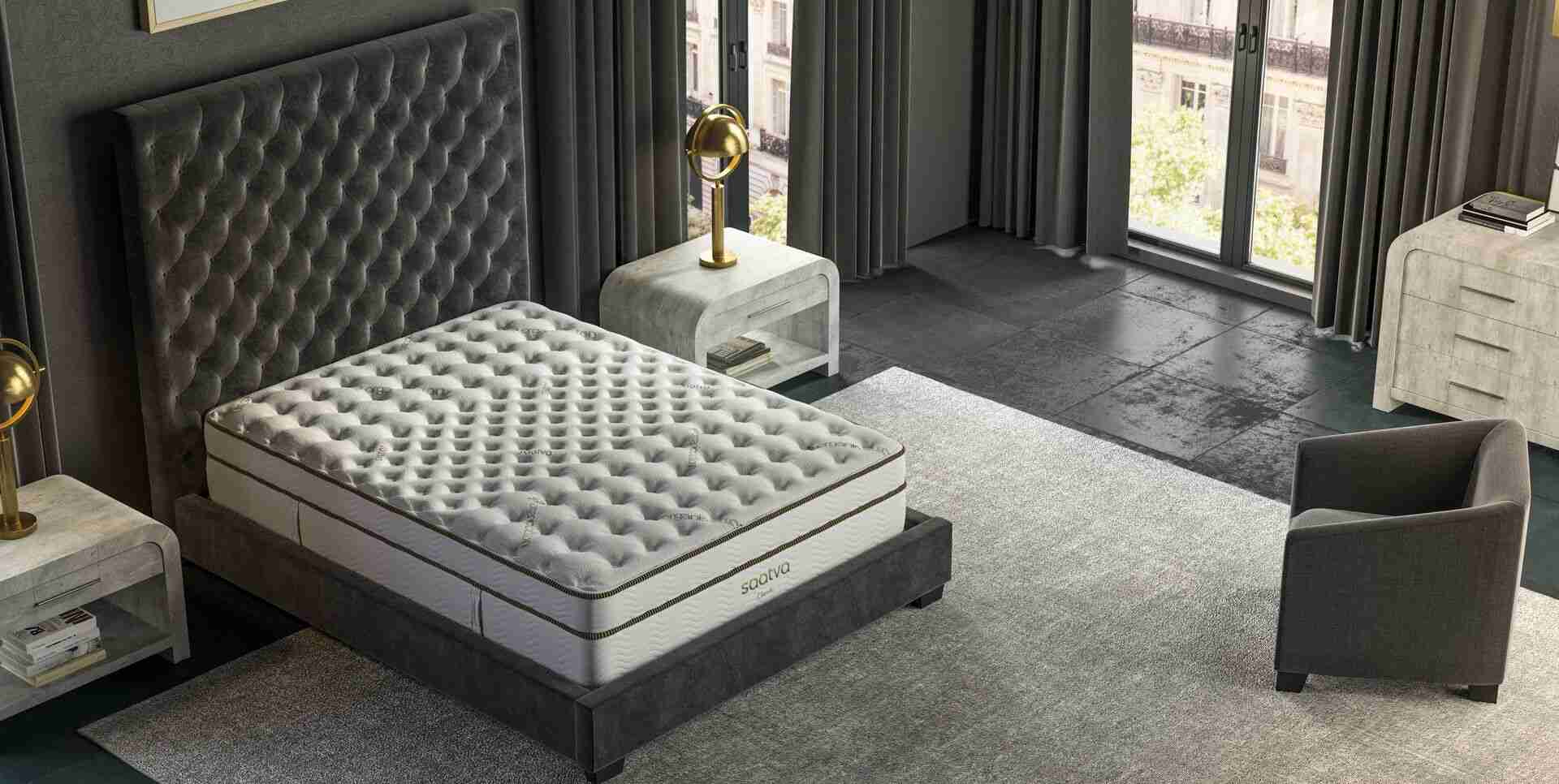 Our flagship luxury mattress is expertly engineered with coil-on-coil construction for durability, a layer of memory foam for enhanced back support, and a cushiony Euro pillow top for extra comfort.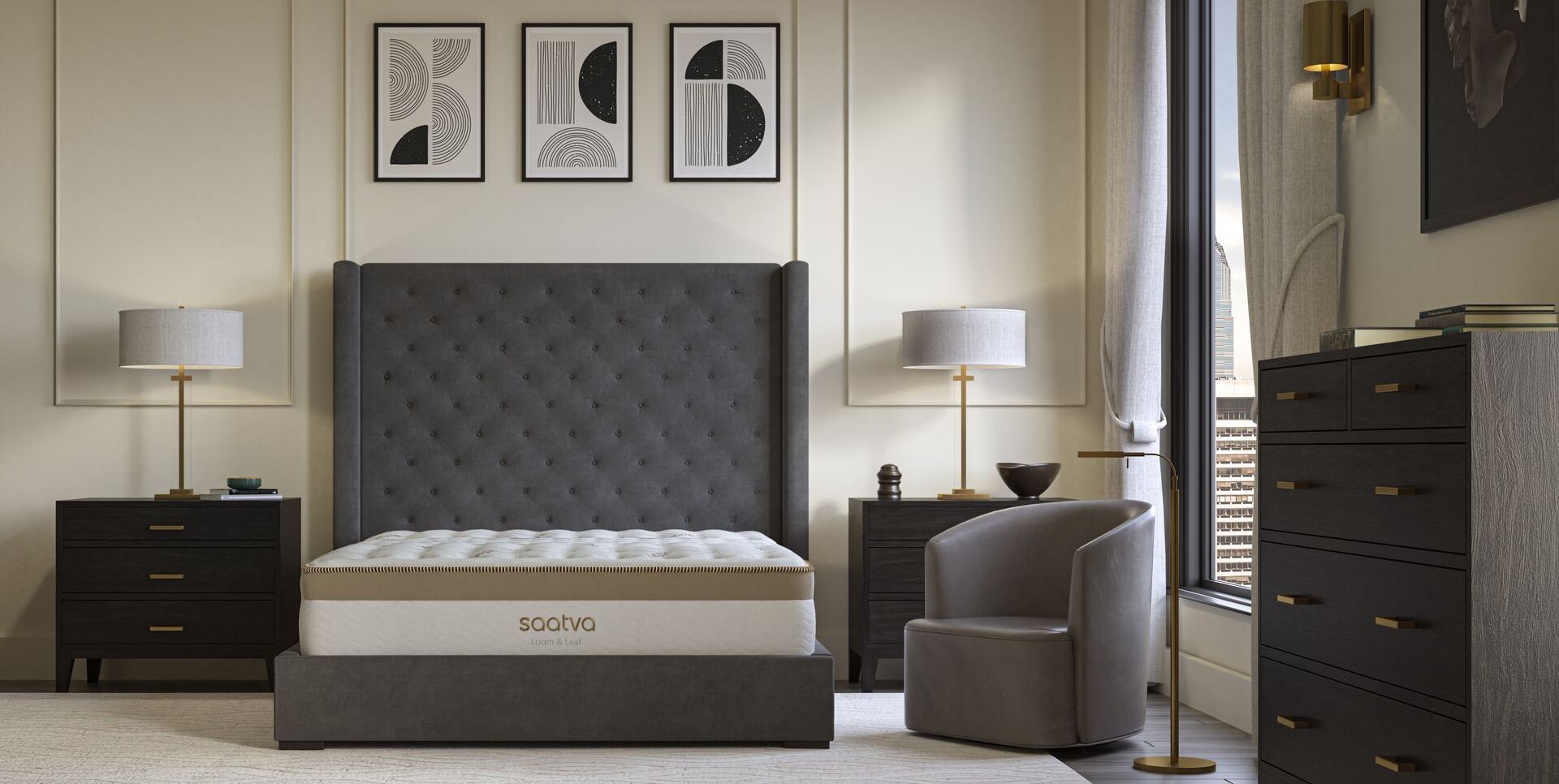 Premium memory foam, handcrafted in the U.S. with eco-friendly materials. Breathable organic cotton, cooling spinal gel, and layers of high-density support foam assure a cool, comfortable night's sleep.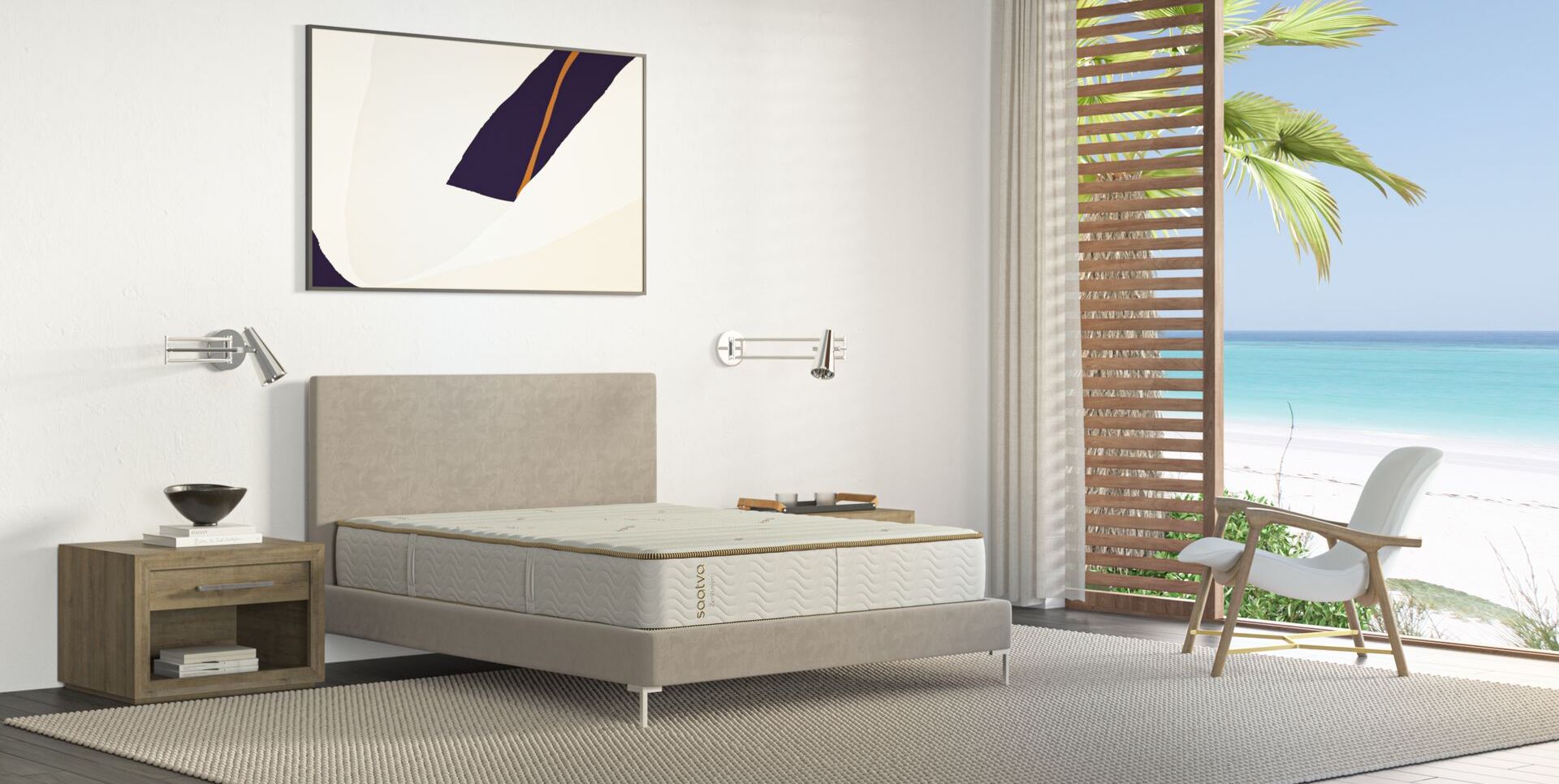 Natural latex responds to every curve for pressure-free support and responsive comfort. Natural latex is supple, resilient, and durable, for the ultimate in elevated sleep. (It's naturally hypoallergenic too.)
FAQs
How much bigger is a queen than a full?
A queen-size bed is 6 inches wider and 5 inches longer than a full-size bed. Queen-size beds are good options for solo sleepers and couples. If you sleep with a partner, each of you will get 30 inches of space. Full-size beds, on the other hand, really only offer enough room for one person to sleep comfortably.
Is a full better than a queen?
Neither mattress size is inherently better than the other—it all depends on your sleeping arrangements. Most solo sleepers will have plenty of space to snooze comfortably on a full-size bed. Full-size beds are also a great option for growing children and smaller bedrooms.
Couples, however, will likely prefer the extra room a queen-size bed affords them. Queen-size beds are also a great option for larger bedrooms. And, they're a better choice than full-size beds for taller individuals since they're 5 inches longer.
Find the best full and queen mattresses at Saatva
Saatva offers a wide range of high-quality full-size and queen-size mattresses so you can easily find your perfect match, whether you're shopping for your child, yourself, or you and your partner.
All of our mattresses are handcrafted with premium materials to help you experience your most comfortable sleep. Plus, our mattresses come with a 365-night home trial and lifetime warranty.
Take our mattress quiz to find out which Saatva mattress is right for you.