If there were a popularity contest among beds, the winner would be clear: the queen-size bed. It's the most frequently purchased mattress size around, for several reasons.
It's suitable for bedrooms of various shapes and sizes. It's a great pick for guest rooms since it can accommodate two adults and leaves enough space in the room for additional furnishings, like a bench or chair. And it's roomier than twin or full beds.
But how big exactly is a queen-size mattress, and will it work in your bedroom?
Here, we've put together everything you need to know about queen-size mattress dimensions, the pros and cons of choosing this mattress size, and how to tell if it's right for you.
We're also explaining how queen-size bed dimensions compare to other mattress sizes and answering the most commonly asked questions about queen-size mattresses.
Queen-size bed dimensions
A queen mattress is hands-down the most popular mattress option. A standard queen-size mattress measures 60 inches wide by 80 inches long. This size is perfect for couples with small sleeping spaces or for single sleepers who like a little extra room.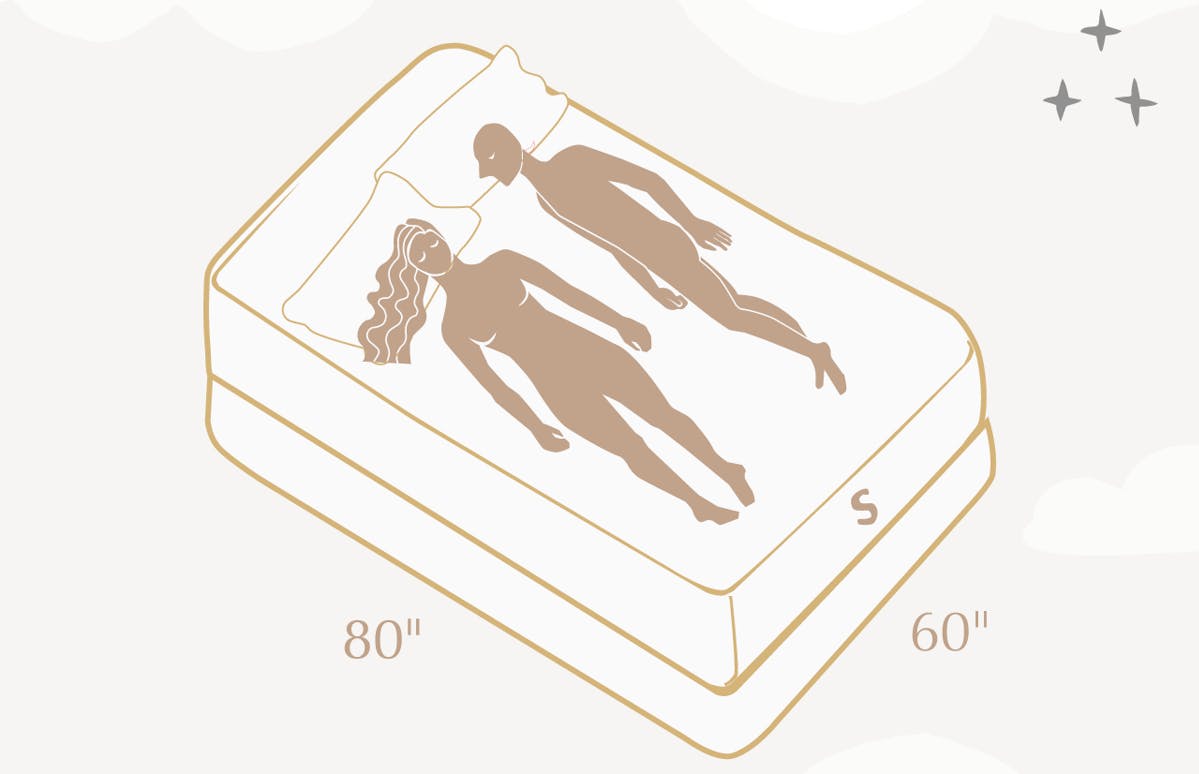 There are also some non-standard queen mattress dimensions to consider. Here are ones you may come across in your mattress search:
Olympic queens
California queens
Split queens
Each version of the queen-sized bed has different benefits. In order to find out which is best for your lifestyle, you'll have to take a few things into consideration, like the size of your bedroom, whether or not you share a bed with anybody, and how you prefer to sleep.
Comparing queen-size mattress measurements
Let's take a deeper look at the benefits of each type of queen-size mattress and compare it to some of the other popular mattress sizes on the market.
Deciding if a queen-size mattress is right for you
If you're thinking through queen bed dimensions to determine whether this size is a viable option, you'll have to weigh the benefits and drawbacks.
In order to make the right decision and decide which bed size is best for your lifestyle, there are quite a few things you should keep in mind. These are our top considerations:
Who will sleep in the bed?
Desired comfort level
Your room size
Your body size
Your budget
Temperature
Motion isolation
Who will sleep in the bed?
A queen is versatile, making it an outstanding option for couples and solo sleepers alike. Each sleeper gets about 30 inches of space to themselves.
This gives couples plenty of room to move around. Single adults will find that a queen-size bed has more than enough room to comfortably sleep throughout the night, even for restless sleepers.
If you're a combination sleeper—someone who switches positions throughout the night—you should have enough room in a queen-size bed so you won't disturb your partner. You won't have quite as much room to move around as you would in a king-size bed, though.
Desired comfort level
Taking your preferred sleeping position into account is always important when shopping for a mattress, queen or otherwise. While a softer mattress is ideal for side sleepers, a medium firm mattress is good for back sleepers, and a firmer mattress is best for stomach sleepers.
If you'll be sharing your queen bed with a partner, consider a medium-firm mattress, which is a good middle ground for couples who can't agree on a firmness level. If your sleeping preferences are completely different from your partner's, you can always try a split queen mattress.
Your room size
Ideally, you'll want your bedroom to be on the larger side if you're purchasing a queen-size mattress—this makes it a good option for primary bedrooms. At a minimum, a bedroom should be 10 x 10 feet. A bedroom anywhere from 10 x 10 feet to 10 x 14 feet is just right for a queen-size bed.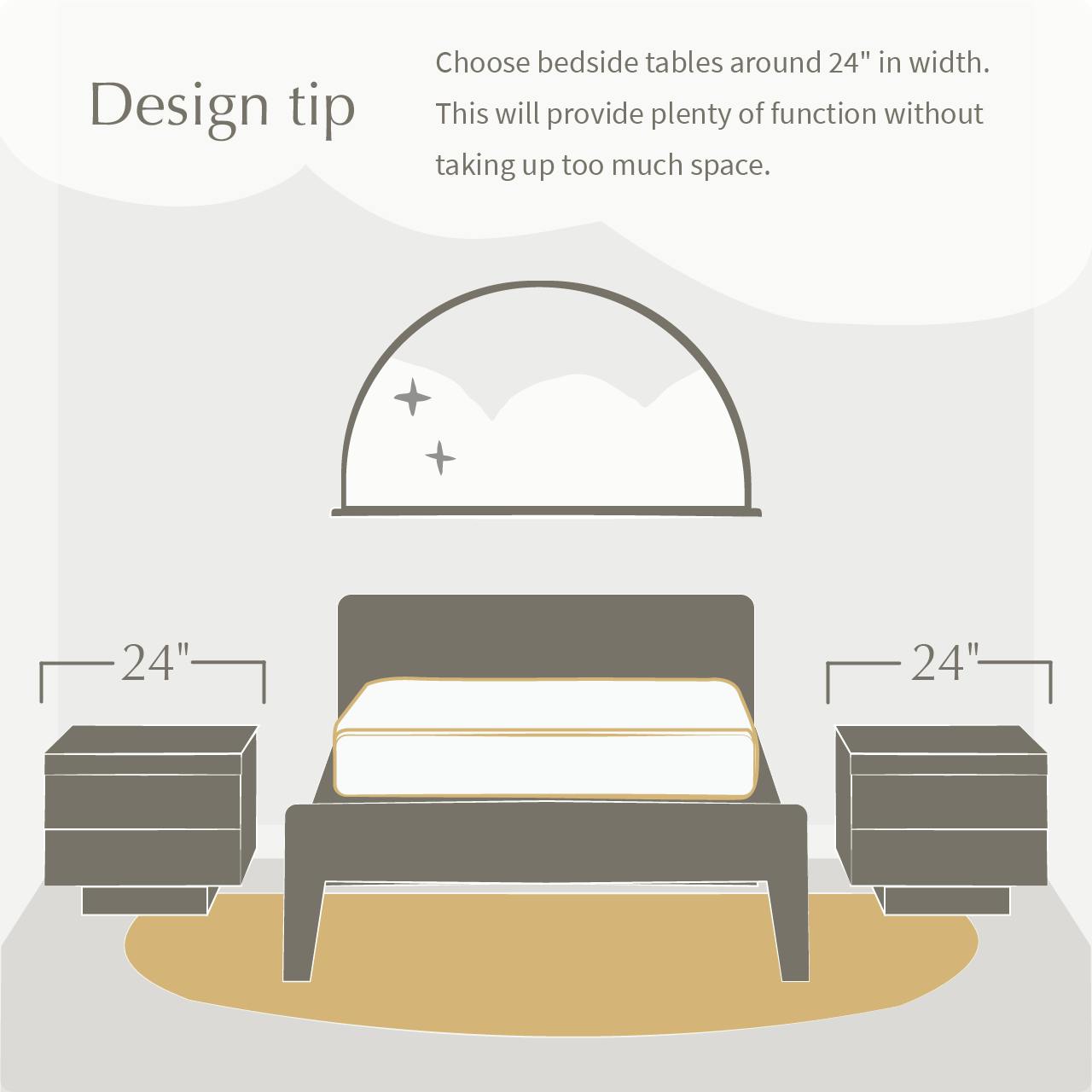 If you're struggling to find floor space in your bedroom, a queen-size mattress might be the right fit for you. The extra space provided by a standard queen will open up space in a smaller room for more furniture or storage.
Your body size
Queen mattresses provide plenty of space for heavier individuals and couples. (Learn about the best mattress for heavy people.)
Additionally, a California queen mattress might be good for taller individuals or someone looking for a little extra legroom at the foot of the bed. It offers 4 inches of extra length compared to a standard queen. The extra-long length makes it a comfortable sleeping option for people of all sizes.
Your budget
Queen-size mattresses are less expensive than king-size beds. Queen-size beds usually cost about 25% less than king-size mattresses of the same style and brand. However, purchasing a larger queen-size mattress, like an Olympic or California queen, will increase the price.
A queen-size innerspring mattress will be the most affordable mattress type since it tends to run less expensive than other mattress types.
Temperature
If you tend to sleep hot on any mattress size, you may want to skip memory foam since it can trap heat. Innerspring and latex mattresses sleep the coolest, making for a better night's sleep.
Couples that get hot at night may find that the surface area of a king-size mattress suits their needs better.
Motion isolation
If you or a partner fidgets throughout the night, a memory foam mattress is the best at reducing motion isolation. On an innerspring mattress, you may feel yourself or your partner moving around, which can disturb sleep.
If you like the feel of an innerspring mattress but sleep with a partner, consider a hybrid mattress (such as a latex hybrid mattress) for reduced motion transfer.
Queen-size mattresses vs. other mattress sizes
Queen-size mattresses differ from other-sized mattresses. Before buying a high-quality mattress, it's important to figure out which size will work best with your living space and lifestyle.
Queen vs. twin and twin XL
Twin-size mattresses are most commonly found in bunk beds, dorm rooms, or children's rooms. They measure 38 inches wide and 75 inches long, making them some of the smallest mattresses on the market.
Twin XL mattresses are similar to the standard twins, but they are a little bit longer. They measure 38 inches wide and 80 inches long, giving an extra 5 inches of legroom. While twin XL beds are great for tall people, there's still not enough room for the average single young adult.
Queen-size beds provide extra sleeping space for both single sleepers and couples. If you're a taller individual looking for a bed, a California queen might be the best option for you.
Queen vs. full
Full-size mattresses, which are also known as double mattresses, measure 54 inches wide and 75 inches long. While they are larger than a twin, they still measure much smaller than a queen. Full-size beds could be a suitable option for a single sleeper with a really small bedroom, but a queen-size bed will feel much less cramped.
Queen vs. king
King-size mattresses are some of the largest on the market. They provide plenty of space for couples to sleep comfortably and give a little extra room for any kids or pets that may want to hop in. The standard king-size mattress measures 76 inches wide and 80 inches long.
However, your bedroom would need to be fairly big to fit the larger bed. If you want a larger mattress size, like a standard king, it's generally recommended that your bedroom measures at least 14 x 19 feet.
Queen-size mattresses take up less space and are the perfect size for either a primary or a guest bedroom. (Learn more about the differences between queen vs. king beds.)
Queen vs. California king
California king mattresses are perfect for taller people who are looking for a larger new mattress. They provide more than enough room for you, your partner, and the whole family, measuring 72 inches wide and 84 inches long.
While the surface area of a California king bed is the same as a standard king, it provides an extra level of length and legroom. However, queen-size mattresses should be suitable for those that don't need extra legroom at the foot of the bed.
Find the most comfortable queen-size mattress at Saatva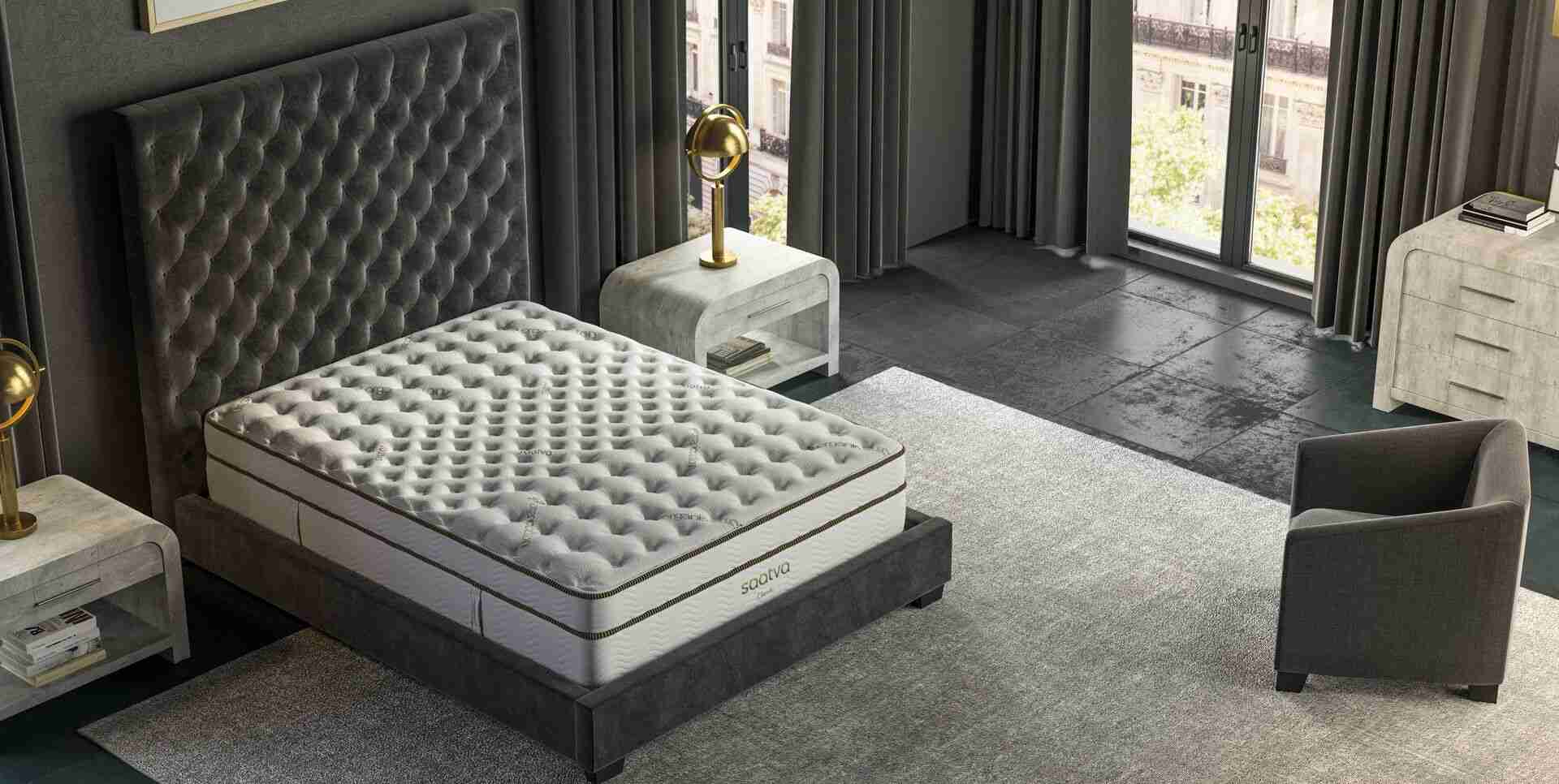 Our flagship luxury mattress is expertly engineered with coil-on-coil construction for durability, a layer of memory foam for enhanced back support, and a cushiony Euro pillow top for extra comfort.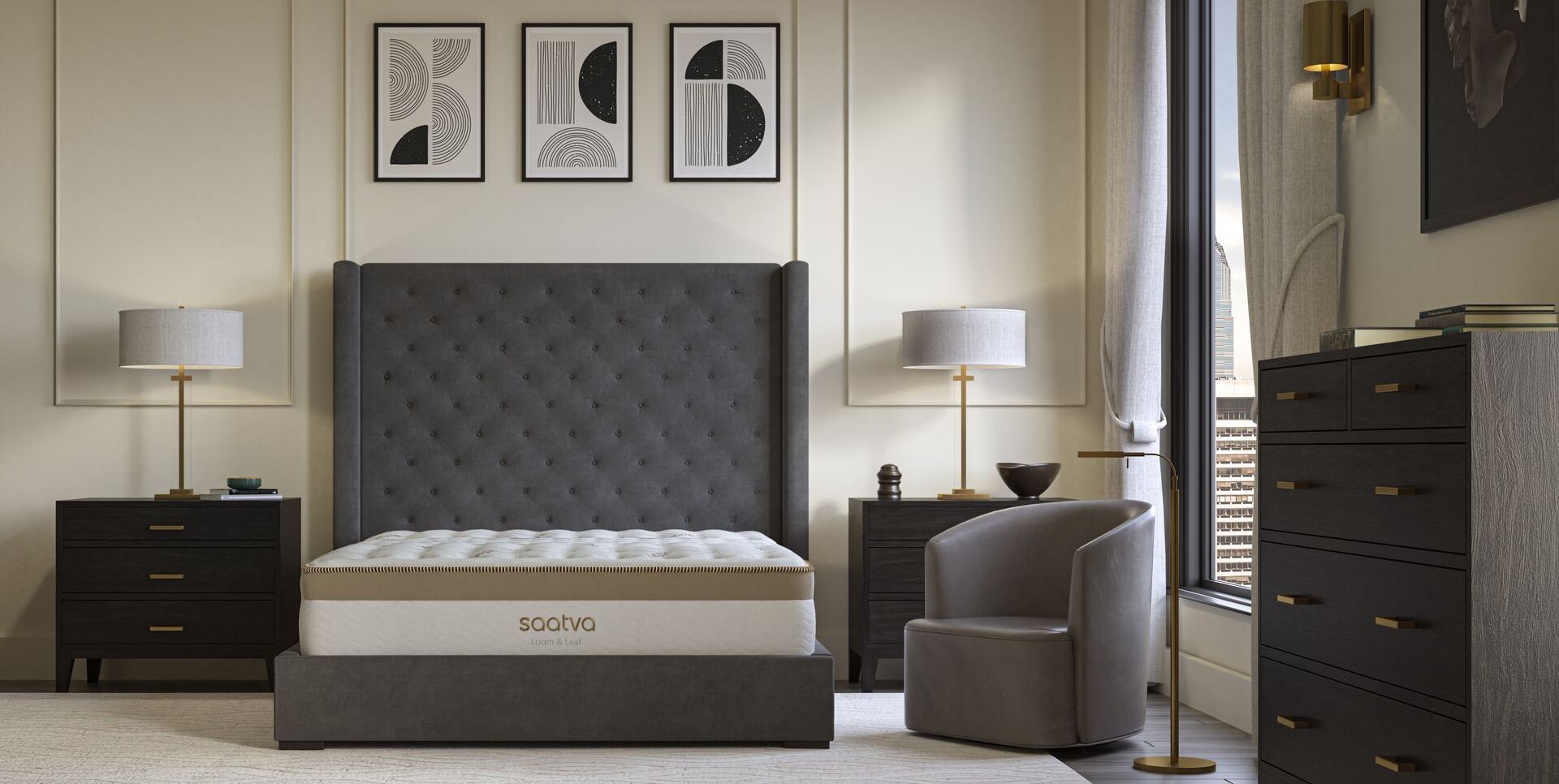 Premium memory foam, handcrafted in the U.S. with eco-friendly materials. Breathable organic cotton, cooling spinal gel, and layers of high-density support foam assure a cool, comfortable night's sleep.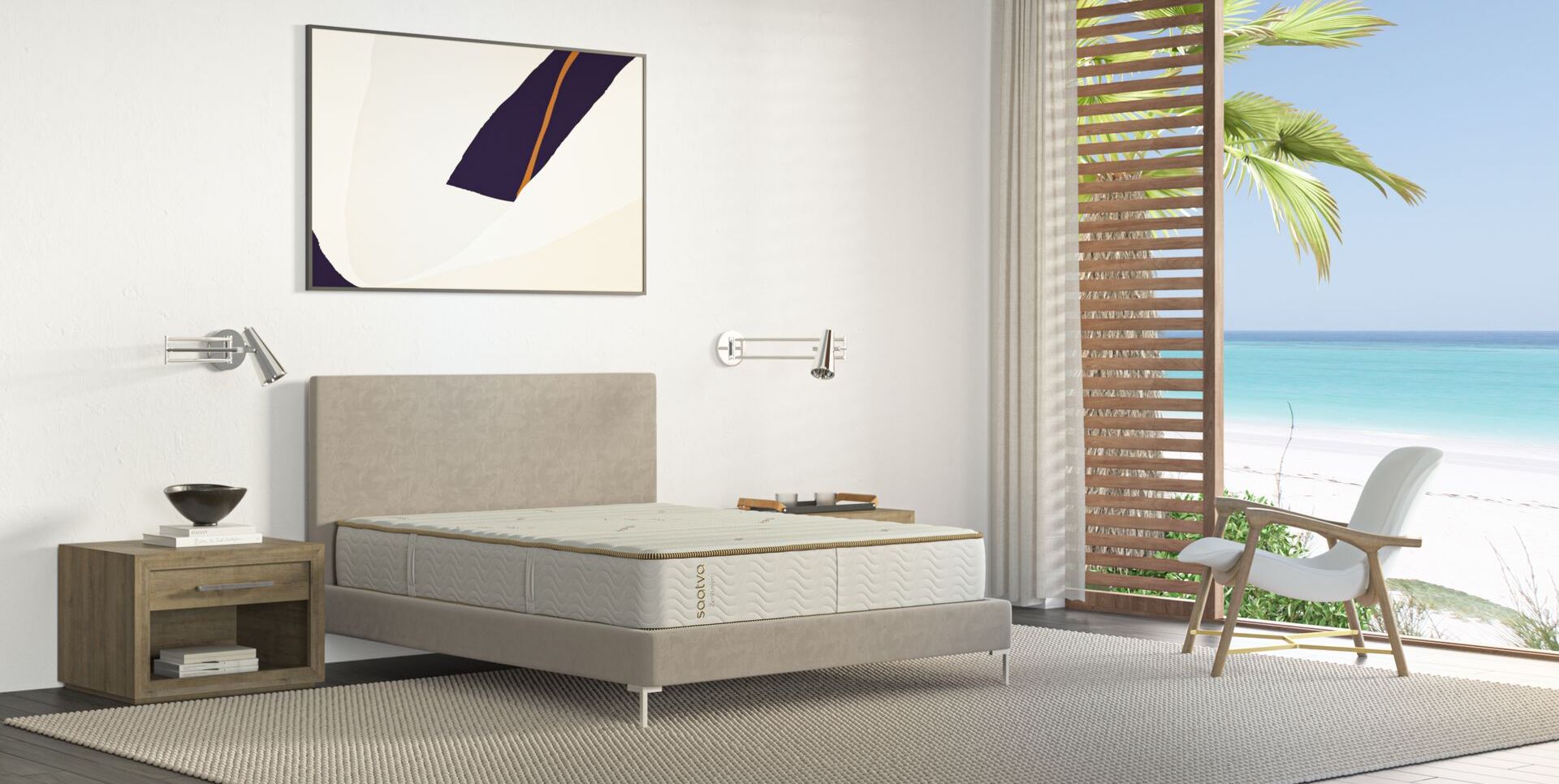 Natural latex responds to every curve for pressure-free support and responsive comfort. Natural latex is supple, resilient, and durable, for the ultimate in elevated sleep. (It's naturally hypoallergenic too.)
Queen-size mattress FAQs
There are common questions that come up time and time again around queen-size bed dimensions. The answers to these questions will undoubtedly help you in the mattress shopping process.
What's the difference between a California queen and an Olympic queen?
California queen beds measure 60 x 84 inches, making them 4 inches longer than a standard queen. Olympic queens measure 66 x 80 inches, making them 6 inches wider than a standard queen.
What's the difference between a queen bed and a king bed?
A queen bed measures 60 x 80 inches, while a king bed measures 76 x 80 inches. Queen beds are 16 inches narrower than king beds.
What's the difference between a queen bed and a double bed?
A queen bed measures 60 x 80 inches. Meanwhile, double beds (also known as full beds) measure 54 x 75 inches. Queen beds are 6 inches wider and 5 inches longer than double beds.
What size room is best for a queen-size bed?
You'll want to place a queen-size bed in a bedroom that's 10 x 10 feet at minimum. Anywhere from 10 x 10 feet to 10 x 14 feet should work well for a queen-size bed.
Will all queen sheets fit all queen-size mattresses?
Standard queen-size sheets will not fit on non-standard queen-size mattresses like Olympic, California, and split queens. In those cases, you'll need to look for sheets specially made for those mattress sizes.
Can you put a queen-size mattress on a full-size box spring?
A queen-size mattress is wider and longer than a standard full-size box spring—therefore, it's not recommended to pair them together as the overhang could mean your mattress isn't being properly supported.
It's best to get a bed frame that's the same size as your mattress. This is not only to ensure your comfort but also to ensure the mattress lasts as long as possible.
Is a queen-size bed big enough for two people?
A queen-size bed provides ample space for two people and is indeed the most popular mattress choice for couples. In a queen-size bed, each person gets 30 inches of space.
Purchasing a comfortable queen-size mattress
Once you've looked at all of the options on the market, choosing the right mattress for you and your lifestyle is the next step. Saatva has a wide selection of high-quality, comfortable mattresses in different sizes, materials, and levels of firmness to ensure your personal preferences are met. Try a new queen-size Saatva mattress for 365 nights to see if it's right for you.
Explore other mattress sizes
Decided a queen-size mattress isn't right for you? Learn more about other common mattress sizes on the market to find your perfect fit.