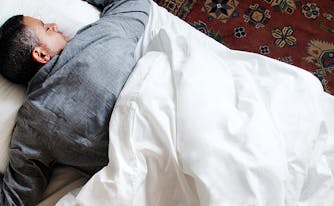 What's the Best Mattress for Stomach Sleepers?
Anyone who sleeps on their stomach (and 7% of Americans do) has probably heard the warnings about back pain—or experienced some aches and soreness firsthand. While sleeping prone can help reduce snoring, stomach sleeping is less than ideal for spinal health.
That's because we carry the bulk of our weight across the hips and belly, so sleeping on one's stomach "affects the curvature of the spine and makes it hard for it to stay in a neutral position," explains Michael Breus, PhD, a Los Angeles sleep specialist and author of Good Night: The Sleep Doctor's 4-week Program to Better Sleep and Better Health. The result of that misalignment: chronic back and neck pain, especially since you likely sleep with your head turned to one side. We're often asked what type of mattress is best for stomach sleepers. Below is everything stomach sleepers need to know to choose the top mattresses and beds for them.
Best mattress for stomach sleepers
Doctors encourage stomach sleepers to try to train themselves to adopt another sleep position, but if you can't break the habit, it helps to choose a mattress that will mitigate some of the strain. Here are four features to help determine the best mattress for stomach sleepers.
Firmness
Firmness is a key consideration when choosing the best kind of mattress for stomach sleepers. Most stomach sleepers do best on a firm surface. That allows your body to maintain the best possible alignment while lying face-down, says Ben Trapskin, editor of mattress review site Sleep Sherpa. If the mattress is too soft, your stomach will pull your spine down into an exaggerated curve, especially if you already carry a lot of weight around your midsection. (Check out our article on the best mattress for heavy stomach sleepers, back sleepers, and side sleepers.)
But while firmer is better, be mindful that you can have too much of a good thing. An overly firm bed will put pressure on your ribs and stomach, making for an uncomfortable night. The best mattresses for stomach sleepers will fall between a four and seven on the typical firmness scale, says Breus. The more you weigh, the higher you should go in that range. Finding your sweet spot on the firmness scale is critical, especially when trying to find the best mattress for stomach sleepers with lower back pain. (Here are more tips for choosing the right mattress for your body type.)
Learn More About the Best Saatva Mattresses for Stomach Sleepers
Saatva Classic Innerspring
Our flagship luxury mattress is expertly engineered with coil-on-coil construction for durability, a layer of memory foam for enhanced back support, and a cushiony Euro pillow top for extra comfort.
Shop
Durability
When looking for the best mattress for stomach sleepers, this is one area where you don't want to cut corners. Mattresses made with lesser quality materials are more likely to sag sooner, messing up your alignment and putting you at risk for back pain if you're a stomach sleeper. When it comes to memory foam, factors that affect durability include the density of the foam (the higher the density, the longer it lasts), and the number and type of layers. For innerspring mattresses, pay close attention to the style and thickness of coils, as well as the type of foam used in the top comfort layer.
Contouring ability
Memory foam is known for molding to the shape of your body when you lie down, which is great for side and back sleepers but may not be ideal for stomach sleepers (especially heavier ones). With that said, if you're a stomach sleeper and you like the body-hugging feel of memory foam, make sure to choose one that is firm enough to offer the necessary support. "You should get a sort of floating sensation," says Trapskin, rather than a sinking one.
Latex, which contours like memory foam but has a naturally buoyant quality, is another good option. Here too, opt for firmer over softer. (Not familiar with latex mattresses? Here's a rundown of the essentials.)
Comfort
Feeling hot is a common complaint among stomach sleepers. The catch here is that some of the denser memory foam mattresses that offer good support are also prone to retaining heat. The best mattresses for stomach sleepers are ones that offer cooling features, such as gel layers and a breathable outer cover. In the foam category, latex sleeps coolest, since natural latex has an open-cell structure that allows for plenty of air flow.
Now, a note on pillows. To keep your spine as straight as possible in a prone position, the National Sleep Foundation recommends using the thinnest type of pillow under your head—or even no pillow at all. Putting a thin pillow under your stomach and pelvis may also help to prevent back pain if you're a stomach sleeper, says Breus. And don't forget to stretch for a few minutes every morning, no matter how you sleep; it will help boost circulation to muscles after a night of slumber and get your spine back into shape.
Best type of bed
Finally, we're breaking down what features stomach sleepers should look for in a mattress, according to mattress type.
Memory foam
Memory foam typically isn't the best option for stomach sleepers since it can contribute to sleeping hot. If you like the feel of memory foam, however, choose a mattress with cooling features, like graphite or gel. Make sure the memory foam mattress is firm, to help keep your spine in the best possible alignment while you're lying face down. It's also a good idea to pick a durable memory foam mattress. That's because the shorter the lifespan of a mattress, the sooner it'll begin to sag—and that's not good for stomach sleepers, who need a lot of spinal support. The most durable memory foam has a density of 4 to 5 pounds per cubic foot.
Latex mattress
Latex is a good option for stomach sleepers since it's naturally cool. Look for a mattress made with a natural latex support core. You should also choose a latex mattress with zoned lumbar support, which will help ensure your spine is kept in neutral alignment while you sleep. And as with memory foam, a firm comfort level is your best option as a stomach sleeper. (Learn how to make your mattress firmer.)
Hybrid
A hybrid mattress is a cross between two mattress types—typically innerspring and some sort of foam—for a "best of both worlds" sleeping experience. If you're a stomach sleeper, look for a hybrid mattress with durable, individually wrapped coils that contour to your body. A firm comfort level, cooling features, and zoned lumbar support (if you decide on a latex hybrid), are all other good features for stomach sleepers.
Innerspring mattress
Thanks to the airflow between coils, innerspring mattresses sleep cool, and are thus another good option for stomach sleepers. Just like with a hybrid mattress, look for an innerspring that has durable coils and a firm comfort level for the optimal sleep experience as a stomach sleeper.
Why stomach sleeping can be bad for health
As we've already mentioned, stomach sleeping can lead to misalignment of the spine, resulting in back and neck pain. But that's not all. It may also perpetuate the discomfort of acid reflux and put pressure on certain organs. It can even cause wrinkles due to the friction that occurs between your skin and the pillowcase while you sleep. The bottom line: If possible, try sleeping on your back or side instead.
We've got more great mattress tips for choosing the best mattress for side sleepers and the best mattress for back sleepers too.