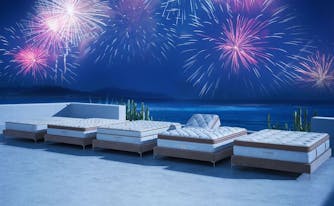 The Best 4th of July Mattress Sale & How to Shop
It's the most wonderful time of year: You've got your OOO on for the long weekend and you're headed to the beach. Yep, it's the 4th of July. In addition to being a popular time to go on vacation and spend time in the sun, this holiday weekend is also a great time to shop. You'll find plenty of deals on everything from electronics to home appliances to, of course, mattresses on and around July 4th. 
A quality mattress is a worthwhile investment since it can aid in your ability to get a good night's sleep. If you've had your current mattress for eight or more years, you may want to consider buying a new one this holiday weekend when you can snag a discount. 
Below, we've rounded up the best 4th of July mattress deals and answers to your most common questions so you can find the right mattress for you at a great price. Enjoy your much-needed time off this summer—on a comfortable new mattress. 
Best 4th of July mattress deals
What's the best 4th of July mattress sale to shop this year? You have plenty of options to choose from since many brands are offering discounts. Saatva is having a sale too: This holiday weekend, take $200 off your purchase of $1,000 or more when it includes at least one mattress. 
Here are the best 4th of July mattress sales on innerspring, memory foam, and other mattress types. Your perfect match awaits! 
Innerspring mattress
Chances are, you slept on an innerspring mattress growing up and for at least some of your adult life. After all, this is the most popular type of mattress out there. If you enjoy the feel of the familiar, then this mattress type is right up your alley. 
The Saatva Classic innerspring mattress has a durable coil-on-coil base that's topped with a cushiony 3-inch Euro pillow top for added comfort. Luxury Firm is our bestselling firmness option because it suits a wide range of sleep styles, from back to side to stomach. 

Regular price (queen): $1,499
Sale price (queen): $1,299
Memory foam mattress
Memory foam is a great option if you're someone who experiences pain that keeps you up at night. This material cradles your body in all the right places and does an excellent job of relieving pressure.
The Loom & Leaf memory foam mattress is made with high-density, eco-friendly memory foam for the ultimate in pressure point relief. Bonus: It's infused with gel to keep you cool (a must in the hot summer months). Relaxed Firm is the most popular firmness option and is ideal for all sleep positions. 

Regular price (queen): $1,799
Sale price (queen): $1,599
Latex mattress
Can't decide between innerspring and memory foam? You don't have to. It turns out there's a mattress type that combines the responsiveness of innerspring with the conforming abilities of memory foam. That mattress type is latex, which just so happens to be one of the greenest mattress materials out there.
The Zenhaven latex mattress is made from 100% natural latex for maximum pressure point relief and cool sleep. The mattress is flippable, with a plush side that suits all sleep positions and a firmer side that's best for stomach sleepers. 

Regular price (queen): $2,399
Sale price (queen): $2,199
Latex hybrid mattress
Consider the latex hybrid mattress a souped-up version of the innerspring. It combines the classic feel of an innerspring mattress with the responsive, body-hugging properties of latex. 
The Saatva latex hybrid mattress has a durable innerspring base made up of individually-wrapped coils that respond and contour to your body. This is topped with a layer of 100% natural latex for added comfort and coolness. The mattress comes in a medium firmness that works for most sleep positions. 

Regular price (queen): $1,799
Sale price (queen): $1,599
Adjustable mattress
If you live with a partner, then you know that compromise is sometimes necessary. But you don't have to make sacrifices when it comes to choosing a mattress. Enter the adjustable mattress, which allows each of you to choose how your side of the bed feels. 
The Solaire adjustable mattress features 50 firmness levels with individual controls for each side of the bed. For added customization, try the Upper-Flex or split king models paired with an adjustable bed base so you can both raise your head and feet to a position that's comfortable for you. 

Regular price (queen): $3,045
Sale price (queen): $2,845
Heavy duty mattress
Most conventional mattresses aren't made with the sleep needs of bigger bodies in mind. The good news is, there are now several mattresses out there designed specifically for larger body types. These mattresses have extra-strong support bases and layers of cooling, comforting foams that relieve back pain and ensure you don't get too hot while you sleep. 
The Saatva HD is our best mattress for heavy people. It supports people weighing up to 500 pounds, with a durable innerspring base topped with comfort foams and 100% natural latex. It's available in a medium firmness that works for most sleep positions. 

Regular price (queen): $2,599
Sale price (queen): $2,399
4th of July mattress sale questions
When do 4th of July mattress sales start—and what is the best mattress to buy this 4th of July? To help you shop for a mattress without the stress this holiday weekend, we're answering your most common questions. 
What month are mattresses on sale?
Mattresses tend to go on sale in months when there are big holiday weekends, including February (Presidents Day), May (Memorial Day), 4th of July, Labor Day (September), and Black Friday and Cyber Monday (November/December). People tend to buy big-ticket items like mattresses more over long weekends because there's plenty of time to do your research before spending money on a considered purchase. 
When is the best time to buy a mattress?
Any time there's a holiday weekend is a good time to buy a mattress. With promotions on holidays like Presidents Day, Memorial Day, 4th of July, and Black Friday, you can expect to save between 10%-20% on a mattress. 
Of course, it's worth noting that you can still find good deals on mattresses outside of holiday weekends. When you buy a mattress online, you can expect to spend around 15% less than you would in a store, no matter the time of year, according to the National Sleep Foundation (NSF). 
That's because selling online eliminates retail store overhead, such as store rents and sales commissions. Online mattress companies can pass those savings onto you in the form of low prices every day. 
When do 4th of July mattress sales start?
Most 4th of July mattress sales will start a few days before the holiday. This year, the 4th of July falls on a Monday, so you can expect sales to start around the first of the month, which is a Friday. Some sales may even be extended past the holiday, giving you plenty of time to shop. 
Where are the best 4th of July mattress deals this year?
Many of the best mattress brands are holding 4th of July mattress sales this year. Regardless of where you shop, you can usually save 10%-20% on a mattress when you shop during a holiday promotion. At Saatva, we're offering $200 off purchases of $1,000 or more when your order includes a mattress. 
In general, you can typically find the best prices on mattresses by shopping online. This will save you about 15% versus shopping in-store, according to the NSF. 
Keep in mind that when you buy a mattress from a store, you end up paying for more than just the mattress. Stores have a wide range of costs they have to cover, including, rent, sales, and commissions—and those fees inevitably get worked into the price of the mattress. 
Online mattress companies, like Saatva, eliminate the middleman by selling directly to you online. This allows them to sell their products for a consistently low price. 
What is the best mattress to buy this 4th of July?
The best mattress to buy this 4th of July depends on your unique sleep needs. In fact, there's no best mattress for everyone. A few questions you should ask yourself so you can make the right choice:
How do you like your mattress to feel? No one mattress type is better than another, but figuring out how you like your mattress to feel can guide you to the best mattress type for you. Innerspring mattresses feel pretty bouncy, while memory foam mattresses have no bounce at all and instead hug your body. Latex mattresses, meanwhile, feel like a combination of innerspring and memory foam, with some responsiveness and some contouring. 
What's your usual sleep position? The answer to this question will help you determine which firmness option is right for you. Side sleepers do best on a softer mattress, while back sleepers should opt for a medium firm mattress. Stomach sleepers need a firmer sleep surface for optimal spinal alignment. 
Do you sleep with a partner and/or kids? The more people (or animals) that sleep in your bed, the bigger you'll want your bed to be. Queen and king size mattresses are ideal for couples and families, while full size mattresses are good options for solo sleepers. (Check out our mattress size guide for more help figuring out which size is right for you.) 
Do you have back pain? If aches and pains keep you tossing and turning, then make sure you look for a mattress with added lumbar support. To ensure proper spinal alignment, a mattress should have stronger, firmer material in its center third, where most of your body weight lies. 
Do you sleep hot? Some mattress types sleep cooler than others. Innerspring and latex mattresses are very breathable, while traditional memory foam tends to sleep hot. If you like the feel of memory foam, then look for a mattress that's infused with a cooling material like gel or graphite. 
How much do you weigh? Your body weight is a key consideration to keep in mind when shopping for a mattress. Innerspring, hybrid, and latex mattresses are all good options for people weighing 250 pounds or more. Memory foam, on the other hand, shouldn't be your first choice if you're heavier because it can make you feel "stuck" in the mattress. 
Once you know what type of mattress is best for you, do your research ahead of time so you know exactly when things go on sale. Make sure you do some comparison shopping while you're at it. Read reviews to see what customers have to say about mattress quality and customer service so you can be confident you're getting a good product for the price. Finally, read the fine print. You want to know what you're getting into when it comes to delivery, home trial, return policy, and warranty. 
Are cheap mattresses worth it?
If you're on a tight budget, then a cheap mattress—such as a bed in a box—might be a good option for you. However, light foam mattresses that are compressed into a box and shipped to your door wear out faster than other mattresses. That means you'll have to replace your mattress sooner. While a high-quality mattress can last you between 10 and 15 years, a foam bed in a box may only last you five years. 
How much should I pay for a good mattress?
Mattress prices can vary a lot. Some mattresses cost just a few hundred dollars while others have price tags in the tens of thousands. (Yes, really.) A quality mattress made with premium materials generally costs between $1,000 and $3,500. 
We have even more advice to help you find the perfect mattress this 4th of July. Check out the following articles for our best holiday weekend shopping tips: