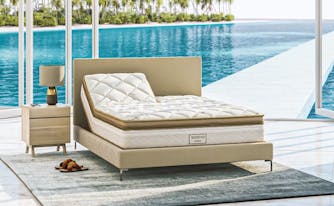 Black Friday Mattress Deals: What to Buy
Looking for a new mattress? Black Friday is the perfect time to score a new bed at a discount. Over the upcoming holiday weekend, you'll find plenty of Black Friday mattress deals on the most popular mattress types, from innerspring to memory foam to latex.
But with so many mattresses to choose from, how are you supposed to figure out which one is right for you? And how can you tell if you're really getting the best mattress for your money?
In this piece, we've rounded up the best Black Friday bed deals for every sleep preference as well as answers to the most common Black Friday mattress sale questions so you can shop smartly this holiday weekend.
Black Friday mattress deals
Many of the best mattress brands have Black Friday mattress sales, Saatva included. This Black Friday, take $200 off purchases of $1,000 or more of any Saatva mattress.
Here's a rundown of the best mattresses you can snag for a discount this year.
Innerspring mattress
If you like the feeling of a classic spring mattress, then you'll love the bestselling Saatva Classic innerspring mattress. It has a supportive and durable coil-on-coil base, which is topped with a pressure-relieving 3-inch Euro pillow top. Plus, it's available in three firmness options to suit every sleep position, from side to back to stomach.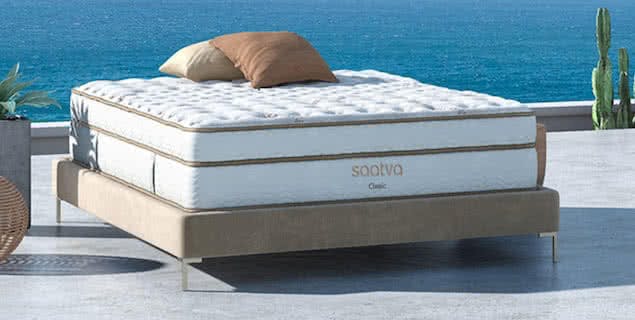 Regular price (queen): $1,399
Sale price (queen): $1,199
Memory foam mattress
The Loom & Leaf memory foam mattress is handcrafted with nontoxic, high-density memory foam that hugs your curves and cradles your body's pressure points. With two firmness options to choose from, you can find your ideal match whether you're a side, back, or stomach sleeper.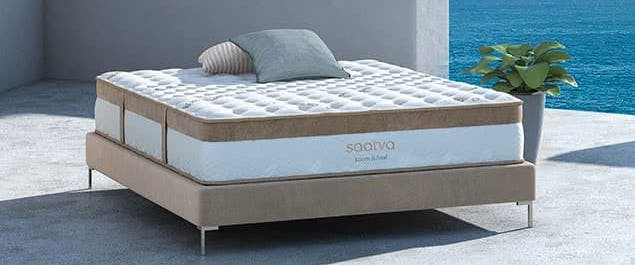 Regular price (queen): $1,699
Sale price (queen): $1,499
Latex mattress
A latex mattress offers a "best of both worlds" sleep experience—it conforms to your body like memory foam but is responsive like innerspring. The Zenhaven 100% latex mattress is made from the highest-quality natural latex for maximum pressure point relief and cool sleep. Zenhaven is flippable; the plush side is ideal for all sleep styles, while the firmer side is best for stomach sleepers.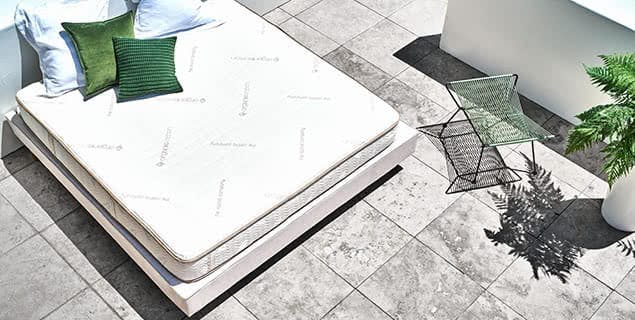 Regular price (queen): $2,399
Sale price (queen): $2,199
Latex hybrid mattress
What do you get when you combine a classic innerspring base with a layer of pressure-relieving natural latex? Our latex hybrid mattress, which is 100% natural and organic. The Saatva Latex Hybrid is handcrafted with a layer of individually-wrapped recycled carbon steel coils that respond and contour to your body and reduce motion transfer. That's topped with a natural latex layer that is conforming yet responsive. The medium firmness suits the majority of sleep styles.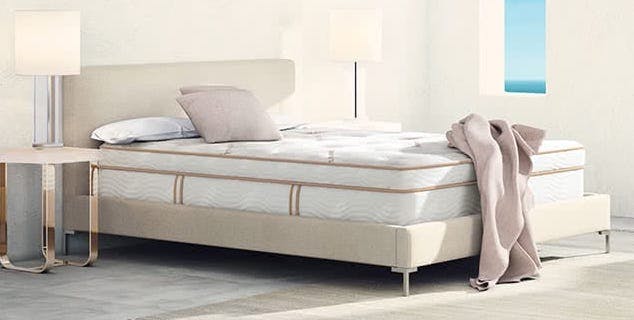 Regular price (queen): $1,799
Sale price (queen): $1,599
Adjustable mattress
Do you and your partner have very different sleep preferences? Enter the Solaire adjustable mattress. It features 50 firmness levels with individual comfort controls for each side of the bed. That means you can each set your firmness level to a number that's right for you.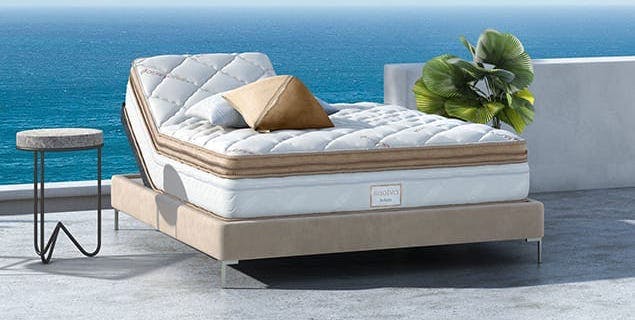 Regular price: (queen): $2,795
Sale price (queen): $2,595
Mattress for heavy people
Most conventional mattresses aren't designed with the sleep needs of bigger bodies in mind. The Saatva HD is the best mattress for heavy people—it's designed exclusively for those weighing between 300 and 500 pounds. With a base made of 12.5-gauge coils that are 25% stronger than the industry standard, the mattress won't sag or dip. On top of the steel coil support base, you'll find layers of memory foam and latex for added back support and pressure relief.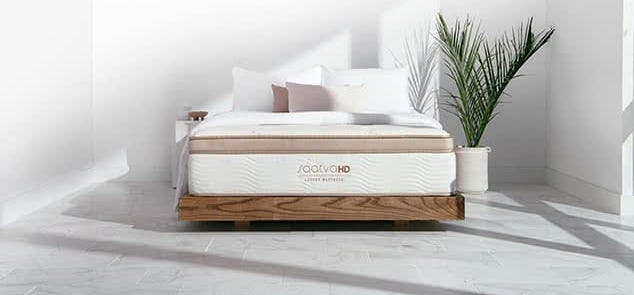 Regular price (queen): $2,599
Sale price (queen): $2,399
Once you've settled on a mattress, it's time to consider what you're going to rest it on. A high-quality bed frame will support your new mattress for years to come.
Here are a few of the most popular Saatva bed frames on sale this Black Friday.
Adjustable bed base
You've likely spent more time at home—and in bed—than ever before these past few months. An adjustable base allows you to find a comfortable position for sleeping, reading, or working. The Lineal adjustable bed base lets you elevate your head and feet with the touch of a remote. Other features include under-bed illumination, wave massage, and a whisper-soft motor.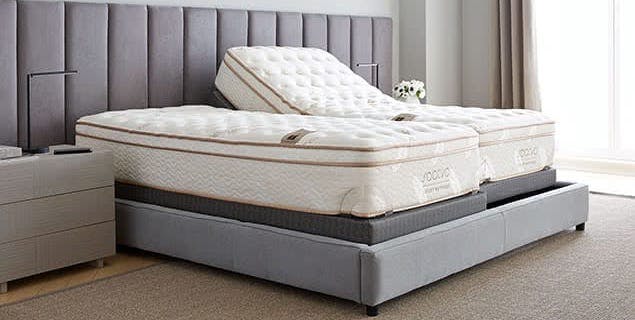 Regular price (queen): $1,399
Sale price (queen): Pair with a Saatva mattress and get an extra $100 off your order
Platform bed
A platform bed is a versatile and modern bed frame option, so it makes sense that this would be one of the most in-demand bed frame styles these days. The Santorini platform bed has a smooth headboard, lower profile, and graceful legs for a contemporary look.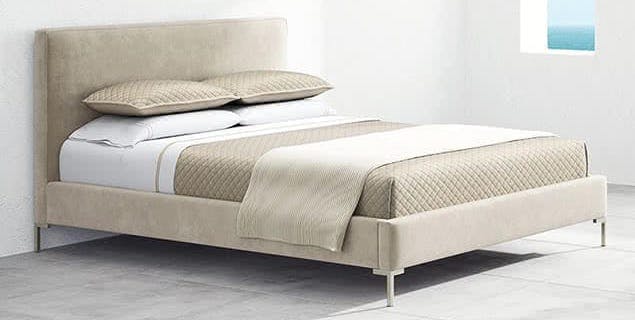 Regular price (queen): $1,295
Sale price (queen): $1,095
Wingback bed
Just like the wingback chair, the wingback bed evolved as a way to protect against drafts. And it just so happens to be a very stylish option for any bedroom. The Minori wingback bed has a curved padded headboard, gently tapered wings, and subtle nailhead accents.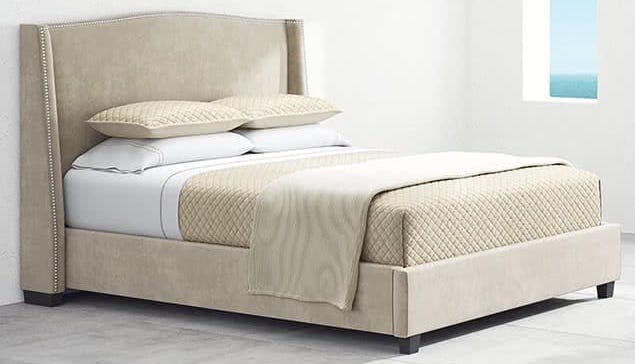 Regular price (queen): $1,595
Sale price (queen): $1,395
Sleigh bed
Originating in the French Empire period, a sleigh bed is a timeless classic. The Oslo sleigh bed features a gently scrolled headboard and footboard, along with trimmed nailhead details and turned wooden feet.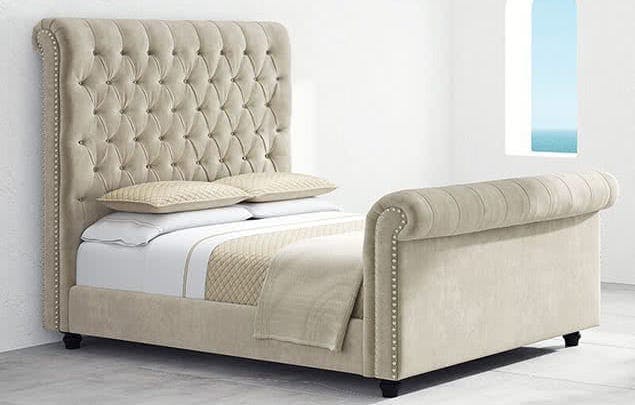 Regular price (queen): $1,995
Sale price (queen): $1,795
Looking for a different style? Here are more bed frames you can find on sale this holiday weekend.
Answers to your most-asked Black Friday mattress sale questions
We've got answers to your biggest Black Friday mattress shopping questions. Armed with this knowledge, you can confidently navigate all the Black Friday mattress deals and find the right bed for you.
What is the best mattress to buy on a budget?
You'll want to think twice before buying a cheap bed in a box, even if you're on a budget. These mattresses are made with lower quality materials in order to be compressed into a shipping box. Because of that, they usually only last a few years. Recent consumer research shows bed in a box buyers expect to replace these mattresses after only four years.
An innerspring mattress, on the other hand, is a solid choice if you're on a budget. A good innerspring mattress starts around $1,000 and can last seven to 10 years, offering you great bang for your buck.
What is the best mattress to buy in 2020?
The Saatva Classic is one of the highest-rated mattresses of 2020. In fact, it was named one of the best mattresses of 2020 by Good Housekeeping, New York Magazine, and Luxe Digital. It combines the durability and support of an innerspring mattress with pressure-relieving, eco-friendly foam and a cushioned Euro pillow top.
One of the best reasons to choose a Saatva Classic? It comes in three firmness options: Plush Soft (soft), Luxury Firm (medium), and Firm. That means it's a good choice for a wide range of sleep styles and body types.
Plush Soft is ideal for side sleepers who like extra contouring.
Luxury Firm—the bestselling option—delivers the perfect blend of comfort and uplifting support for every range of sleep positions.
Firm is ideal for stomach sleepers.
You don't have to take our word for it when we say the Saatva Classic is the best mattress to buy in 2020—read these glowing Saatva Classic customer reviews for proof.
Shop Our Bestselling Innerspring Mattress
Saatva Classic
Our flagship luxury mattress is expertly engineered with coil-on-coil construction for durability, a layer of memory foam for enhanced back support, and a cushiony Euro pillow top for extra comfort.
Shop
Is it good to buy a mattress on Black Friday?
You'll certainly save money by shopping during a Black Friday bed sale, meaning it can be good to buy a mattress this time of year. But you should always read the fine print so you know exactly what you're getting into when it comes to delivery, returns, and more.
Delivery
Some mattress companies, like Saatva, offer free white glove delivery, which includes delivery and setup of your new bed, along with removal of your old mattress. Many retail stores, on the other hand, charge extra for mattress delivery and/or removal.
Bed in a box companies, meanwhile, typically ship their mattresses for free, but you have to set things up yourself. A queen mattress can weigh more than 90 pounds, so you'll need to call in reinforcements.
Home trial
Most mattress companies, whether online or retail, will give you a home trial, as it takes time for your body to adjust to a new mattress. Most home trials last 90 to 180 nights. That should give you plenty of time to decide whether your new mattress is right for you.
One caveat: Some mattress companies ask you to sleep on the mattress for a certain period (usually 30 nights) before you can return it.
Returns
If during your home trial you decide your new mattress just isn't a fit for you, you should be able to exchange or return it for little or no charge. (Saatva charges a $99 transportation fee to pick up a return.) Some companies require you to return your mattress in like-new condition, and you'll get charged for anything deemed damage.
Warranty
Just like any other big-ticket item, a mattress should come with a robust warranty that lasts for at least 10 years. Warranties usually cover sagging that is the result of something faulty in the mattress; they don't cover normal wear and tear.
Also, it's a good idea to check if certain conditions will void your warranty. In most cases, if you use an improper foundation or stain your mattress, you'll no longer be covered.
Where are the best places to buy a mattress on Black Friday?
You can find Black Friday bed deals at retail stores and through online retailers. But you'll likely spend less for a mattress when you buy from an online retailer, making that the better option.
Online mattress companies, like Saatva, sell directly to consumers, eliminating the costs associated with running a store and passing the savings on to you. According to the National Sleep Foundation, you can expect to pay 15% less for a mattress online than you would for a similar quality mattress from a store.
Ready to do more shopping this holiday weekend? We've got you covered with our comprehensive shopping guides to other products that can help you get a good night's sleep: