If you're in the market for a new mattress, you've probably come across both Euro top and pillow top beds. But how do you know which one is right for you?
Before making a decision, let's take a look at the key differences between these two beds, including durability, firmness levels, best sleeping positions, and more.
Pillow top vs. Euro top: What's the difference?
As the name suggests, a standard pillow top is an extra layer of cushioning on the top surface of the mattress. Pillow tops can be made from memory foam, latex foam, fibers, wool, gel, or other materials.
While you can find pillow tops on any type of mattress—innerspring, memory foam, or latex—they're most commonly found on innerspring mattresses. The combination of a cushioning top layer with the firm support of an innerspring makes for maximum comfort.
A conventional pillow top is sewn onto the top surface of the mattress, with a gap between the pillow top and the mattress itself.
A Euro top is a type of pillow top that, by contrast, has the padding underneath the top cover and is flush with the mattress edges so it doesn't look like an extra layer of padding sitting on top of the mattress. It gives off a cleaner look and tends to last longer than a traditional pillow top mattress.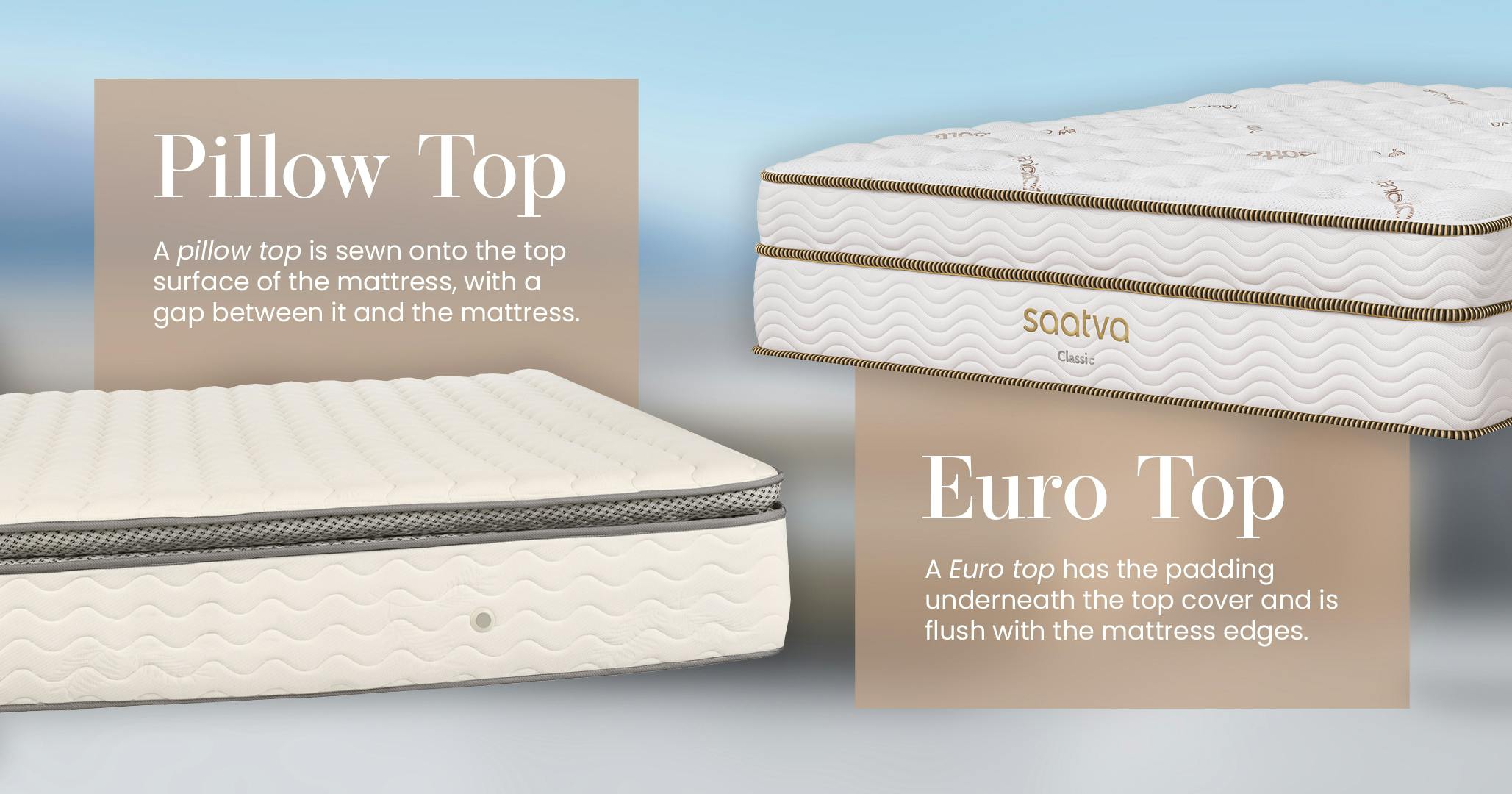 Euro top vs. pillow top: benefits and drawbacks
After learning the key differences between Euro top and pillow top mattresses, it's time to explore the major benefits and drawbacks of these two types of beds.
| | | |
| --- | --- | --- |
| Feature | Euro Top | Pillow Top |
| Best Sleeping Position | Back sleepers and stomach sleepers | Side sleepers and back sleepers |
| Durability | Can withstand high pressure and are highly durable | Have low pressure limits, making them less durable |
| Motion Isolation | High | Low |
| Edge Support | High | Low |
| Firmness Levels | Range from soft to medium-firm | Range from soft to firm |
| Type of Bedding Needed | Traditional-sized bedding will work with these mattresses | You may need a taller fitted sheet to fit over the pillow-top mattress |
Choosing between a Euro-top vs. pillow-top mattress: Which one is right for you?
After taking into consideration your sleeping habits, the benefits and drawbacks of each type of mattress, and your body type, you'll need to decide which type of mattress is best for you.
Depending on what you're looking for in a mattress, here are a few ways to tell exactly which type of mattress is right for you.
You could benefit from a Euro-top mattress if:
You want something that will last longer than the average 8-10 year lifespan of a mattress.
You don't need a mattress that's on the firmer side, like a hybrid mattress or memory foam mattress.
You want a mattress with great edge support and high motion isolation.
You want a mattress that feels luxurious with a lower price tag.
You have back pain that can be eased by a soft mattress and pressure relief.
You could benefit from a pillow-top mattress if:
You don't mind replacing your mattress after the standard 8-10 years.
You need to relieve your pressure points with a firmer mattress.
You don't mind paying extra for the soft and plush feel that a pillow top mattress gives you.
You are willing to flip your mattress over to extend the lifespan.
You want a firm mattress that's still soft and comfortable, like an innerspring bed.
Our best Euro-top mattresses
Frequently asked questions
Do pillow tops help reduce motion transfer and motion isolation?
Traditional innerspring mattresses aren't great at isolating movement, which means you're more likely to feel when your bed partner tosses and turns at night. Pillow tops, especially those with memory foam, cut down on motion transfer.
Do pillow-top mattresses offer better edge support?
If you're looking for a mattress with extra edge support, a pillow-top mattress is likely not for you. A Euro-top mattress, however, offers better edge support. Since the edges of the mattress are flush with the mattress top, a Euro top would be the better choice.
Are pillow tops expensive?
If you like the idea of combining the classic feel of an innerspring mattress with the contouring ability of memory foam, an innerspring pillow top may offer you similar benefits at a lower price point.
How firm are pillow-top mattresses?
Pillow tops come in all levels of firmness, which means they can be appropriate for side sleepers, back sleepers, stomach sleepers, and every type of sleeper in between.
Are pillow-top mattresses good for hot sleepers?
Some pillow top mattresses can trap heat. If you have a tendency to sleep hot, pay close attention to the pillow top material. Memory foam, for example, can retain body heat. Breathable materials in the top layer of padding and mattress cover will help air circulate and keep you cooler throughout the night.
Are pillow-top mattresses going to sag?
Inferior padding is prone to sagging. Lower-quality pillow top mattresses or ones with thinner layers of padding (less than 2 inches) will tend to wear out more quickly than other types of mattresses.
Can you use regular bedding on a pillow-top mattress?
Some pillow top mattresses can be tall and may require special bedding. A pillow top mattress is a similar size to a standard-size bed with a mattress topper. The additional comfort layers can add height to a bed. Some standard bedding may not fit some of the taller pillow-top mattress models. If getting in and out of bed is a concern, be sure to measure how tall your bed will end up being once you put it on your bed frame.
Does a pillow top or Euro top have a longer lifespan?
Pillow top mattresses tend to have a shorter lifespan than other types of mattresses, while Euro tops are durable and will last a long time.
Is a pillow top softer than a traditional mattress?
Pillow top mattresses can range in firmness level between soft and firm, but the extra comfort layer adds a plush feel. The extra plush layer makes pillow top mattresses seem softer than a traditional mattress.
Browse Saatva's collection of Euro-top and pillow-top mattresses
Saatva offers a wide variety of mattresses and bed accessories in a range of sizes, firmness levels, and premium materials to make your mattress shopping experience easy.
Many of our mattresses even feature a Euro top or pillow top for added comfort. Take our online mattress quiz to see which Saatva bed is the best mattress for you.