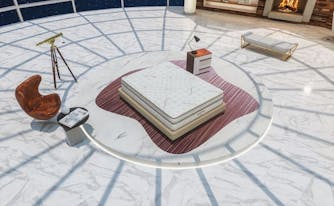 Pillow Tops and Euro Tops: What's the Difference?
To the list of decisions you need to make when considering a new mattress (innerspring or memory foam? organic or conventional? box spring or adjustable base? ) add one more: pillow top or no pillow top?
Pillow tops can provide an additional layer of support and comfort in a mattress, but also add another layer of choices for the mattress shopper. Here's what you need to know about Euro tops vs pillow tops: the pros, cons, and other considerations.
What exactly is a pillow top?
As the name suggests, a pillow top is an extra layer of cushioning on the top surface of the mattress. Pillow tops can be made from memory foam, latex foam, fibers, wool, gel, or other materials. That extra padding can be a plus when it comes to relieving pressure on the hips and shoulders. It also adds extra contouring and support, which is especially helpful for people with back pain.
While you can find pillow tops on any type of mattress—innerspring, memory foam, or latex—they are most commonly found on innerspring mattresses. The combination of a cushioning top layer with the firm support of an innerspring makes for maximum comfort.
Euro top vs pillow top: What's the difference?
A conventional pillow top is sewn onto the top surface of the mattress, with a gap between the pillow top and the mattress itself. A Euro pillow top (also called a Euro top), by contrast, has the padding underneath the top cover and is flush with the mattress edges, so it doesn't look like an extra layer sitting on top of the mattress.
In addition to creating a cleaner look, the other major benefit of a Euro top vs pillow top is that, because it is stitched underneath the cover, it can't shift or lose shape the way a conventional pillow top can. Euro top fillings also tend to be denser than their standard counterparts, making them somewhat more durable as well.
Check Out Saatva's Mattress with Cushy Euro Pillow Top
Saatva Classic
Our flagship luxury mattress is expertly engineered with coil-on-coil construction for durability, a layer of memory foam for enhanced back support, and a cushiony Euro pillow top for extra comfort.
Shop
Does a pillow top feel softer than a standard mattress?
One misconception about pillow top mattresses is that they are necessarily softer than other beds, notes Robert Oexman, a doctor of chiropractic and director of the Mebane, North Carolina-based Sleep to Live Institute, which leads research on how the sleep environment affects sleep quality. "You can get soft or firm with a pillow top. And you can get soft or firm with a non-pillow top mattress," he says. A pillow top alone doesn't determine whether a mattress is the right one for you: More important is choosing the best mattress for your sleep style and body type.
Other pillow top considerations
Pillow tops have a few other advantages worth noting:
Pillow tops help reduce motion transfer. Traditional innerspring mattresses are not great at isolating movement, which means you're more likely to feel when your bed partner tosses and turns at night. Pillow tops, especially those with memory foam, cut down on motion transfer.
Pillow tops offer the qualities of a hybrid at a more affordable price. If you like the idea of combining the classic feel of an innerspring mattress with the contouring ability of a memory foam, an innerspring pillow top may offer you similar benefits at a lower price point.
Pillow tops come in all levels of firmness, which means they can be appropriate for all types of sleepers and comfort preferences.
For all their benefits, pillow tops also have some potential downsides:
They can trap heat. If you have a tendency to sleep hot, pay close attention to the pillow top material. Memory foam, for example, can trap heat. Breathable materials in the top layer of padding and mattress cover will help air circulate and keep you cooler throughout the night.
Inferior padding is prone to sagging. Lower quality pillow top mattresses or ones with thinner layers of padding (say less than 2 inches) will tend to wear out more quickly than other types of mattresses.
Some pillow top mattresses can be tall and may require special bedding. All those layers of padding add height to a bed. Some standard bedding may not fit some of the taller pillow top mattress models. If getting in and out of bed is a concern, be sure to measure how tall your bed will end up being once you put it on your bed frame. (See this handy illustrated height chart for examples.)