If you're on a tight budget, then you might be wondering if a mattress in a box is right for you. Sure, you'll save money in the short term by choosing a less expensive bed in a box over a more traditional mattress with a slightly higher price tag—but is that really the best option for your sleep?
Here at Saatva, we believe the answer to that question is no. Of course, we're in the business of handcrafting luxury mattresses, so naturally, we think a compressed foam bed shipped to you in a 16-by-45-inch box can't deliver the comfort, quality, or longevity of a premium mattress.
To help you figure out whether a bed in a box (or BIAB, as it's also called) or a more traditional mattress is right for you, we're answering the most common questions about mattresses that come in a box. Plus, we'll also show you how the best bed in a box options compare to Saatva's luxury mattresses.
What is a mattress in a box?
A bed in a box is a mattress that's been compressed, vacuum-sealed in plastic, and rolled into a shipping box. Typically, a mattress in a box is made from foam (because that's the easiest material to compress), but there are also a few innerspring BIAB options on the market.
Once the mattress is stuffed into a shipping box, it's then delivered to your doorstep via UPS or FedEx. The rest—carrying it to your bedroom, unpacking it, setting it up, and throwing away the packaging—is up to you. (Keep in mind that a queen-size foam mattress usually weighs more than 90 pounds.)
Can you sleep on a mattress in a box right away?
No. A bed in a box needs some time to inflate once it's taken out of the packaging. It also needs some time to air out. Vacuum sealing and wrapping a mattress in plastic concentrates odors and can lead to off-gassing.
Off-gassing is the term for what happens when volatile organic compounds (VOCs) leak out of foams used in mattresses and other upholstery materials and into the air you breathe. Common VOCs include formaldehyde, toluene, chlorofluorocarbons, benzene, trichloroethane, and perfluorocarbons.
While most off-gassing from mattresses hasn't been proven to be harmful, it has been shown to irritate people with chemical sensitivities or respiratory conditions like asthma. Some people also report feeling nauseated or dizzy from that "new mattress smell."
The unpleasant odor associated with off-gassing is usually temporary and should dissipate within a matter of days or weeks. When it comes to a bed in a box, the worst off-gassing happens in the first few hours after unwrapping the mattress. Most bed in a box manufacturers recommend letting the mattress expand in a well-ventilated area until any smell disappears.
Related: How to keep scary chemicals out of your mattress
Do mattresses in a box last?
Light foam mattresses that are compressed into a box and shipped via UPS wear out faster than other mattresses. While a high-quality memory foam mattress can last between 10 and 15 years, a foam bed in a box may last only five years.
That's because a bed in a box is typically made with lower-quality materials. You can tell if a foam mattress is durable by looking at the foam density. The higher the foam density, the more supportive and durable the mattress.
Premium memory foam has a density of 4 to 5 pounds per cubic foot and can't be compressed into a box. Most bed in a box brands use foam with a density of 3 pounds per cubic foot or less so it's easier to fit inside a box.
An innerspring bed in a box is also not as durable as a non-boxed innerspring mattress. At the heart of an innerspring mattress—whether a traditional innerspring or a hybrid of springs and foam—is a support core made of tempered steel coils. In order for those coils to provide the best support, they need to be strong and durable.
The thing is, strong, durable coils can't be compressed, folded, and rolled. Only thin, flexible coils can. You can tell if an innerspring mattress is durable by looking at the coil gauge, or thickness. A lower gauge (between 12 and 15) usually lasts longer.
Here's what happens when you put a mattress through a crusher. It's easy to see why this would be impossible with a high-quality innerspring or premium foam mattress.
Are mattresses in a box as comfortable as traditional mattresses?
Comfort is subjective—what feels good to you may not feel all that great to someone else. That said, there are a few reasons why a bed in a box may not be as comfortable as a traditional mattress.
A mattress in a box usually only comes in a one-size-fits-all firmness. Many bed in a box brands sell mattresses with "universal" firmness, which is typically a medium firmness. While medium-firm mattresses definitely suit many sleepers, some people prefer a softer mattress, and others like their bed to be on the firmer side. This often has to do with your sleep position—side sleepers do best on a soft sleep surface, while stomach sleepers need a firmer mattress to help keep their spines aligned. Traditional mattresses are more likely to come in a variety of firmnesses so you can find the one that suits you best more easily.
A bed in a box may not have added back support. Lumbar support is crucial in a mattress, especially if you experience pain in your back, shoulders, or hips while you sleep. Adequate lumbar support assures that hips won't sink too deeply and the spine stays in neutral alignment, which means you won't wake up sore or stiff. A lot of mattresses that come in a box don't have additional lumbar support, whereas traditional mattresses are much more likely to reinforce the center third of the mattress for added support.
A mattress in a box could leave you with aches and pains over time. A bed in a box will break down much quicker than a traditional mattress—and once it's had a significant amount of wear and tear, it may not be so comfortable to sleep on. A mattress that's past its prime won't properly support you—and that can lead to you waking up with aches and pains.
Saatva vs. bed in a box
How does Saatva stack up against its mattress in a box competitors? We put together these point-by-point comparisons to show you how our mattresses beat the competition, on everything from the quality of the components to the delivery experience:
The bottom line: While a mattress in a box may seem like a steal if you're on a budget, you'll likely have to replace your bed more frequently—and that means you'll have to shell out more money over time. Buying a traditional mattress made from high-quality materials is the better long-term solution for a good night's sleep, at least in our humble opinion.
Saatva's high-quality mattresses could never be stuffed in a box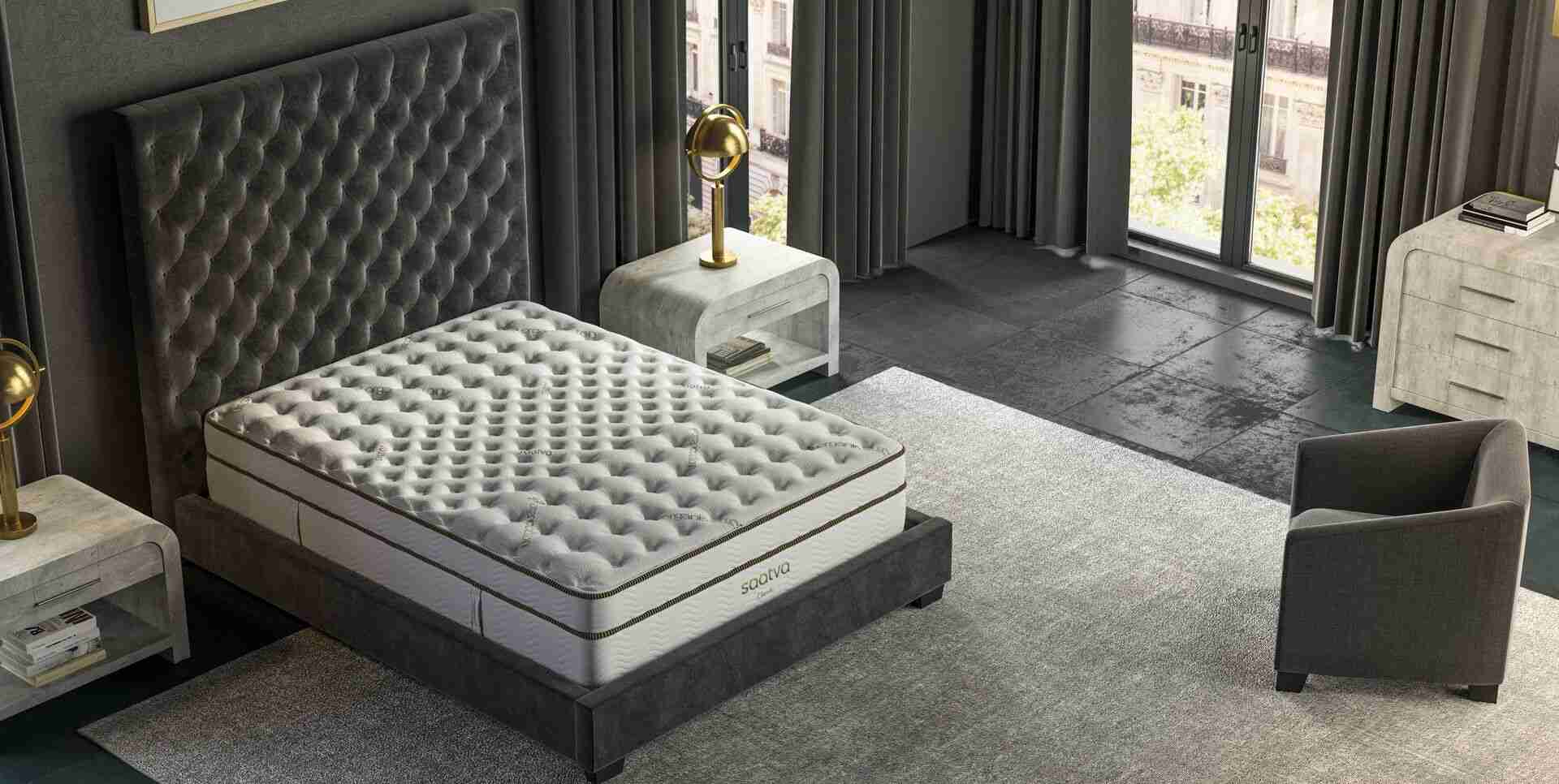 Our flagship luxury mattress is expertly engineered with coil-on-coil construction for durability, a layer of memory foam for enhanced back support, and a cushiony Euro pillow top for extra comfort.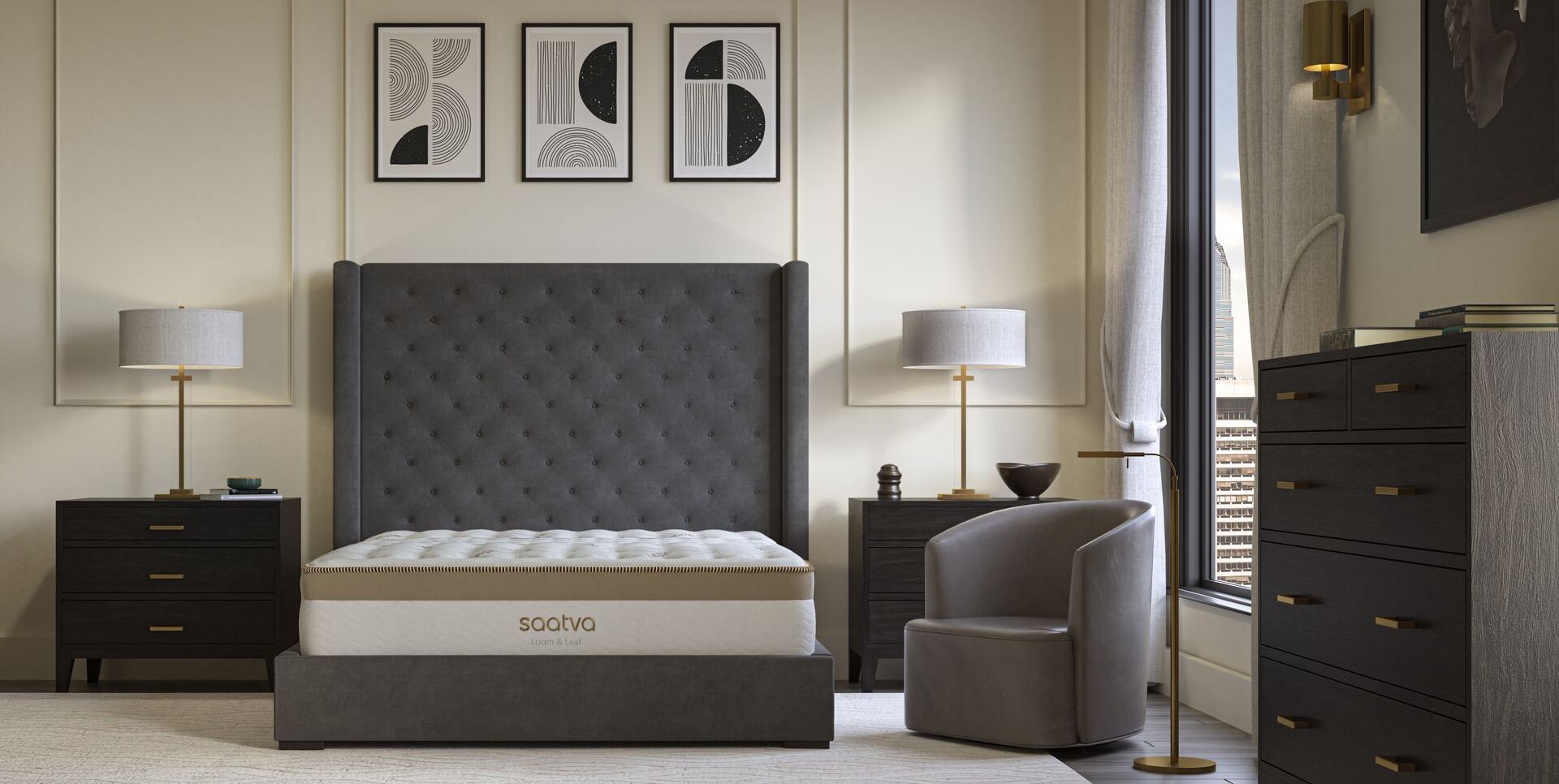 Premium memory foam, handcrafted in the U.S. with eco-friendly materials. Breathable organic cotton, cooling spinal gel, and layers of high-density support foam assure a cool, comfortable night's sleep.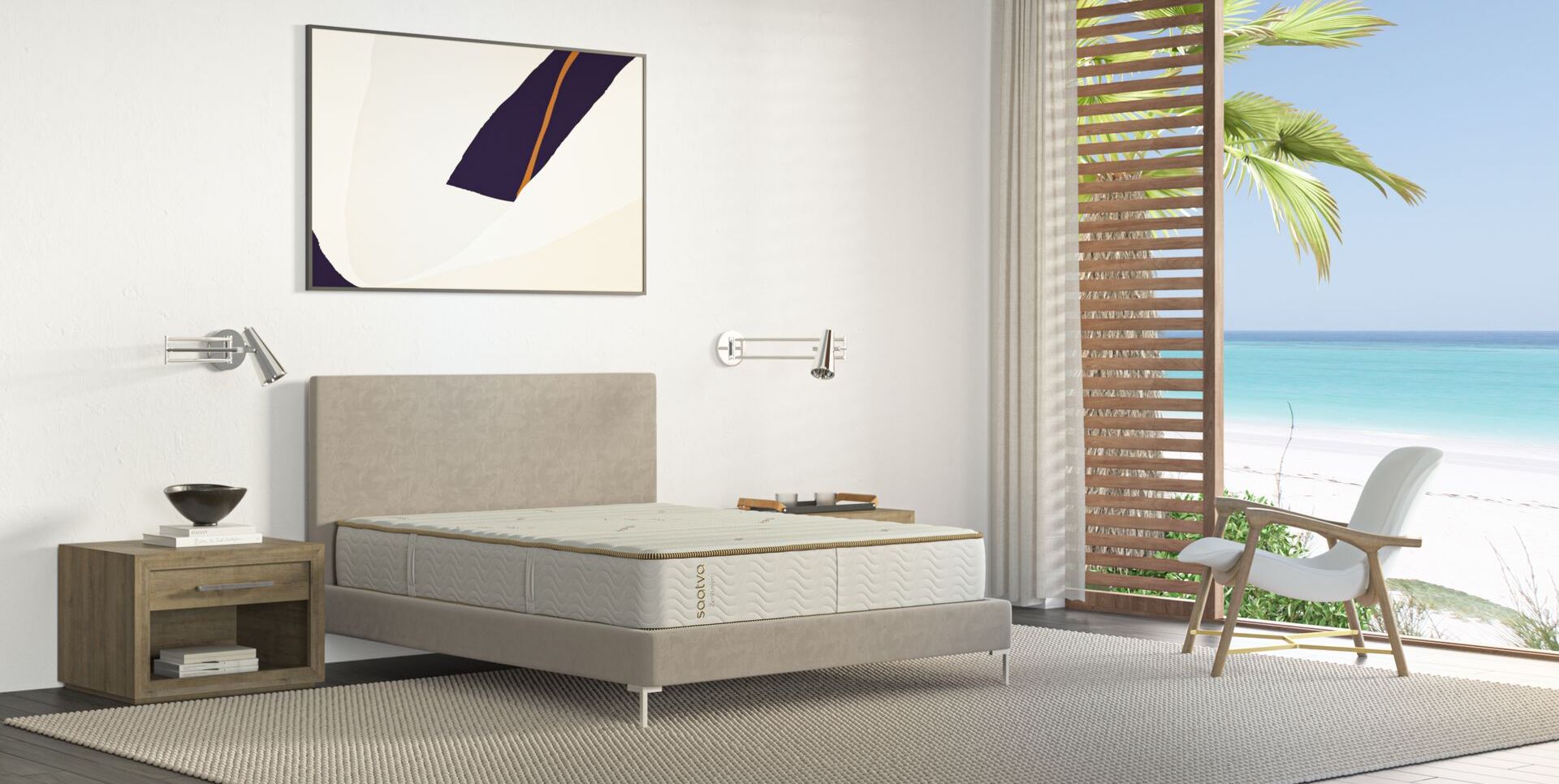 Natural latex responds to every curve for pressure-free support and responsive comfort. Natural latex is supple, resilient, and durable, for the ultimate in elevated sleep. (It's naturally hypoallergenic too.)
FAQs
Are beds in boxes cheaper than traditional mattresses?
Beds in boxes are typically cheaper than traditional mattresses. That's because they're generally made with lower-quality materials that can be easily compressed, vacuum-sealed in plastic, and rolled into a shipping box.
How long do beds in boxes typically last?
Beds in boxes typically last around five years since they're generally made with lower-quality and less durable materials. These beds are either foam or innerspring mattresses made from low-density foam and thin, flexible coils that can easily be compressed.
Still need help choosing your next bed? Our ultimate mattress buying guide will arm you with all the info you need to make a smart purchase.