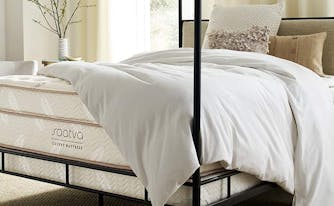 What Makes a Luxury Mattress?
Anyone who's gone mattress shopping lately has encountered the phenomenon of a "bed in a box." It's the latest trend to hit the mattress industry, with dozens of companies getting in on the game. These products are all variations on a theme: compressed foam mattresses, vacuum packed, rolled up, and shipped in boxes directly to consumers.
We've got nothing against beds in a box (or BIAB, as we like to call them around here). They're convenient, affordable, and a great choice for some shoppers—especially those strong enough to lug a 100-pound box up a flight of stairs. But at Saatva, we believe there's one thing a BIAB can't deliver: a true luxury sleep experience, at least not the way a luxury mattress can.
Chalk it up to simple physics. A premium innerspring mattress, made with quality materials and engineered for maximum comfort and support, just can't be stuffed into a box. But that doesn't mean luxury has to come at the expense of convenience—or price, for that matter. Because we sell direct to you online, we eliminate the hassle of the mattress-showroom shopping experience, along with many of the costs that drive up prices at retail, like store rents and sales commissions. Then we pass those savings on to you, which means that for about the same money as a boxed mattress, you can get a true luxury mattress.
Of course luxury, like comfort, is subjective, and everyone has their own interpretation. While the word means different things to different people, here's what luxury means to us.
Luxury is built to last
It doesn't matter how good a mattress feels if it falls apart after a year or two. A true luxury mattress is sturdy, engineered to provide the maximum support. At Saatva, we start from the ground up, reinforcing our innerspring mattresses with a base of tempered steel coils. This prevents sagging and distributes weight evenly. In addition, our flagship mattress features dual-edge perimeter support, which means you can sit or lie on the edge without fear of sliding off. We're so confident in our construction that we offer a 15-year warranty, which is more than the industry average.
Luxury is about exceptional comfort
Some people can sleep comfortably on just about anything, but most of us need a surface that provides a combination of cushioning and support. Getting that balance right is what a luxury mattress is all about. That's why we build in comfort features that are only found in premium products, like individually wrapped pocket coils, which conform to your body while they reduce motion transfer, and high-density memory foam that eases pressure on hips and shoulders. Likewise, we could have stitched a conventional pillow top onto our mattress, but instead we chose a more stable Euro-style pillow top, assuring that it will never shift or lose its shape.
Luxury is in the details
No luxury car would be complete without the trimmings—the buttery leather interior, the premium surround sound system. When it comes to attention to detail, a luxury mattress is no different. Every Saatva mattress is wrapped in 100% organic cotton, so it's soft, breathable, and eco-friendly. We go one step further, treating the fabric with a plant-based antimicrobial to keep it fresher longer. Whereas some bed in a box models use synthetic materials and chemical flame retardants to save money, we use eco-friendly foams and natural thistle as a flame barrier.
Learn More About Saatva's Luxury Mattresses
Saatva Classic
Our flagship luxury mattress is expertly engineered with coil-on-coil construction for durability, a layer of memory foam for enhanced back support, and a cushiony Euro pillow top for extra comfort.
Shop
Luxury is about service
What self-respecting luxury product would settle for being dumped on your doorstep? Even if we could fit our luxury mattress in a box (we can't), we wouldn't do it. Instead we offer free white glove delivery, so you can let someone else do the heavy lifting. Our delivery team will also remove your old bed for free. Once the mattress is set up, you've got a full 365 nights to decide whether you like it; if you don't, we'll come take it away.
Luxury doesn't have to be expensive
Last but not least, you can get all of this without an exorbitant price tag. Comparable mattresses retail for thousands of dollars, but we can sell ours for much less. That's because Saatva's online business model eliminates many of the costs that drive up mattress prices, like store overhead and sales commissions. And while you might think you can save money by opting for a bed in a box, the truth is they're usually not that much cheaper.
Read our reviews here.
Want to learn more about Saatva? Give us a call at 877-672-2882