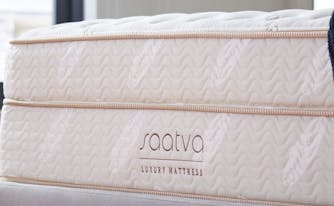 3 Reasons to Choose a Medium Firm Mattress
So you're in the market for a new mattress— and you've determined which mattress size is right for you and decided on a mattress type. But you're not done making decisions just yet. Now it's time to select a mattress firmness. Most people tend to prefer medium firm mattresses, as they're not too soft, not too firm, and suit a wide variety of sleepers.
What exactly do we mean when we say a mattress is medium firm, though? While there's no universal measure of mattress firmness, most companies use a scale of 1 to 10, with one being the softest and 10 being the firmest. A medium firm mattress is typically in the 5-7 range on the scale.
At Saatva, we use a mattress firmness scale ranging from 1 to 10, as illustrated below.
Just keep in mind that because every manufacturer has its own scale, what feels "medium firm" in one will not feel the same in a mattress from another company.
So who should choose a medium mattress, and what are some of the medium firm mattress benefits? Here's what you need to know.
Benefits of a medium firm mattress
There are many situations in which a medium firm mattress is the right one to choose. Here are the top three medium firm mattress benefits:
Relieves back pain
If you suffer from back pain, your mattress can literally make or break your sleep. When it comes to mattress firmness specifically, a survey of 268 people from Harvard Health Publishing suggests people with low back pain sleep best on a medium firm mattress. Those who slept on very hard mattresses had the poorest sleep quality, per the study. A mattress that's too soft, meanwhile, will cause you to sink in too deeply and can contribute to the pain.
Other research backs this up: A study of 27 women experiencing shoulder and back pain found their pain greatly decreased after replacing their regular mattress with a medium firm mattress that conformed to their particular sleep positions. "Sleep surfaces are related to sleep discomfort," the researchers concluded, adding that it "is indeed possible to reduce pain and discomfort and to increase sleep quality in those with chronic back pain by replacing mattresses based on sleeping position."
Provides ideal support for light- and average-weight individuals
People who are of light or average weight generally need slightly softer sleeping surfaces to keep their bodies properly supported. If you weigh between 120 and 230 pounds, a medium firm mattress is best. If you weigh over 230 pounds, on the other hand, you'll do best on a firm mattress since it'll help keep your spine aligned without sagging.
Good middle ground for couples
If you sleep with a partner who has a different firmness preference than you, a medium firm mattress can be a game-changer. If one of you wants to go firmer and the other softer, a medium firm mattress provides a good middle ground to keep you both happy, comfortable, and sleeping well throughout the night.
Our Best Medium Firm Mattresses
Saatva Classic
Our flagship luxury mattress is expertly engineered with coil-on-coil construction for durability, a layer of memory foam for enhanced back support, and a cushiony Euro pillow top for extra comfort.
Shop
Ideal sleep position
You should also keep your sleep position in mind when choosing a mattress firmness. A medium firm mattress is better for some sleep positions than others.
Back sleepers
If you sleep on your back, you want your mattress to have enough give to be comfortable for your lower back and to promote proper spinal alignment. According to Michael Breus, PhD, Los Angeles sleep disorder specialist, a mattress that's too soft will cause your back to sink into your bed too much, but a mattress that's too firm will not provide enough support in the lumbar area. That's why back sleepers will do best with a medium firm mattress.
Side sleepers
As a side sleeper, you want softness to cushion your hips and shoulders, but a too-soft bed isn't a good option either. That's because this could cause you to sink too far into the surface of the mattress "and your spine will be thrown off its natural alignment, which can lead to back and neck pain," says Joe Auer, editor of the mattress review site Mattress Clarity. A medium firm mattress offers the sweet spot you need as a side sleeper.
Combination sleepers
If you're a combination sleeper—meaning you tend to switch between your side and your back at night—a medium firm mattress is a great option for you. It provides enough cushion to cradle your hips and shoulders while you're on your side and will help keep your spine in alignment while you're on your back.
When should you choose a firm mattress over a medium firm one? Our firm vs. medium firm mattress guide will make your decision easier.