In the mattress market, where price tags can range from $200 to $20,000 (or more!), it's hard to know how much you really need to spend to get a quality product. One thing that's certain, though: a good mattress is crucial to getting a great night's sleep.
As with anything, higher-quality mattresses are going to cost quite a bit more than low-quality ones. Let's explore price comparisons, mattress value, and other costs to consider when deciding what is the best mattress for you.
Comparing prices for different mattress types
There are four main mattress types: innerspring, hybrid, latex, and memory foam. Each one offers individual benefits and differs when it comes to lifespan, support, and cost.
When it comes to cost specifically, each of the four main mattress types is available in a variety of price ranges to suit your financial needs, from budget to mid-range to luxury. In general, though, innerspring mattresses tend to be the least expensive, while latex mattresses tend to be the most expensive.
Mattress prices comparison chart
The following chart compares these types of mattresses and their individual price levels (budget, mid-range, and luxury) for a queen-size mattress:
| Comparison | Budget | Mid-Range | Luxury | Average Price |
| --- | --- | --- | --- | --- |
| Innerspring Mattresses (Queen) | $400-$700 | $700-$1,000 | $1,000+ | $800 |
| Hybrid Mattresses (Queen) | $700-$1,000 | $1,000-$2,500 | $2,500+ | $1,500 |
| Memory Foam Mattresses (Queen) | $900-$1,200 | $1,200-$2,000 | $2,000+ | $1,500 |
| Latex Foam Mattresses (Queen) | $1,000-$1,300 | $1,300-$3,000 | $3,000+ | $1,800 |
What does each price range offer?
With mattresses, as with most other purchases, you get what you pay for. The more expensive a mattress—up to a point—the better the materials and the longer you can expect it to last.
That said, the correlation between quality and price ends once you get beyond a few thousand dollars.
There's no research showing you get better sleep on a $20,000 mattress than on a $2,000 mattress. In general, you'll be able to find a high-quality bed at the mid-range price level. You don't need an overly expensive mattress to sleep comfortably.
Let's take a look at some of the mattress price ranges in detail.
Budget mattresses are great if you need something temporarily. They're inexpensive and can be found at almost any furniture store. However, they're not as durable or long-lasting as some of the other mattresses on the market.
Mid-range mattresses are where you get the most bang for your buck. They live up to their average lifespans, are made with quality materials, and even come with advanced features sometimes.
Luxury mattresses often come with extra upgraded features or luxury materials, but they may not last you any longer than a quality mid-range mattress.
Assessing your mattress's value
Once you've settled on your mattress price range, how can you make sure you're getting the best bang for your buck? The considerations vary depending on the type of mattress you're looking to buy. The following tips will help you separate the best from the rest.
What makes a quality innerspring mattress?
Before purchasing a new innerspring mattress, here are the top qualities to look for:
Coil count and type: The number of coils in a mattress is no longer the indicator of quality that it once was. Most high-end innersprings have between 600 and 1,000 coils. More important is the thickness of the coil, known in the trade as the gauge. The thicker the coil, the more durable and supportive the mattress. When you're talking coils, though, the biggest impact on cost comes from the way the coils are constructed. Individually pocketed coils, a feature of higher-end innersprings, can move independently, which means they contour better than so-called "open" coils and minimize motion transfer when one person in the bed tosses and turns at night.
Edge support: The best-quality innerspring mattresses have a layer of foam along the perimeter. That edge support extends the sleep surface, prevents sagging, and makes it easier to sit or lie on the edge of the bed.
Number and type of layers: All good innerspring mattresses will have multiple layers of material between the core of support coils and the top of the mattress. Those layers can be made of foam, gel, padding, and even additional springs. Each layer should have a specific function, such as conforming support, comfort, pressure relief, or cooling.
What makes a quality hybrid mattress?
Before purchasing a new hybrid bed, these are the top qualities to look for:
Coil count: Most hybrid mattresses are made with a pocketed coil system, which is incredibly high-quality and durable. However, you still need to worry about coil count. Ideally, you should look for a coil count of 600 to 1,000 when it comes to hybrid mattresses.
Foam density: Hybrid mattresses have a combination of coils and comfort layers made of polyfoam. When buying a high-quality hybrid mattress, you'll want to look out for a foam density of 4 or 5 pounds per cubic foot. This will ensure your mattress lasts longer overall.
Special features: Since hybrid mattresses fall at the higher end of the price spectrum, many of them come with special features. You can commonly find hybrid mattresses with memory foam comfort layers or a soft pillow top.
What makes a quality memory foam mattress?
Before purchasing a new all-foam mattress, these are the top qualities to consider:
Foam density: Higher-density foams are generally more expensive than lighter foams. Typically, high-quality foam beds are made up of layers of varying densities. Ideally, you want a density of 4 or 5 pounds per cubic foot, which is higher quality and will last longer than foam with a density of 3 pounds per cubic foot.
Type of foam: Memory foam can contain volatile organic compounds (VOCs) as a byproduct of the manufacturing process. Depending on how the foam is produced, those VOCs can cause odors when you get the mattress home, a process known as "off-gassing." Eco-friendly foams made from plant-based compounds cost more but reduce off-gassing and other irritants.
Special features: Other features that can factor into the cost of a foam mattress include layers of gel memory foam, which minimizes foam's natural tendency to trap body heat, and the use of organic or hypoallergenic materials in the padding and covers.
What makes a quality latex mattress?
Before purchasing a new latex foam mattress, here are the top qualities to consider:
Synthetic latex vs. natural latex: Since natural latex is sourced directly from the rubber tree, it tends to cost more. However, it also offers the advantages that latex mattresses are known for: eco-friendliness, responsiveness, breathability, and durability. While synthetic latex will drop the price of a mattress, it's also not as durable or high-quality.
Latex type: When it comes to natural latex mattresses, you can either find them in Talalay latex or Dunlop latex. Both have different feels, but Dunlop latex tends to be much more durable.
Warranty: Latex has a well-deserved reputation for durability, with most quality products carrying a warranty of 20 years.
True cost: other things to consider when buying a new mattress
Though finding a new mattress that best suits your body and price range is crucial, there are some other cost-related factors you should think about before purchasing a new bed. These include mattress lifespan, durability, delivery costs, warranties, trial periods, return policies, and mattress foundations.
Each additional cost should be considered for the following reasons:
Lifespan and durability: Before making a final purchasing decision, think about how often you want to get a new mattress. Opting for a high-quality, higher-priced bed may save you an additional trip to the mattress store in a few years, ultimately saving you money in the long run.
Delivery costs: Mattresses are quite large items, so they sometimes cost a lot to deliver. Commonly, lower-quality mattress companies will attach a $50+ delivery fee to the price of your bed. However, luxury mattress brands often offer free white glove delivery service, which means you don't have to pay extra for delivery or deal with the hassle of installing your own mattress.
Warranties and trial periods: Not every mattress purchase is a perfect fit—buying a new mattress can be a trial and error experience until you find the one that's right for you. When purchasing a mattress—especially with an online retailer—you should consider the warranties and trial periods they offer. This gives you the flexibility to return the bed if you don't like sleeping on it while also covering any damages.
Return policies: When it comes to low-quality mattresses, many lack a return policy—or the terms aren't clearly stated in the fine print. Investing in a higher-quality bed with a good return policy will make it easier to find the right mattress for you.
Mattress foundation costs: Many mattresses require a specific type of bed frame or foundation. If you're purchasing a new mattress, note that you may also have to buy a box spring or bed frame to ensure you can use it and that your mattress remains covered under warranty.
How to get a good deal on a new bed
Buying a new mattress can certainly be overwhelming. After all, you want to find one that's comfortable but isn't ridiculously expensive.
Lucky for you, most mattress companies offer deals on their products at certain times throughout the year. Many mattress brands like to offer sales on holiday weekends, like Black Friday, Labor Day, and President's Day. If you start mattress shopping at the right time, you can score plenty of great deals throughout the year.
You can also check out sales or promos for mattress brands you're interested in. For example, Saatva offers sales, discounts, and promos for some of our most popular mattresses throughout the year.
Buying online vs. buying in-store
Many people think it's better to buy a mattress at a brick-and-mortar store so you can try it out before purchasing. However, these stores often mark up the prices of their mattresses.
Online mattress retailers, on the other hand, have a lower overhead cost and can offer higher-quality products at lower prices than in-store. Typically, you can expect to pay 15% less for a mattress online than you would for a similar quality mattress from a store.
Plus, most of these online mattress brands will have a sleep trial period so you can fully try out a mattress at home before making your final decision. 
Improve your sleep with these high-quality Saatva mattresses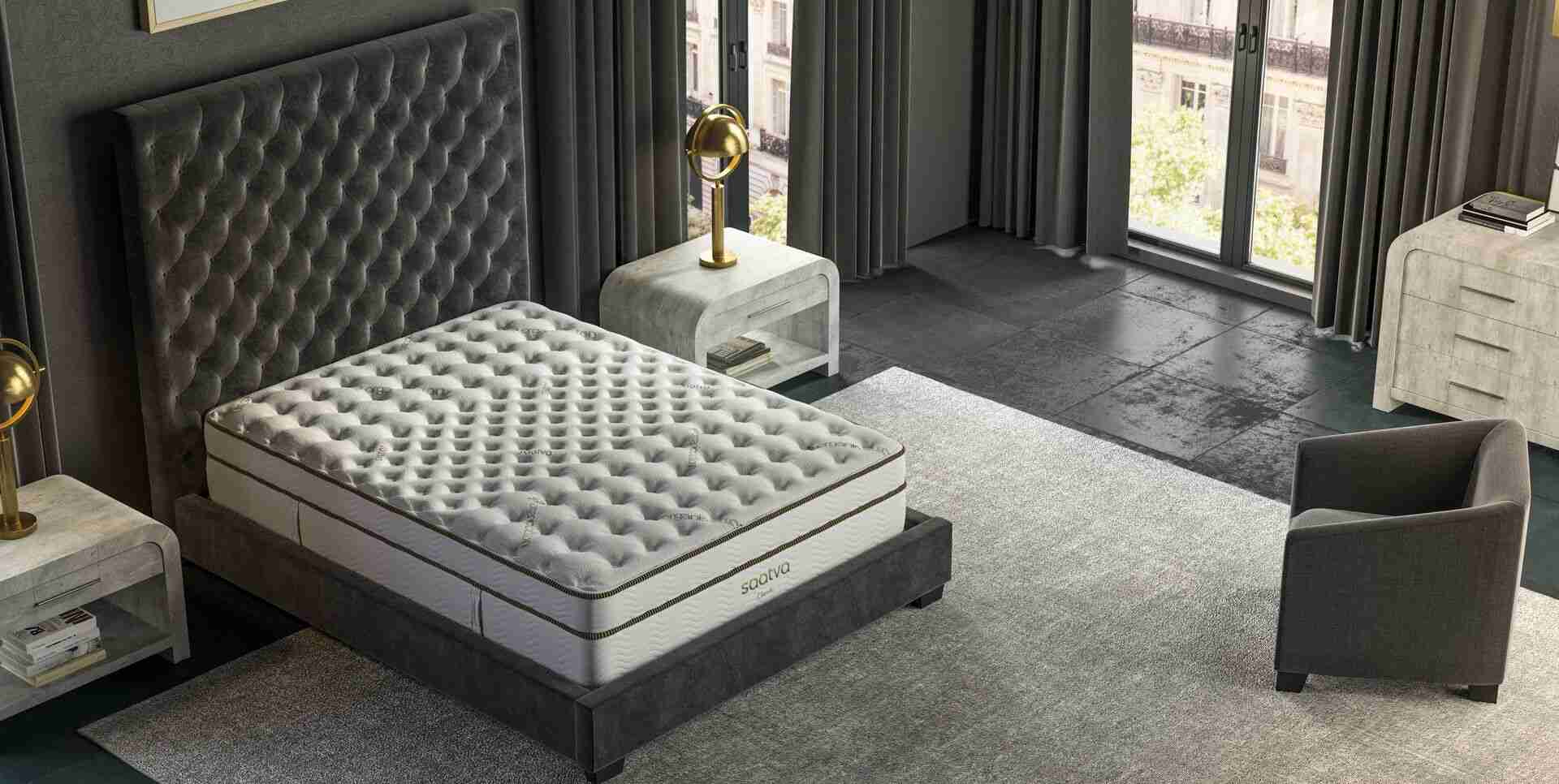 Our flagship luxury mattress is expertly engineered with coil-on-coil construction for durability, a layer of memory foam for enhanced back support, and a cushiony Euro pillow top for extra comfort.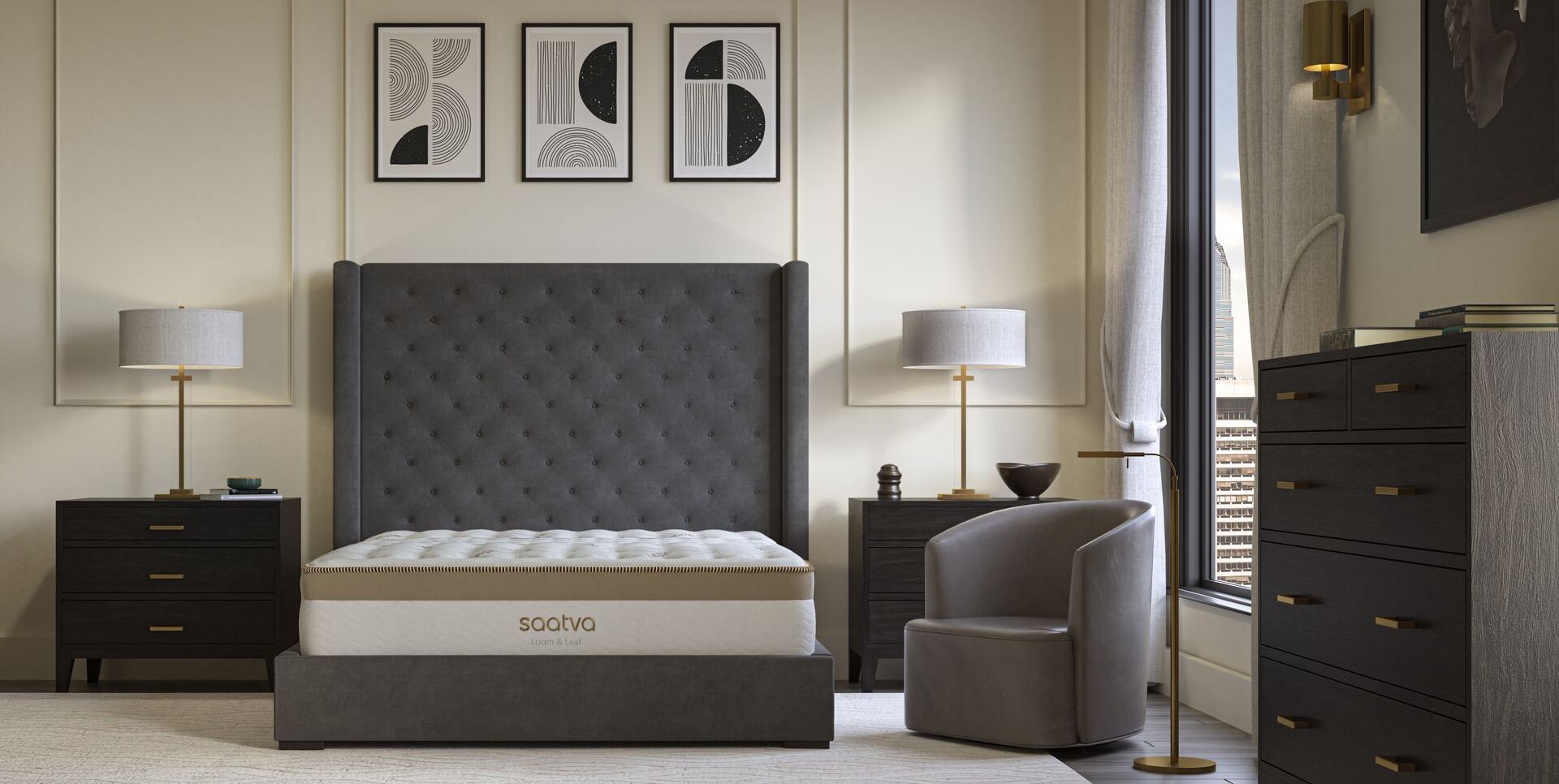 Premium memory foam, handcrafted in the U.S. with eco-friendly materials. Breathable organic cotton, cooling spinal gel, and layers of high-density support foam assure a cool, comfortable night's sleep.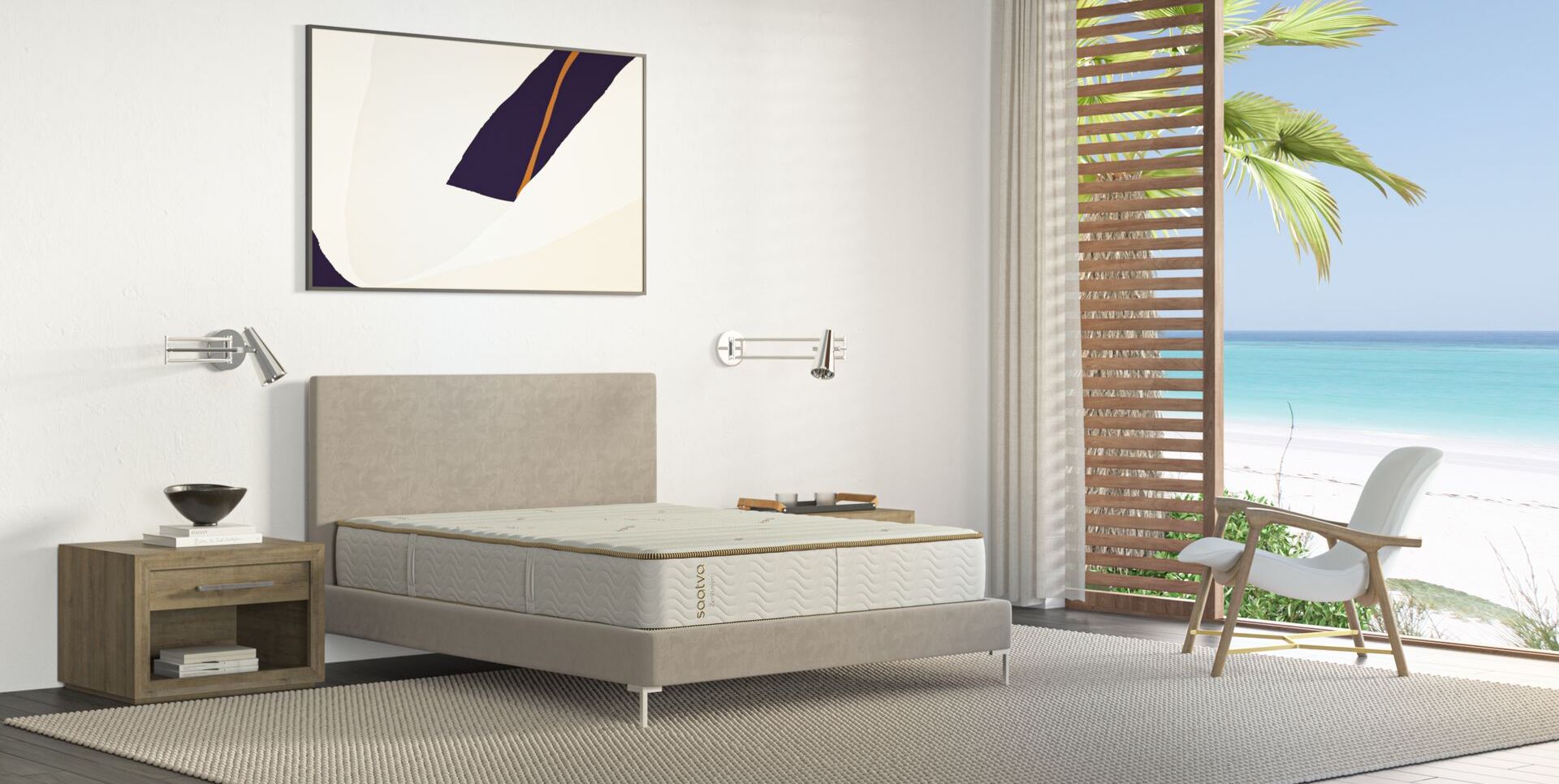 Natural latex responds to every curve for pressure-free support and responsive comfort. Natural latex is supple, resilient, and durable, for the ultimate in elevated sleep. (It's naturally hypoallergenic too.)
FAQs
How much should I budget for a new mattress?
In the mattress market, price tags can range from $200 to $20,000 (or more!), making it difficult to pinpoint how much you need to spend to get a quality product. However, with various price ranges and mattress options, you won't have to set aside thousands of dollars for the perfect mattress. It's suggested you budget between $1,000 to $2000 dollars for a good-quality, queen-sized bed.
How many years should a mattress last?
How long your mattress should last depends on the type of mattress. The average lifespan of a mattress is typically seven to 10 years, with innerspring having the lowest lifespan and adjustable firmness beds having the longest lifespan.
Buying a high-quality mattress with Saatva
Purchasing the right mattress for your body and sleep habits can improve your overall sleep. A high-quality mattress will ensure your body has adequate support in all the right places and allow you to sleep comfortably all night long—for years to come.
Saatva offers a wide selection of high-quality mattresses at a variety of price points to make finding the perfect mattress easy. All of our mattresses come with a 365-night home trial so you can try one out before deciding if it's right for you, as well as an industry-leading warranty. We also offer white glove delivery for all mattress orders. We'll deliver your mattress to the room of your choice for no extra charge and even remove your old mattress for you. 
Take Saatva's online mattress quiz to find the best mattress match for you and start enjoying better sleep.