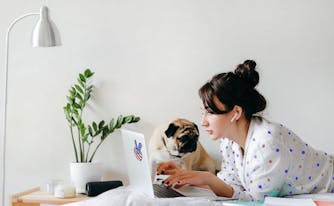 Labor Day Mattress Sales: Get the Best Mattress for Your Money This Holiday Weekend
The final long weekend of the summer—Labor Day—is here. That means it's time to put your OOO on and soak up a few more days of sunshine before a chill returns to the air. Labor Day weekend isn't just a great time to head to the beach, though—it's also a prime opportunity to shop for big-ticket items at a major discount. 
As with other national holidays like Memorial Day and the Fourth of July, you can expect to see sales on a lot of different products over Labor Day weekend—including mattresses. But which mattress is worth your money this three-day weekend? And how can you tell if you're getting a good deal? 
Below, we've rounded up the best Labor Day mattress sale options, as well as answers to your most common questions so you can find the right mattress for you at a price you can feel good about. Happy shopping! 
Best Labor Day mattress sale options
What's the best Labor Day mattress sale going on this year? Many brands are offering discounts, Saatva included, so you have lots of options to consider. This holiday weekend, take $200 off orders of $1,000 or more on any Saatva mattress.
Check out these great Labor Day mattress sales on innerspring, memory foam, and other popular mattress types. 
Innerspring mattress
The Saatva Classic innerspring mattress is our bestseller—and for good reason. It's handcrafted with a durable coil-on-coil base and topped with a cushiony 3-inch Euro pillow top for maximum comfort and support. What's more, it's available in three firmness options so it's easy to find the perfect feel. Luxury Firm is the most popular option as it's a medium firm that accommodates a wide range of sleep positions and offers a middle ground for couples with different preferences. 

Regular price (queen): $1,574
Sale price (queen): $1,374
Memory foam mattress
The Loom & Leaf memory foam mattress hugs your body and relieves pressure in all the right places for a sleep experience that can't be beat. The mattress is made from high-density, eco-friendly memory foam that's certified to be free of harmful chemicals. The foam is infused with gel to keep you cool and provide extra support for your back. It's available in two firmness options to suit most sleep styles. Relaxed Firm, a medium firm, is the most popular option because it works for back, side, and stomach sleepers. 

Regular price (queen): $1,899
Sale price (queen): $1,699 
Latex mattress 
The Zenhaven latex mattress is the ideal choice if you're looking to live as green of a lifestyle as possible. That's because latex is one of the eco-friendliest mattress materials out there. Zenhaven is constructed with 100% pure, natural latex for maximum pressure point relief and cool sleep. On one side, find Luxury Plush, which has a softer feel and works for most sleep styles. Flip the mattress over and find Gentle Firm, which has a slightly firmer feel for back and stomach sleepers. 
Regular price (queen): $2,474
Sale price (queen): $2,274
Latex hybrid mattress
The Saatva latex hybrid mattress brings together the best features of innerspring and latex. The mattress features a base made of individually wrapped recycled steel carbon coils that respond and contour to your body. This is topped with a layer of 100% natural latex for pressure relief and cool sleep. If you can't choose between an innerspring mattress and a latex bed, then this is the one for you. 

Regular price (queen): $1,849
Sale price (queen): $1,649
Adjustable mattress
The Solaire adjustable mattress is one of the best choices for couples. That's because it has 50 firmness levels with individual controls for each side of the bed. This allows you and your partner to set your desired firmness to a number that's right for you. In addition to the standard mattress sizes, Solaire also comes in Upper-Flex and split sizes for additional customization when paired with an adjustable bed base. 

Regular price (queen): $3,045
Sale price (queen): $2,845
Heavy duty mattress
The Saatva HD is our best mattress for heavy people weighing up to 500 pounds. The mattress has a durable innerspring base, with coils that are 25% stronger than the industry standard. The base is topped with comfort foam layers and 5-zone latex for enhanced back support, joint pain relief, and a cool night's sleep.  

Regular price (queen): $2,674
Sale price (queen): $2,474  
Labor Day mattress sales: answers to your common questions
When do all of the Labor Day mattress sales start—and is this a good time to buy a mattress? To help you navigate this holiday shopping weekend, we're answering your most common questions. 
What is Labor Day?
Labor Day is an American holiday that originated in the 1800s. It was created by the labor movement to shed light on poor working conditions during the Industrial Revolution. Labor Day became a federal holiday in the United States in 1894. Now, it's celebrated on the first Monday in September to pay tribute to the American labor movement and the hardworking people who helped build this country. 
Labor Day weekend also unofficially marks the end of summer and the beginning of the back-to-school season. That's why people often celebrate by heading to the beach or gathering with friends and family. 
Do mattresses go on sale for Labor Day?
Labor Day is one of the most popular times for brands to offer discounts on mattresses and all sorts of other products. That's because people tend to buy things—especially big-ticket items—more over long weekends. The extra time off over a long weekend gives you plenty of time to do your research and comparison shop before spending money on a considered purchase. 
When do Labor Day mattress sales start?
Labor Day 2021 takes place on Monday, September 6—but you can expect to see mattress sales starting at least a week before the holiday. Your best bet is to look for sales starting on Monday, August 30. Most Labor Day mattress sales last through the long weekend and end on Labor Day. That gives you plenty of time to shop. 
Is Labor Day a good time to buy a mattress?
Labor Day is one of the biggest days for mattress sales, so it can be a good time to buy a new bed. You can expect to save anywhere from 10%-20% on a mattress during a holiday promotion. 
While you can certainly save money on Labor Day, it's still a good idea to do your research before handing over your credit card. To ensure you're getting a quality mattress, take a look at what's inside the mattress. A quality mattress will have the following features:
Added lumbar support in the center third to protect your back while you sleep
Cooling materials so you don't wake up sweating in the middle of the night
Third-party certifications that ensure the mattress is free of harmful chemicals
It's also a good idea to read the fine print to make sure you're getting a good deal. Check out the policies around delivery, returns, home trial, and warranty so you know what you're getting into when you buy a mattress. 
Some companies, like Saatva, offer free white glove delivery, setup, and removal of your old mattress, while other companies charge extra for this service. Mattresses in a box, meanwhile, usually ship for free, but you have to handle setting them up on your own (and they can weigh more than 90 pounds!). 
When are the best mattress sales?
The best mattress sales usually happen over holiday weekends, like Labor Day, Presidents Day, Memorial Day, and Black Friday. During holiday weekend sales, you can expect to save 10%-20% on a mattress. 
That said, you don't have to shop during a holiday weekend to snag a good deal on a mattress. When you buy a mattress online, you can expect to spend around 15% less than you wound in a store, no matter the time of year, per the National Sleep Foundation. 
How much does a good mattress cost?
Mattress prices vary a lot. Some cost just a few hundred bucks, while others have price tags in the tens of thousands. A quality mattress made with premium materials usually costs between $1,000 and $3,500. Innerspring mattresses are usually on the lower end of that range, while latex mattresses tend to be on the higher end due to the nature of the material. 
Can a mattress last 20 years? 
It's possible—but not likely—that a mattress can last for 20 years. The average lifespan of a mattress is between seven and 10 years, although this number varies widely based on several factors including the type of mattress you have and the way it's used. 
Latex mattresses usually last the longest, followed by high-density memory foam, then innerspring, then low-density foam. How often you sleep on the mattress also plays a big role. A mattress that sits in your guest room and doesn't get a ton of use will last longer than a mattress you sleep on every night. Plus, if you're on the heavier side, you may notice your mattress begins to sag more quickly. 
The bottom line: If you wake up with aches and pains a few days a week, notice stains and tears in your mattress, or just can't seem to get comfortable in bed, then it might be time for a new mattress. 
We have even more advice to help you find the perfect mattress this Labor Day. Check out the following articles for our best holiday weekend shopping tips: