Twin Size Bed Dimensions: Everything You Need to Know About Twin Size Mattresses
Whether you need an extra bed for guests or have a young child who's ready for a "big kid bed," look no further than a classic twin mattress. It's surprisingly one of the most versatile mattresses around because it's also an ideal option for solo sleepers who live in small spaces. Its sibling, the twin XL mattress, is a longer variation on the twin that's additionally a great pick for tall teens and college students.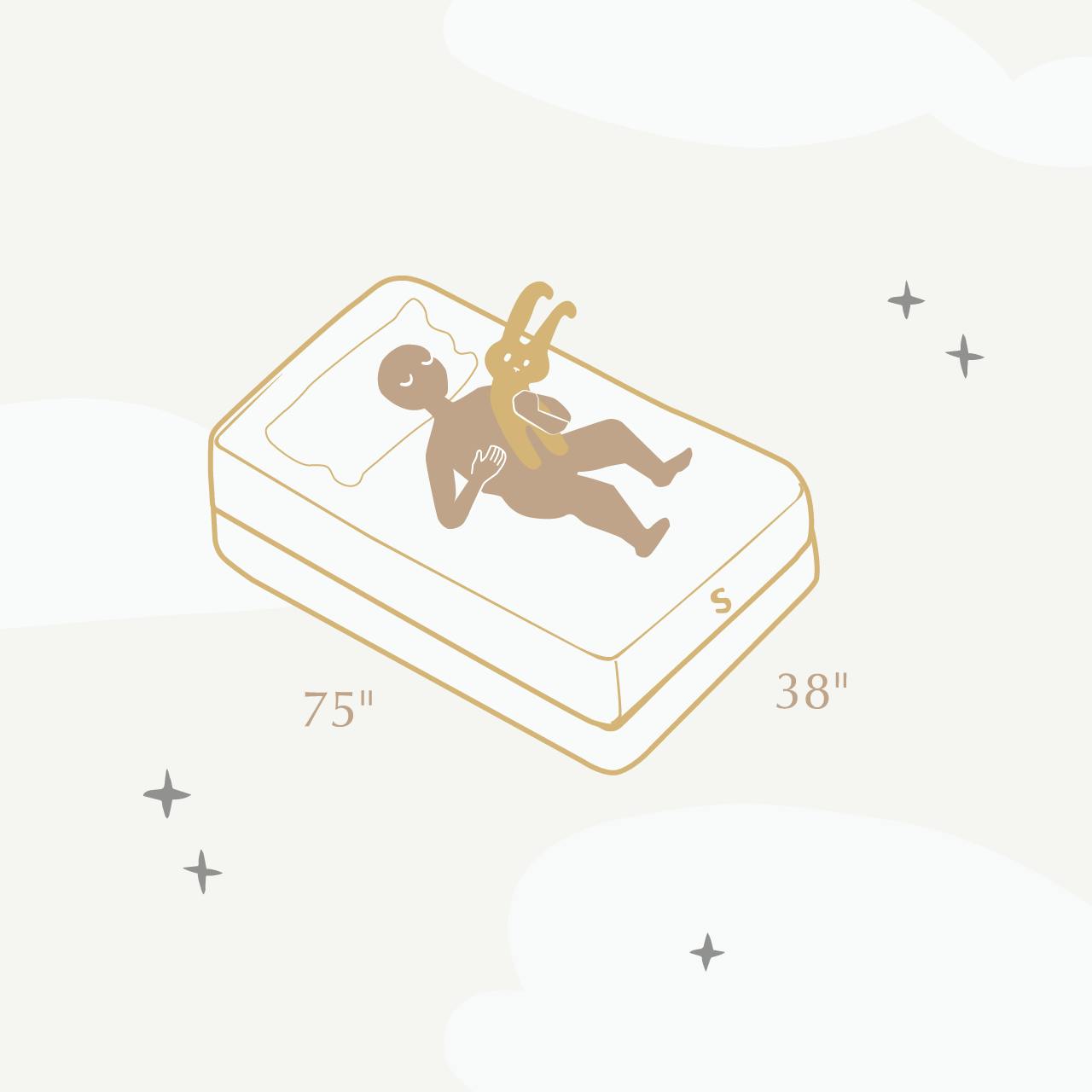 But how big, exactly, are twin size bed dimensions, and will this mattress work in your bedroom? Here, we've put together everything you need to know about twin beds, including the pros and cons of choosing this mattress size and how to tell if it's right for you.
We're also sharing insight into popular variations on the twin mattress, like the twin XL, to help make mattress shopping easier for you.
Twin bed dimensions
A twin mattress (also known as a single bed) measures 38 x 75 inches. Besides a crib size mattress, a twin size bed is the smallest standard mattress size on the market.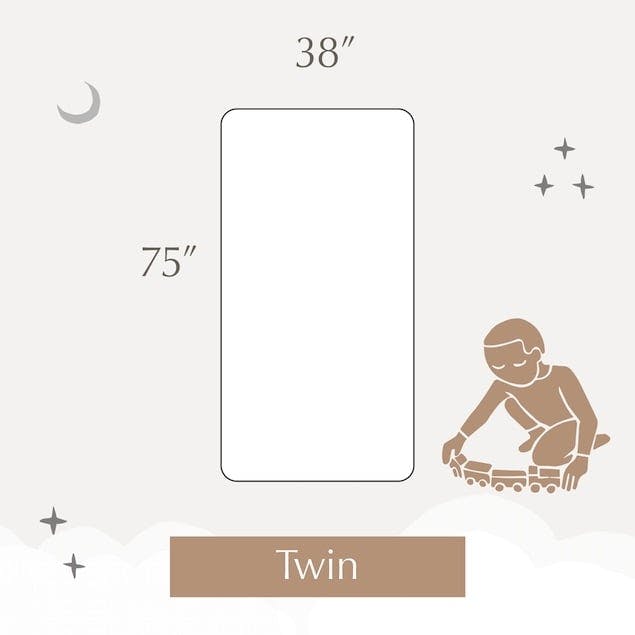 You've likely heard the term "twin XL," but you may not be familiar with what it is. A twin XL mattress is a variation on the twin size bed. Twin XL dimensions are 38 inches wide by 80 inches long, making it 5 inches longer than a standard twin.
Below, you'll find a chart that shows standard twin mattress dimensions in the most common units of measurement.
Twin Size Mattress Dimensions

Inches

38 x 75 in

Feet

2.3 x 6.25 ft

Centimeters

96.5 x 190.5 cm

Meters

.965 x 1.905 m
Benefits of a twin size mattress and bed
If you're thinking thorough twin bed dimensions to determine whether this size is a viable option in your space and your life, weigh these benefits and drawbacks.
Pros and cons of a twin size mattress
| Pros of a twin size mattress | Cons of a twin size mattress |
| --- | --- |
| Ideal size for growing children | Not enough space for couples |
| Fits nicely into kids' bedrooms | Not long enough for taller teens or adults |
| Can be used in bunk beds and daybeds | Not spacious enough for heavier individuals |
| Good option for solo sleepers in studio apartments | Won't fill out a larger bedroom |
Is a twin size mattress right for me?
These are the top considerations you'll need to think through before purchasing a twin size mattress.
Who will sleep in the bed
Since a twin size mattress only measures 38 inches wide, keep in mind that it's best suited for individuals, such as children or adults of short or average height. A twin mattress is generally not a good option for taller teens and adults since it comes in at a diminutive 75 inches long.
Desired comfort level
A twin size mattress purchase also comes down to comfort level. Note that if you're buying a twin mattress for a child, toddlers and young children need a medium firm mattress to adequately support their growing bodies. For guest room beds, medium firm is also a good option because it suits a wide variety of sleepers.
If you're in the market for a twin mattress for yourself, consider your preferred sleeping position. While a softer mattress is perfect for side sleepers, a medium firm mattress is ideal for back sleepers. A firmer mattress, meanwhile, is best for stomach sleepers.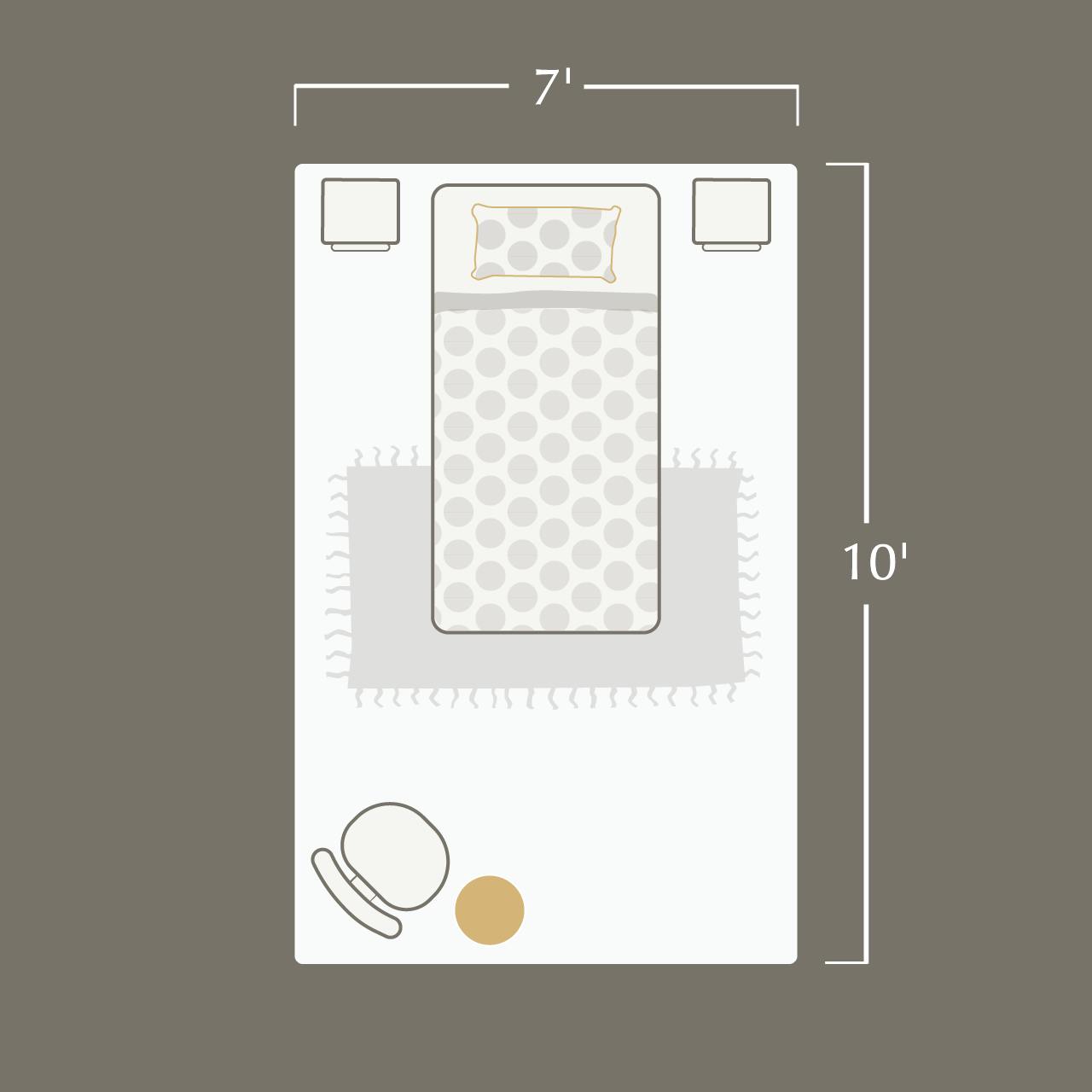 Your room size
Naturally, since twin size mattresses are on the small side, they work best in rooms with limited space, such as studio apartments, kids' bedrooms, college dorm rooms, and guest bedrooms. When planning your layout, keep in mind that the minimum recommended room size for a twin size bed is 7 x 10 feet.
Whether you're setting up a kids' room with a twin mattress as the focal point, outfitting your studio apartment, or planning a guest room, here are some design tips to contemplate.
First things first: Consider what's happening in the room besides sleeping. "We just put a single twin in a boy's room because his room serves as a playroom also, so this gave him ample floor space," says Prudence Bailey, founder and principal designer of Prudence Home + Design in Connecticut. "Additionally, we created a custom day bed with a twin mattress for a nursery so Mom or Dad could sleep in there if needed."
Then, think about where the mattress is going to go in the room—this will inform what other furniture you need. "When choosing a twin, make sure you know the placement before choosing other furniture," she says. "You may only need one nightstand if the bed is against the wall, for example."
Lighting is an important choice too. "Since most of the time, a twin is in a child's room and the lamps tend to be smaller, hang an overhead light such as a flush mount for regular ceilings or a fun pendant or chandelier for higher ceilings," says Bailey. This will give great accent lighting to the space."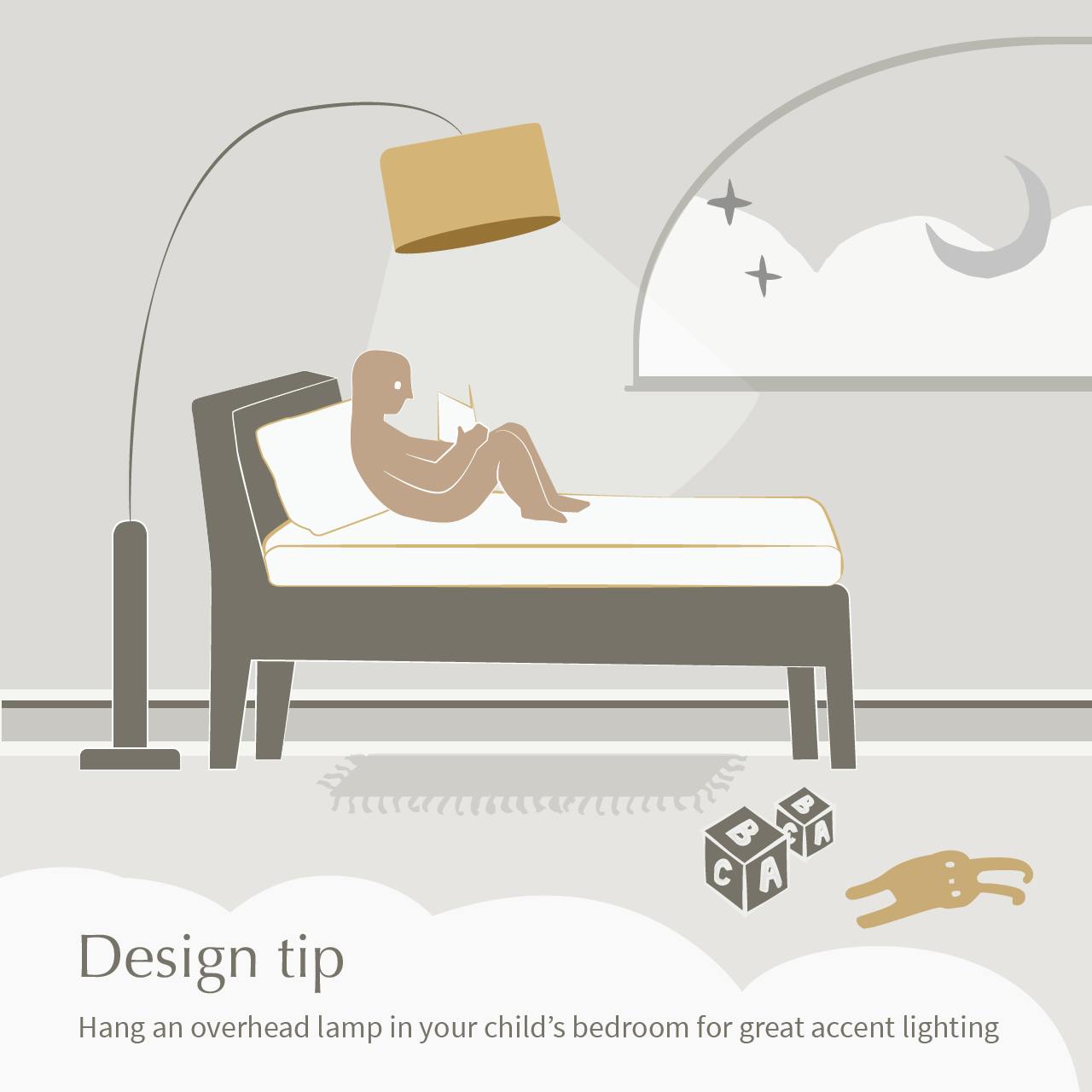 Your body size
Another consideration when deciding to purchase a twin mattress is this: twin mattresses typically don't give larger individuals enough room to move around comfortably. They tend to be a better option for people with smaller body sizes. (Learn about the best mattress for heavy people.)
Your budget
A twin mattress is hands down the cheapest mattress size. A twin size innerspring mattress will be the most affordable option of all since innerspring mattresses usually run less than other mattress types. If you're thinking about a twin youth mattress, it will usually cost you a few hundred dollars.
Temperature
Whether you're buying a twin mattress or another size, if you sleep hot, you may want to skip memory foam since it tends to trap heat. Innerspring and latex mattresses sleep the coolest, resulting in improved sleep.
Motion isolation
For twin mattresses and beyond, a memory foam mattress is the best at reducing motion isolation, while on an innerspring mattress, you'll feel yourself moving around, which can disturb sleep.
Other types of twin mattresses
You might be surprised to learn that twin beds are sometimes called different things. There are even some variations on the twin. Here's what you need to know.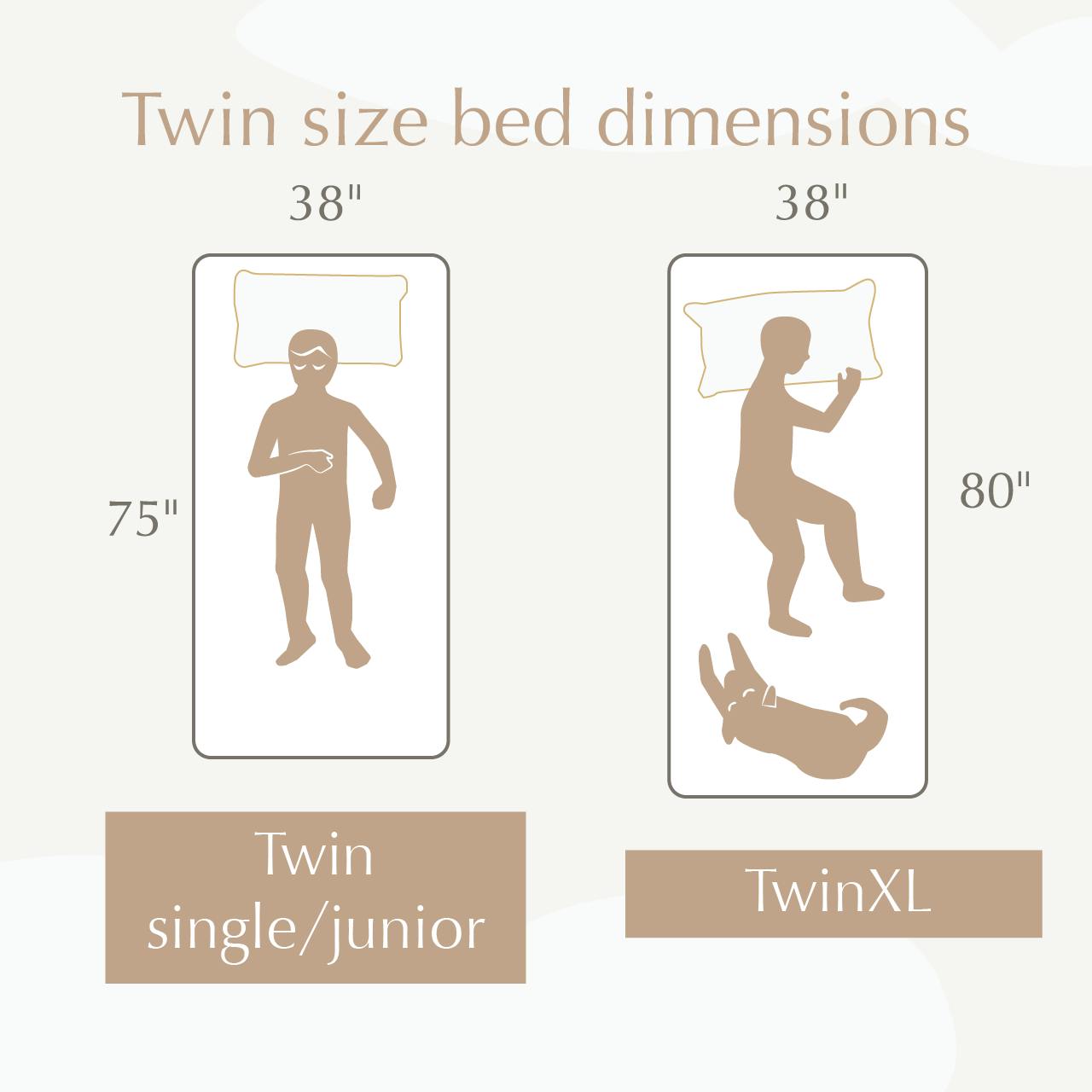 Single beds and twin mattresses
Single beds and twin mattresses are the same. They both measure 38 x 75 inches.
Twin XL mattress
As its name suggests, a twin XL is an extra-long twin size mattress. A twin XL measures 38 inches wide by 80 inches long, which makes it a full 5 inches longer than a standard twin.
Junior mattress
Children's mattresses are also sometimes called junior mattresses. They're typically the same size as a kids' twin mattress at 38 x 75 inches.
Twin mattress vs. other mattress sizes
Since there are a variety of mattress sizes to choose from, it can be helpful to compare and contrast those dimensions as you decide if a twin mattress is for you.
Twin vs. twin XL
As an extra-long version of a traditional twin mattress, a twin XL mattress is better for taller sleepers, while a twin mattress is geared toward sleepers of short of average stature.
Also, twin bedding is a breeze to find, but twin XL bedding can present a challenge since it's not as common or readily available. A twin XL mattress also costs more money than its twin counterpart.
Twin vs. full
At 54 x 75 inches, a full mattress is wider than a twin mattress, providing bonus room to solo sleepers. If you have a space on the medium side, a full bed will fill out the room better than a twin. But, be forewarned that full mattresses are more expensive than twin beds.
Twin vs. full vs. queen
When you throw a queen mattress into the mix, you'll have some additional differences to ponder: twin, full, or queen? At 60 x 80 inches, a queen is larger than a full mattress, which means you could share it with a partner. A twin or full size mattress isn't ideal for couples. While a full mattress offers more room for kids and solo sleepers, a queen is versatile in that it works for couples and single sleepers alike.
Twin XL vs. full
A twin XL is a longer mattress option for tall sleepers, while a full mattress is the same length as a twin but provides more space at a greater width. While a twin XL has been a tried-and-true option in many dorm rooms, a full mattress is a great pick for little ones who can grow into their mattress into their teen years.
Twin XL vs. queen
Twin XL and queen beds are very different from one another. A twin XL measures 38 x 80 inches and a queen comes in at 60 x 80 inches, making it the much wider option between the two. A twin XL won't work well for couples, but a queen is just right for two sleepers. But a twin XL will fit better in a small room—a queen bed might overwhelm the space.
Other mattress sizes
The world of mattresses can be a surprisingly wide one to explore, which is why we have provided a number of guides to help you make your decision.
Twin bedding sets and accessories
Once you've selected your ideal twin mattress, it's time to think about what kind of bedding you'll need as well as your foundation.
Twin size mattress FAQs
To break everything down, we're answering the most common questions about twin bed dimensions to help you in the mattress-shopping process.
What size room works best for a twin size bed?
It's generally believed that the minimum room size to comfortably fit a twin is 7 x 10 feet. It works well in studio apartments, guest rooms, children's rooms, and bedrooms on the small side.
Are a twin bed and a single bed the same thing?
A twin size mattress and a single bed are the same. Both measure 38 x 75 inches.
Are twin and double beds the same?
Twin and double beds are not the same. A twin bed is 38 x 75 inches, while a double bed, also known as a full bed, is 54 x 75 inches. Double beds are another good option for solo sleepers, especially ones with slightly larger bedrooms to accommodate the larger mattress size. They're also good if you'd like a little extra room to sleep.
Can two people sleep in a twin bed?
Not comfortably. A twin bed is better for solo sleepers since it only comes in at 38 inches wide. A queen mattress, which clocks in at 60 inches wide, is a much better choice for couples.
Is a twin size mattress the best choice for children?
A twin size mattress is ideal for young children since it'll provide enough space for their growing bodies and fit comfortably into a small kids' bedroom. Keep in mind that taller teens may not fit comfortably on a twin size mattress. In this case, a twin XL, which is 38 x 80 inches, could be a better option.
Can you fit twin sheets on a twin XL bed?
You can't fit twin sheets on a twin XL bed since a twin XL is 5 inches longer. You must use sheets made specifically to fit a twin XL bed.
Do two twin XL beds make a king?
Two twin XL beds make something called a split king mattress, clocking in at a sizable 76 x 80 inches. A split king is a good option for couples with different sleep preferences since each of you will be able to pick your desired firmness.