Long before steel-coil innersprings and high-tech memory foam—or any mattress at all, for that matter—early humans slept on layers of reeds, rushes, and leaves, where they bedded down along with their extended families. Then came piles of straw, woven mats, and cloth sacks filled with hay.
By 1776, beds in the United States were often a complex, layered affair. Wealthy colonists and their families even passed them down from generation to generation. We talked to art historians from the Pratt Institute, Strawbery Banke Museum, Columbus College of Art and Design, and Winterthur Museum to learn more about what the Founding Fathers would have been sleeping on at the time of American independence. Here are a few fascinating facts.
Early Americans slept behind really fancy curtains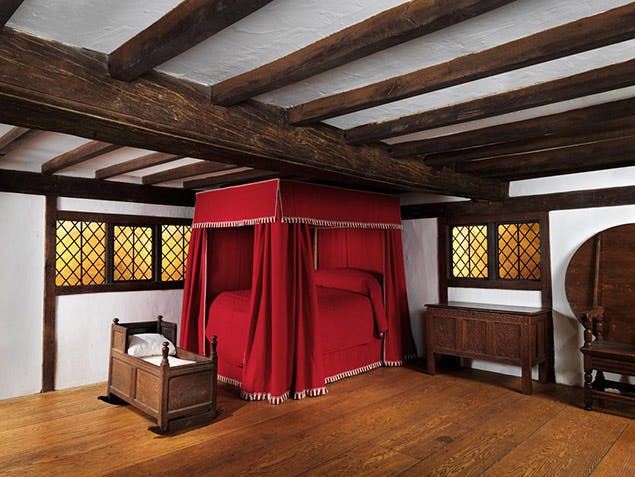 Bed from the Hart House in Ipswich, Massachusetts. Source: Metropolitan Museum of Art
After long days of arguing about the Declaration of Independence, Thomas Jefferson, Ben Franklin, and John Adams may have rested their weary bones in four-poster beds enclosed by heavy drapes on all four sides.
The curtains were mainly for warmth, explains Annie Coggan, associate professor of interior design at Pratt, who's currently serving as a maker/creator and visiting scholar at the Winterthur Museum, Garden, and Library in Delaware (a museum of 17th- to 19th-century American decorative art).
There's one interesting example that I have been looking at in York, Maine, she says, where the curtains and valance are very elaborately embroidered on the inside and outside of the curtain panels. A tour guide there alluded to the fact that the embroidery on the inside was stitched with particularly 'saucy' parts of the Bible. (So much for Puritanical New Englanders!)
Betsy Ross didn't just make flags, she also made mattresses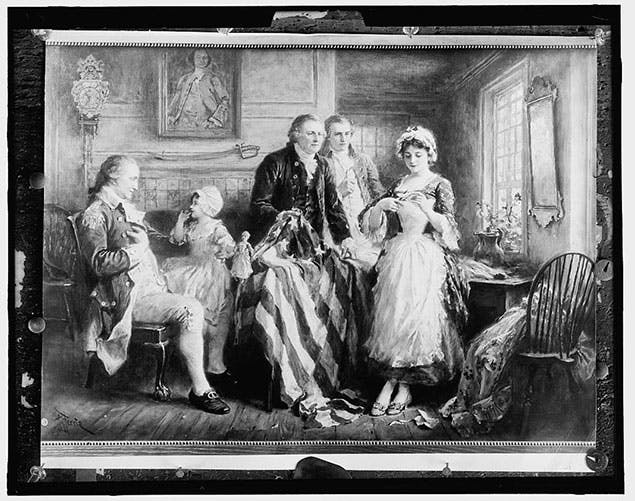 Photograph of a painting by Jean Louis Gerome Ferris. Source: Library of Congress.
In 1774, future first President George Washington purchased very floral chintz bed curtains for his granddaughter Nelly's bedroom.
Who made them? None other than Betsy Ross, creator of the first American flag. Along with being perhaps the world's best-known seamstress, she was also a professional mattress and feather-bed maker in Philadelphia, according to the education team at Strawbery Banke.
Before bed frames, people put mattresses on bedsteads"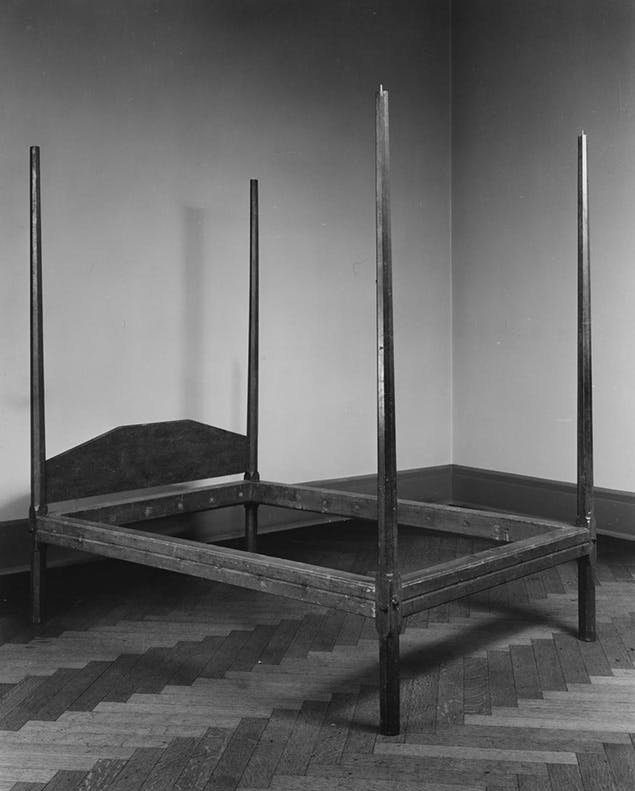 A simple American-Revolution-era bedstead made of poplar and pine. Source: Metropolitan Museum of Art
The 18th-century precursor to today's bed frame was called a bedstead. Pre-industrial revolution, these four-poster frames were made from sturdy wood. Some were so intricately carved that they ranked as family heirlooms. A sacking of rope or leather crisscrossed between the sides of the bedstead to provide a platform for the mattress.
Many homes in the U.S. in the 18th century featured design styles that were trendy in Europe, especially in Britain and France, says Aaron Petten, assistant professor of art history and visual culture at Columbus College of Art and Design. Queen Anne and Georgian styles were among the most prominent, although the audaciously ornamental designs of French Baroque and Rococo designs also featured in American interiors.
Some Native American tribes used wood bedsteads, too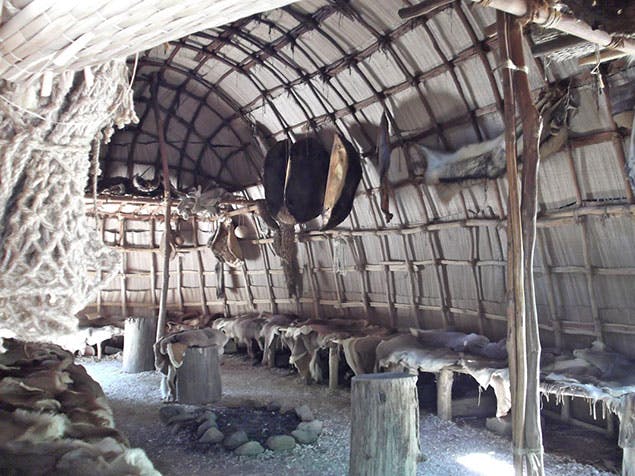 Powhatan Village Reconstruction in Jamestown Settlement, Virginia. Source: MPSharwood, via Wikimedia Commons
Before the colonists showed up in the 1600s, Powhatan Indians lived in towns in the Northeast, in houses made of saplings and woven mats.
Anywhere from six to a dozen people lived in each house (or yehakin) and slept on wooden bedsteads lined up against the walls. Woven mats and animal skins served as bedding, with rolled mats for pillows.
"Mattress" meant something totally different back in the day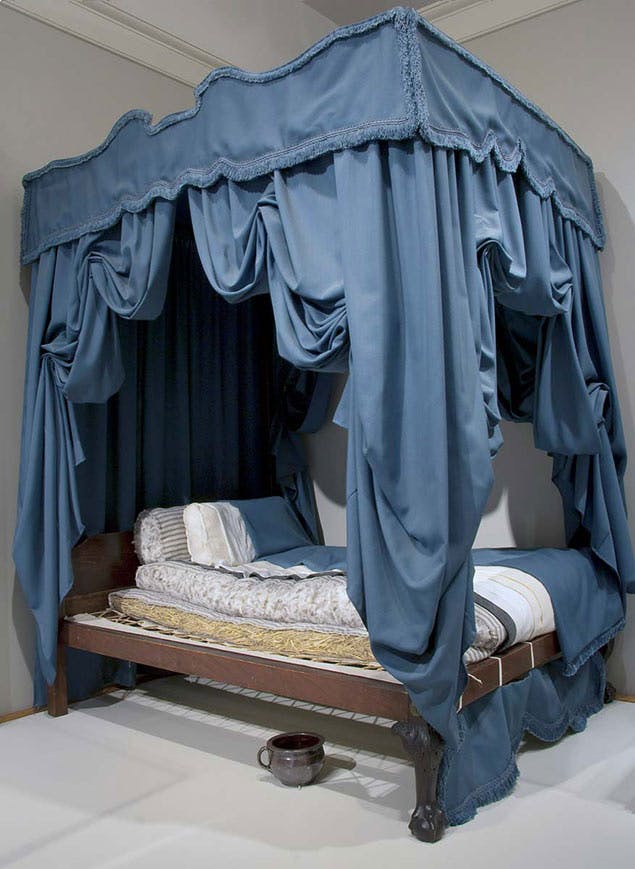 Cross section of a bed with husk mattress, featherbed, bolster, and pillows c. 1760-1775. Courtesy of the Winterthur Museum, Garden, and Library.
A prosperous American of the 18th and early 19th centuries slept on a bed made up of several layers. At the bottom was a simple, firm mattress pad or cushion filled with corn husks or horsehair.
Next came a big featherbed for comfort, plus feather-filled bolsters and pillows. (The featherbeds sagged and were hard to lie flat on, so people slept propped up on pillows.)
Town- and city-folk would have bought professionally made feather mattresses from someone like Betsy Ross. People who lived on farms, or close to them, may have made their own from goose and duck feathers.
Servants and enslaved persons slept very simply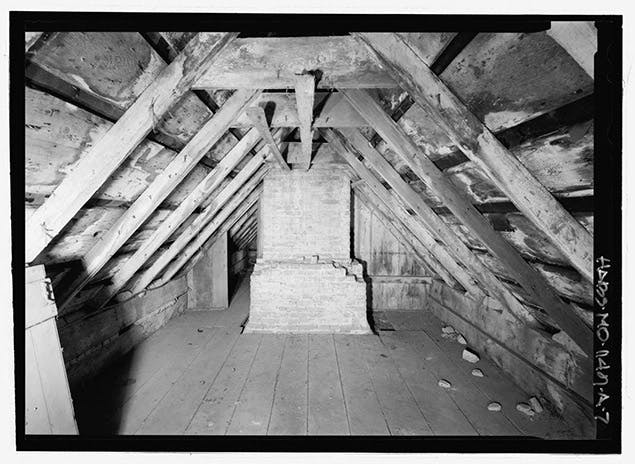 Blandair Slave Quarters, Howard County, Maryland. Source: Public domain, via Wikimedia Commons 
As you might imagine, there were no fancy featherbeds for servants or enslaved persons in 18th-century America. They often slept on the simplest straw or hay pallets on the floor.
In New England, servants slumbered in the hallways or even the unfinished cavities of the house or the attic space if there weren't rudimentary quarters provided for them," says Petten.
In the historic houses at Puddle Dock in Portsmouth NH that now make up the Strawbery Banke Museum, for example, servants and enslaved persons slept in the attic, even through cold winters.
Families covered their beds in layers and layers of blankets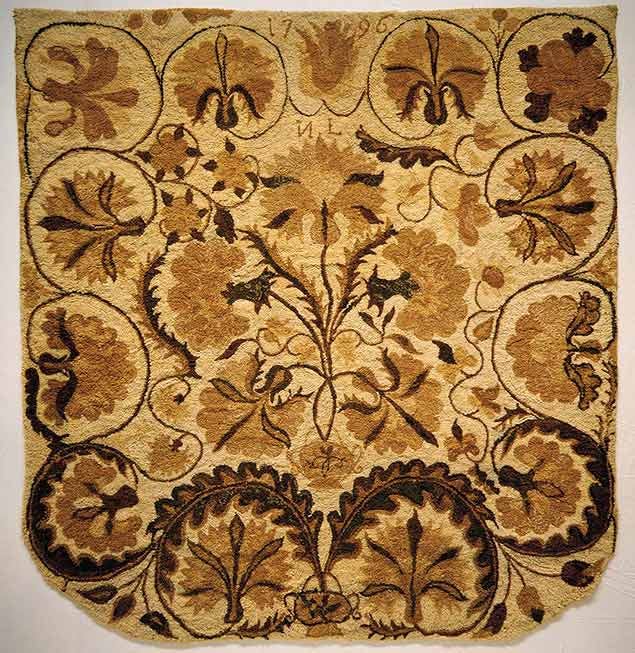 American wool bed "rugg" made in Colchester, Connecticut, c. 1796. Source: Metropolitan Museum of Art.
In many homes in the 18th century, cotton or linen sheets, a counterpane (a.k.a. blanket or bedspread), and an intricately woven coverlet or embroidered quilt covered the bed. Chilly New Englanders often topped all of these off with something called a "bed rugg," a thick, heavy spread made from looped wool, like a carpet.
"Bed and textiles were often the most dear and expensive items in the household," says Coggan. "In fact, the bedroom in the Paul Revere house in Boston is referred to as the 'best room,' because all the family's 'best' stuff was in that room."
Every day, someone stripped these precious textiles from the beds to keep things sanitary, then remade them at night. "Beds were taken apart and aired daily, and the mattresses flipped," explains Coggan. "It was a process that took two people and lots of time." (You can see what she's talking about at about the 32:00 mark of an episode of the BBC history series If Walls Could Talk.)
General Washington carried a collapsible bed to war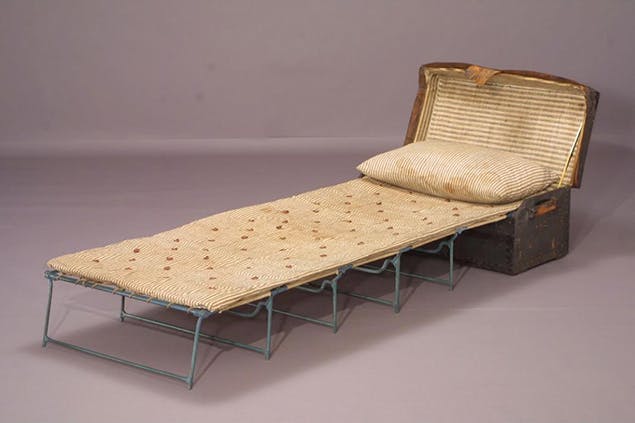 George Washington's camp bed, c. 1783. Source: The Henry Ford Museum in Dearborn, Michigan.
George Washington slept on foldable "camp beds" during the Revolutionary War. He used this bed-in-a-trunk when he traveled to upstate New York to check up on troop encampments toward the end of the fighting. It's currently on display at The Henry Ford Museum in Dearborn, Michigan.
FAQs
When was the first bed invented?
Scientists believe the first bed dates back over 77,000 years ago. According to research published in the journal Science, evidence of the first bed was found in South Africa. It was constructed from grass-like plants, topped with aromatic leaves, and contained chemicals to kill insects and larvae.
Who invented the sleeping bed?
Between 3,000 and 1,000 B.C., ancient Egyptians invented the first raised bed with legs shaped like animal feet. Made of wood, these beds kept the sleeper off the ground and prevent rodents, bugs, and other creepy-crawlies from getting into the bed.
What were the oldest mattresses made of?
The oldest mattresses were made of woven mats and animal skins, which served as bedding, with rolled mats for pillows. These were layered on wooden bedsteads.