If you have sensitive skin or a skin condition like eczema or psoriasis, you know what it's like to wake up itching in the middle of the night.
It turns out your sheets may be part of the problem as some materials can actually irritate your skin more throughout the night.
To avoid disturbing your sensitive skin, you'll want to pick out your sheets very carefully. Here are our recommendations on how to find the best bed sheet set so you can finally get a good night's sleep.
The best sheet materials for sensitive skin
The most important thing to consider before buying a set of bed sheets for sensitive skin is the material.
Ideally, you should choose a natural fiber that's breathable, smooth, and lightweight. This will help wick away moisture and friction—two things that commonly cause skin irritation.
The best fabrics to consider when buying a new set of bed sheets are:
Cotton
Silk
Bamboo
Percale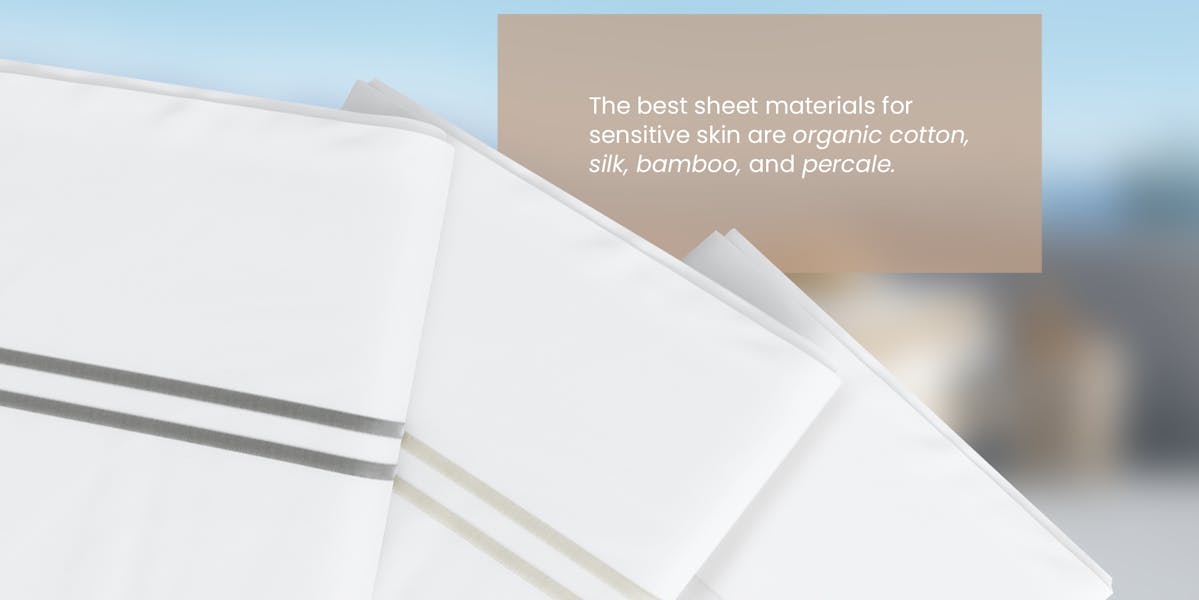 Cotton
Cotton sheets are easy to find and have been a staple in the bedding industry for years. They're durable, easy to clean, and get softer the more frequently you wash them. Cotton sheets also have a natural moisture-wicking property, so they won't retain moisture buildup over time.
Just make sure to check your cotton sheets haven't been treated with harmful chemicals or dyes, as they can irritate reactive skin.
Silk
Silk, another natural fiber, has long been prized by sleepers with sensitive skin. It feels smooth to the touch and is temperature-regulating. That means it can keep you warm when the temperature drops and cool in hot weather. With the proper temperature regulation, your skin will be much less likely to feel irritated.
Because the material feels so luxurious, people tend to purchase silk pillowcases to use on top of their bed sheet sets. This can help ensure your face doesn't react negatively to the fabric on your pillowcase. Silk pillowcases are wrinkle-resistant and can be used on your bed year-round.
Though silk may be the softest material on the market, keep in mind that silk sheets can also be quite tricky to care for. They require a gentle detergent, preferably one made specifically for silk, and need to be washed separately from the rest of your laundry. Because they're so fragile, you should wash them in a mesh laundry bag.
Silk sheets also come with a fairly large price tag. But if you're willing to invest the time and money into a silk sheet set, they can really help improve your sleep quality with sensitive skin.
Bamboo
Bamboo has the added benefit of having naturally antimicrobial, antibacterial, and hypoallergenic properties—a winning trifecta for sensitive skin types. With bamboo sheets, you won't have to worry about dust mites bothering your allergies throughout the night.
Bamboo sheets are soft, eco-friendly, and biodegradable, which makes them especially appealing for sustainable shoppers.
They're usually either made from bamboo viscose or bamboo lyocell. While these two materials feel the same, lyocell tends to be much more eco-friendly.
Percale
Percale is a type of cotton fabric commonly blended with silk or rayon and known for its unique weaving pattern. Percale sheets are crisp, breathable, and allow for great airflow and temperature regulation throughout the night.
Because of their cooling properties,
percale sheets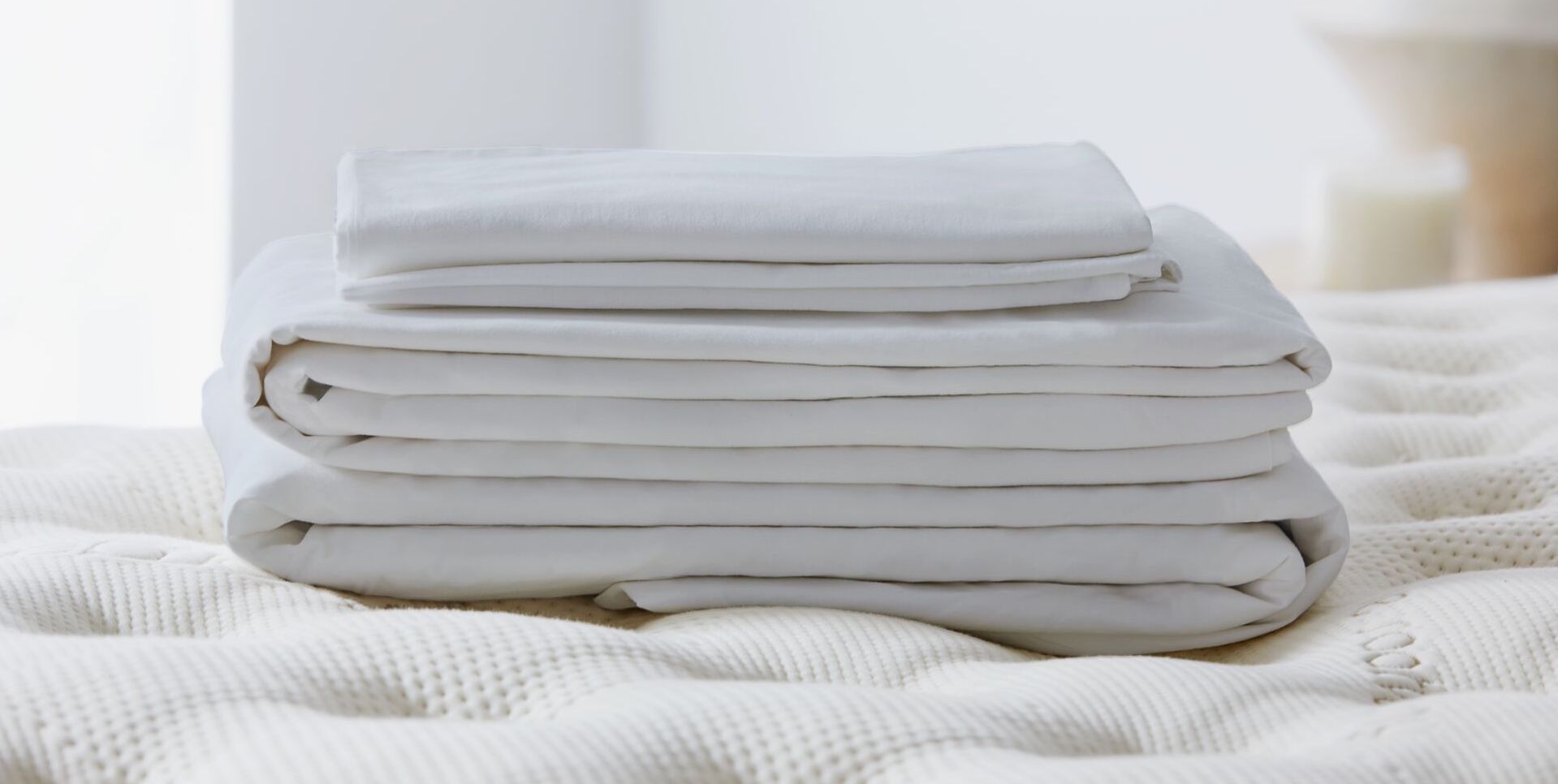 Percale Sheet Set
Crisp and cool percale cotton sheets with a luxe matte finish
are excellent for people with sensitive skin. If you're looking for a set of soft sheets with great temperature regulation, these could be the best cotton sheets for you.
Our best sheets for sensitive skin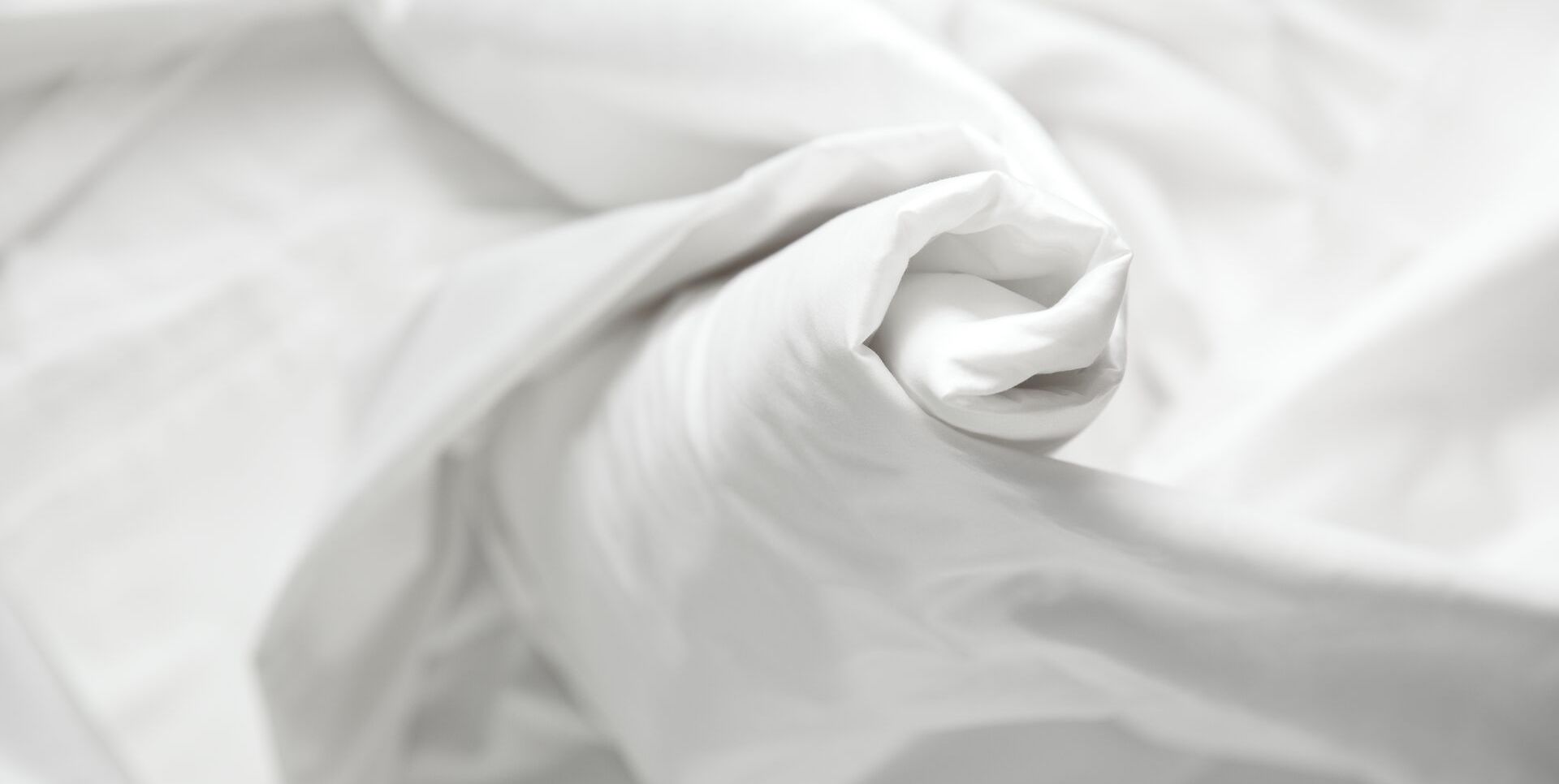 It's easy to see why our flagship organic cotton sheet is a bestseller. Its silky-soft, 300 thread count sateen weave is made with 100% certified organic cotton. It's better for the planet and feels indulgently luxurious on you.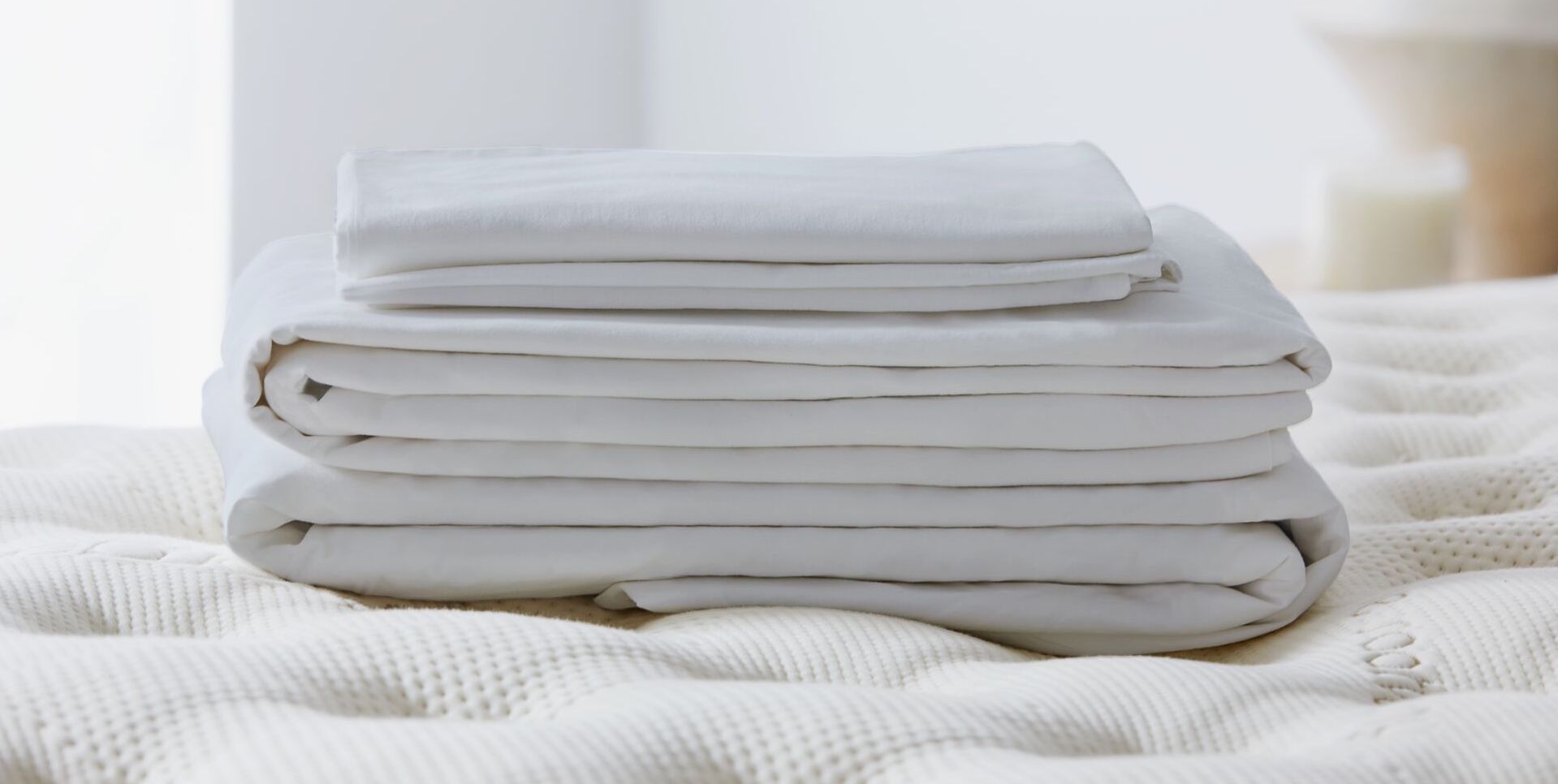 Pamper yourself in deluxe comfort with our breathable percale sheets. They're made from the world's best long-staple cotton that gets softer and better with every wash.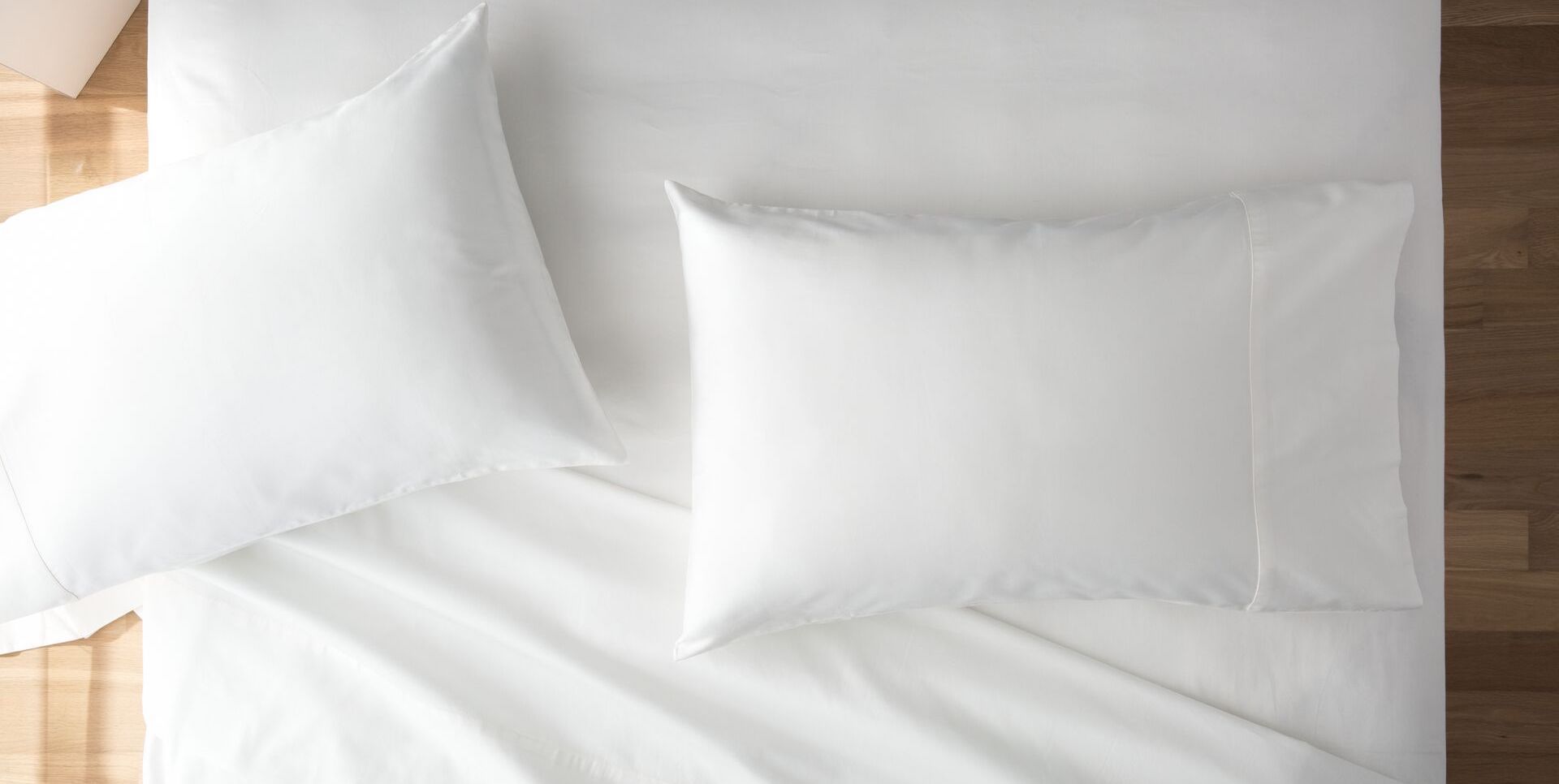 Wrap yourself in the five-star luxury of our signature cotton sheets in a silky-soft sateen weave that gets softer with every wash.
Which bed sheet materials should you avoid?
What's on the no-go list? Thicker fabrics that trap heat are ones that you should skip.
Additionally, itchy lace accents and embroidery may irritate your sensitive skin. Here are a few bed sheet materials you should stay away from:
Wool sheets
Polyester sheets
Flannel sheets
Fleece sheets
All of these materials trap heat, which can lead to sweating that can worsen sensitive skin and eczema. They can also make it hard for hot sleepers to get a good night's sleep.
Other factors to consider when buying sheets for sensitive skin
While material plays a huge role in whether or not your sheets will irritate your sensitive skin, there are some other factors to take into account as well. Pay attention to the thread count and color of your bed sheets too.
Thread count
Marketers have long been obsessed with high thread counts, but the fact remains that anything over about a 400 thread count requires synthetic fabric processing, a no-no for sensitive skin types who are best off with natural fibers. The National Sleep Foundation recommends thread counts between 200 to 400 for optimal airflow and overnight comfort while deep sleeping.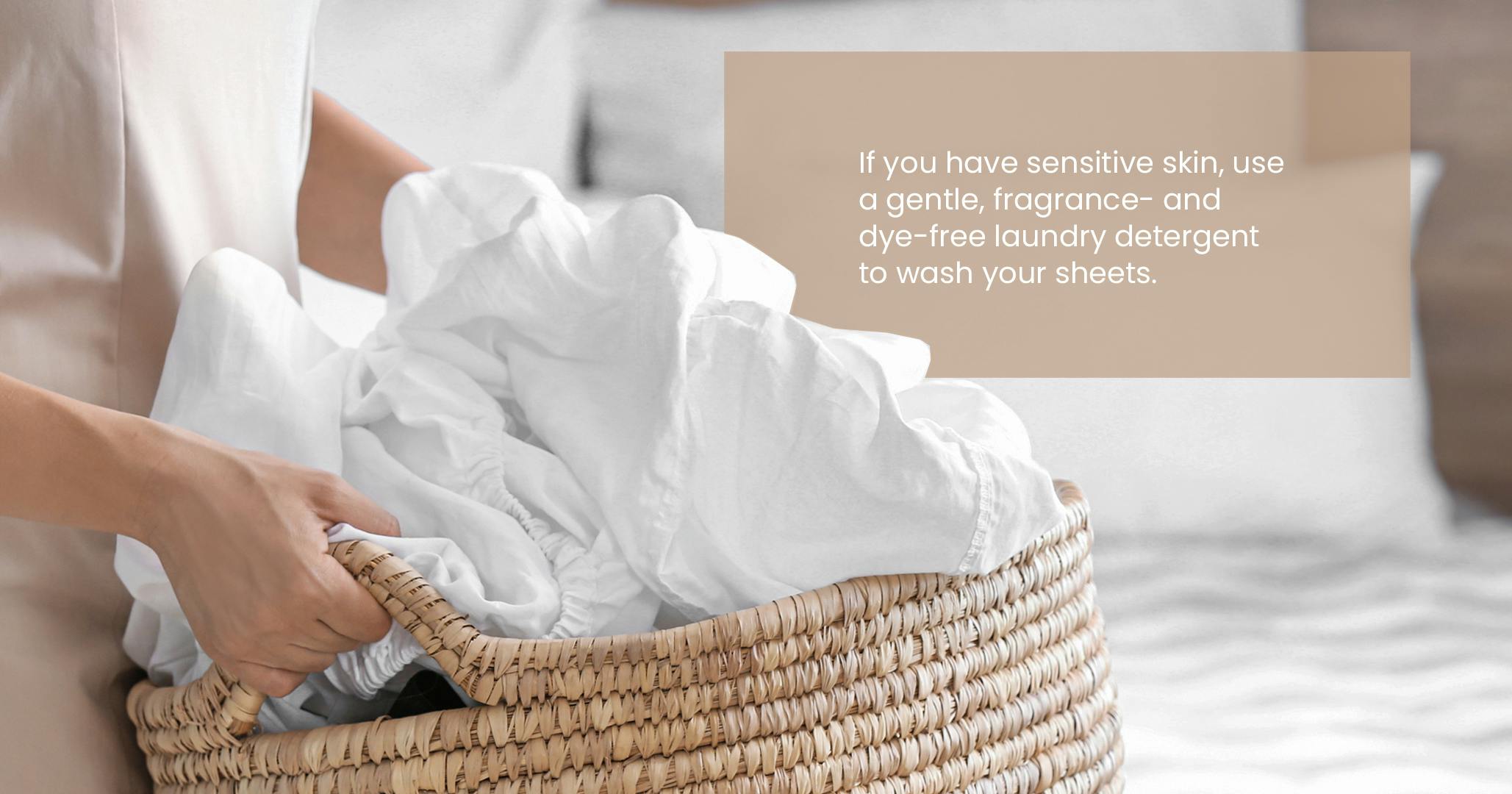 Color
You'll also want to think about the color of your sheets. Those with sensitive skin can react to fragrances and coloring in dark, bright, and strongly patterned sheets. Light-colored sheets without a lot of dye can help reduce your skin's irritation. Sticking with classic colors like white or ivory or pale colors like light grey can help spell relief.
Frequently asked questions
For more advice on choosing the best sheets for sensitive skin and how to care for your sheets, we're answering the most commonly asked questions.
How should I clean my sheets if I have sensitive skin?
The hygiene of your sheets is very important, and that's especially true for people with sensitive skin. It's best to stick with laundry detergent options that are labeled as gentle or suitable for sensitive skin. These will be free of synthetic fragrances, unnatural dyes, and other irritants.
What is the OEKO-TEX certification?
The OEKO-TEX certification is given to products that are free of unnatural dyes and fragrances. The OEKO-TEX certification on a set of sheets (or any type of product) usually means they're safe to use on sensitive skin.
What is the difference between mulberry silk and regular silk? Which is better for sensitive skin?
Mulberry silk is a type of fabric used in extremely high-quality and luxe silk sheets. Mulberry silk and regular silk are both great sheet options for people with sensitive skin.
How can I prevent my sheets from pilling?
Pilling happens when sheets start to "shed" and create small balls of fabric on the sheet's surface. This can potentially irritate sensitive and dry skin. Pilling is most frequently caused by over-drying sheets. When you put your cotton sheets in the dryer, make sure you use a medium to low heat setting. You should also avoid using bleaching agents or fabric brighteners on them.
Discover Saatva's best sheets for sensitive skin
If you're in the market for some new sheets that will ease sensitive skin, Saatva has the perfect sheet set for you. Our cotton
sateen sheet set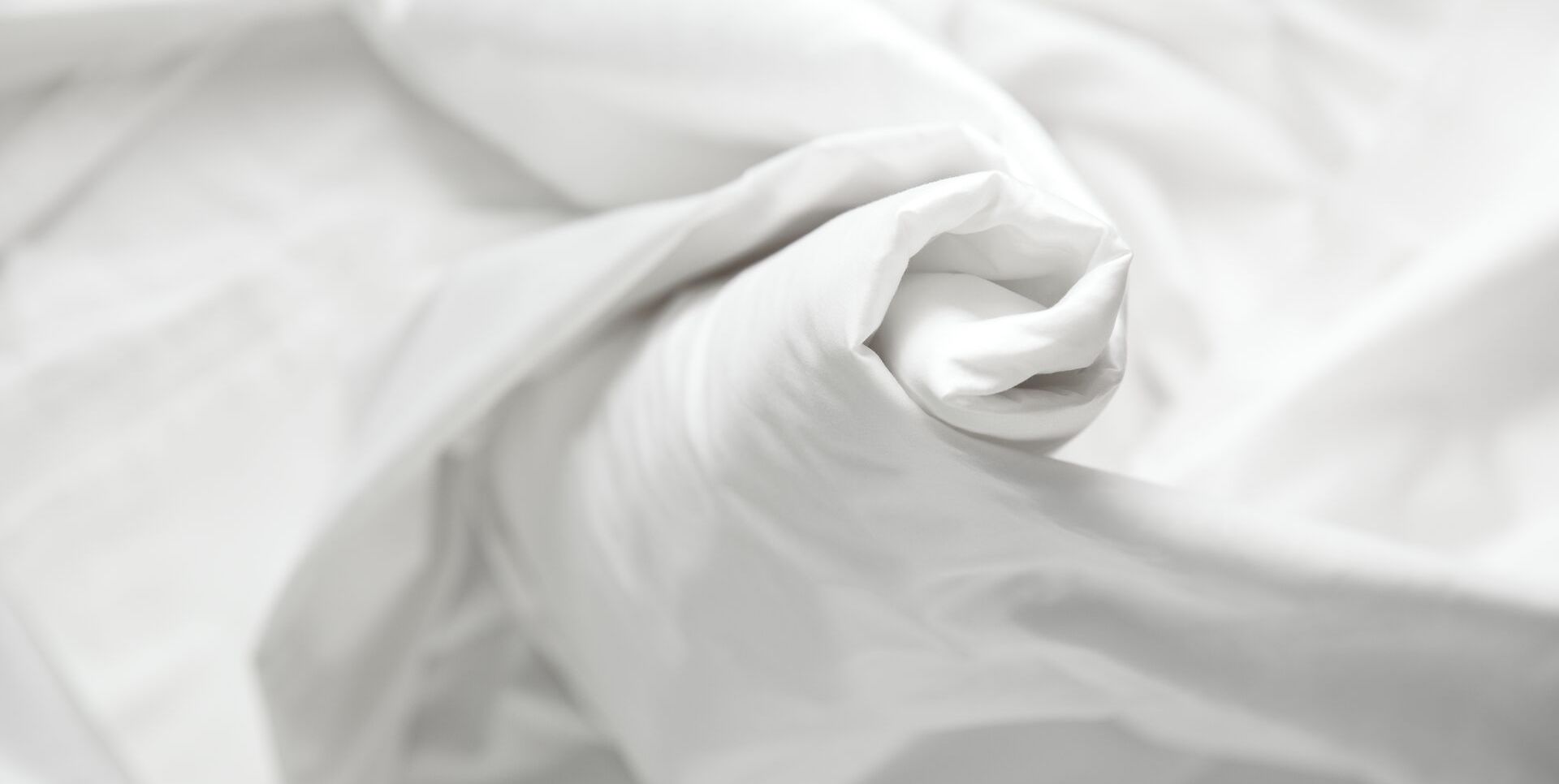 Organic Sateen Sheet Set
Organic cotton sheets with a timeless elegance
is high-quality, soft, and perfect for those with sensitive skin. You can also check out our
wide selection
of pillowcases, comforters, and other bedding accessories.
Saatva is the number one place for all of your bedroom needs, with premium mattresses, bed frames, and bedding.