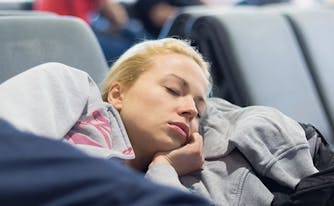 How to Get Great Sleep on Your Summer Vacation
Memorial Day. July 4th. Labor Day. Prime travel season is upon us. Whether you're headed out of town for a long weekend or taking an extended vacation, traveling can wreak havoc on your sleep.
"Travel messes with sleep in all sorts of ways, from changing time zones to sleeping in unfamiliar surroundings," says Terry Cralle, RN, clinical sleep educator and Saatva sleep consultant. "And sleep loss, in turn, decreases your ability to handle the typical challenges of travel—traffic, long lines, tight connections, and jet lag."
It doesn't have to be that way. We've rounded up our best travel sleep tips to help you catch those Z's when you're away from home. Have a question you don't see addressed here? Send us an email at sleepenlightened@saatva.com.