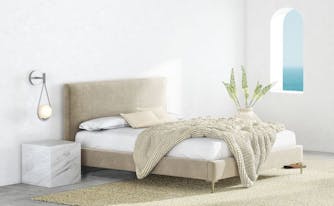 Platform Beds: A Buyer's Guide
This summer, Saatva launched a line of bed frames, and one of the most popular has turned out to be the platform bed. That's not surprising, given that platform beds are versatile, modern, and come in plenty of styles to choose from to suit any decor. Read on to see if a platform bed is something you should consider getting.
What is a platform bed?
A traditional bed frame is designed to be used along with a foundation, such as a box spring. For the uninitiated, a box spring is a rectangular "box" that can have a fabric-covered or exposed wood frame, with a solid top or one made of wood slats.
A platform bed, on the other hand, is designed to be used without a foundation. As the name suggests, the mattress rests directly on the platform, which can be either a solid surface or one made with slats. While platform beds vary in height, they usually sit closer to the floor than a traditional mattress and foundation setup.
Platform beds offer adequate support for most kinds of mattresses and come in a wide variety of styles.
Types of platform beds: Which one is right for you?
When it comes to platform beds, the main differentiators are whether the top is a flat surface or has or slats and the material the frame is made from. Earlier styles of platform beds often didn't have headboards or footboards, but many newer versions do. Here are the common types you might encounter:
Wooden platform beds
Wooden platform beds are solid, durable, and versatile. Depending on the type of wood and the finish, a wooden platform bed gives this modern style a more rustic air. The only potential downside is that, like any large piece of furniture, a wooden platform bed will be heavy.
Metal platform beds
Metal platform beds, usually made of steel or iron, are another popular option. With a metal platform bed frame, the mattress will sit on wooden or metal slats.
Upholstered platform beds
Usually made of wood, upholstered platforms come dressed in a variety of fabrics and thus allow infinite options for personalization.
Storage platform beds
Platform beds have an advantage over conventional frames and foundations when it comes to under-bed storage. Some platform beds come with built-in storage drawers, a handy feature for small-space living.
Learn More About Saatva's Platform Bed
Santorini Bed Frame
A platform bed, with a lower profile, sleek lines, and graceful legs. Featuring plush padded edges that lend a rich look and a fully upholstered back. Available in taupe and graphite vintage velvet.
Shop
Related: Bed frames: A buyer's guide
Why consider a platform bed?
The main reason to choose a platform bed is due to how they look: They have a very contemporary, clean appearance that appeals to many people. There's also the simplicity factor—you just put your mattress on the platform and you're good to go. There's no difference in performance between a platform bed and a more traditional frame-and-foundation setup.
Are there any caveats to keep in mind when using a platform bed?
Some mattress warranties require a particular kind of surface or slats that are a specified distance apart. In that case, you may need to cover the slats of your platform bed with plywood before you can place your mattress on top of it.
Another reason you may want to think twice about getting a platform bed: You have trouble getting in and out of bed. Platform beds are typically a little lower than traditional beds with a box spring. For someone with mobility issues, getting in and out of bed might be problematic if the bed is too close to the ground.
How much does a platform bed cost?
The costs of platform beds can vary widely, from a few hundred dollars to several thousand. High-quality upholstered platform beds are usually in the $1,500 range, but they can go as high as $4,000.
How do you care for a platform bed?
Platform beds don't require a lot of maintenance, but if you choose an upholstered one, you'll want to clean it from time to time to keep it in tip-top condition. Vacuum regularly to remove dust and dirt and follow the manufacturer's care instructions to treat stains.
Read our guide to foundations for more advice on choosing the right one for your mattress.