The most important part of your sleep experience is a comfortable mattress. Once you've chosen the right one for your needs—and complemented it with the best pillow, mattress pad, and sheets—you're well on your way to sound slumber.
But there's another way to enhance your sleep setup, and that's with a carefully chosen bed frame.
Apart from style considerations, the right bed frame can make your bedroom a more comfortable and relaxing place, especially if you like to spend time lounging in bed during waking hours. Let's go over everything you need to know before buying a bed frame.
Bed frame benefits: Why should you use one?
A bed frame's essential function is to support your mattress and foundation. It can be something quite basic, like the standard metal bed frame, or a more decorative version that also includes a headboard, side rails, or footboard. While you can certainly sleep with just a mattress, there are some potential benefits to choosing a high-quality bed frame.
The top reasons to choose a bed frame include:
To add a personal touch to your bedroom: A well-chosen bed frame that complements your bedroom decor is often the first thing people notice when they enter the room and can help you create the right ambiance.
To protect your wall: During the night, your pillow absorbs sweat and dead skin cells (which is totally normal). If you regularly lean your pillow—or your head, for that matter—directly against the wall, it will eventually leave a mark there. A bed frame with a headboard can keep the wall pristine.
To make you more comfortable: If you like to read in bed or settle in to watch a movie before dozing off, you'll be much more comfortable leaning up against a padded headboard than propped up on a mushy stack of pillows.
To keep you warmer: In the winter, having a bed frame with a headboard between your head and a cold wall will make you feel cozier.
The different types of bed frame styles
There's a lot to consider when it comes to choosing what type of bed frame is going to work best for you. Each has its own pros and cons and is suited for different lifestyles.
Let's take a deep dive into the individual benefits of each type of bed frame.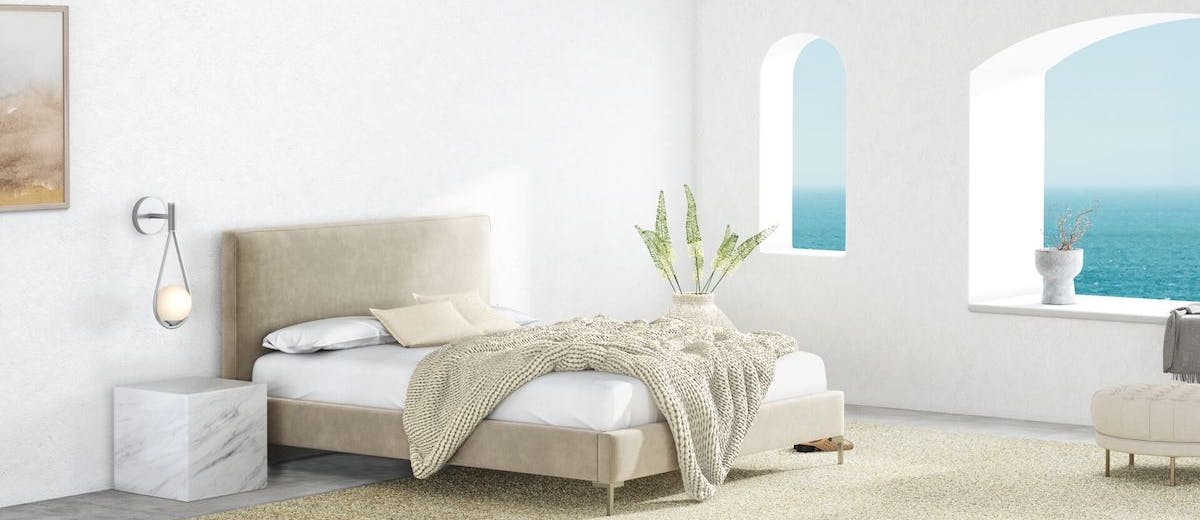 Platform bed frames
box spring or other foundation
underneath the mattress. Classic platform beds have a sleek, minimalist look and are designed to sit closer to the ground than regular bed types. They often come with storage space underneath the base.
Traditional platform bed frames don't usually include headboards, but more modern ones can often be found with them. A platform storage bed could be the perfect choice for a small space or a guest room.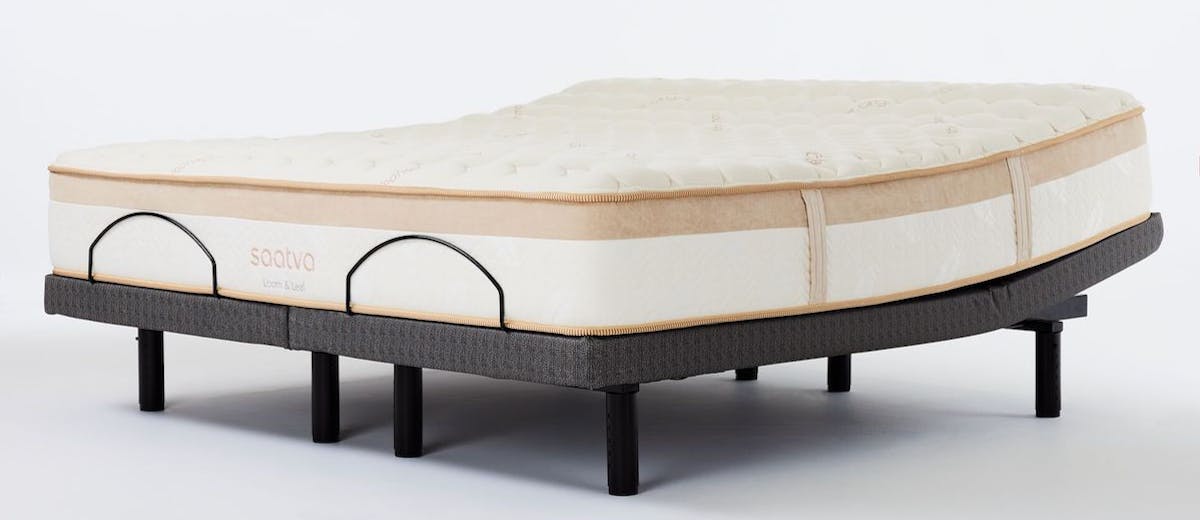 Adjustable bed frames
An
Adjustable bed frames can be a game-changer for combination sleepers or people who tend to suffer from back or neck pain or other chronic issues. Being able to adjust the recline on your bed can lead to pressure relief and help significantly reduce back and neck pain.
When paired with a split king mattress, adjustable beds can also be ideal for couples with different sleep needs. In this setup, each side of the bed can be adjusted separately. These bed frames tend to cost more because of these customization options, but they can also bring your sleep to the next level.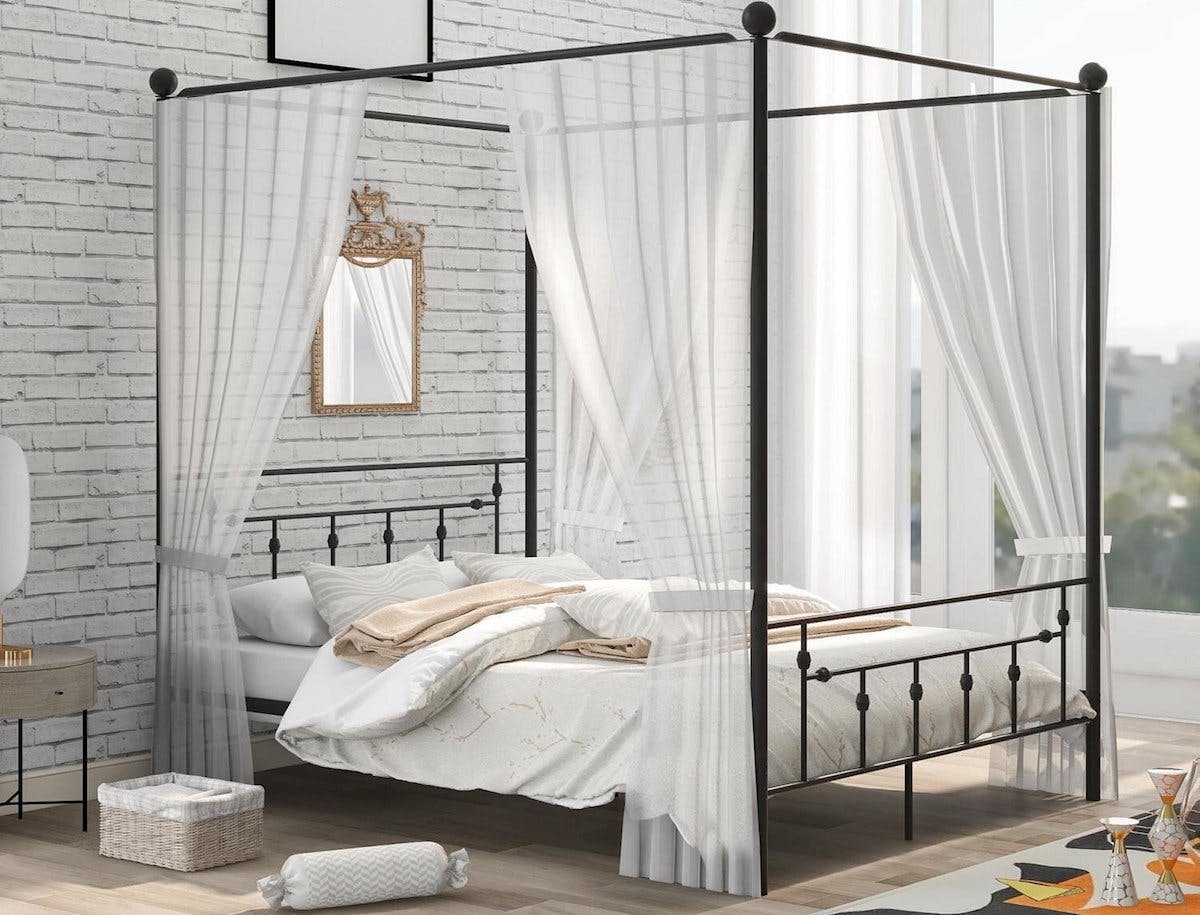 Canopy bed frames
Canopy beds are essentially poster beds taken up a notch. The posts are of equal height and are connected by horizontal bars at the top, forming a roof" of sorts. Canopy beds are available in traditional and modern styles, sometimes open at the top and sometimes festooned with draped fabric forming the eponymous canopy. Keep in mind these beds require a high ceiling.
Canopy beds have a really elevated and elegant look but can be quite expensive. Additionally, they work well in larger sleeping spaces, as they tend to take up more space.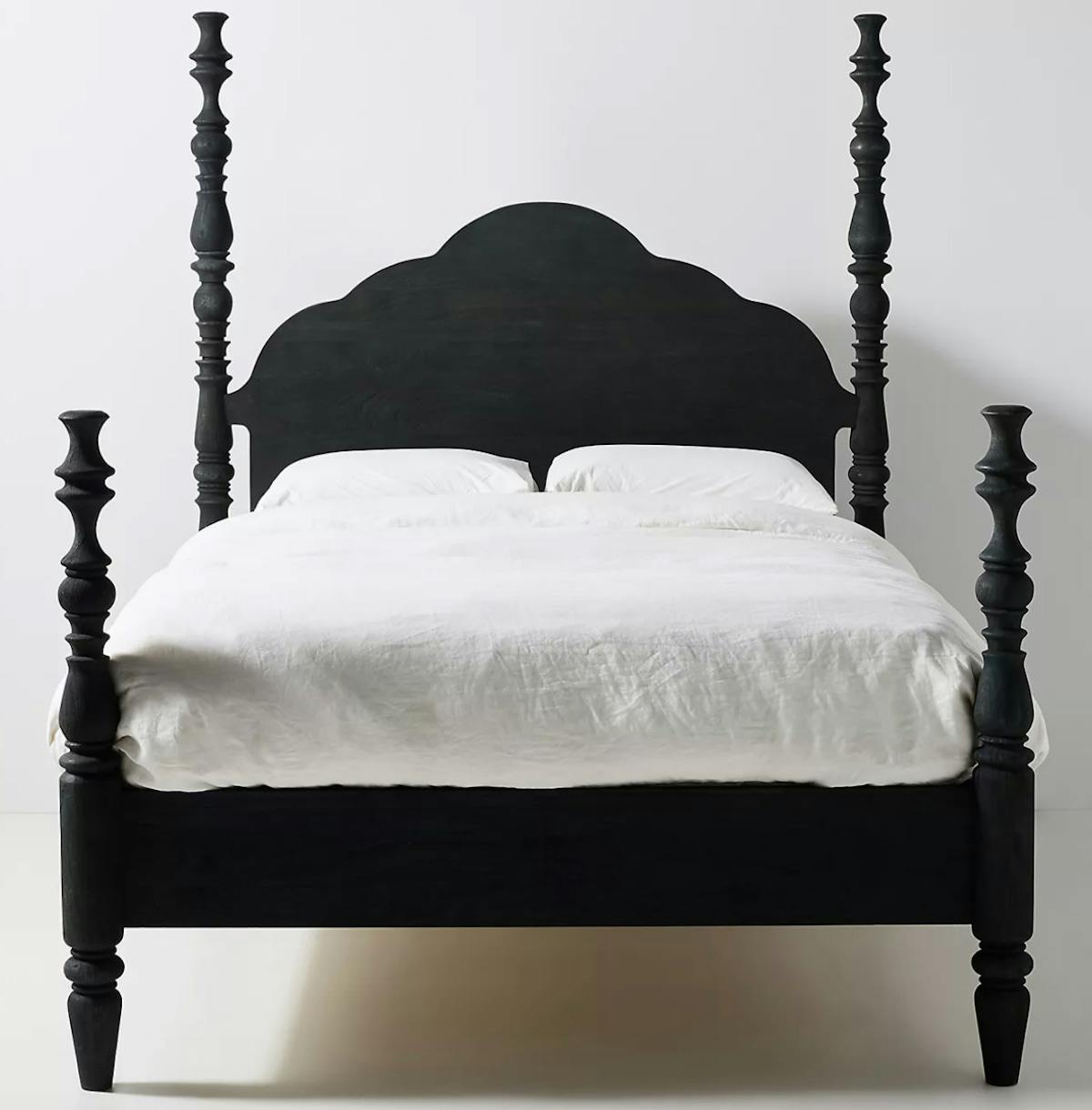 Four-poster bed frames
Four-poster bed frames are a traditional bed frame style dating back to medieval Europe. They have elongated vertical posts at each of the four corners and a formal, even regal, look. Traditional designs feature ornate turned or carved wooden posts, while modern versions have sleeker posts, sometimes made of metal. The posts can be the same height or taller at the headboard and shorter at the foot of the bed.
Four-poster bed frames are great for large spaces and often act as the focal point of a room. Additionally, they have built-in edge support with side rails, so they're great for restless sleepers.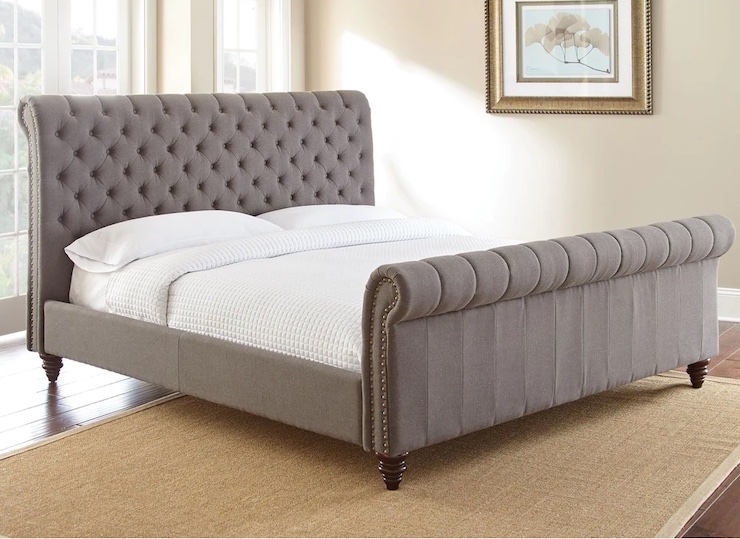 Sleigh bed frames
Sleigh bed frames originated in the French Empire period and have the graceful lines of an old-fashioned sleigh, with outwardly scrolling arches on the footboard and headboard. While the traditional wooden sleigh bed is an imposing piece of furniture, modern versions, including upholstery styles, are available that lighten the look.
Sleigh bed frames are great for larger bedrooms with high ceilings as they'll easily act as the focal point of the room. However, if your bedroom is on the smaller side, a sleigh bed will likely take up too much space. (Read our sleigh bed guide to learn more.)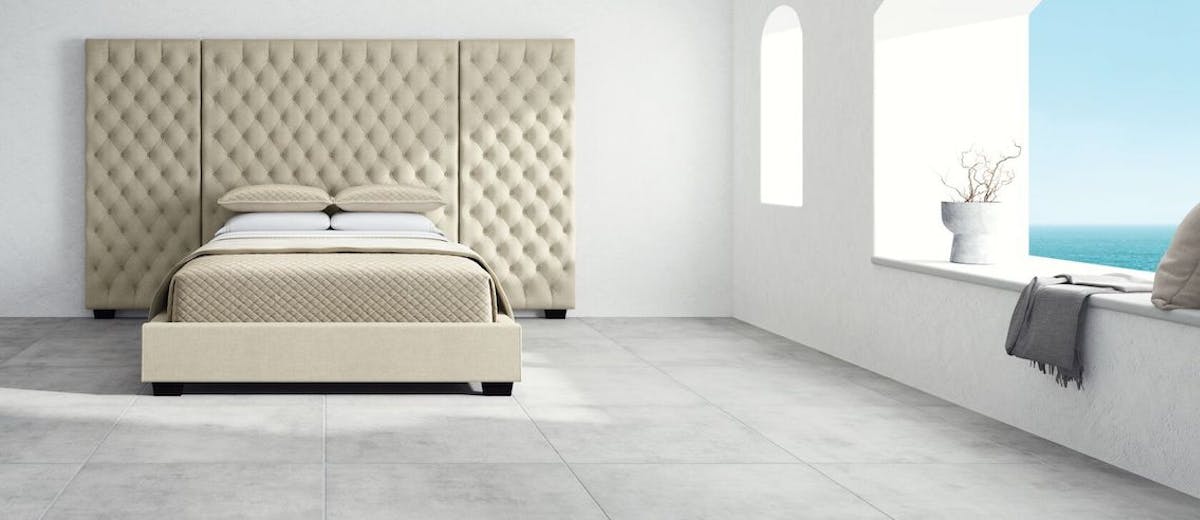 Panel bed frames
A
Because of the side panels, these bed frames are great for edge support. Other benefits of panel beds include excellent breathability (both slats and the box spring will ensure optimal airflow to your mattress) and the ability to customize the bed to your liking. You use slats to keep the bed low or add a box spring to make it higher and give the mattress additional bounce.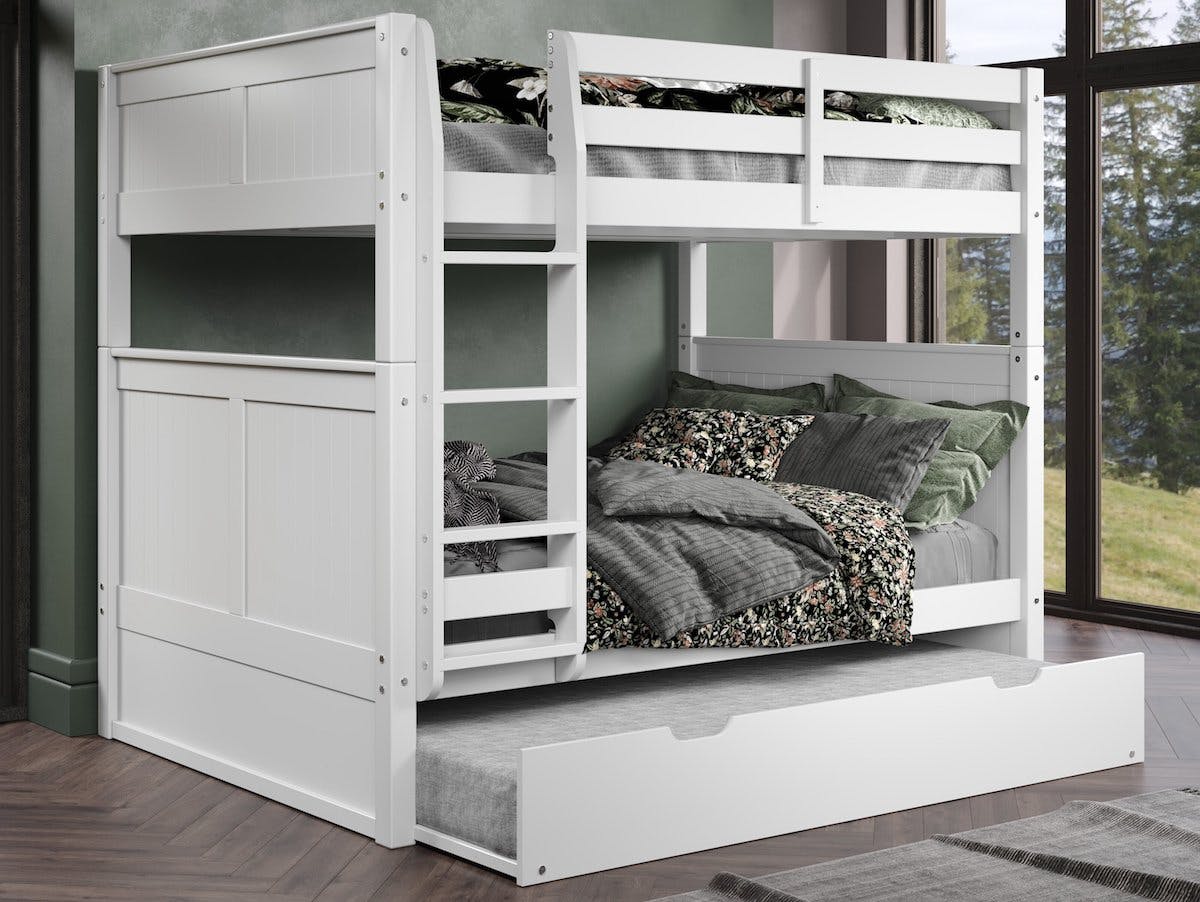 Bunk bed frames
Bunk bed frames are frames made up of either two twin beds one on top of the other or one double bed and one twin bed. Typically, the top bunk will always be a twin-size bed.
Bunk beds are often found in children's rooms and are generally a great option if you have a small room with limited floor space. They essentially enable you to fit two beds in the space of one. Keep in mind the top bunk can be a falling hazard for little ones, so it's best to put an older child on the top bunk.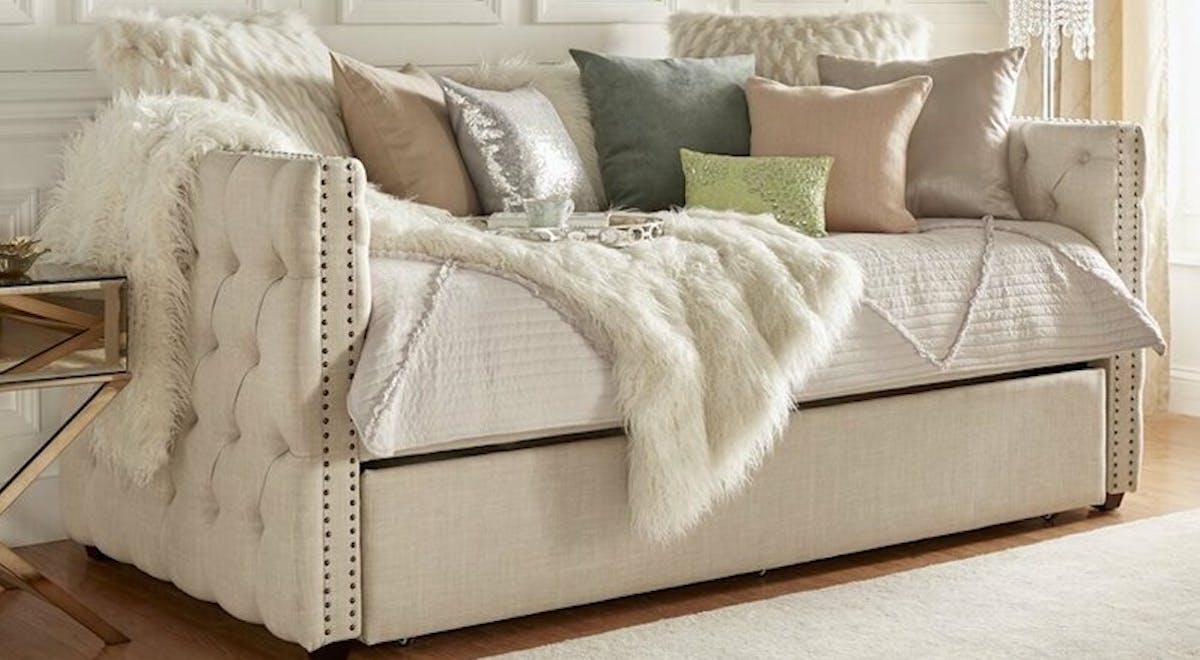 Trundle bed frames and daybeds
Trundle bed frames are beds that have a second bed tucked underneath them. Simply roll out the second bed when you're ready to go to sleep. These beds are another good option for children's rooms and for sleepovers. Children won't lose out on play space, as this bed frame also fits two beds in the space of one.
They can also function as daybeds or be used in a guest room. Keep in mind trundle beds tend to be less supportive than other bed frames so they might not be suitable for bigger kids or adults. (Learn more about daybed mattresses.)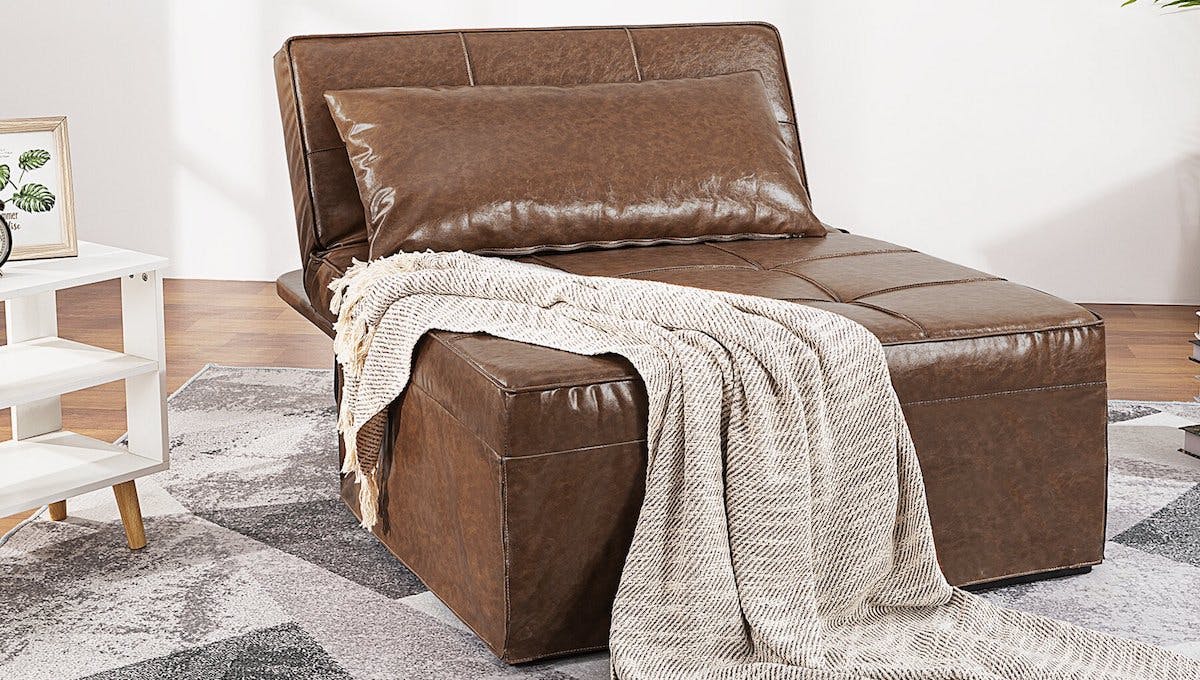 Ottoman bed frames
An ottoman bed frame is a bed frame with extra space underneath the bed. In a similar fashion to the murphy bed, the mattress lifts up to reveal the additional storage space.
These bed frames are a great space-saving solution for people who live in small apartments with little storage or in a smaller bedroom. Just note you should be careful when matching an ottoman bed with a mattress, as some types of mattresses will be too heavy to lift to access the storage.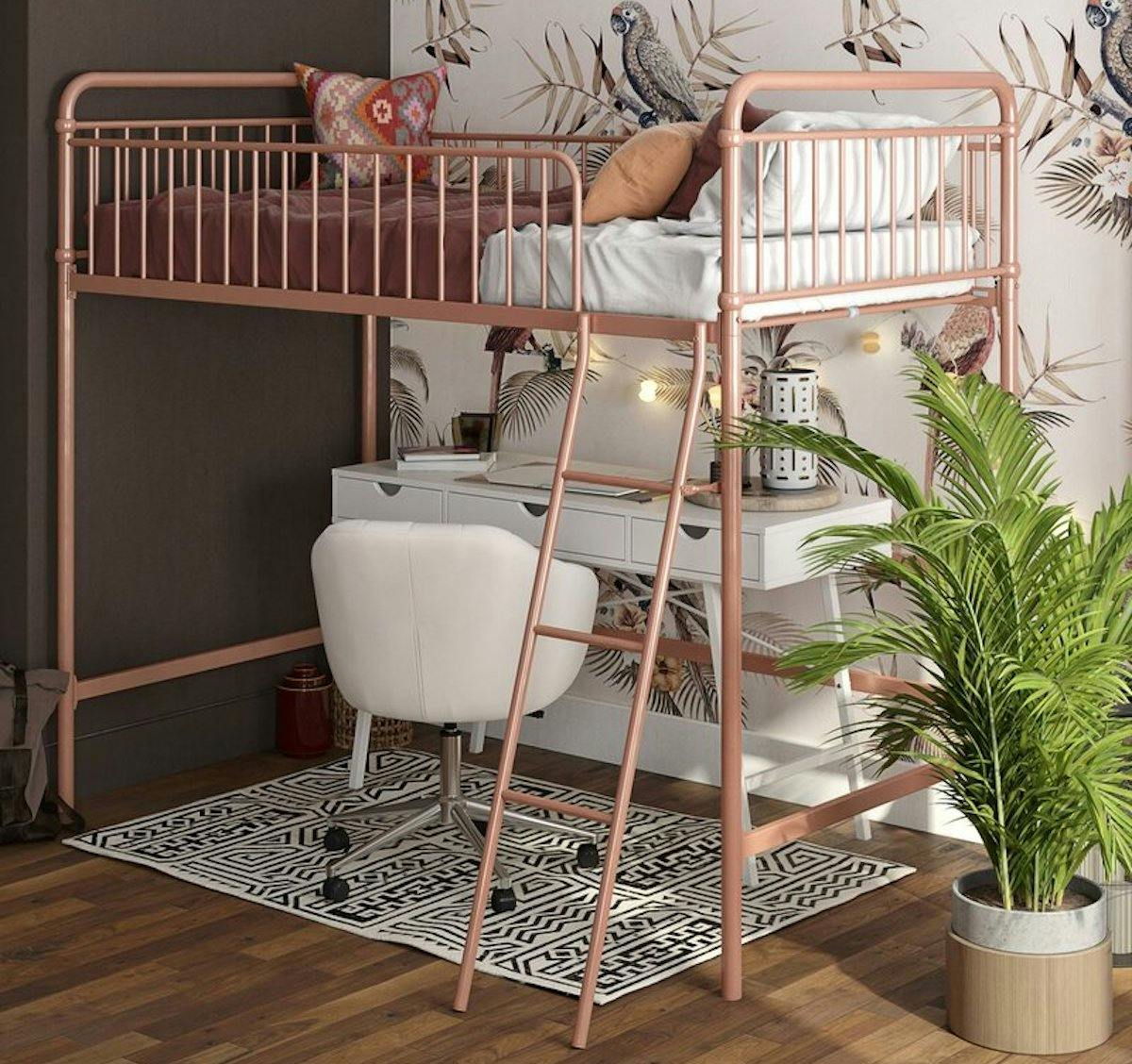 Loft bunk bed frames
A loft bunk bed is another fantastic space-saver for a small bedroom or a child's bedroom. This bed frame is essentially a bunk bed without the bottom bunk. The open bottom half of the bunk gives you additional space, for example, to put a desk underneath or to use as extra storage. (Check out these ideas for loft beds.)
Bed frame materials
There's a wide variety of bed frame materials on the market today. It's important to choose one that fits your lifestyle best. The various bed frame materials will each contribute a different look to your bedroom and shape your sleep experience in unique ways. Other things to consider are the price range and the different cleaning requirements of each material.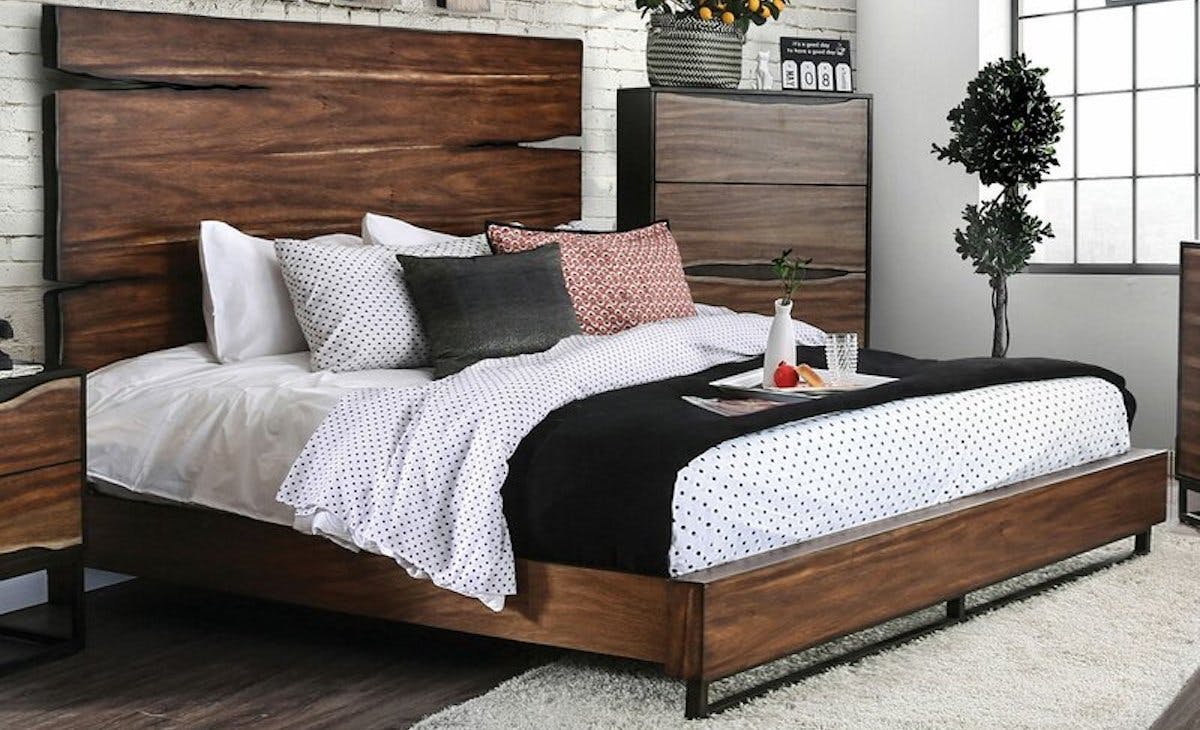 Wooden bed frames
Traditional solid wood bed frames are the most common type of bed frame on the market and give a cozy, rustic look to your bedroom. They typically come with a headboard, side rails, and extremely sturdy legs.
Wooden beds range in hue from a light, sandy color to a dark espresso brown that's almost black. They also come in different finishes, like gloss and matte. (Learn about the wooden bookcase bed frame to see if it's right for you.)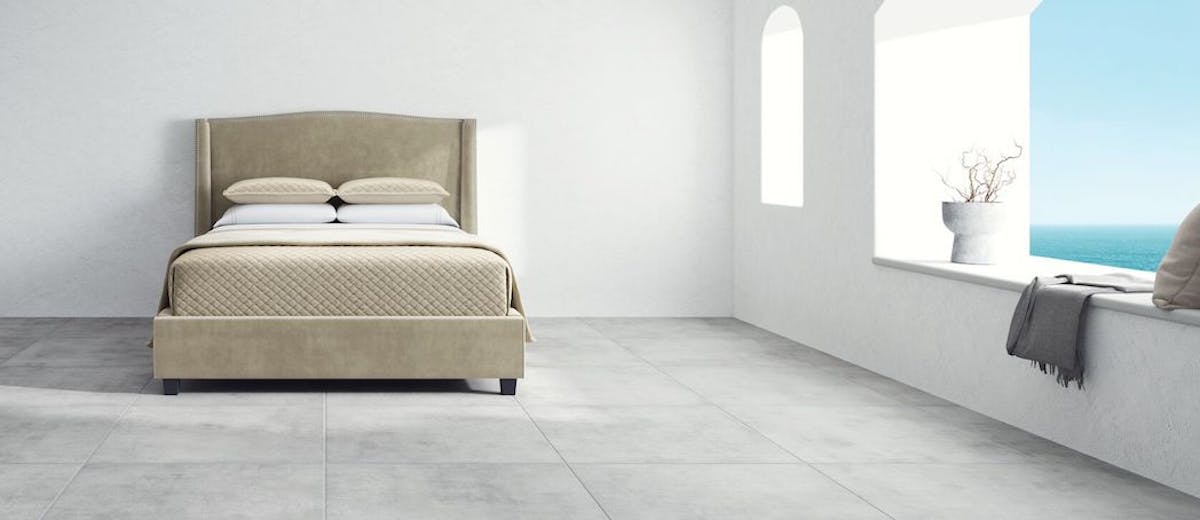 Upholstered bed frames
Upholstered bed frames come in a variety of styles, such as sleigh and
These are the perfect beds for people who want a more modern bed frame for a sleek and sophisticated look but still want to be comfortable.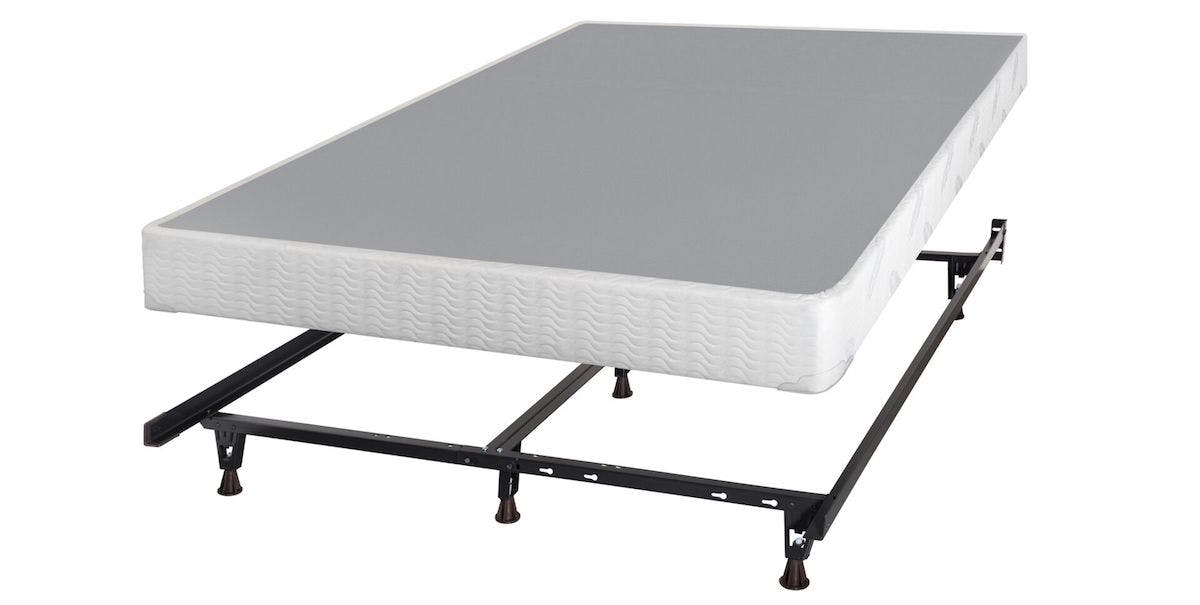 Metal bed frames
Metal bed frames are another extremely popular bed frame type and often come as a set when buying a mattress and
These have a lighter and more minimalist look compared to wooden and upholstered bed frames. The great news is metal bed frames are typically very affordable, easy to assemble, and are extremely heavy-duty, so they'll last a long time.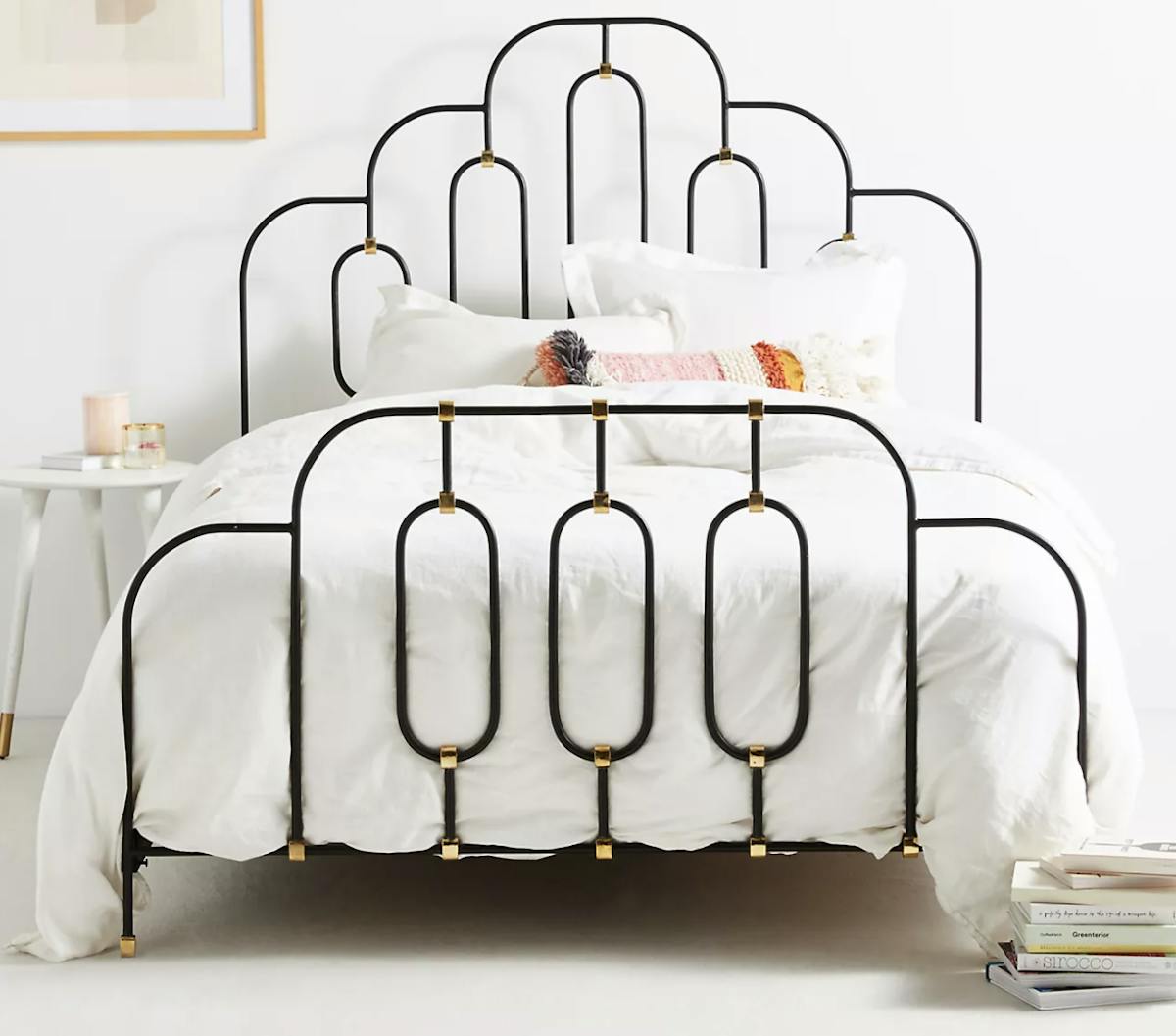 Wrought-iron bed frames
Another traditional bed frame style becoming popular amongst a younger audience is the wrought-iron bed frame. They're very durable, exist in a variety of styles, and typically come in very neutral colors that will match up with many different decor styles.
An added benefit of wrought iron bed frames is they're usually lightweight and easy to move if necessary.
Things to consider when buying a bed frame
Since the different types of bed frames all have unique features and individual benefits, they could suit some types of rooms or people better than others. Here are some of the most important things to consider when choosing the right type of bed frame for you.
Your bedroom size
One of the most important considerations is the size of your bedroom.
If you have a small bedroom, you should take advantage of bed frames like loft bunks, platform beds, and ottoman beds. These will be great space savers since they have extra space for storage.
A midsize bedroom will benefit from a basic platform bed frame because it's generally lighter and has some space underneath for storage if necessary.
If you're lucky to have a large bedroom, you could go for a more lavish and elegant bed frame design. It can be good to choose something that takes up more space in the room and draws attention to the bed. Popular large bed frames include canopy beds, panel beds, and sleigh beds.
Your age
Another important consideration is the age of the sleeper. If you're buying a bed frame for a child, consider a trundle bed or bunk bed. These are great for having friends stay the night and will also help save space in a smaller kids' room.
The ideal bed frame for a teenager is something flexible enough when it comes to size but also more on the mature side in style. Platform beds, loft bunks, and ottoman beds would be a great choice here.
When buying a bed frame for an adult, consider style, longevity, and bedroom size. You'll want a type of bed frame that's more mature but will also last a long time. Panel bed frames, platform beds, and sleigh beds are all good choices for adults. They're stylish, fit well in a primary bedroom, and are durable.
Your body size
You should also take your body size into account when choosing a bed frame. People with larger body sizes will benefit from a bed frame made out of sturdy material, like wrought iron, metal, or wood.
Additionally, heavier body types could benefit from using a bed with a box spring for more support. If you're on the heavier side, it's best to avoid loft bunks, platform beds, and trundle beds because they often have a lower level of support.
Your current mattress size
Finally, if you're buying a bed frame to match an existing mattress, you need to take into account your current mattress size. Bed frames like trundles, bunk beds, and loft bunks will traditionally come in a limited number of sizes. Commonly, they're limited to twin, twin XL, and full.
Most other types of bed frames can accommodate a mattress of any size, so you should be able to find a style that suits you and your existing mattress. If it's been a while since you've replaced your mattress, you can also take this opportunity to upgrade your current one.
Bed frame frequently asked questions
Even after you've done your research, you might have additional questions when it comes to choosing a bed frame. Here, we answer the most common ones.
How do you match a mattress and bed frame?
Size is the most important thing to match. As long as your bed frame and mattress are the same size, you'll be able to sleep comfortably. However, it's also important to consider what type of mattress foundation you'll be using.
With foam mattresses, like memory foam or latex foam, you should make sure your bed has a sturdy base, like a box spring or adjustable base. That's because using a bed frame with a slatted foundation can increase the chances of sagging in a foam mattress.
How much should you spend on a bed frame?
The cost of bed frames ranges widely. Inexpensive ones can cost as little as $200. More expensive bed frames, like an upholstered sleigh bed frame, can cost anywhere from $1,200 to over $4,000. Metal bed frames, meanwhile, can range from $150 for cheaper options to over $1,000 for higher-quality ones.
The price point isn't just affected by the material of a bed frame. It's also directly affected by your mattress size. A California king-size bed frame is going to cost more than a standard queen-size, full-size, twin XL, or twin-size bed frame.
Additionally, specialized types of bed frames like canopy beds will also incur a higher price point, leaning more toward the $3,000+ price range.
How can I clean my bed frame?
Bed frames don't require a ton of maintenance, but if you opt for an upholstered one, a little cleaning will go a long way toward keeping it in tip-top condition for years to come. You'll want to vacuum regularly to remove dust and dirt and follow the manufacturer's care instructions to treat stains. (Here's how often you should replace your bed frame.)
Do I need a headboard?
Headboards are an integral part of most bed frame styles, along with footboards and side rails, but you don't need a headboard attached to your bed frame. Headboards come in a variety of styles and are intended to attach to most standard metal bed frames—the type of simple, raised frames with a crossbar that often come with box spring and mattress sets.
What is a mattress foundation?
A mattress foundation supports your bed and can prevent mattress sagging. The two most common types are box springs and slats.
What are the types of bed frames that don't need box springs?
You can use platform bed frames, four-poster bed frames, adjustable bed frames, and bunk beds without box springs.
What is the difference between a box spring and slats?
Box springs are solid boxes made of wood and a soft, plush textile that your mattress sits on top of. They're extremely durable and sturdy.
Slats are pieces of wood or metal offering support to the bottom of your mattress. Wooden slats are not quite as durable as a box spring, but metal slats tend to be more durable. Both are quality options for a mattress foundation. But, if you have a softer memory foam mattress, you'll want to use a box spring to avoid the mattress sagging.
Check out Saatva's collection of high-quality bed frames
It's important to make your sleeping space the most comfortable for you personally. That includes not only the quality of your mattress but also the type of bed frame. The right type of bed frame will enhance your sleeping experience—and as the central piece of furniture in your room, it can contribute to a look that's quintessentially you.
If you're in the market for a new bed frame, Saatva has a wide variety of bed frames to suit any bedroom style. Check out our large selection of bed frames to find the perfect one for your personality and lifestyle.