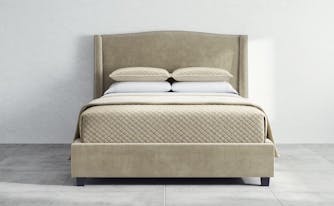 How to Choose the Right Bed Frame for You
When it comes to bedroom furniture, it's safe to say that the bed itself claims the starring role. You'll likely have your bed for years to come, so it's a good idea to choose a bed frame that coordinates with and complements the other furnishings in your bedroom. You'll also want a bed frame that suits your lifestyle (are you casual or more formal, for instance?) and takes into consideration the overall proportions of your room.
Here, to help you make this important design decision, is a rundown of the most popular bed frame styles.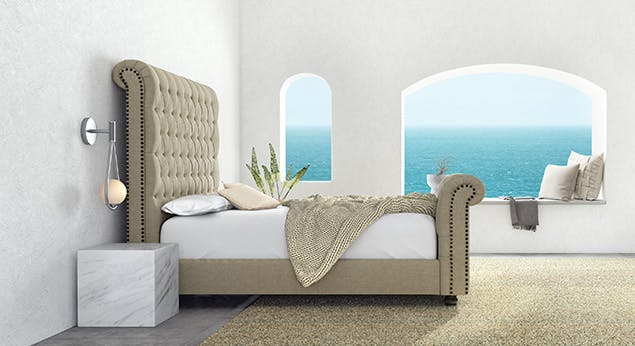 Traditional bed frame styles
Sleigh beds originated in the French Empire period and have the graceful lines of an old-fashioned sleigh, with outwardly scrolling arches on the footboard and headboard. While the traditional wooden sleigh bed is an imposing piece of furniture, modern versions, including upholstered styles, are available that lighten the look.
Four-poster beds date back to medieval Europe. They have elongated vertical posts at each of the four corners and a formal, even regal, look. Traditional designs feature ornate turned or carved wooden posts, while modern versions have sleeker posts, sometimes made of metal. The posts can be the same height or taller at the headboard and shorter at the foot of the bed.
Canopy beds are essentially poster beds taken up a notch. The posts are of equal height and are connected by horizontal bars at the top, forming a "roof" of sorts. Canopy beds are available in traditional and modern styles, sometimes open at the top and sometimes festooned with draped fabric forming the eponymous canopy. Keep in mind that these beds require a high ceiling.
Related: How to feng shui your bedroom for better sleep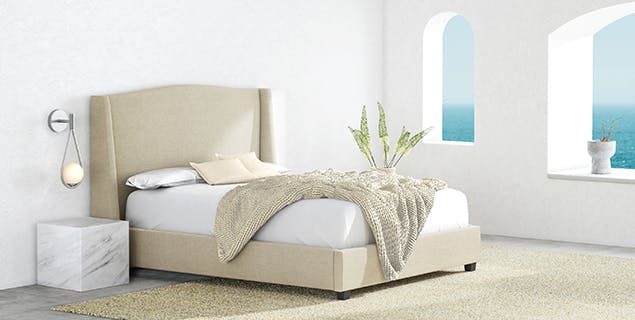 Upholstered bed frames
Upholstered beds feature fabric-wrapped headboards (and usually the side rails and footboards as well), creating a plush, cozy, comfy look and feel. The fabric may be quilted, tufted with buttons, or trimmed with decorative accents like nailheads. The headboards can be flat or have sides that curve forward, a detail known as a "wingback." As with the wingback chair, the style evolved as a way to protect against drafts.
Take the choice of fabric into consideration, especially if you like to have breakfast in bed, for example, or have boisterous kids and pets. In those cases, you'll want a sturdy, stain-resistant fabric that can stand up to vacuuming. (Some models have washable slipcovers.) On the other hand, if you lead a more luxe lifestyle, a rich velvet or raw silk might be options.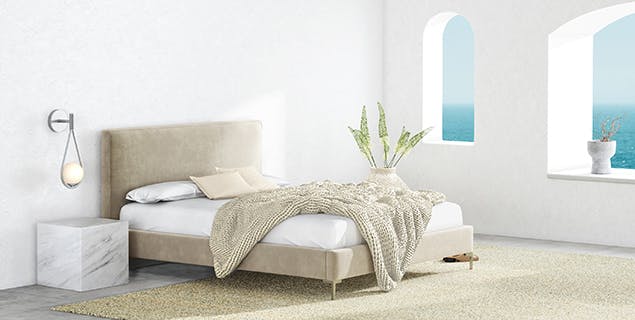 Modern and contemporary bed frame styles
Popular in the modern era, a platform bed is a low-profile bed with a solid base that doesn't require the support of a box spring or other foundation underneath the mattress. Classic platform beds have a sleek, minimalist look and are designed to sit lower to the ground than regular bed types.
Storage beds are ideal for smaller spaces, as they have pull-out drawers under the base where you can store clothing, out-of-season items, extra bedding, or anything else you want. All storage beds are platform beds.
The classic incarnation of a storage bed is the "captain's bed," a simple design without a headboard or footboard that contains two or more drawers underneath. More stylish storage beds are available as well, and not all offer their storage space in the form of drawers. Some have an ottoman-type design that hides a large, open storage space. Essentially, the entire top of the bed—mattress included—pops up using a hydraulic hinge system. Since you probably won't want to pop open the bed top on a routine basis, the space lends itself to storing stuff you don't use often, like out-of-season clothing or guest bedding.
Shop Saatva Bed Frame Styles Featured in This Article
Oslo Bed Frame
A modern take on the timeless sleigh bed. Featuring a hand-tufted headboard, nailhead trim, and fully upholstered back. Available in natural linen and taupe and graphite vintage velvet.
Shop
A word about bed frames and headboards
Headboards are an integral part of most bed frame styles, along with footboards and side rails, but you can also purchase headboards separately. These come in a variety of styles and are intended to attach to most standard metal bed frames—the type of simple, raised frames with a crossbar that often come with box spring and mattress sets. Typically, you'd use a bed skirt to disguise the box spring and frame.
Bedroom not as big as you would like? Here's how to make a small bedroom look bigger.