Box Spring vs. Foundation: What's the Difference and Which One Is Best for You
If you're in the market for a new mattress, you have a lot of decisions to make. Besides choosing the mattress type and the right firmness level for you, you have to decide which base is ideal for your new mattress. (If you think you can postpone this decision, think again: Keeping your mattress on an inappropriate base will significantly decrease both its lifespan and your sleep quality).
Traditional box springs and foundations are two of the most common options you'll come across. Both can offer adequate support for a mattress, but there are some essential differences between the two worth keeping in mind.
We've put together this guide to box springs and foundations to help make mattress shopping easier for you. Learn about the pros and cons of box springs and foundations, the differences between the two, and other popular bed bases you should consider. 
What is a box spring?
A box spring is a rectangular wooden box that your mattress sits on top of. A box spring is filled with metal coils (hence the name), and its sides are covered with fabric. 
The purpose of a box spring is to provide proper support and additional cushioning to an innerspring mattress while raising it higher above the ground.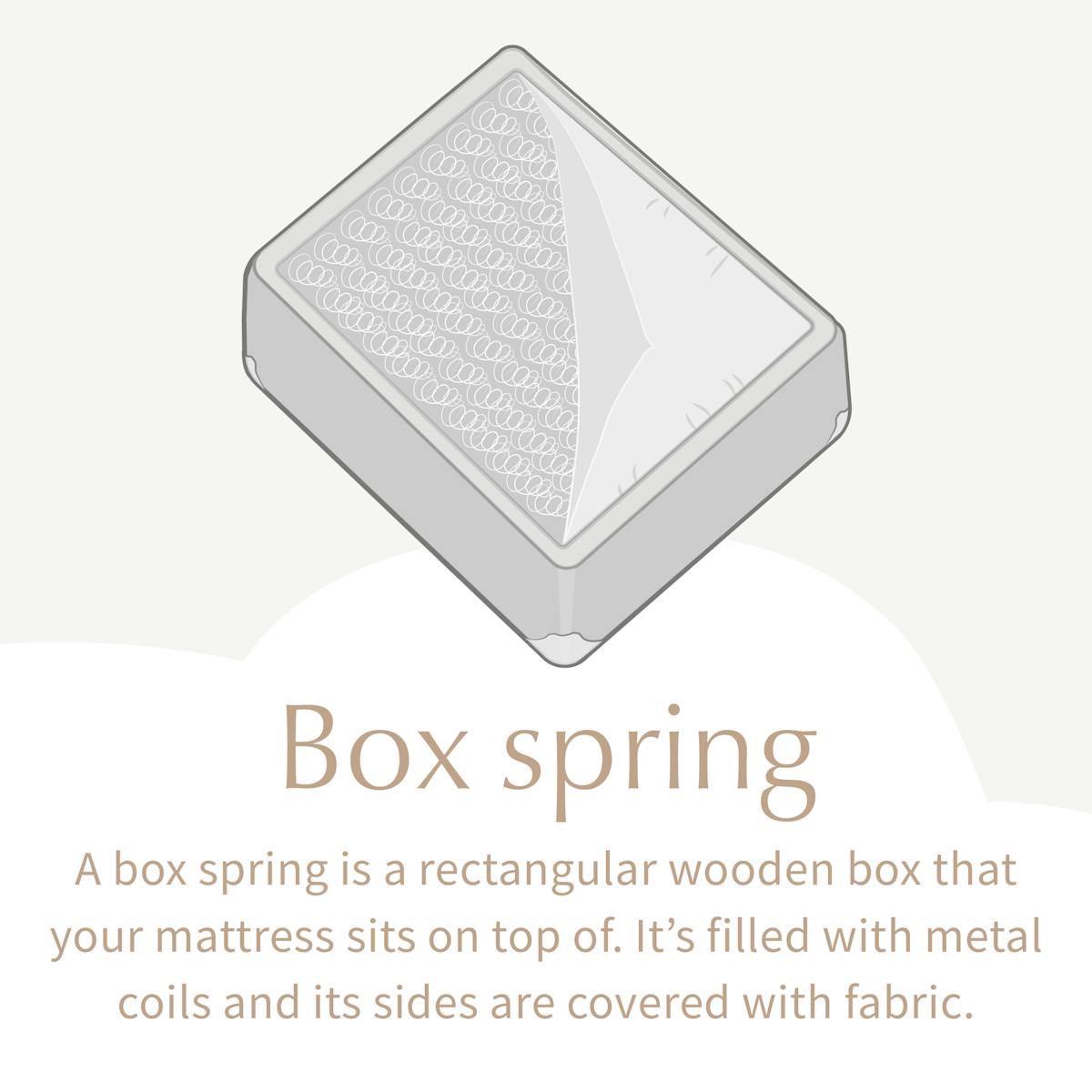 Coils in the box spring also promote better airflow and act as shock absorbers, reducing motion transfer. While a box spring works well when paired with a traditional innerspring mattress, keep in mind it won't provide adequate support to a heavier memory foam or latex mattress. Those types of mattresses can break the coils, leading to eventual sagging.
Pros and cons of a box spring
While there are plenty of benefits that come with using a box spring, there are also some drawbacks you should consider as well. 
| Pros of a box spring | Cons of a box spring |
| --- | --- |
| Provides support for thinner innerspring mattresses | Can be noisy because of the coils |
| Reduces motion transfer from innerspring mattresses | Isn't compatible with memory foam or latex mattresses |
| Promotes better airflow for cooler sleep | Coils may break down over time, leading to sagging |
Box spring sizes and prices
Box springs come in standard mattress sizes including twin, full, queen, king, and so on, and can be purchased at traditional retail mattress and furniture stores or via online mattress retailers. A queen size box spring will cost on average between $100 and $300.
What is a foundation?
A foundation is a wooden box with wooden slats on top (usually spaced 2-3 inches apart). It's typically covered by a breathable cloth such as organic cotton. 
Unlike a box spring, a foundation doesn't contain coils, as its primary purpose is to provide support rather than additional cushioning. A foundation provides firm support, which could result in your mattress feeling slightly firmer. The lack of coils also means a foundation won't have a ton of give. 
Another important point to note? The coils inside a box spring can be prone to breaking, which means that a foundation is typically a more durable option.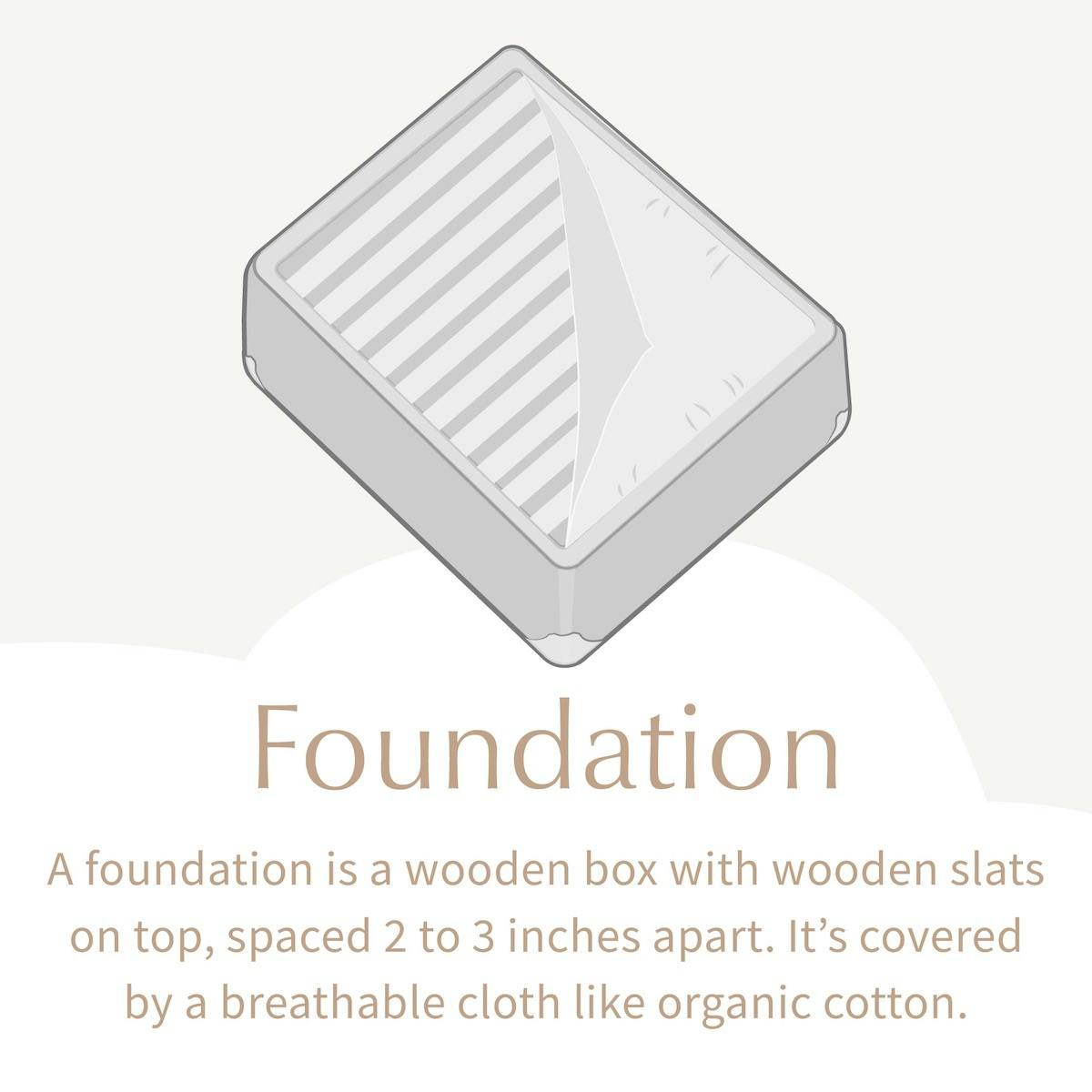 A foundation is compatible with all mattress types, even heavier ones like memory foam or latex (always check with your manufacturer first). It should provide adequate support to your mattress for years to come without the danger of sagging.
In fact, with the decreasing popularity of thin innerspring mattresses, many box springs today do not contain coils either, even though the term "box spring" is still used to describe them. 
Pros and cons of a foundation
Here are the main benefits of drawbacks that come with a mattress foundation.
| Pros of a foundation | Cons of a foundation |
| --- | --- |
| Provides strong support for a mattress | Can be heavy |
| Extremely durable | Might lack give |
| Compatible with most mattress types, even heavier ones | Might make a thinner mattress feel firmer |
Saatva foundation sizes and prices 
Saatva offers a handcrafted mattress foundation for all mattress sizes at the following prices:
Twin: $195
Twin XL: $199
Full: $265
Queen: $325
Split Queen: $345
King / Split King: $398
Cal King / Split Cal King: $398
Differences between a box spring and foundation 
Both box springs and foundations raise your mattress to a comfortable level and can be good bed bases for your mattress, depending on your mattress type. Here are some essential differences to keep in mind when making your choice:
| Comparison | Box spring | Foundation |
| --- | --- | --- |
| Support | Provides support for your mattress while adding some give | Provides sturdy support for your mattress without any give |
| Durability | Coils may break over time, significantly decreasing support | Extremely durable, the same support for years to come |
| Weight | Typically lighter than a foundation | Heavy, makes transportation difficult |
| Mattress compatibility | Best suited to innerspring mattresses, not compatible with other mattress types | Compatible with all mattress types |
| Average price (queen) | $100-$300 | $200-$500 |
Other types of bed bases
Besides the foundation and box spring, there are a few other popular types of bed bases to consider when shopping for your next mattress. 
Adjustable bed bases
An adjustable base is a bed base whose position can be adjusted to provide optimal support for your body. Specifically, the top and the bottom of the bed can be raised or lowered to keep your head and feet at a perfect angle.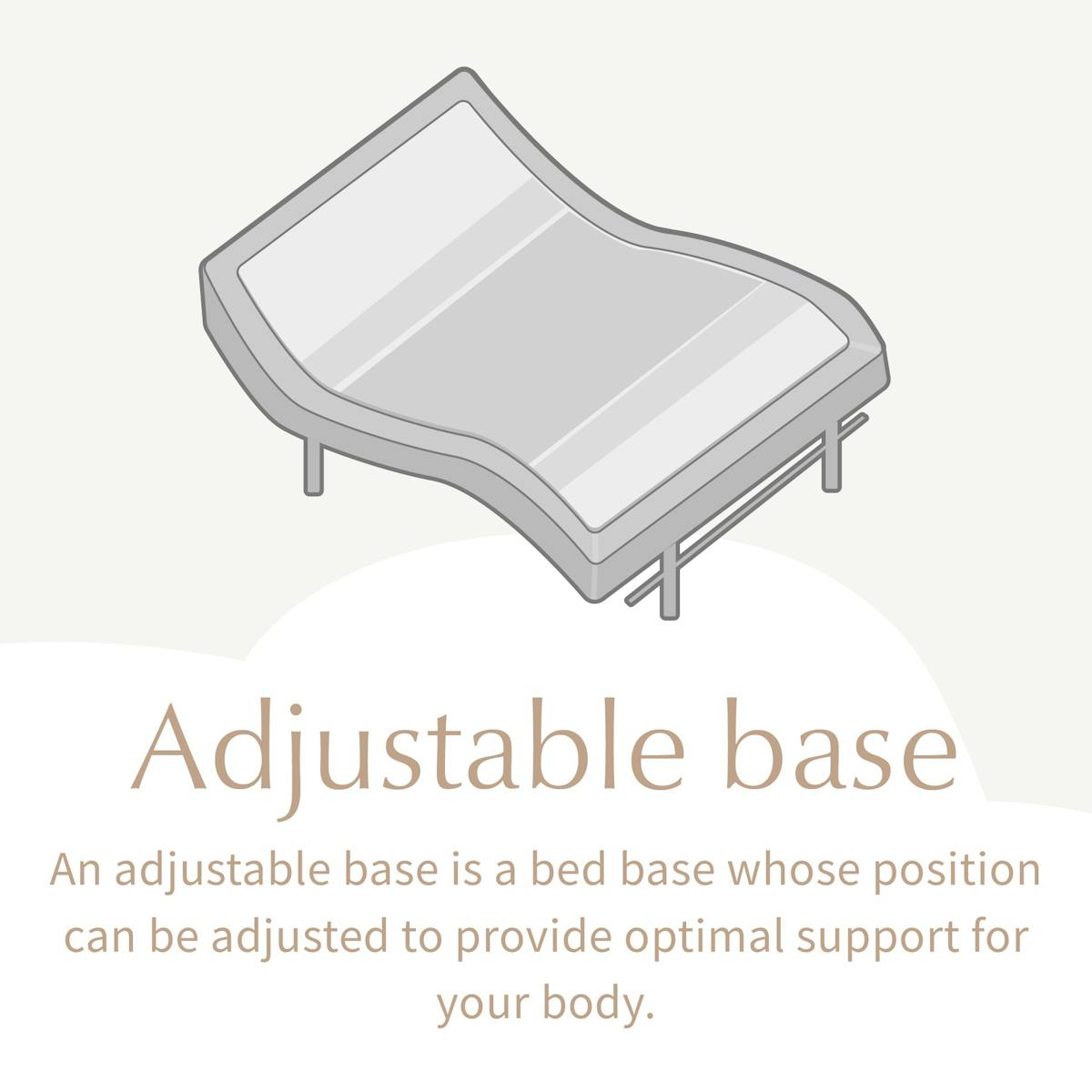 An adjustable base is usually sleek and sophisticated and may include additional features such as several massage settings, remote-controlled under-bed lighting, a silent alarm, and voice control options.
Platform beds 
With a platform bed, the mattress rests directly on the platform, whose top can be either a solid surface or one made with slats. A platform bed can be wooden, metal, or upholstered and often comes with storage options.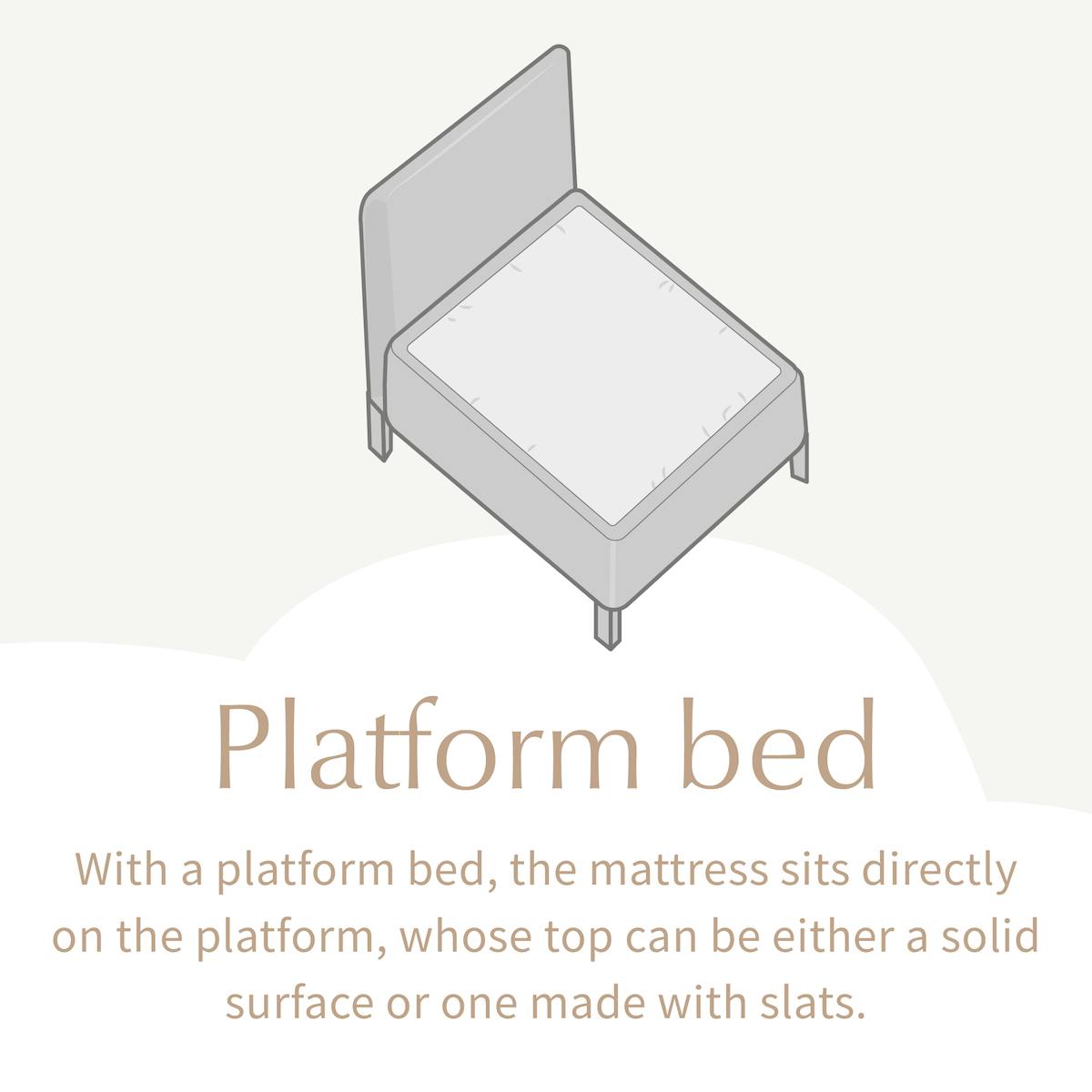 A platform bed varies in height but usually sits closer to the floor than a foundation or a box spring.
Box spring and foundation FAQs
Do you need a box spring—and how long will it last? We've got answers to your most common box spring and foundation questions. 
Do you need a box spring?
Most mattresses today don't need a box spring. You may need a box spring if you have a traditional innerspring mattress and want to have some cushion as well as support or if your mattress warranty requires the use of a specific type of box spring. Always check the fine print to see if your mattress needs a box spring to be covered under the warranty. 
Do you need a box spring with a bed frame?
If you're using a standard metal bed frame—or any bed that provides only a rim around the perimeter to hold the mattress, perhaps with a few cross pieces of wood, that won't provide adequate support for your mattress on its own. To ensure your mattress has the necessary support, as well as to raise it higher, you have to use either a box spring or a foundation.
Do platform bases need box springs?
Platform beds are designed to support the mattress on their own and don't need a box spring or a foundation.
How long do box springs last?
A box spring that is used with a compatible mattress (i.e., a thinner innerspring mattress) may be able to last around seven years. That's roughly the same lifespan as the average mattress. It's a good idea to replace your box spring when you replace your mattress to ensure adequate support. 
How do you cover a box spring?
You can make a new box spring cover using a fitted bed sheet or flat sheets and some upholstery pins. Choose a sheet in the same color as the ones on your bed for a streamlined look.  
What is a bunkie board?
A bunkie board is a flat piece of material (typically particleboard or plywood), about 1-3 inches thick, that goes between your mattress and the surface it sits on. It can be used with any type of bed base—a box spring, foundation, platform bed, and so on, to provide additional support for the mattress when needed.
Which bed base is right for me?
In short, unless you have an innerspring mattress and/or your manufacturer requires the use of a box spring, a foundation is a versatile and durable option suitable for most mattress types and preferences. 
Still not sure which type of bed base is right for you? We put together the following guides to help make your decision easier: