Platform Bed vs. Box Spring: What's the Difference?
Once you've found the mattress of your dreams, make sure you also choose the right foundation. A foundation is critical for support and prolonging the life of your mattress. The foundation that's best for you will depend on your personal preferences and the type of mattress you own. Two popular options: box springs and platform beds.
What's the difference between a traditional box spring foundation and a platform bed? The main difference is that a box spring is a foundation that rests on top of a bed frame, while a platform bed is a bed frame with a foundation already built in.
Here, we've put together a platform bed vs. box spring guide to help you determine which of these mattress foundations is right for you.
What is a platform bed?
A platform bed is a bed frame designed to be used without an additional foundation. With a platform bed, the mattress rests directly on the platform, which can be either a solid surface or one made with slats. Like other types of bed frames, platform beds can be wood, metal, or upholstered, and sometimes they come with storage options. While platform beds vary in height, they usually sit closer to the floor than a traditional mattress and foundation setup.
Pros
The main reason to choose a platform bed is that you like the look: They have a very contemporary, clean appearance that appeals to many people. There's also the simplicity factor—you just put your mattress on the platform and you're good to go. There's no difference in performance or comfort between a platform bed and a more traditional frame-and-foundation setup.
Our Best Platform Bed
Santorini Bed Frame
A platform bed, with a lower profile, sleek lines, and graceful legs. Featuring plush padded edges that lend a rich look and a fully upholstered back. Available in taupe and graphite vintage velvet.
Shop
Cons
Some mattress warranties require a particular kind of surface or slats that are a specified distance apart. If the slats on your platform bed are too far apart, you might need to use additional support, such as a piece of plywood between the mattress and the platform, known as a bunkie board, for additional support.
A platform bed might be problematic for someone with mobility issues. As they typically sit lower than a traditional bed with a box spring, it might be too low for people who have trouble getting in and out of bed.
Best for
Platform beds can be used with most types of mattresses, including innerspring, memory foam, hybrid, and latex. They are best for people who prefer a clean, contemporary look and have no mobility issues or no problem with their bed being a little closer to the ground.
Adjustable bases are a type of platform bed—so if you want to be able to sit up in bed, this might be a good option for you. (Learn about the health benefits of an adjustable base.)
What is a box spring?
Originally, a box spring used to be a fabric-covered wooden box filled with metal coils that added cushioning to mattresses that were much thinner than the ones made today. Modern box springs (also called foundations) do not contain coils, so their main purpose is to raise your sleeping surface a bit higher while providing proper support for the mattress. They're usually paired with a standard metal bed frame, but they can also be paired with a decorative bed frame that includes a headboard, footboard, and/or side rails.
Pros
A traditional box spring foundation is one of the most popular mattress support systems—and for good reason. They provide adequate support for your mattress and are usually the least expensive option. A high-quality box spring foundation should support your mattress for the entirety of its life.
Our Best Box Foundation
Saatva Foundation
Engineered to provide optimal support for your mattress. Handcrafted from North American spruce, our foundation is more durable than a traditional box spring. Shown here with metal frame. 
Shop
Cons
A box spring can be bulky. It might also make your bed too high, something to consider if you have mobility issues or don't like the feeling of "climbing" into bed.
The optimal height off the floor for a mattress is 25 inches—but if you choose a standard 9-inch box spring foundation and pair it with a thick mattress and 7.5-inch metal frame, you could be looking at a bed that is 30 inches or more off the ground. Low-profile foundations, which measure around 5 or 6 inches, work with especially thick mattresses or higher-than-standard bed frames.
Always measure the distance from the floor to the top of the surface on which you will place the mattress so you know what you're getting into. (See the diagram below for a handy visual reference.)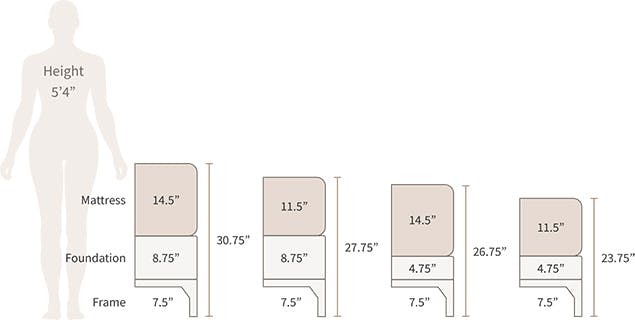 Best for
A box spring is a great option for anyone on a budget since it's generally the least expensive option. It's also a good pick for people who like their sleeping surface to be a bit higher off the ground. Finally, a box spring foundation is a must if you're using a standard metal bed frame—or any bed that provides only a rim around the perimeter to hold the mattress, perhaps with a few cross pieces of wood. Without a box spring, the mattress won't have adequate support.
Platform bed vs. box spring comparison
To better understand whether you need a box spring or a platform bed, we've put together this chart which summarizes the differences between the two.
| Comparison | Platform Bed | Box Spring |
| --- | --- | --- |
| What's the average bed height? | 18 inches | 25 inches |
| What mattresses is it compatible with? | Works with most mattress types; always check with your manufacturer first | Works with most mattress types; always check with your manufacturer first |
| Do you need to use a bed frame with it? | No | Yes |
| Does it come with extra storage space underneath? | Some come with built-in storage space | Typical frame and box spring setup allows for some storage underneath |
| What's the average price for a queen? | Ranges from a few hundred dollars to several thousand (if you choose an upholstered platform bed) | $200-500 for a traditional box spring foundation |
Benefits of a foundation
The bottom line: The choice between a platform bed and a box spring depends on your mattress and your preferences. Regardless of which one you choose, pairing your mattress with some sort of foundation will help keep it in the best shape possible for as long as possible.
Pair These Saatva Mattresses with a Platform Bed or Box Spring
Saatva Classic
Our flagship luxury mattress is expertly engineered with coil-on-coil construction for durability, a layer of memory foam for enhanced back support, and a cushiony Euro pillow top for extra comfort.
Shop
For more on the benefits of a foundation, and tips on choosing the right one for your mattress, read these articles: