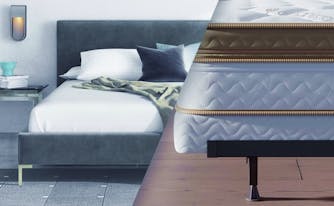 Platform Bed vs. Box Spring: Which Is Best For You?
Once you've found the mattress of your dreams, make sure you also choose the right foundation. 
A good foundation supports your mattress in all the right places, prolonging its life and increasing the benefits you get from it. The foundation that's best for you will depend on both your personal preferences and the type of mattress you own. Two popular choices to consider: box springs and platform beds.
Here, we've put together a platform bed vs. box spring guide to help you determine which of these mattress foundations is right for you.
What is a platform bed?
A platform bed is a bed frame designed to be used without an additional foundation. With a platform bed frame, the mattress rests directly on the platform, which can be either a solid surface or one made with metal or wooden slats.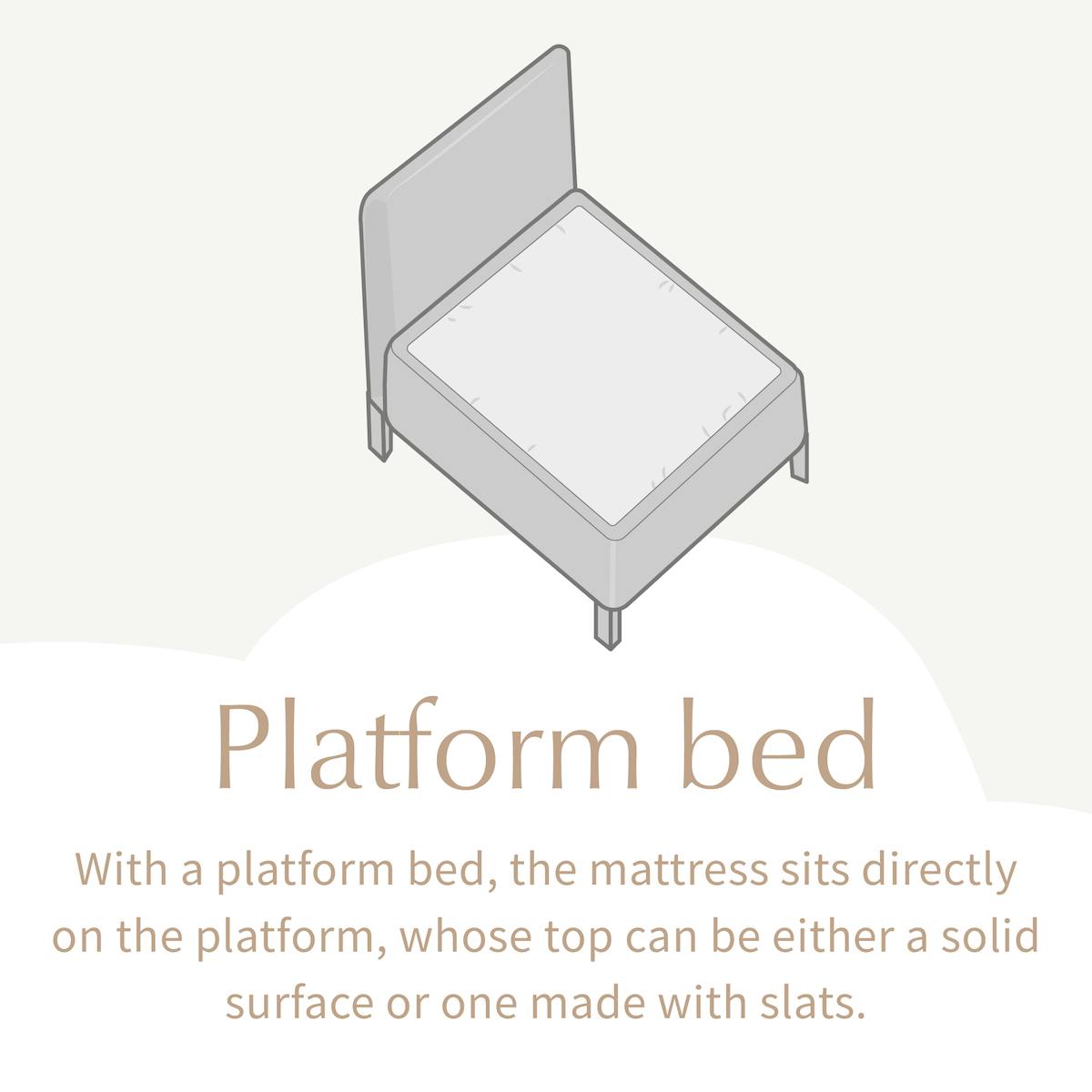 Like other types of bed frames, platform beds can come in different styles and be wood, metal, or upholstered. Some also come with storage drawers and other extra storage options. While platform beds vary in height, they usually have a lower profile design, sitting closer to the floor than a traditional bed frame and mattress setup.
What is a box spring?
Originally, a box spring used to be a fabric-covered wooden box filled with metal coils that added cushioning to mattresses that were much thinner than the ones made today.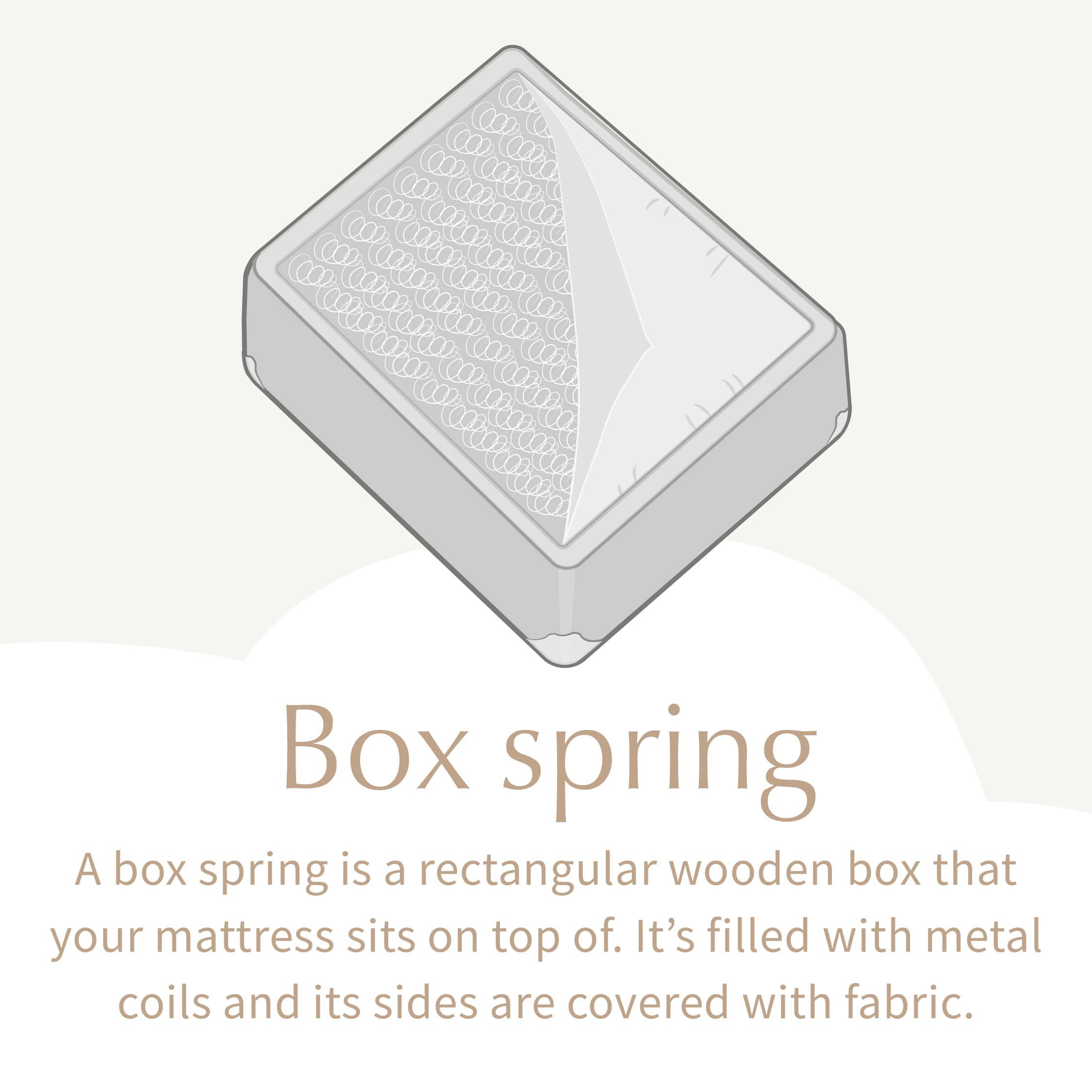 Modern box springs (also called foundations) do not contain coils, so their main purpose is to raise your sleeping surface a bit higher while providing proper support for the mattress. 
They're usually paired with a standard metal bed frame, but they can also be paired with a decorative bed frame that includes a headboard, footboard, and/or side rails.
Key differences between a platform bed and a box spring
To better understand whether you need a box spring or a platform bed, we've put together this chart which summarizes the differences between the two.
| Comparison | Platform Bed | Box Spring |
| --- | --- | --- |
| Average Bed Height | 18 in | 25 in |
| Compatible Mattress Types | Memory foam mattresses, latex mattresses, hybrid mattresses, innerspring mattresses | Innerspring mattresses |
| Does It Need a Bed Frame? | No | Yes |
| Average Price for a Queen | Ranges from a few hundred dollars to several thousand (if you choose an upholstered platform bed) | $200-$500 for a traditional box spring foundation |
Pros and cons of a platform bed
Here are the main benefits and drawbacks of a platform bed.
| Pros of a Platform Bed | Cons of a Platform Bed |
| --- | --- |
| It's simple—place your mattress on top, and you're good to go | Usually lower profile, making it a challenging design for people with mobility issues |
| It looks good—platforms are typically contemporary, stylish, and come in a variety of styles | May require additional mattress support like a bunkie board |
| Compatible with most types of mattresses | Generally heavy and hard to move around |
| Typically includes some sort of storage option | Usually more expensive than box springs |
Platform beds can be used with most types of mattresses, including innerspring, memory foam, hybrid, and latex. They are best for people who prefer a clean, contemporary look and have no mobility issues or no problem with their bed being a little closer to the ground.
Adjustable bases are a type of platform bed—so if you want to be able to sit up in bed, this might be a good option for you. (Learn about the health benefits of an adjustable bed.)
Pros and cons of a box spring
Here are the main benefits and drawbacks of a box spring.
| Pros of a box spring | Cons of a box spring |
| --- | --- |
| Coils promote airflow and cooling | Can be bulky |
| Great for providing extra height on low profile bed frames | May make your bed too high |
| Can help extend the life of your mattress | Not compatible with many mattress types |
A box spring is a great option for anyone on a budget since it's generally the least expensive option. It's also a good pick for people who like their sleeping surface to be a bit higher off the ground. 
A box spring foundation is a must if you're using a standard metal bed frame—or any bed that provides only a rim around the perimeter to hold the mattress, perhaps with a few cross pieces of wood. Without the sturdy base a box spring provides, you won't have adequate mattress support —and you'll find yourself having to buy a new mattress much sooner than you'd like.
Which provides more support: platform beds or box spring beds?
The amount of support you get from your bed depends on your body weight, mattress firmness level, and foundation type. 
With platform beds with slats, you can typically set up your bed to your desired support level. The closer you put the slats, the more support you'll get from your bed frame. Solid platform beds provide the most support, which is usually a good option for people with back pain.
Box springs are typically less supportive than solid platform beds and provide a little more give. The extra bounce is great for stomach and side sleepers. 
Do I need a foundation for my mattress?
Whether you choose a platform bed or box spring, pairing your mattress with some sort of foundation will help keep it in the best shape possible for as long as possible.
For more on the benefits of a foundation, and tips on choosing the right one for your mattress, read these articles:
Find your dream bed at Saatva
Looking for a new mattress and foundation? Check out our selected offerings below. 
Our best foundations
Whether you prefer a platform bed or a more traditional box spring foundation, we've got you covered.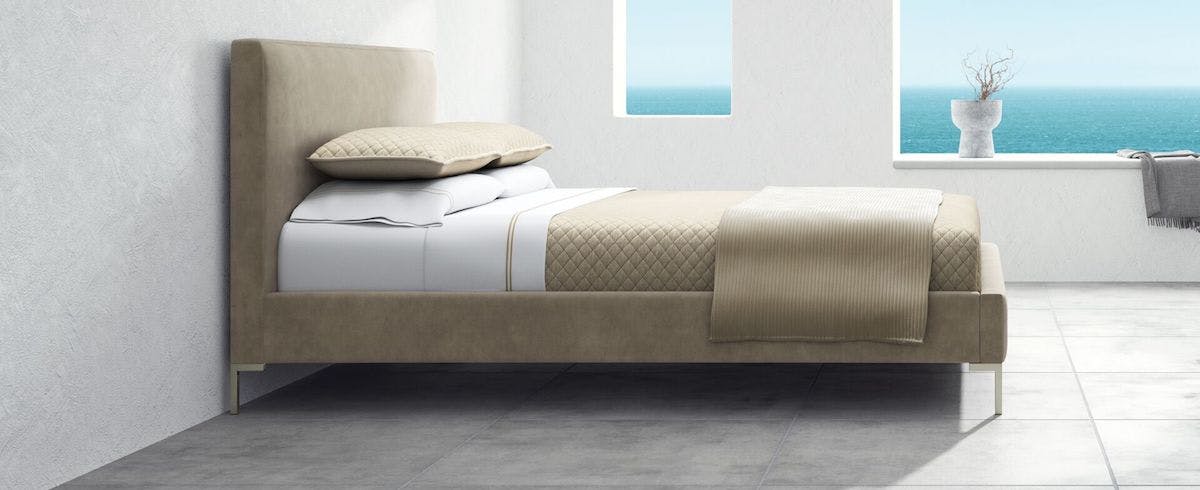 A platform bed with a modern look, featuring plush padded edges that lend a rich look and a fully upholstered back. Available in taupe and graphite vintage velvet.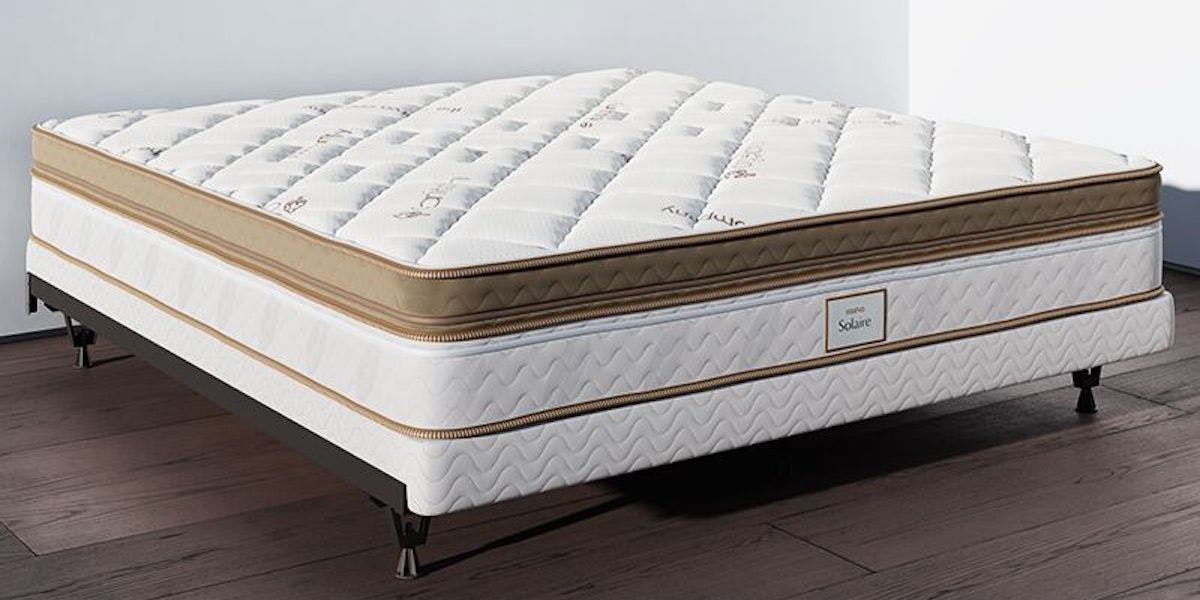 Engineered to provide optimal support for your mattress. Handcrafted from North American spruce, our foundation is more durable than a traditional box spring. Shown here with a metal frame. 
Our best mattresses
From innerspring to memory foam to latex, we offer a variety of mattress types to suit your sleep style.

Our flagship luxury mattress is expertly engineered with coil-on-coil construction for durability, a layer of memory foam for enhanced back support, and a cushiony Euro pillow top for extra comfort.

Premium memory foam, handcrafted in the U.S. with eco-friendly materials. Breathable organic cotton, cooling spinal gel, and layers of high-density support foam assure a cool, comfortable night's sleep.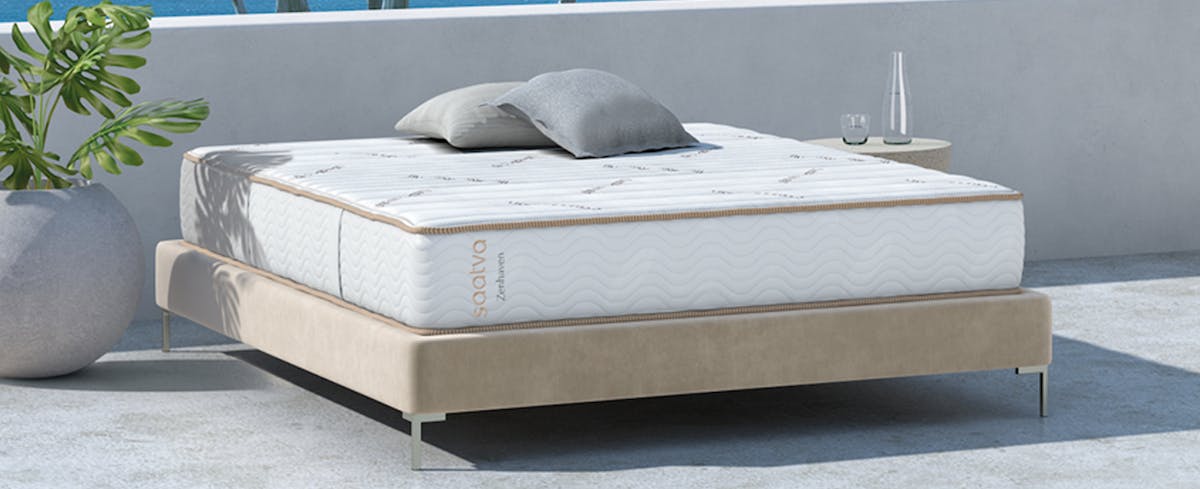 100% natural latex responds to every curve for pressure-free support and responsive comfort. Natural latex is supple, resilient, and durable, for the ultimate in elevated sleep. (It's naturally hypoallergenic too.)