You found a new mattress you love. Now what should you put it on?
There's no one right answer to that question. While having the right type of mattress support is important, it can be confusing trying to figure out which type you need. Some mattresses, such as latex mattresses, for example, require a solid foundation, while others don't require much support at all.
Here's everything you need to know about your different mattress support options.
Types of bed foundations
The right type of foundation for your mattress wholly depends on your mattress type, style preference, and other factors.
Watch this video for more advice on choosing a foundation:
Box springs
A box spring is a wooden rectangular box filled with metal coils with fabric-covered sides. Traditional box springs are some of the most popular mattress foundations on the market and pair well with traditional innerspring mattresses.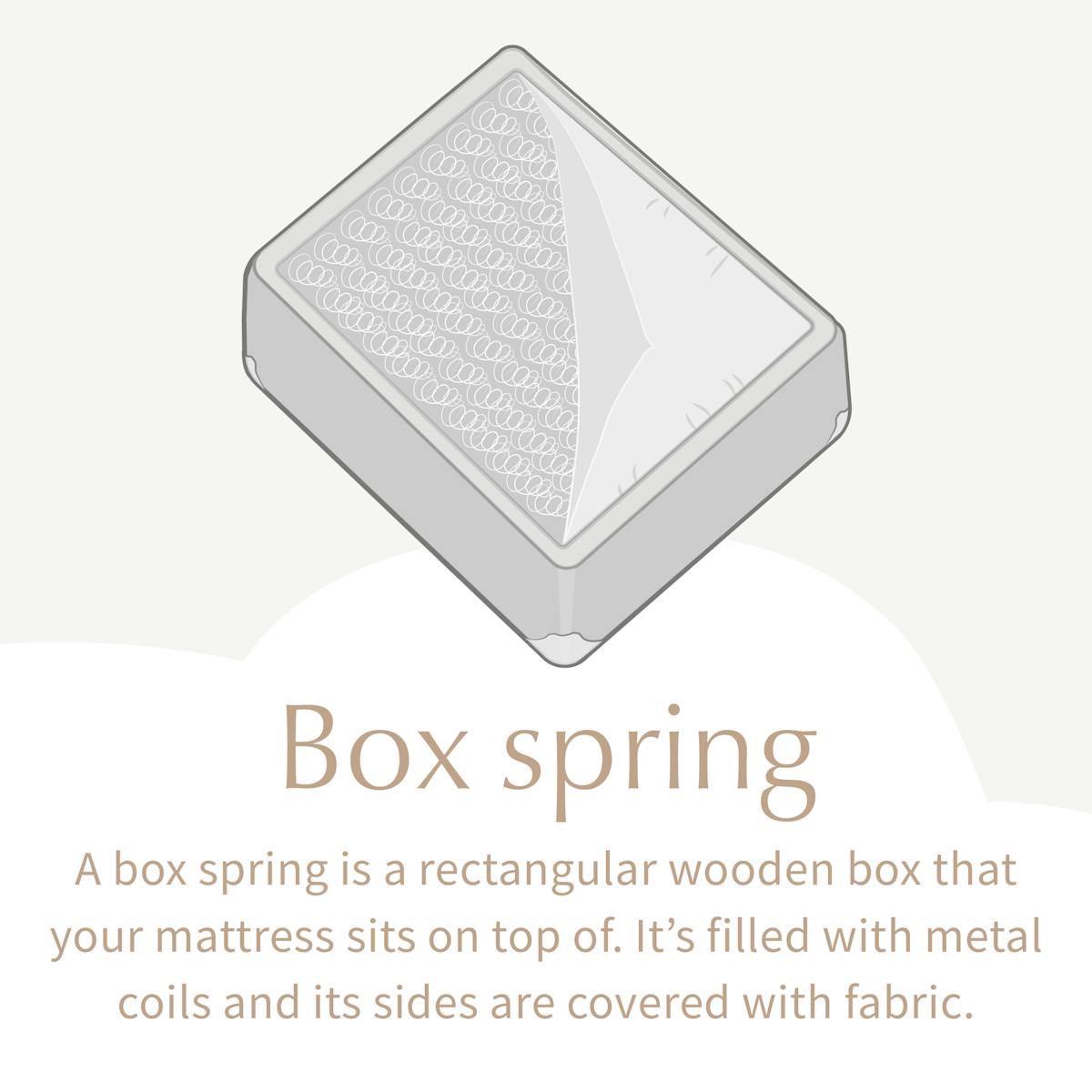 Additionally, a box spring and metal bed frame is the most cost-effective support option—unless you choose to place your mattress directly onto the floor, that is.
Just keep this in mind: If you're considering a queen, king, or California king mattress, then you'll need to make sure your metal bed frame has a leg that's fitted down the center for additional support.
What types of mattresses can you pair with a box spring?
Box springs work well with:
You shouldn't pair box springs with:
Memory foam mattresses
Hybrid mattresses
Latex mattresses
Platform bed base
Platform bases are usually made of solid wood or metal. They have a flat surface on top that you can put the mattress directly on top of, eliminating the need for a box spring.
The price of platform bases varies significantly, from a few hundred to many thousands of dollars, depending on how nice you want it to look and whether or not you want something that's of the highest quality.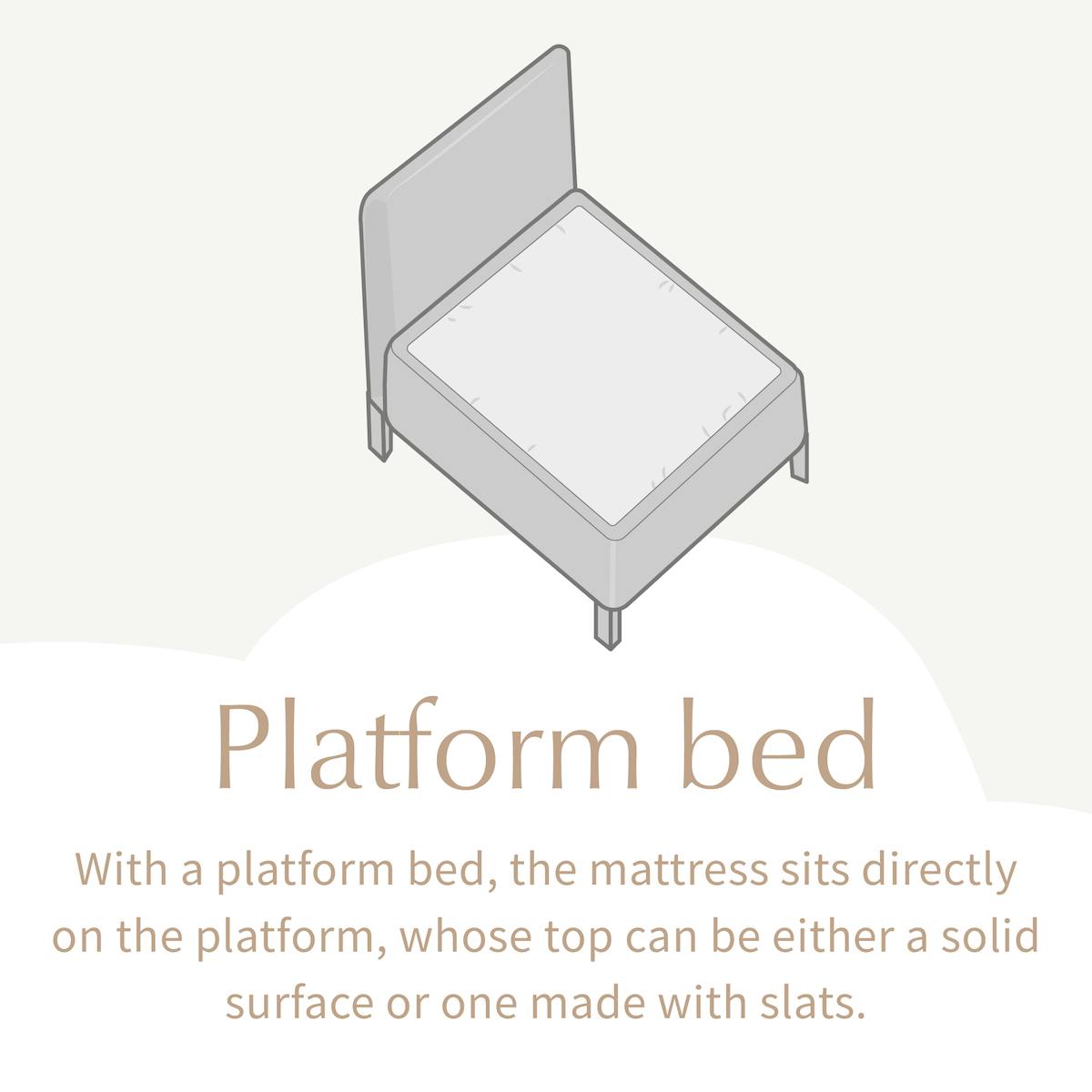 You could get an inexpensive one that's a fairly simple design and simply made—or you could get one that's more elaborate, perhaps with a headboard and footboard, for a much higher price tag.
One of the main reasons why you might want to consider a platform base is that many have a very contemporary, low-profile silhouette. This can also make your bedroom look more spacious, which is particularly beneficial if you have a small bedroom.
Many platform bases even come with built-in under-bed storage space, another plus to those with limited space.
What types of mattresses can you pair with a platform bed frame?
Platforms beds work best with:
Memory foam mattresses
Hybrid mattresses
Latex mattresses
Slatted foundations
Slatted bases provide essentially the same type of support as a platform base, but instead of having a solid flat surface on top, there's a series of slats that the mattress rests upon. They're made of either wood slats or metal slats, are typically inexpensive, and allow for easy assembly without adding bed height.
If you choose a foundation consisting of wooden slats, opt for pine, oak, maple, or mahogany, which are all excellent quality and won't warp. Slatted foundations are made so that you don't need to use a box spring. Always check with the manufacturer regarding the ideal distance between slats to support your mattress.
Works best with:
Slatted foundations can generally be paired with all mattress types. Just note that you may need to pair a bunkie board with certain latex, memory foam, and hybrid mattresses for extra support or bed height. Be sure to consult the mattress manufacturer for additional information before choosing this foundation type.
Adjustable bed frames
Adjustable bases are commonly found in hospitals and offer a variety of health benefits, including improved sleep apnea and acid reflux. Luckily, there are also plenty of adjustable bed frames you can purchase to use at home.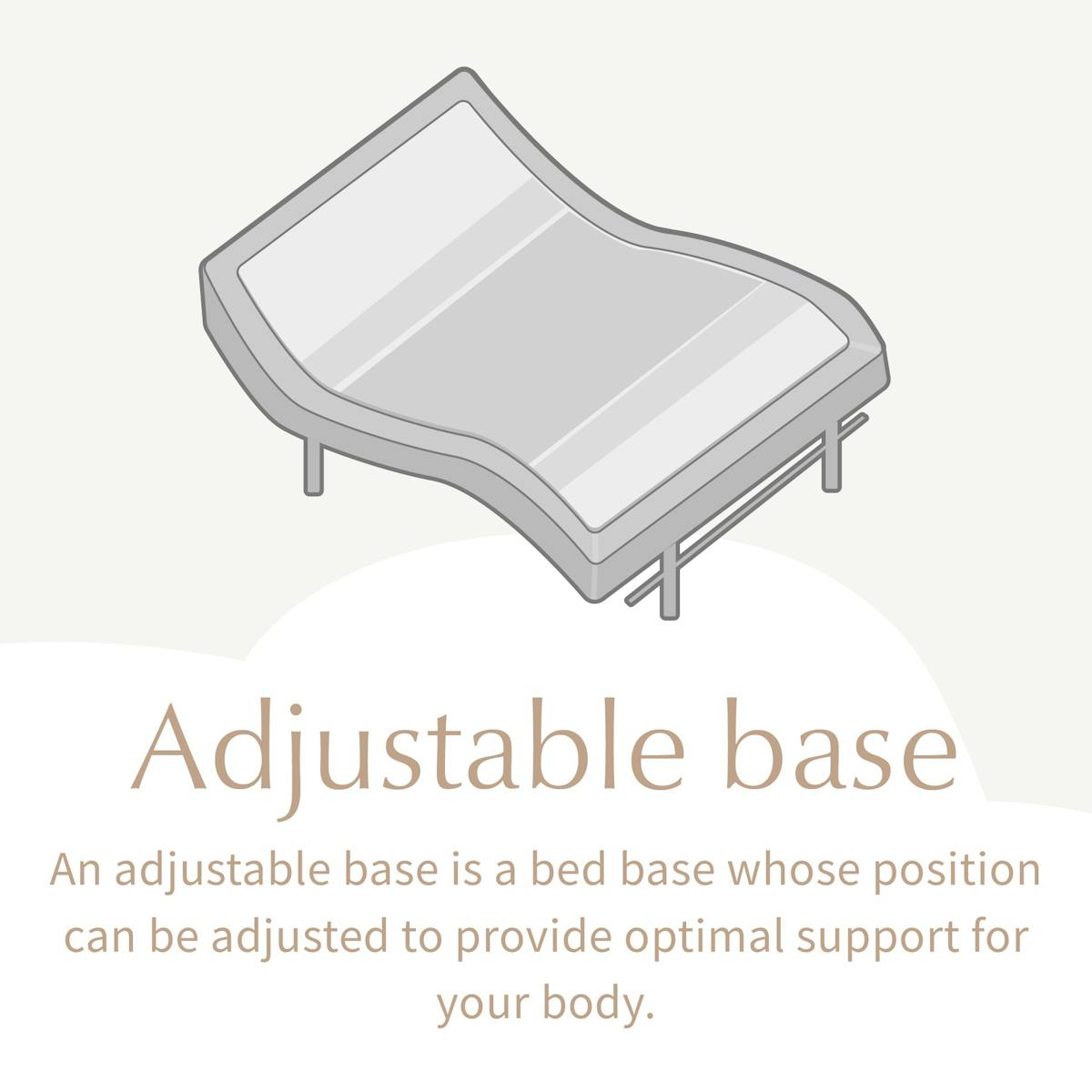 With a motor, adjustable bases bend and flex so you can customize the position of the mattress. Most give you the option to incline the head of the bed or raise the bottom portion (elevating your feet).
Adjustable bases on today's market come with a lot of options and special features, including preset positions, under-bed lighting, massage settings, and voice command controls.
Works best with:
The majority of mattresses sold today are compatible with adjustable bases, including virtually any foam mattress.
However, if you're buying a mattress and base from different sources, check with the mattress manufacturer to know for sure.
Bunkie boards
A bunkie board is a board made out of plywood or particleboard. They're usually about 2 inches in height. Bunkie boards can be used with an old box spring, foundation, or platform base for extra support.
Works best with:
They're usually used with memory foam mattresses, which are heavier than innerspring ones. Bunkie boards originated as extra support for bunk beds—hence their name. When used with a metal bed frame, the bed will be shorter.
Do I need a bed foundation?
Sure, getting a bed foundation seems like a great idea, but is it necessary? Besides the added support and height a foundation provides, here are some other things to consider.
The benefits of bed foundations
A bed foundation has many benefits, including improving airflow, increasing durability for your mattress, and protecting your bed from allergens.
Improves airflow
A foundation can help promote airflow for cooler sleep. This can be particularly helpful if you're sleeping on a traditional memory foam mattress, which tends to sleep hot. Plus, the fact that bed foundations provide a mattress with more height also encourages airflow. Many foundations are designed with breathable materials for cooler sleep as well.
Extends the lifespan of your mattress
The average lifespan of a mattress is seven to 10 years. Using a foundation for support can help improve the lifespan of your mattress and make sure you get the most out of it for years to come.
Protects you from allergens
A good mattress foundation can be your saving grace from allergens. That's because the closer you are to the ground, the greater your contact with allergens like dead skin, hair, and dust mites will be. Keeping your mattress on a foundation and off the ground can help prevent these allergens from getting into your bed.
Mattress warranties
One thing to be aware of: Some mattress warranties become void if you don't put the mattress on a support system or foundation that also comes from that brand.
Find your perfect mattress and foundation at Saatva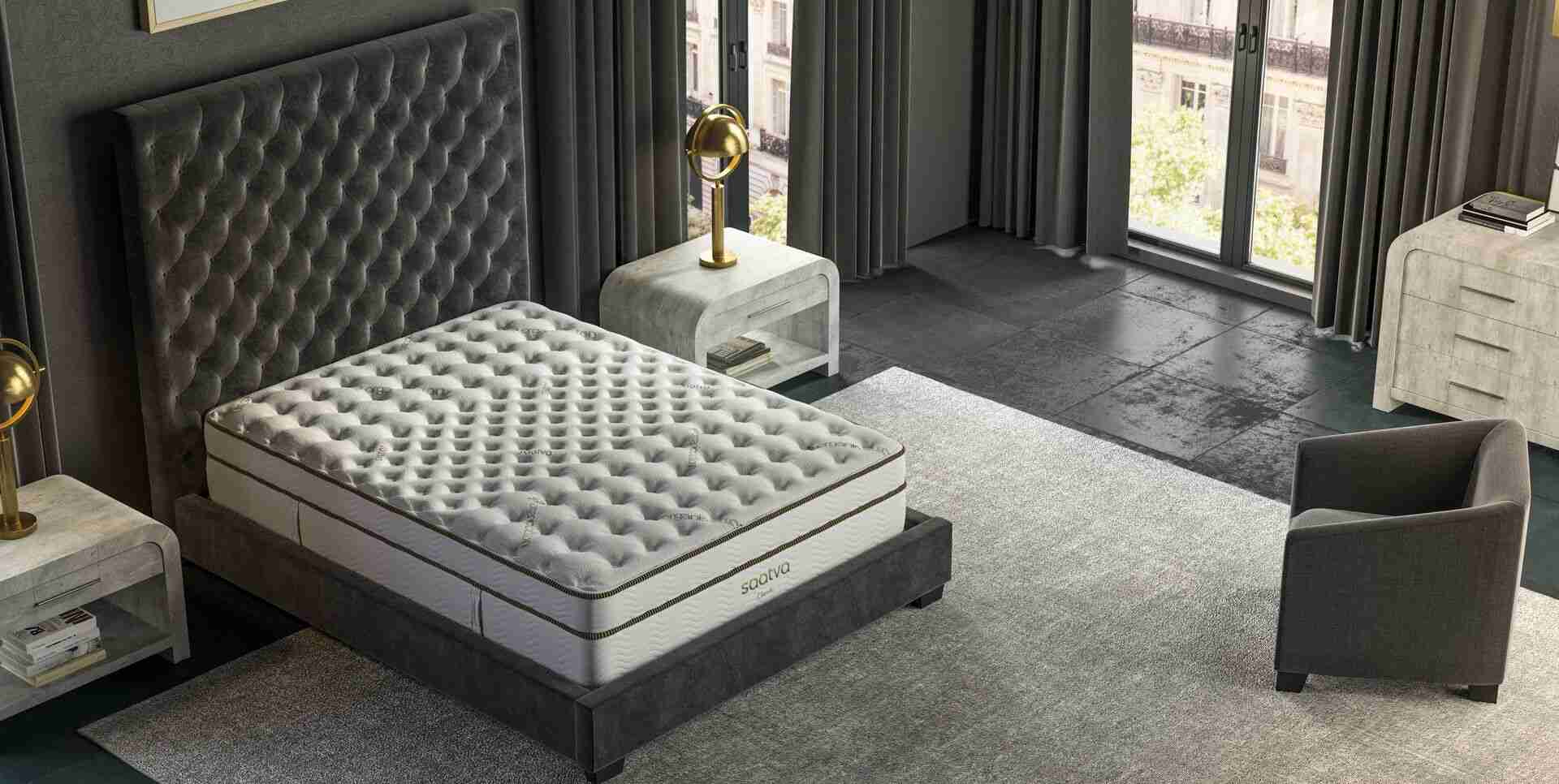 Our flagship luxury mattress is expertly engineered with coil-on-coil construction for durability, a layer of memory foam for enhanced back support, and a cushiony Euro pillow top for extra comfort.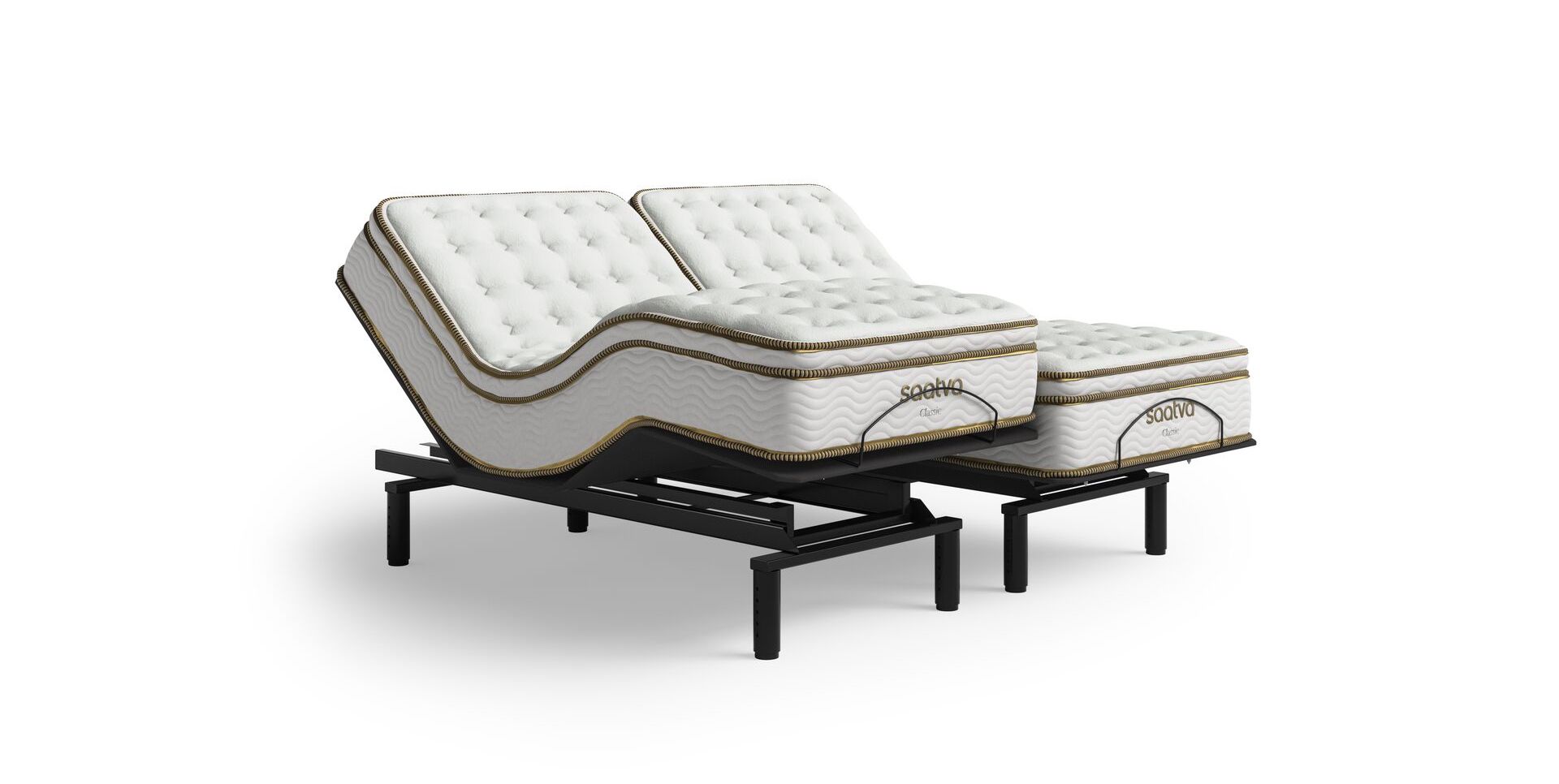 With weightless, Zero Gravity support, the Saatva Adjustable Base Plus allows you to set your ideal position for sleeping—and living—with one touch of the remote.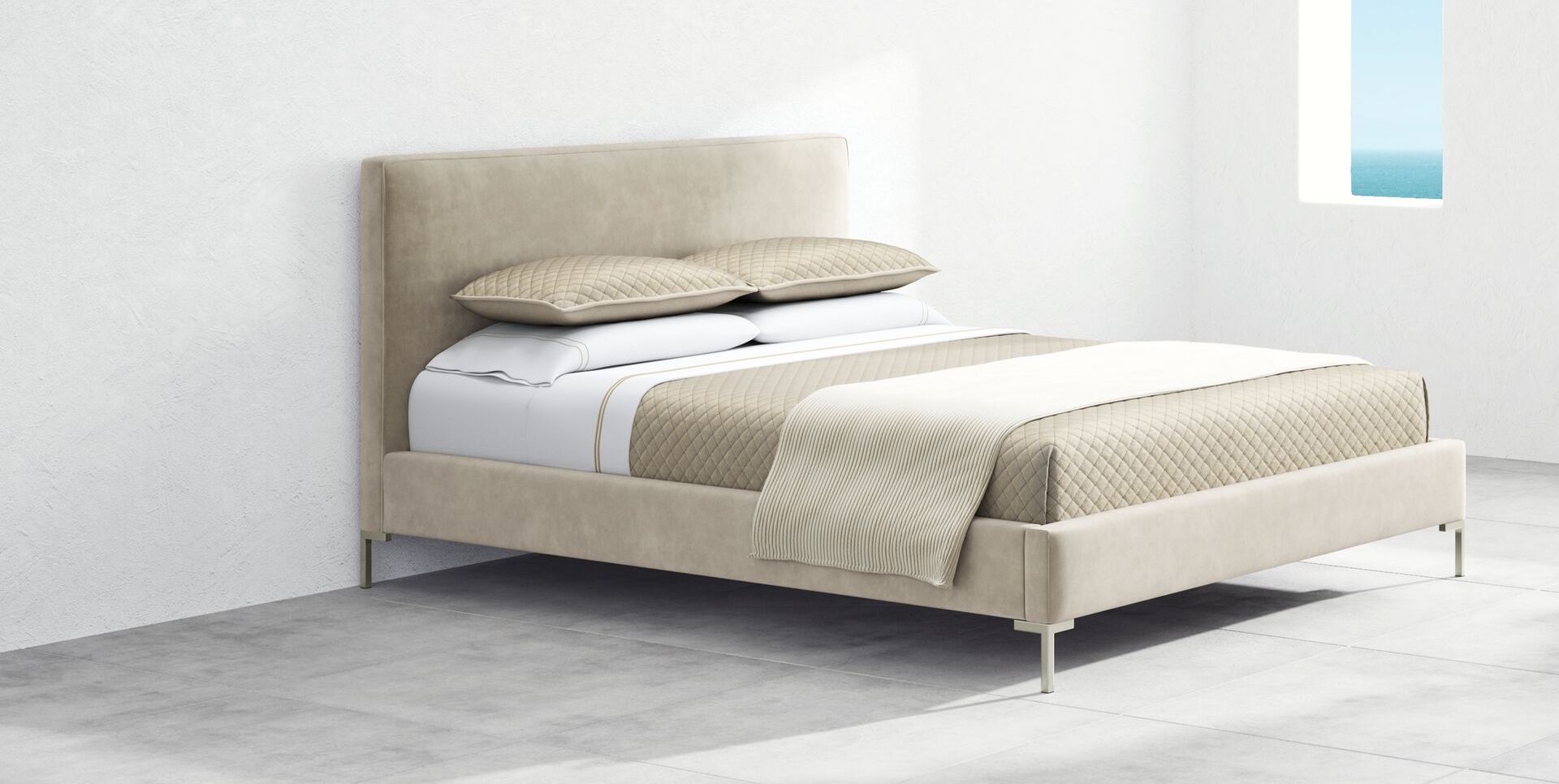 A platform bed, with a lower profile, sleek lines, and graceful legs. Featuring plush padded edges that lend a rich look and a fully upholstered back. Available in taupe and graphite vintage velvet.
Bed foundation FAQs
Choosing the right bed foundation can help tremendously with the lifespan of your mattress and the overall comfort level of your bed. Here, we answer your most common question to help you choose the right foundation for your mattress.
Do slatted beds shorten the lifespan of mattresses?
Foundations with slats too far apart may not properly support a mattress and therefore decrease the lifespan. This is especially true for many foam mattresses, which often need solid support.
Always check with the manufacturer to see if they specify how far apart the slats should be on your foundation. You may need to buy a bunkie board for additional support, depending on your mattress type.
Can you put your mattress directly on the floor?
Yes, you put your mattress directly on the floor. While the floor can be supportive, just keep in mind that it's easier for bugs and pests to reach your mattress when you put it there. The floor also doesn't allow for much airflow or breathability, which can lead to uncomfortable sleep.
Can you use an innerspring mattress with no box spring?
No. A traditional innerspring mattress should be paired with a box spring for optimal comfort and support. Innerspring coils tend to be bouncy and can transfer a lot of movement. The solid base of a box spring is designed to act as a shock absorber for the innerspring coils. Without this sturdy foundation, your innerspring mattress could be uncomfortable and wear out pretty quickly.
What are the typical bed foundation sizes?
Bed foundations are available in common sizes to fit everything from a twin to a king-size bed. The most common sizes include:
Twin
Twin XL
Full
Queen
King
Some atypical bed foundations are also available. These include:
California king
Split king
Olympic queen
Wyoming king
Texas king
Alaskan king
Looking for the perfect foundation for your mattress? Saatva has a wide variety to choose from. Check out our selection of high-quality bed frames and foundations.