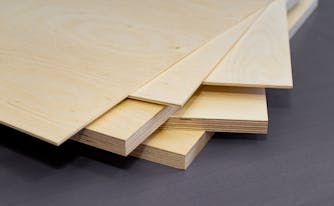 Bunkie Boards: What They Are & Why You Might Need One
The right support system will both help your mattress perform its best and increase its lifespan. 
If you've been looking for the right foundation or bed frame for your mattress, you've probably encountered the term "bunkie board" at some point. What is a bunkie board, and what does it do?
Read on to learn what a bunkie board is used for and whether your mattress needs one.
What is a bunkie board?
A bunkie board is a flat piece of material (typically particleboard or plywood), about 1 inch to 3 inches thick, that goes between your mattress and the surface it sits on. It can be used with any type of setup—a box spring, foundation, platform bed, and so on—to provide additional support for a mattress in cases where the foundation alone isn't enough.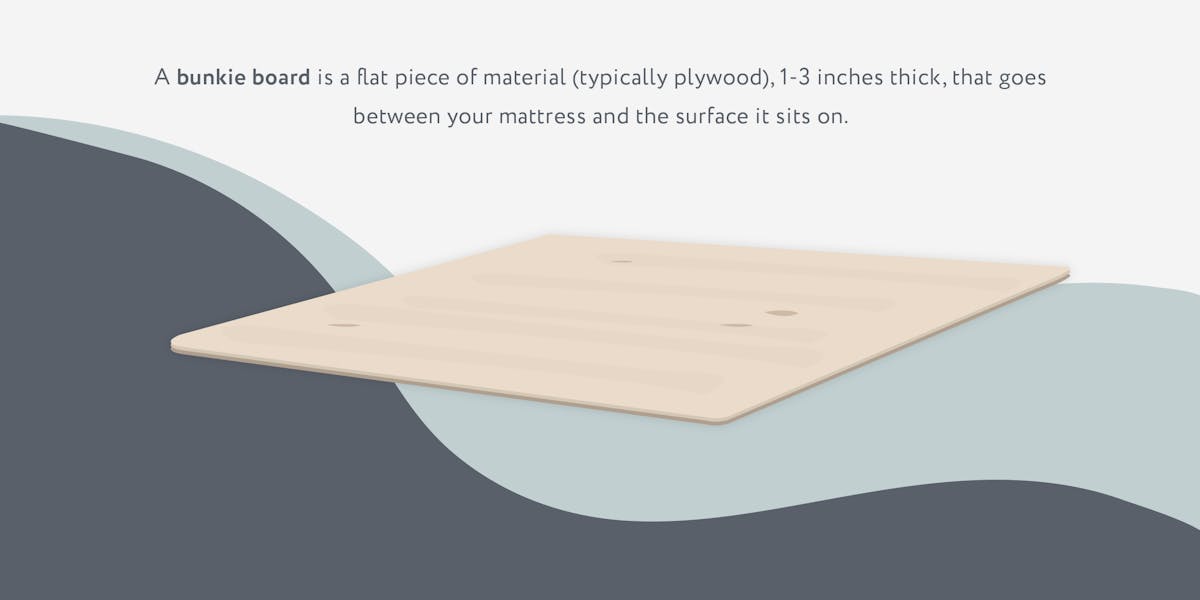 Bunkie boards got their name from bunk beds because they were originally used to provide the base for a bunk bed mattress. Traditional innerspring mattresses needed a box spring for support, but a box spring couldn't be used with bunk beds—it wouldn't allow enough clearance for a person to sit up on either the top or the bottom bunk.
A bunkie board came about as a solution to replace the box spring, so bunk bed mattresses could sit low and still have the needed support. 
Today, bunkie boards are widely available for all mattress sizes—twin, twin XL, double, queen, king, and California king and can be used either instead of or in addition to a slatted foundation.
Benefits of using bunkie boards 
Bunkie boards are no longer just for bunk beds. Because they're available for all mattress sizes, anyone can put a bunkie board below their bed. They tend to help with mattress support and mattress durability. Some of the other biggest bunkie board benefits include:
Low profile
Additional mattress support and durability
Work for any size mattress
Low profile
Bunkie boards mostly work for platform beds and allow a bed to sit lower than a traditional box spring would. Because the most common size on the market is a 2-inch bunkie board, they are extremely low profile. 
Mattress support and durability
Wooden bunkie boards are the most common bed base on the market. The solid wood material makes these bunkie boards exceptionally durable and work for any size bed. Wood bunkie boards are a great option for anyone looking to add additional durability and support to their platform bed.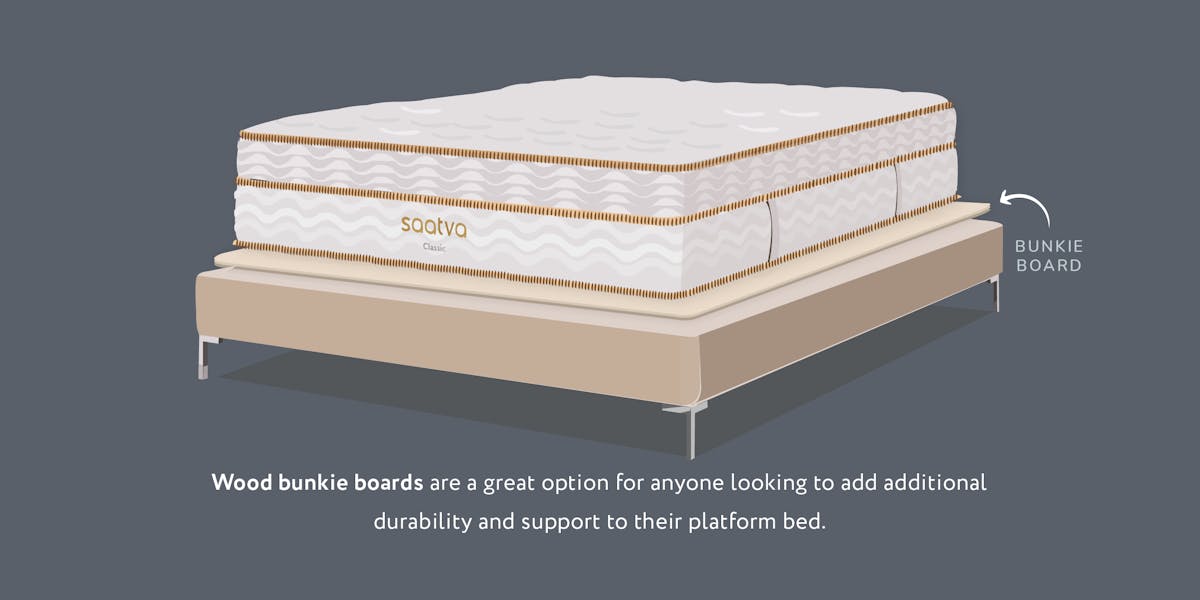 Good for any size mattress
Bunkie boards range from the standard twin all the way up to the California king mattress size. The large selection means that they're widely available to most people. 
Additionally, you can purchase split bunkie boards for split king size beds or split queen size beds. These are just two twin bunkie boards lying next to each other, but they can individually provide support for split mattresses. 
Bunkie boards vs. other mattress support systems
Bunkie boards can be used on any type of platform bed to add an extra layer of support below your mattress. Let's compare them to some of the most commonly used mattress support systems currently on the market.
Bunkie board vs. box spring
While both provide support for your mattress, these two are not the same thing. A box spring (sometimes just called a foundation) is a fabric-covered wooden box that your mattress sits on top of. Originally, box springs were filled with metal coils that added cushioning to innerspring mattresses that were much thinner than the ones made today.
Today's box springs don't contain coils but simply provide support for the mattress while raising it to a comfortable height. If you're happy with the height of your bed, as long as it has adequate support (even on the floor), you don't actually need a box spring.
Bunkie boards offer a simpler alternative to a box spring while providing the same sturdy support. They can also be put between your mattress and the box spring as a temporary way of strengthening a box spring that needs replacement.
Bunkie board vs. slats
Some platform beds or bed frames have a slatted surface. That can be enough support for some mattresses but won't be appropriate for others. A bunkie board can be put between your mattress and the slatted base it sits on to provide additional support. Always check with your manufacturer to see if your mattress needs to be resting on a solid rather than slatted base.
Keep in mind that using a bunkie board with a slatted base will reduce the airflow to the mattress, which could potentially result in you sleeping hotter.
Bunkie board vs. plywood
If your platform bed or bed frame has a solid plywood top rather than bed slats, there's no need for an additional bunkie board. A bunkie board can be made of plywood, so these two are pretty much synonymous.
Do you need a bunkie board?
Whether or not you need a bunkie board depends on the kind of mattress you own. Traditional innerspring mattresses needed a box spring—however, the way these mattresses are made today, a box spring isn't always necessary. An innerspring mattress can rest happily on support slats or a solid base such as a platform or bunkie board.
Where bunkie boards really help is with foam mattresses, such as memory foam mattresses and latex mattresses, as slats often don't provide enough support for those. A bunkie board that rests between slats and the mattress will provide additional support and prevent the mattress from sagging, ultimately prolonging its lifespan.
A bunkie board can also help prevent your bed from squeaking. Here's more on how to fix a squeaky bed.
The bottom line: Always check your warranty to see if your mattress needs solid support or if slats placed closely enough can provide enough support for it. If your mattress necessitates solid support, then a bunkie board can help you achieve that and keep your mattress in great condition for years to come.
Where to buy high-quality bed accessories
After deciding that a bunkie board is right for you, it's time to find a high-quality, heavy-duty bunkie board for your bedroom. There are plenty of online retailers and brick-and-mortar stores that sell them.
Saatva also offers a wide selection of bed accessories. Whether you're looking for a little extra mattress support, a new bed frame, or a new mattress, Saatva is the perfect place to start. Check out our wide selection of beds, mattresses, and accessories today.