Bunk beds are a fantastic bed frame option for children and teenagers—especially if your kids share a room and don't want to lose valuable floor space.
But as with other bed frame options, the key factor in achieving an enjoyable sleeping experience is the type of mattress. Not many people know that there's actually a variety of bunk bed sizes on the market with a matching variety of mattress sizes.
Here, we've compiled a handy bunk bed mattress guide to help you decide which combination of a bunk bed frame and mattress is the ideal one for your family.
Bunk bed sizes and dimensions
The best-known type of bunk bed is one that uses two twin mattresses for both the top bunk bed and the bottom bunk, but it's not the only type available on the market today. Check out this chart for the most common bunk bed dimensions:
| | | |
| --- | --- | --- |
| Mattress Size | Mattress Dimensions | Average Bed Dimensions |
| Twin-size mattresses | 38" x 75" | 42" x 80" |
| Full-size mattresses | 54" x 75" | 60.8" x 82" |
| Queen-size mattresses | 60" x 80" | 63" x 83″ |
While twin bunk beds are the most common, you can often find bunk beds of different dimensions—for example, a full-size bed on the bottom and a twin mattress on the top bunk, or a queen-size mattress on the bottom and a full-size mattress on the top bunk.
Ideal types of mattresses for bunk beds
The best bunk bed mattresses are lightweight, low profile, and don't require a box spring.
When selecting a kids' mattress for a bunk bed, pay attention to its safety features. You need a mattress that's not too thick but also provides the proper pressure relief for your child.
For a top bunk, look for a 6-7 inch mattress in terms of thickness. This is important to ensure your child isn't raised up higher than the guardrail on the top bunk. You can go thicker than that for the bottom bunk (but make sure the child can sit up without hitting their head on the top bunk).
All-foam mattresses, like
memory foam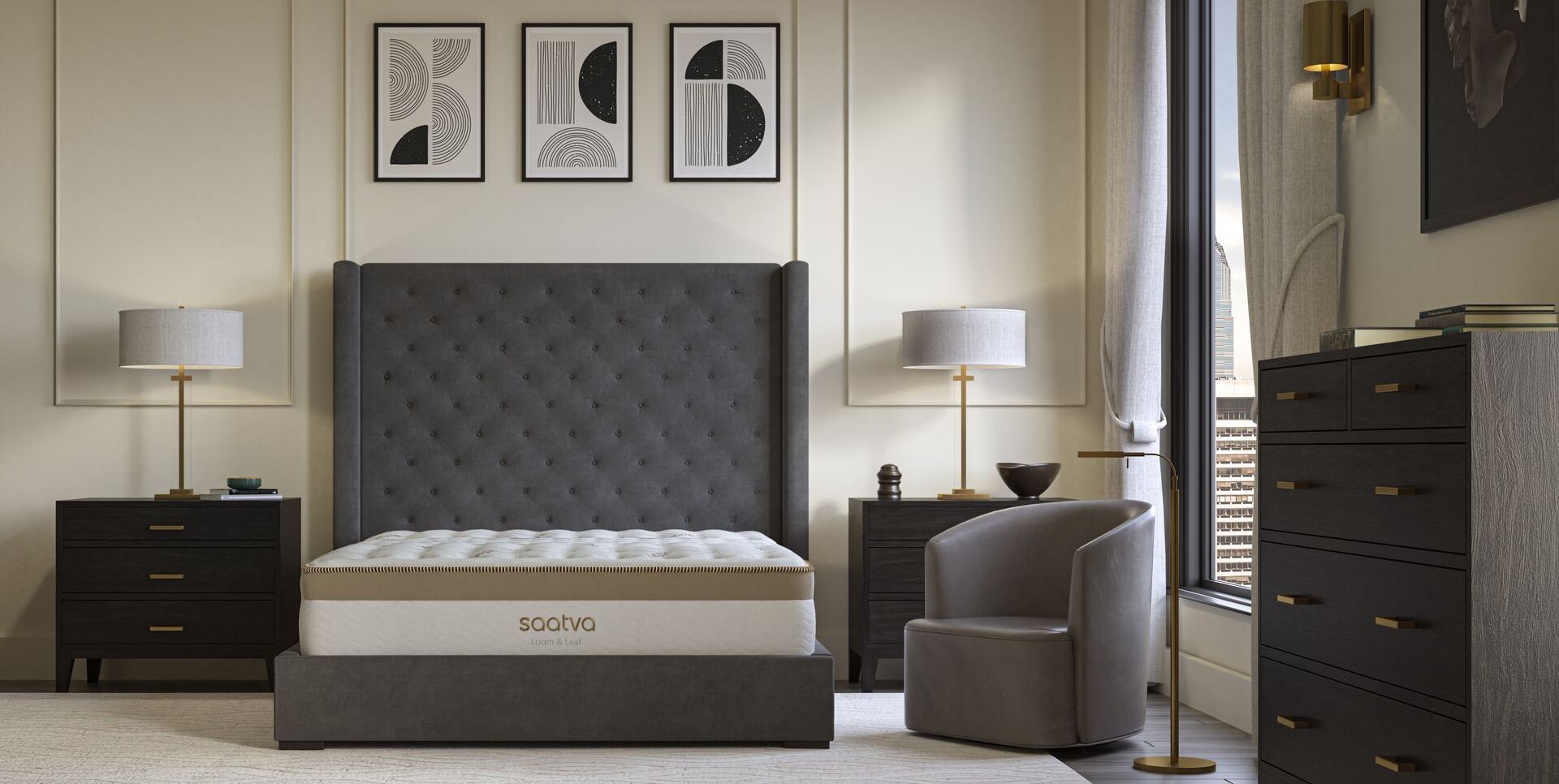 Loom and Leaf
Our ultra-premium 5-lb memory foam mattress for a body-hugging feel
or
latex mattresses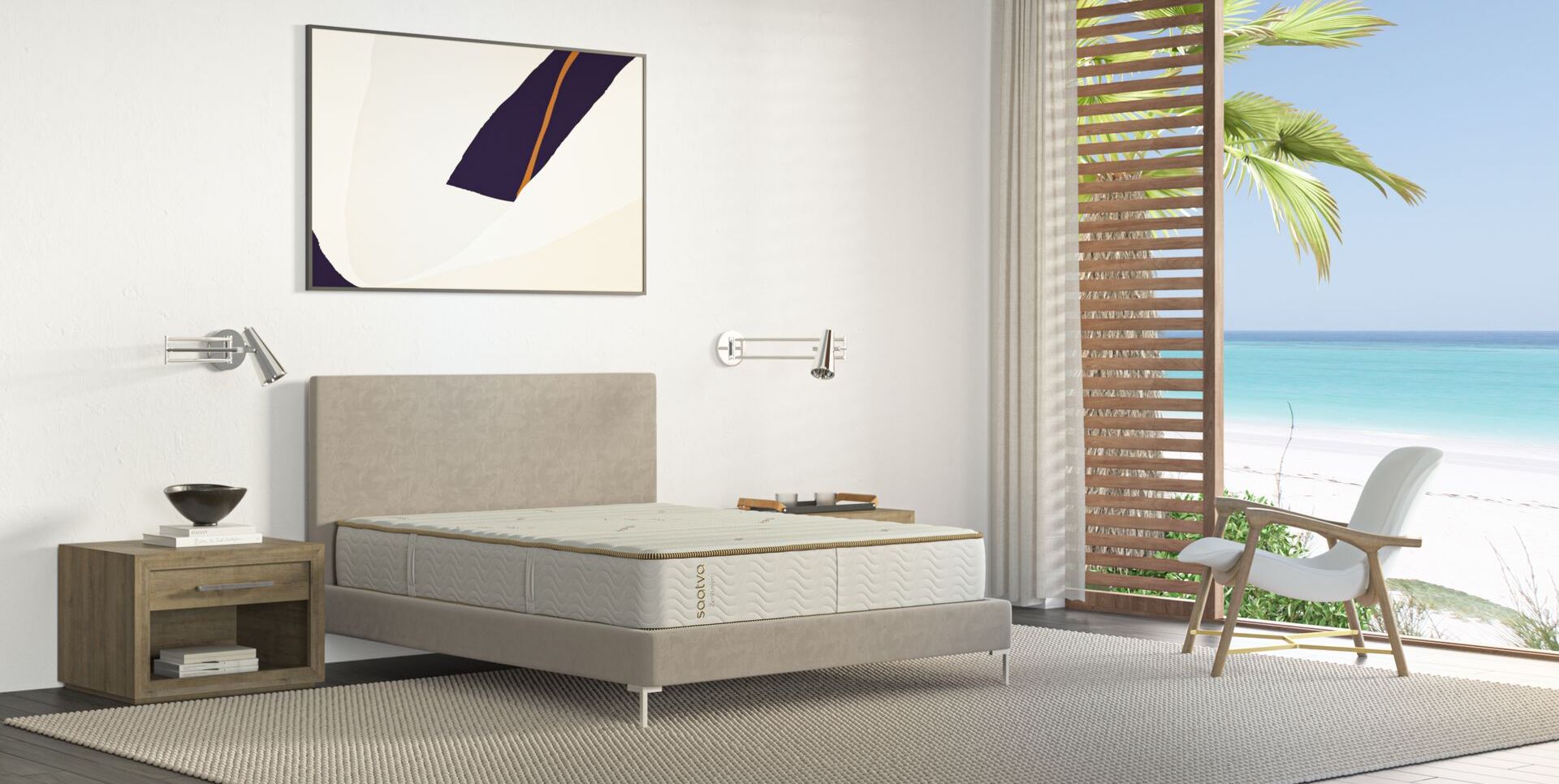 Zenhaven
Our dual-sided organic natural latex mattress for buoyant, pressure-relieving comfort
, are often the top pick because they don't require a box spring and often include quilted foam layers for comfort to compensate for the reduced thickness.
A
hybrid mattress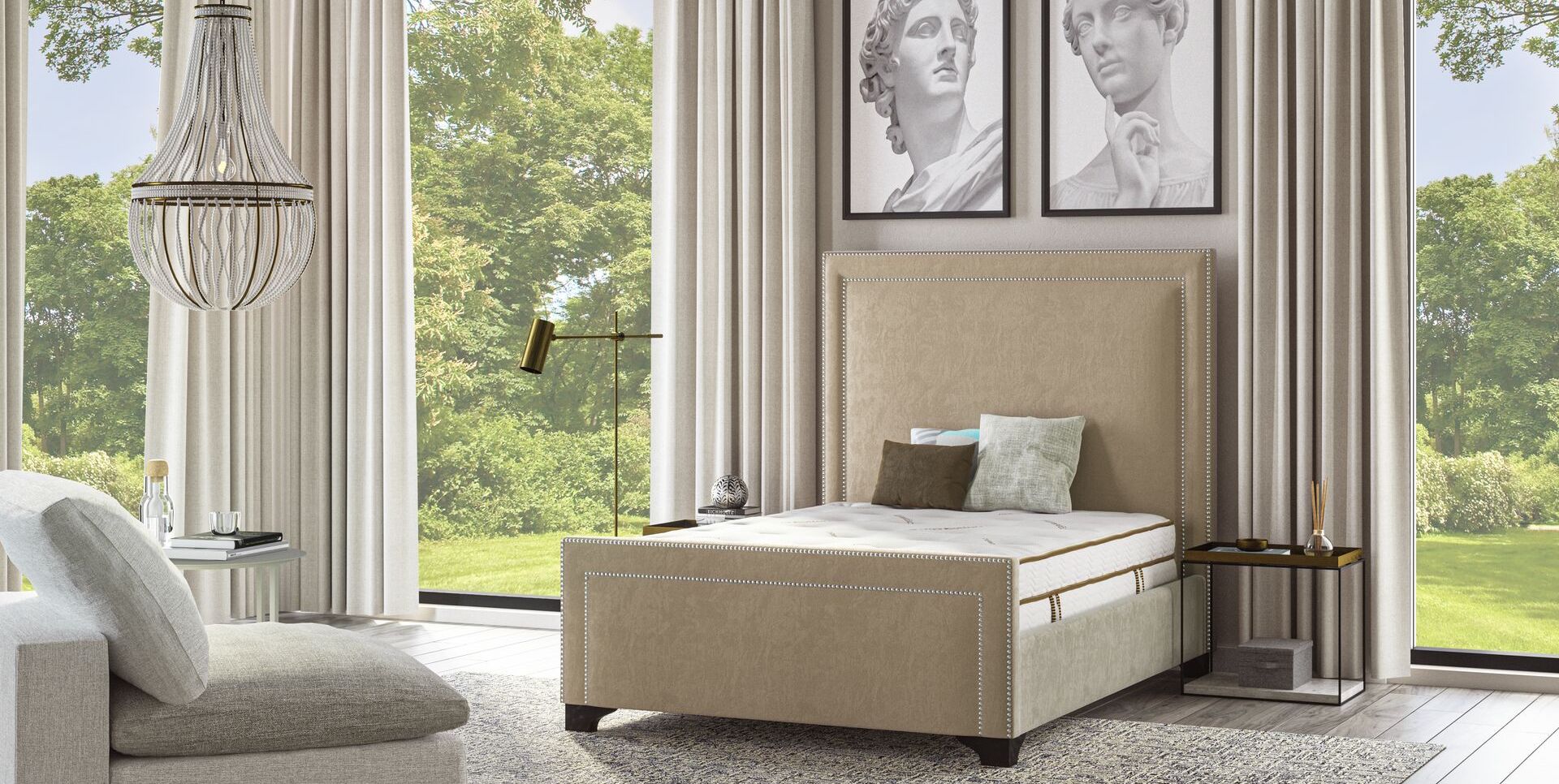 Latex Hybrid
Our hand-tufted, organic natural latex hybrid innerspring for buoyant, cooling comfort
that's not too thick and doesn't require a box spring might also be a good option. Innerspring mattresses, however, aren't the best option for bunk beds because they require a box spring.
In terms of firmness, medium-firm to firm mattresses work well for most children, as they provide an ideal balance between comfort and proper spinal alignment.
In addition, keep an eye out for a variety of certifications to ensure the mattress you're buying for your child is high-quality and made of nontoxic materials. You should look for mattresses that are Greenguard Gold Certified, CertiPUR-US certified, or GOTS certified.
Types of bunk bed frames
As with most types of bedroom furniture, there's a variety of options available when it comes to choosing a bunk bed for your kids' bedroom. Some of the most common types of bunk bed frames include:
Standard bunk beds
Trundle beds
Loft beds
Each of these bed frame types has its own benefits.
Standard bunk beds
The standard bunk bed is what most people picture when they hear the term bunk bed. Usually, it has two twin beds on top of one another. However, you can actually get standard bunk beds in a variety of sizes—for example, twin over full, full over queen, full over full, and others.
When choosing a kids' mattress for this type of bunk bed, keep in mind that any mattress will work except for an innerspring mattress, which requires a box spring.
Trundle beds
Trundle beds are another common type of bunk bed frame. They differ from the standard bunk bed in that they have a third mattress. The additional bed is hidden at the bottom of the bottom bunk and can be pulled out as needed to sleep a third person.
This is a popular pick for children because they can pull the third bed out only when they have a sleepover and hide it at other times to save space.
Loft beds
A loft bed is a little different than a traditional bunk bed because it doesn't usually sleep two. Instead of a bottom bunk, it has an empty space. This empty space can be particularly useful in small rooms as it can be used for storage or turned into a cozy work area by placing a desk there.
Other than this practical side, loft beds are often popular with teenagers because they give them some more privacy. (Check out these loft bed ideas for more inspiration.)
Our best mattress for bunk beds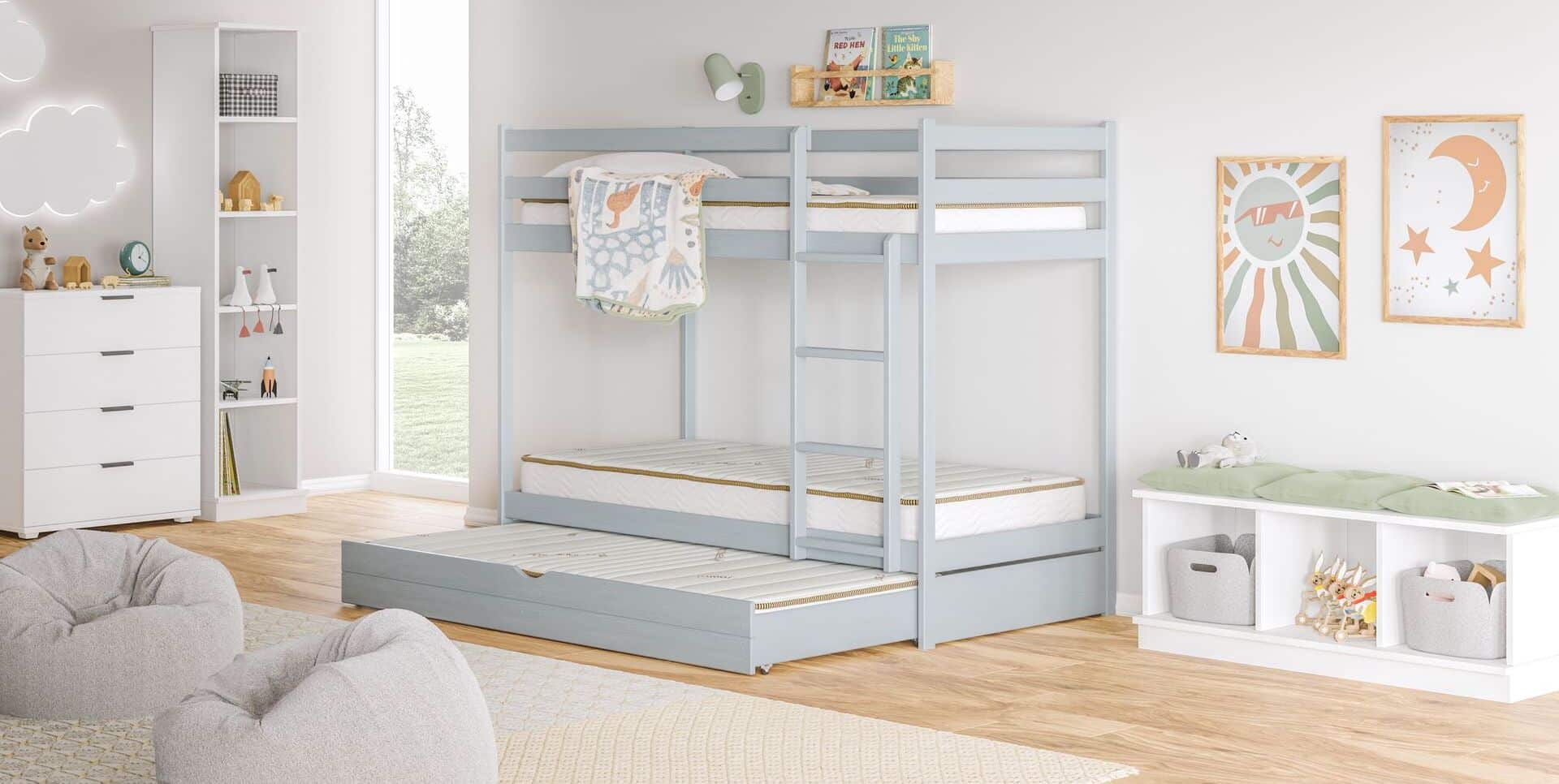 Low-profile 6" height works seamlessly with most bunk beds and trundle beds. Lumbar Zone® Quilting & gel-infused memory foam lumbar crown provide enhanced lower back support.
FAQs
Can bunk beds break easily?
Though rare, it's possible for bunk beds to break or collapse in the event they weren't constructed properly or have defective or missing components.
Is there a weight limit for a bunk bed?
Bunk beds, like mattresses, do have weight limits to ensure they're properly supporting you and your mattress. Therefore, when purchasing a bunk bed, check the specifications for weight limits to ensure they can adequately support you or your child's weight.
Find high-quality bunk bed mattresses with Saatva
Finding the ideal bunk bed mattress for your child or children can be quite a challenge since you're looking for something that's not only high-quality and comfortable but also safe for your children. At Saatva, we have a specially designed
Bunk & Trundle Mattress.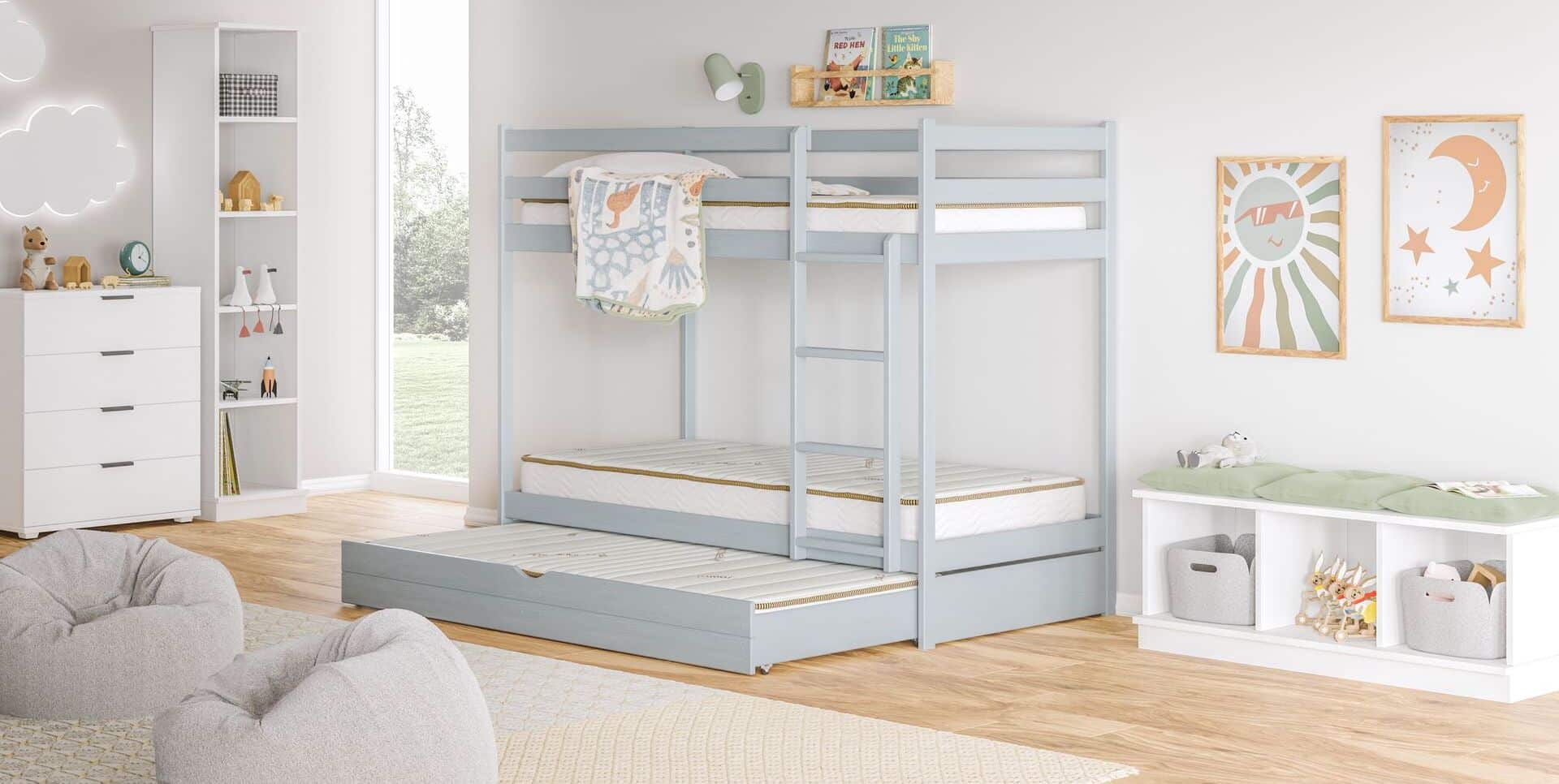 Bunk & Trundle Mattress
The first luxury mattress designed just for bunk & trundle beds
Once you've found that perfect bunk bed mattress and kids' bedding, go ahead and discover our variety of
mattress toppers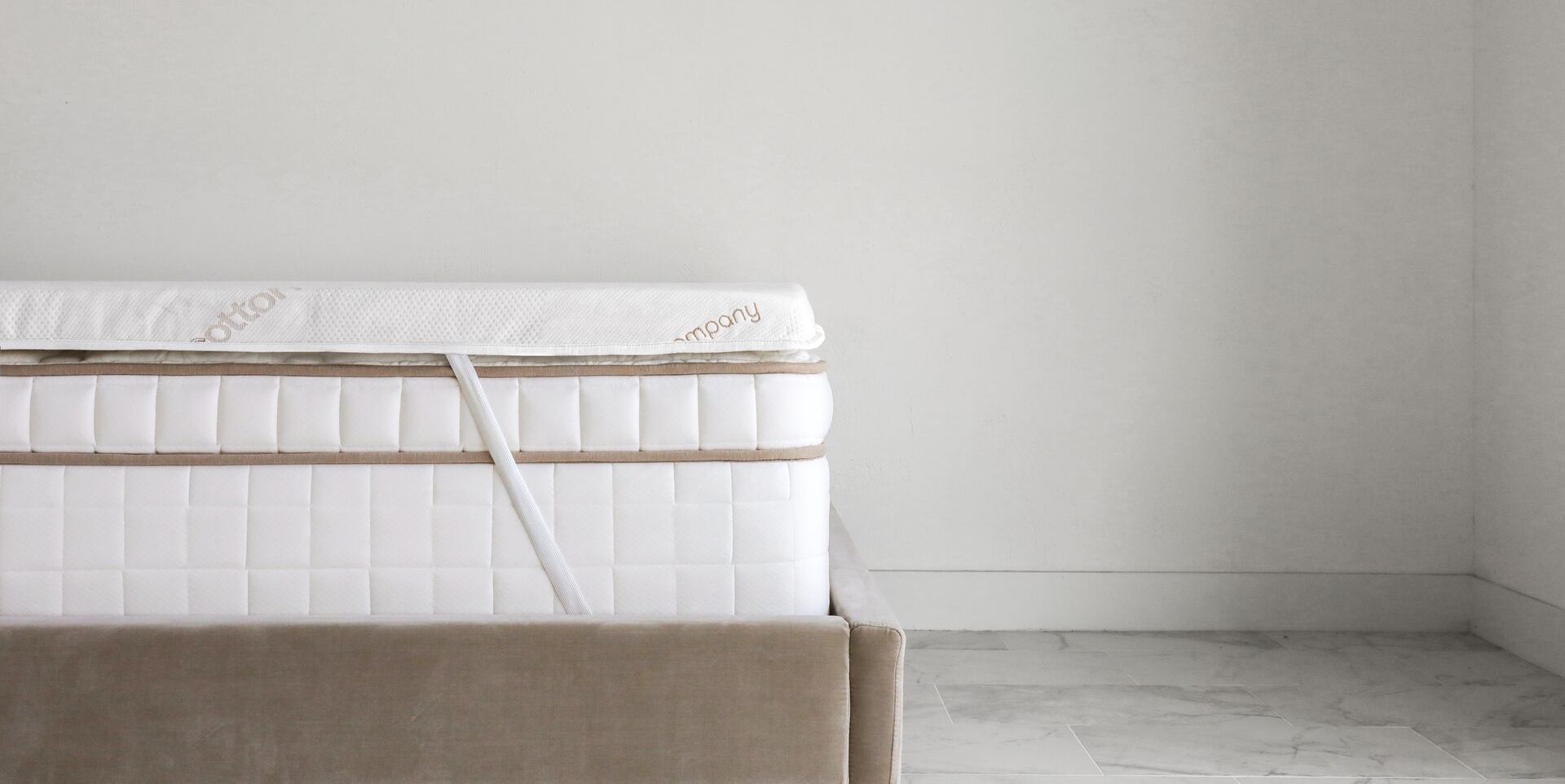 Graphite Memory Foam Topper
Body-hugging comfort with advanced cooling technology
,
bedding
,
bed frames
, and other bedroom accessories.