Most people don't give a lot of thought to the mattress they buy for their child's first big-kid bed. After all, children can sack out on pretty much anything.
But the typical preschooler needs a whopping 10 to 12 hours a day of sleep, according to sleep experts.
So when it's time to upgrade, your child needs a kids' mattress that's comfortable and supportive and—since it's probably just the first of several-won't break the bank.
We'll show you how to choose the right mattress for your child, no matter how old they are—or how they prefer to sleep.
Ideal mattress features for your child's age
When shopping for a mattress for your child, the first thing you need to think about is the mattress size. The most common options for kids are crib mattresses, twin mattresses, twin XL mattresses, and full mattresses. The right mattress size for your child depends on their age, body size, and bedroom size.
We put together the following chart to help you select the best mattress size for your kid.
Mattress Size
Crib Mattresses
Twin Mattresses
Twin XL Mattresses
Full Mattresses
Ideal Age
Babies and toddlers
Young children
Young children to teenagers
Teenagers
Dimensions
28" x 52"
38" x 75"
38" x 80"
54" x 75"
Key Features
Low cost and easy to replace
– Suitable for a variety of crib sizes
– Lower cost
– Can fit in a bunk bed
– Suitable for small bedrooms
– Longer to accommodate taller children
– Can fit in a bunk bed
– Suitable for small bedrooms
– Suitable for larger bedrooms
– More sleeping space
Should a child have a soft or firm mattress?
Another important factor to consider before purchasing a bed for your child is mattress firmness. Because of their lighter body weight, children don't need a super-firm mattress. Instead, a firm or medium-firm mattress is best for kids.
Childrens' growing bodies need adequate support, and their spines need to be able to stay in a natural position while they sleep. A firm or medium-firm mattress will ensure a child gets the necessary spinal support during sleep.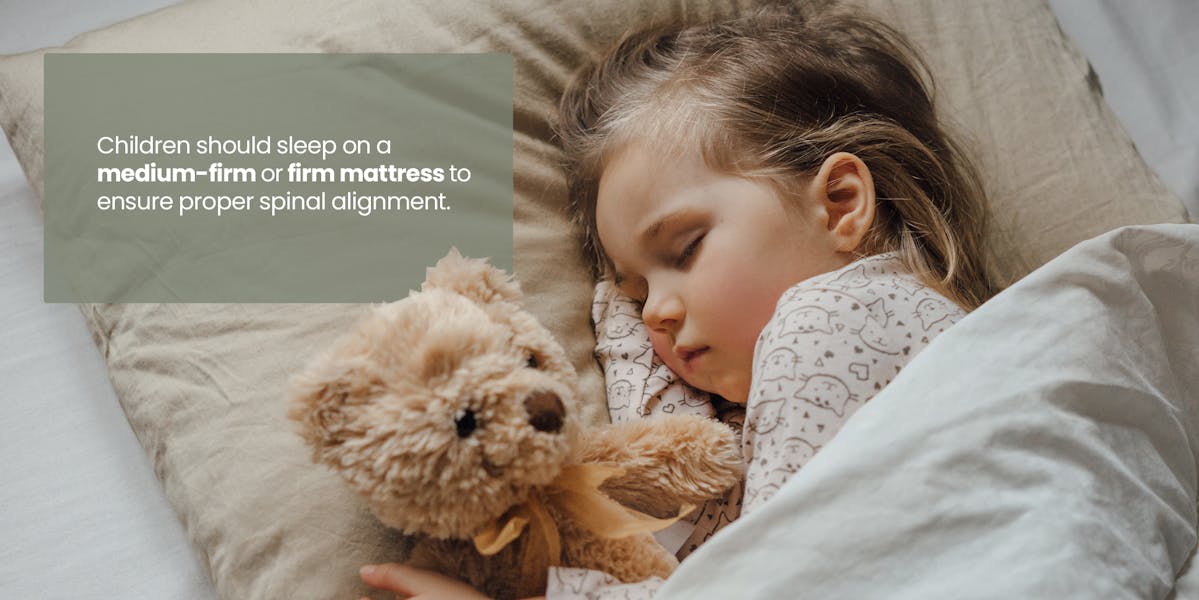 A mattress that's too soft, on the other hand, won't be supportive enough as children often change sleep positions so frequently during the night.
What type of mattress is best for a child?
With so many mattress types on the market, it can be difficult to determine which one is right for children. The most important things to consider when deciding on a mattress type for kids include firmness level, edge support, and price.
Children need high edge support and a firm or medium-firm sleep surface. When it comes to price, a basic, inexpensive mattress is a solid option. After all, this won't be your child's last mattress.
As far as mattress types go, innerspring mattresses and hybrid mattresses are the best choices for children. They're affordable, come in a wide range of firmness levels, and have ample edge support to keep kids supported and safe while they sleep.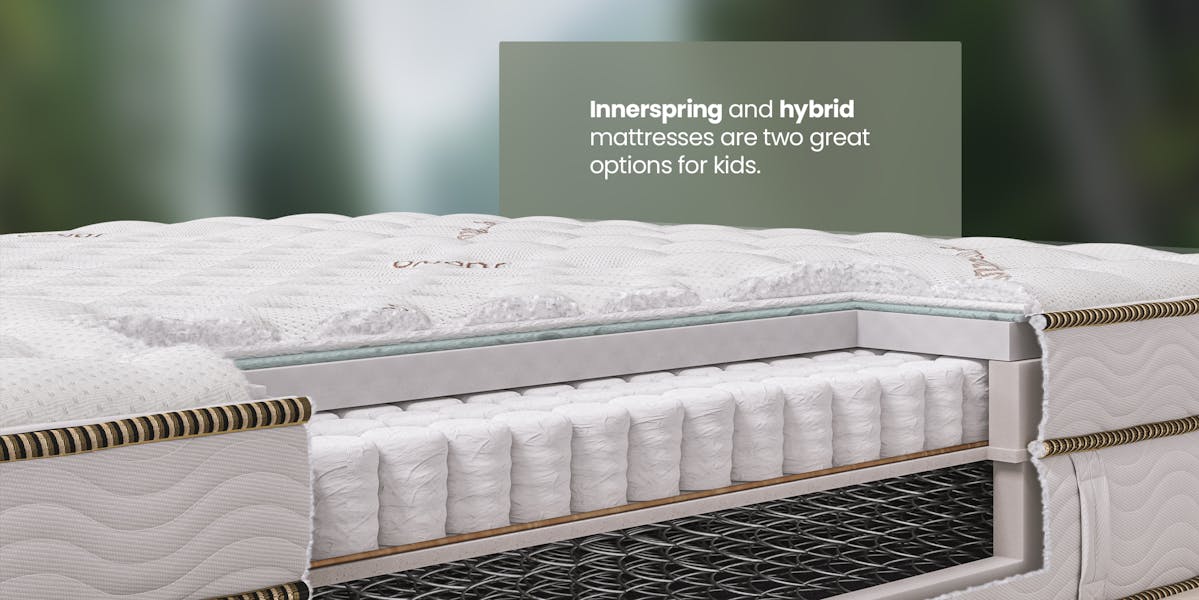 Let's take a look at why innerspring and hybrid mattresses are ideal for children.
Benefits of an innerspring mattress for children
Innerspring mattresses are great for young children and teenagers alike. They offer the highest degree of edge support, which will help keep your child from falling off the bed while they sleep.
Additionally, innerspring mattresses are typically on the firmer side, which is ideal for children who need support for their pressure points while they sleep. Because children have lower body weight, they'll benefit from having a medium to firm mattress to assist with pressure relief. A soft mattress, on the other hand, will disrupt spinal alignment in children throughout the night, which can potentially cause back or neck pain.
Innerspring mattresses are also some of the most inexpensive mattresses available. The average twin-size innerspring mattress costs between $200 and $500.
Benefits of a hybrid mattress for children
Hybrid mattresses offer children the same firmness and edge support as an innerspring mattress but with improved comfort. However, keep in mind they do come with a higher price tag.
Most hybrid mattresses have a pocketed coil base for support, which is topped with a foam comfort layer for added cushioning. This ensures a breathable sleep surface with excellent airflow for a cooler night's rest, as well as excellent pressure relief.
These features add to the overall cost and make hybrid mattresses more expensive than innerspring beds. The average price range for a twin-size hybrid mattress is between $400 and $1,000. Still, hybrid mattresses are less expensive than other mattress types on the market.
Watch this video to learn more about choosing a mattress for your child:
Top buying considerations for a child's mattress
There are quite a few considerations to keep in mind before buying a mattress for your child. For starters, it's good to think of your child's mattress as a short-term investment since it's something you'll likely replace a few times before they head off to college.
You should also factor growth spurts into the equation. If you come from a tall family and expect your child may be tall, you may want to buy them a twin XL mattress because it has extra legroom. Mattress material is important too. It's good to choose a mattress made of eco-friendly materials free of harmful chemicals.
Finally, remember to choose a mattress with enough edge support. This will ensure your child doesn't fall off the bed during the night.
Here are the top considerations to take into account when shopping for a mattress for your child:
Think short term
Factor in growth spurts
Consider the mattress material
Focus on edge support
Think short term
Buying a mattress for a child isn't a one-and-done. In the years between bringing your baby home and sending them off to college, you're likely to purchase two or three mattresses: crib/toddler, then twin mattress, and then perhaps a full-size mattress.
And that's if the mattress lasts as long as it's supposed to. A lot of things can happen to your kid's mattress. Between bed-wetting accidents, spilled sippy cups, and growth spurts, plan for your mattress's lifespan to be shortened.
So, as with anything you buy for your children, you'll need to replace your kid's mattresses as they get older and their needs evolve. (Could a bunk bed be right for your child? Check out our bunk bed guide to find out.)
Factor in growth spurts for teens
Teens are growing, so it makes sense to purchase a mattress that will grow with them—especially if your teen comes from tall stock.
You'll want to anticipate growth spurts and consider how tall your teen might be in a few years before deciding on the size of your child's mattress. If you're worried about your child outgrowing their mattress quickly, consider purchasing a twin XL bed. The twin XL offers 5 inches of extra length compared to the standard twin-size mattress and full-size mattress.
As for firmness, medium firmness will work for most teenagers, but make sure you consult with your teen to see if they do have any major sleep issues. This is the age when sleep styles begin to solidify, so a mattress that's right for a teen's sleep position and comfort preferences might help them to get the eight to 10 hours a night the National Sleep Foundation recommends—and that only 15% of teens actually get. (Read our guide to full mattress dimensions to find the best mattress size for your child.)
Choose the best materials
Material is incredibly important to consider and could change the type of mattress you buy for your children.
For example, some foam mattresses can release volatile organic compounds (VOCs) into the air through a process called "off-gassing." VOCs and off-gassing can cause respiratory irritation and headaches. Some VOCs are even associated with an increased risk of cancer and other health conditions.
To avoid these materials, you should look for mattresses with a GOTS (Global Organic Textile Standard) certification, a Greenguard label, or a CertiPUR-US label. These certifications ensure your mattress is made without harmful toxins and has low VOC emissions.
Additionally, some mattress materials are better for allergies than others. Latex, in particular, is naturally resistant to dust mites. Memory foam also helps inhibit the spread of dust mites. A hybrid mattress that combines an innerspring base and a comfort layer of memory foam or latex can be a good option for kids.
Make sure the mattress cover is also made from a hypoallergenic material, like organic cotton, too.
Focus on edge support
One of the most important features parents often overlook is the edge support on their child's mattress. Edge support is particularly important because of how frequently your child might move throughout the night. A mattress with high edge support will make it tougher for a child to accidentally fall out of bed at night.
For the best edge support, choose an innerspring or hybrid mattress with thicker coils or a foam mattress made with high-density foam (4 to 5 pounds per cubic foot).
Our best mattresses for children and babies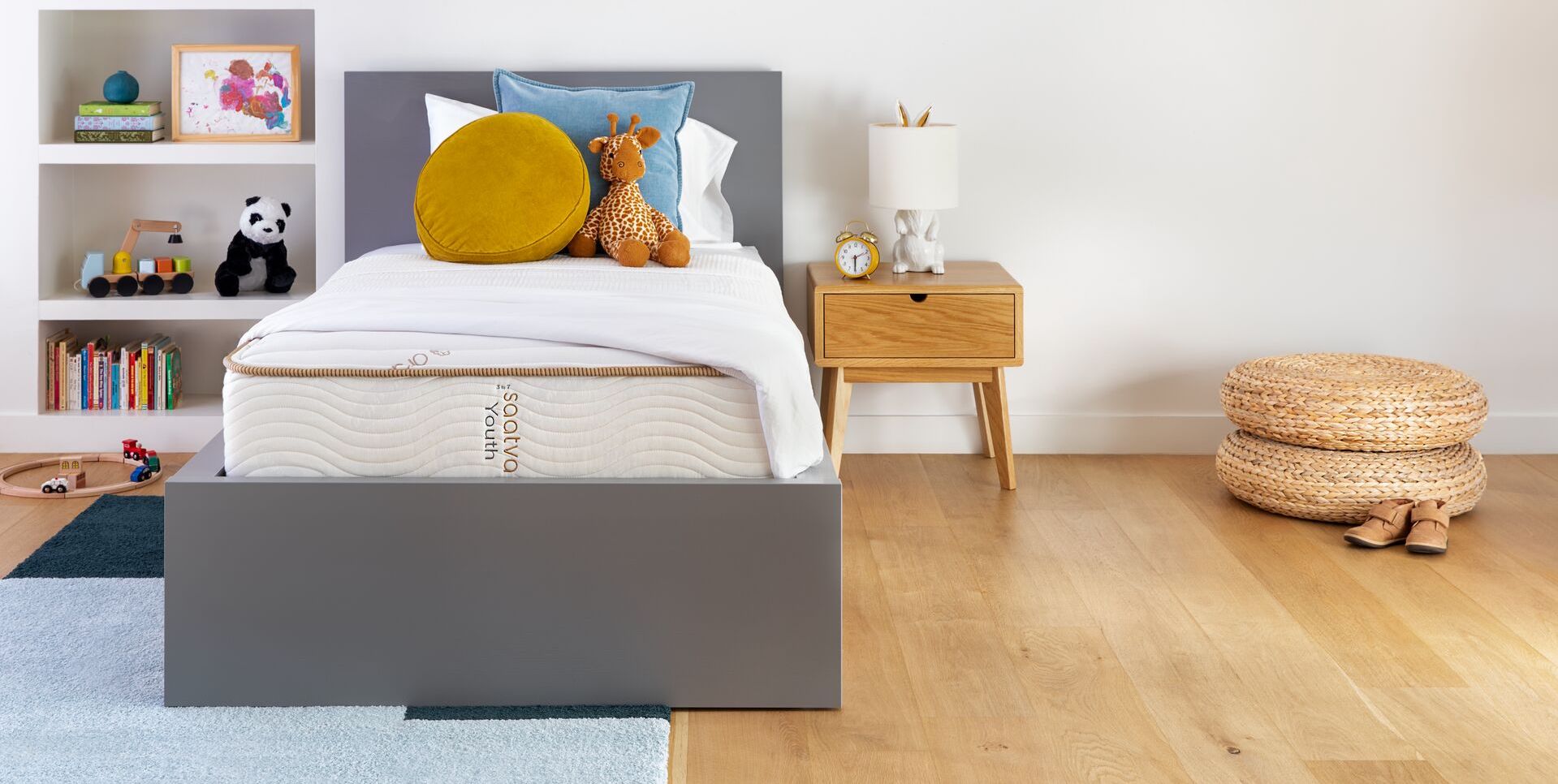 This dual-sided innerspring mattress provides optimal support and comfort to children of all ages. Simply flip it over from the 3+ side to the 8+ side when your child is ready.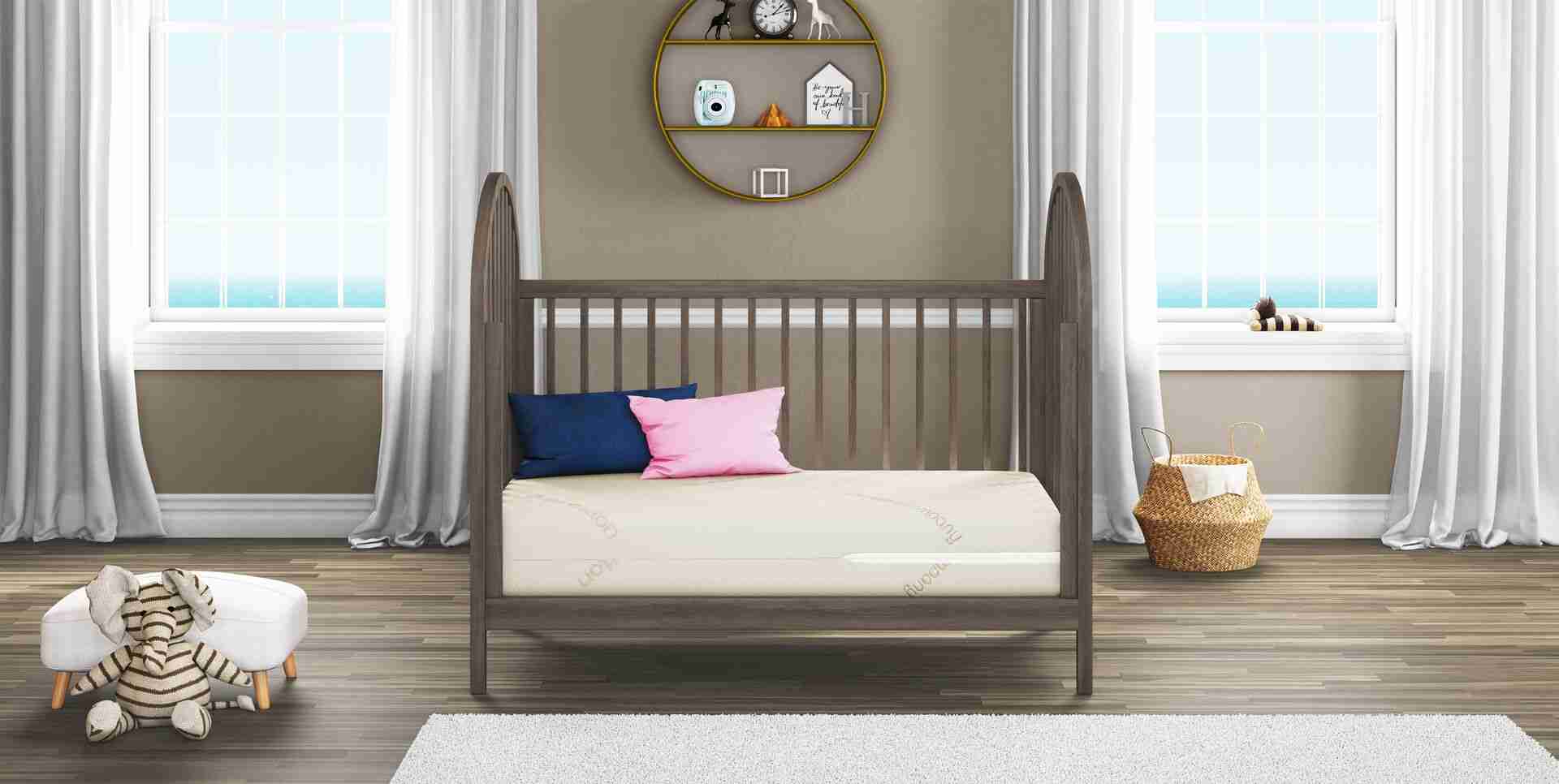 This dual-sided crib mattress is designed with the safety and unique sleep needs of babies and toddlers in mind. Handcrafted with natural, nontoxic materials for healthy sleep.
Frequently asked questions
What size mattress should I get for my child?
As your child grows from a toddler to a young adult to a teenager, expect changes in their mattress needs.
These are the ideal bed sizes for the following age groups: toddlers, young children, and teenagers.
Toddler beds: usually crib-size mattresses
Young children's beds: twin or twin XL
Teenager's beds: twin XL or full-size
It's important to remember the bed size might also change depending on the size of both your bed frame and room.
Can a mattress help with growing pains?
Growing pains, most common in kids ages 6 to 9, are severe muscle cramps and aches that occur during the night. For young sleepers with growing pains, lying on the wrong type of mattress may aggravate the condition. Moving frequently during the night can also make growing pains worse.
A supportive mattress relieves pressure on the lower back and pelvis, which can help make these common childhood aches and pains less frequent. Read our article on growing pains to learn more about relieving your child's aches and pains.
Should I get a mattress protector?
This mattress extra is definitely worth it for your child. Invest in a good mattress protector that's waterproof (for obvious reasons) and dustproof, which will keep allergy—causing dust mites from colonizing the bed—and can also help prevent bed bugs. That way, your child's mattress will last for years-maybe even all the way until college.
Can I get a memory foam mattress for my child?
When it comes to mattress types for kids, memory foam mattresses aren't the best option. They tend to be too soft to properly support your child's spine while they sleep and don't have enough edge support. Plus, because traditional memory foam can off-gas, it's not the healthiest material for your child.
It's best to choose a firmer mattress with high edge support for kids. A hybrid mattress is, therefore, a better option than memory foam. Hybrid mattresses have a soft foam comfort layer, provide adequate spinal support during sleep, and offer excellent edge support while still feeling plush.
You can also look into a natural latex mattress. It's a supportive and hypoallergenic alternative to memory foam. However, it's also the priciest mattress option on the market. It may not be the best investment as you'll likely have to replace your child's mattress a few times.
Getting a high-quality children's mattress from Saatva
There's so much to consider when buying a mattress for your child. Mattress size, mattress material, lifespan, price point, and durability are just a few of the factors to take into account.
Children grow fast, so you'll want to purchase a high-quality mattress that will allow extra room for growth. After all, your child will be spending the next few years on this bed.
Saatva offers a selection of youth mattresses perfect for children of any size. Our
crib mattress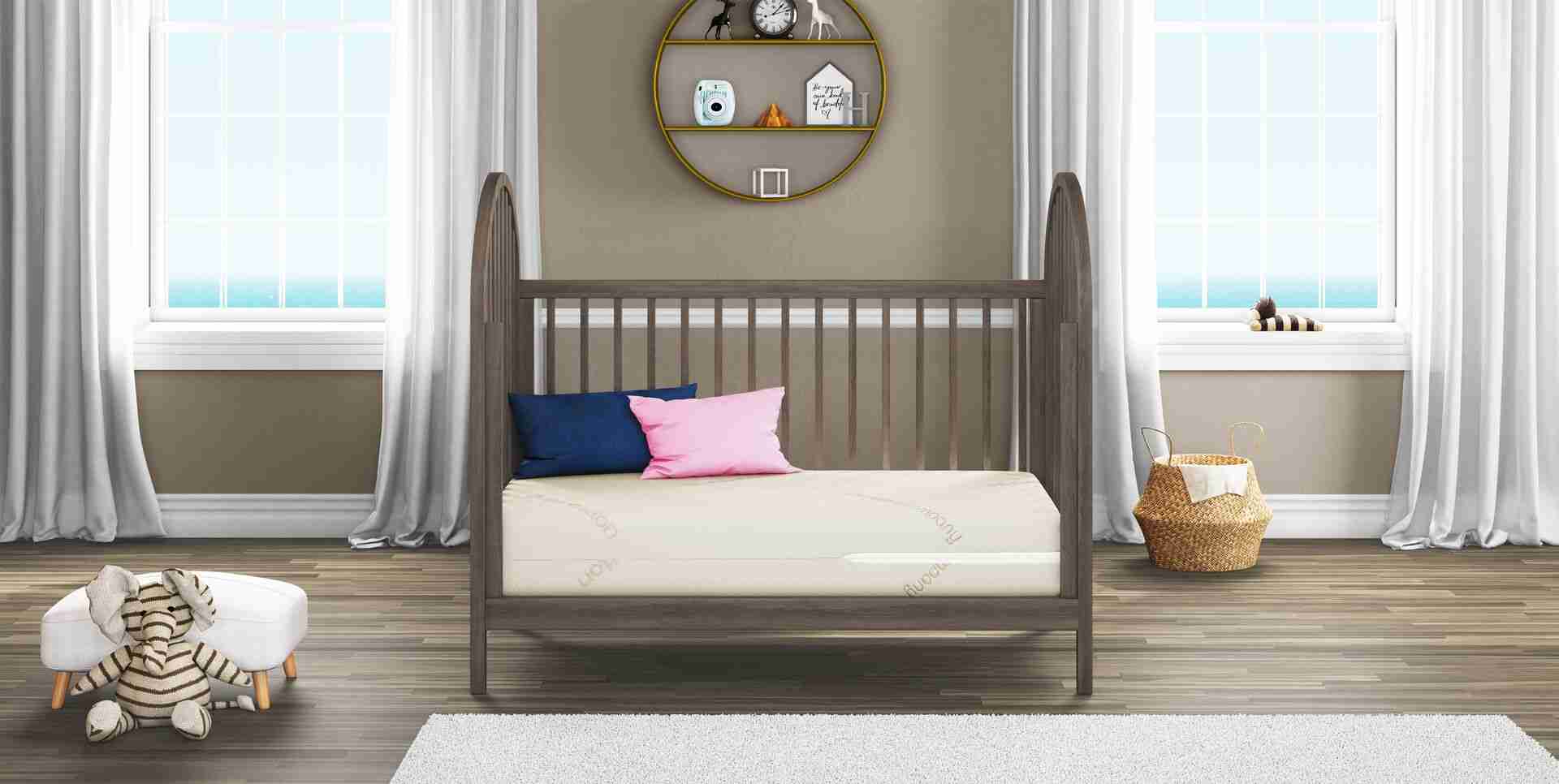 Crib Mattress
Our dual-sided nontoxic crib mattress for little ones
is dual-sided and designed with the safety and unique sleep needs of babies and toddlers in mind. Our
youth mattress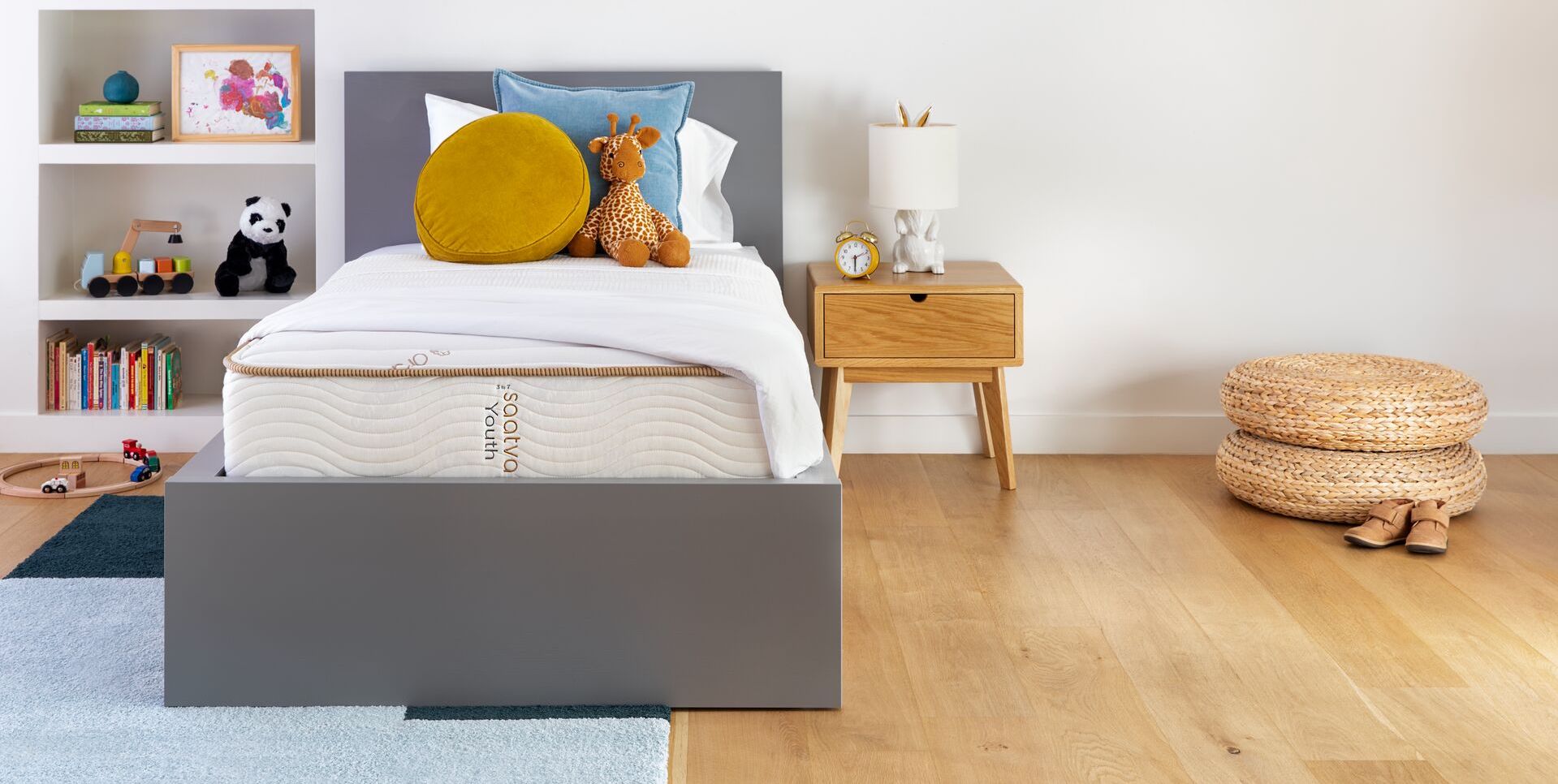 Youth Mattress
Our dual-sided nontoxic crib mattress for little ones
is also dual-sided and specifically designed for growing kids ages 3 to 12. It's available in twin, twin XL, and full so you can find the right size for your child.
Both mattresses are made with nontoxic materials that are healthy for your child and provide exceptional comfort and support for growing kids.