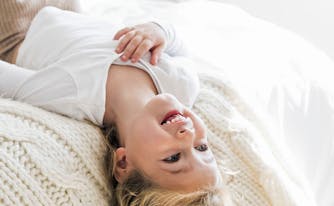 How to Choose the Best Mattress for Your Child
Most people don't give a lot of thought to the mattress they buy for their child's first big-kid bed. After all, children can sack out on pretty much anything. But the typical preschooler needs a whopping 11 to 13 hours a day of sleep, according to the National Sleep Foundation. So when it's time to upgrade, your child needs a kids mattress that's comfortable and supportive and—since it's probably just the first of several—won't break the bank.
How to choose a mattress for a child
Here's our child mattress buying guide on common kids mattress sizes and types to help you pick the right one for your growing child.
Think short term
Buying a mattress for a child isn't one-and-done. In the years between bringing your baby home and sending him or her off to college, you're likely to purchase two or three mattresses: crib/toddler, then twin mattress, and then perhaps full-size mattress.
And that's if the mattress lasts as long as it's supposed to. "A lot of stuff can happen to a kid's mattress—some of it gross," observes Keith Cushner, of the sleep health and mattress review site tuck.com. There are leaky diapers and bed-wetting accidents, spilled sippy cups—and lots and lots of jumping on the bed, which can shorten the lifespan of kids mattresses.
So, as with sneakers, winter coats, and lunchboxes, you might as well resign yourself to buying multiple mattresses as your child gets older. Each stage has different considerations.
Our Best Mattress for Children
Saatva Youth
This dual-sided innerspring mattress provides optimal support and comfort to children of all ages. Simply flip it over from the 3+ side to the 8+ side when your child is ready.
Shop
Go simple for youngsters
When buying a mattress for yourself, you'll want to consider everything from the position you sleep in to who you're sleeping with. But when looking for the best mattress for kids, there's no need to worry about trying to figure out whether your 6-year-old is a stomach or back sleeper, says Cushner. "Chances are he falls asleep one way, flips and flops around all night, and wakes up sideways in the bed."
Plus, the vast majority of children at this stage are so lightweight, slender, and non-curvy that there is no concern about choosing the right mattress firmness for a child with regards to spinal alignment in any particular sleep position. "A basic firm or medium firm mattress is perfect," says Cushner. (Create a shared bedroom kids will love with these tips.)
Factor in growth spurts for teens
Teens are growing, so it makes sense to purchase a mattress that will grow with them—especially if your teen comes from tall stock. "Anticipate growth spurts and how tall your teen might be a few years from purchase before choosing a size," suggests Cushner. A twin XL, for example, is 5 inches longer than standard twin-size mattresses and full-size mattresses (80 inches vs. 75).
As for firmness, "medium firmness will work for most teenagers, but make sure you consult with your teen to see if they do have any major sleep issues," Cushner advises. This is the age when sleep styles begin to solidify, so a mattress that's right for a teen's sleep position and comfort preferences might help them to get the eight to 10 hours a night that the National Sleep Foundation recommends—and that only 15% of teens actually get.
Choose the best materials
"If you're the type of parent who's buying your family organic groceries, you probably also want to think about the ingredients used in making your child's bed," says Michael Magnuson, founder of the mattress review and price comparison site goodbed.com. If you're thinking about purchasing a kids' foam mattress, it's important to note that some foam mattresses—as well as innerspring models with foam comfort layers on top—can release volatile organic compounds (VOCs) into the air, a process known as offgassing. These pollutants, which are released by a wide range of manufactured products, can cause respiratory irritation and headaches; some VOCs are even associated with increased risk of cancer and other health conditions.
If offgassing is a concern, look for labels such as GOTS (Global Organic Textile Standard), Greenguard, or CertiPUR, which means the mattress is made without toxins like chemical flame retardants, heavy metals, formaldehyde, or regulated phthalates, and is certified to have low VOC emissions.
Focus on key features
One important feature that parents often overlook in a children's mattresses is edge support, Magnuson points out. "Think about how many times you're going to sit on the edge of the bed or squeeze into bed next to your child," he says. "A basic foam mattress—and even some innerspring mattresses—may just collapse at the edge and make you work hard to stay on the bed." (That's one argument for a full-size mattress if your child's room can accommodate it.)
For the best edge support, choose an innerspring with thicker coils (in mattress parlance, the lower the gauge, the thicker the metal), or a foam mattress made with high-density foam (4 to 5 pounds per cubic foot).
Spring for a mattress protector
We know we said to keep it simple, but notwithstanding that advice, this mattress extra is definitely worth it. Invest in a good mattress protector that's waterproof (for obvious reasons) and dust proof, which will keep allergy-causing dust mites from colonizing the bed—and can also help prevent bedbugs, says Frank Apodaca, of the mattress and bedding review site thesleepjudge.com. That way, your child's mattress will last for years—maybe even all the way until college.
Want to help your child develop good sleep habits that last? Check out our post on creating a bedtime routine for kids.