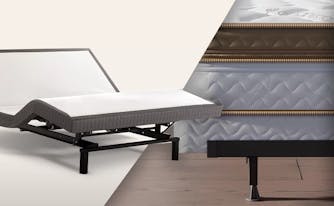 Adjustable Base vs. Box Spring: What's the Difference?
Have you finally found the perfect mattress? Congratulations! The hardest part of the job is behind you. But you're not done yet. To make sure your mattress properly supports you—and that it lasts for years to come—you need to choose the right foundation.
There are many different types of foundations on the market, and the one that's best for you will depend on your personal preferences and the type of mattress you're sleeping on. Two of the most popular options are adjustable bases and box springs. What exactly is the difference between the two, and which one will best suit your needs?
Here, we've put together an adjustable base vs. box spring guide to help you determine which of these mattress foundations is right for you.
What is an adjustable base?
An adjustable base is a motorized foundation for your mattress that allows you to raise your head and/or feet to create different resting positions. The head generally rises to a maximum of 58 to 80 degrees, and the feet (for units that adjust both) 30 to 45 degrees, depending on the model. A remote control allows you to change settings with the touch of a button.
Pros
Over the past few years, adjustable bases have risen in popularity immensely—in fact, their sales jumped a whopping 200% between 2011 and 2015, according to Consumer Reports, and for good reason. For most people, an adjustable base is a worthy investment that offers quite a few benefits.
An adjustable base can support your body perfectly in any position whether you're reading, sleeping, or watching TV. No more sore neck because you tried to work on your laptop while sitting in bed (not that we recommend using your laptop in bed, but hey, sometimes life happens).
If you have a medical issue such as snoring or acid reflux, you can elevate your head to a perfect angle to help mitigate symptoms for an undisturbed full night's sleep.
If you suffer from back pain, an adjustable base will let you raise your legs to help alleviate the discomfort.
The massage setting on an adjustable bed can do miracles for sore muscles—an indispensable feature for athletes or anyone leading an active lifestyle.
A split top (typically available in queen and king sizes) or fully split adjustable base (typically available in king size) allows for maximum customization for couples. That's because each sleeper can set their own position.
Our Best Adjustable Base
Lineal Adjustable Base
With weightless, Zero Gravity support, the Lineal adjustable base allows you to set your ideal position for sleeping—and living—with one touch of the remote.<br>
Shop
Cons
With all the advantages, adjustable bases do have some drawbacks.
They can be expensive. An adjustable base will set you back $1,000 to $3,500.
They're heavy. The average adjustable base weighs around 150-200 pounds. If you move frequently or simply don't want to deal with a heavy piece of furniture, it might not be for you. (Some companies, like Saatva, offer free white glove delivery, which means they'll set up the adjustable base for you.)
The noise from some adjustable bases, especially when in massage mode, may disturb your other housemates or downstairs neighbors. Put an adjustable base on a carpet to help mitigate the noise heard in other rooms.
Best for
Adjustable bases are great for people who routinely use their bed not just for sleeping but also for reading or watching TV. And they can be life-changing for people with medical issues such as acid reflux or snoring or those who suffer from back pain.
What is a box spring?
Originally, a box spring used to be a fabric-covered wooden box filled with metal coils that added cushioning to mattresses that were much thinner than the ones made today. Modern box springs (also called foundations) do not contain coils, so their main purpose is to raise your sleeping surface a bit higher while providing proper support for your mattress. They're usually paired with a standard metal bed frame, but they can also be paired with a decorative bed frame that includes a headboard, footboard, and/or side rails.
Pros
A traditional box spring foundation is one of the most popular mattress support systems. Here's why:
They provide adequate support for your mattress and are usually the least expensive option. You can typically find a box spring for $200-$500.
A high-quality box spring foundation should support your mattress for the entirety of its life.
Our Best Box Foundation
Saatva Foundation
Engineered to provide optimal support for your mattress. Handcrafted from North American spruce, our foundation is more durable than a traditional box spring. Shown here with metal frame. 
Shop
Cons
Although it's popular, a traditional box spring foundation does have a few downsides.
A box spring can be bulky. If you're after a minimalistic look, a box spring may not be the right foundation choice for you. A platform bed might be a better option if you prefer a minimalist style.
It might also make your bed too high, something to consider if you have mobility issues or don't like the feeling of "climbing" into bed. The optimal height off the floor for a mattress is 25 inches—but if you choose a standard 9-inch box spring foundation and pair it with a thick mattress and 7.5-inch metal frame, you could be looking at a bed that is 30 inches or more off the ground. Low-profile foundations, which measure around 5 or 6 inches, work with especially thick mattresses or higher-than-standard bed frames.
If you're choosing a box spring, always measure the distance from the floor to the top of the surface on which you will place the mattress so you know what you're getting into. (See the diagram below for a handy visual reference.)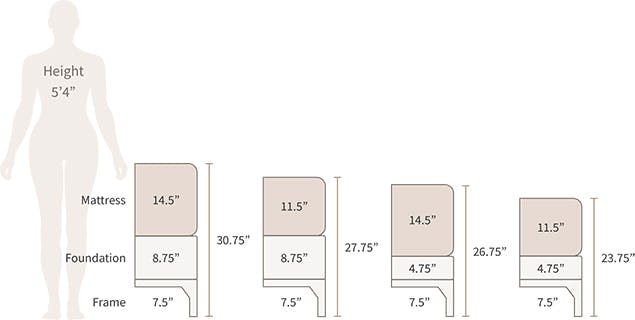 Best for
A box spring is a great option for anyone on a budget since it's generally the least expensive option.
If you only use your bed for sleeping (as opposed to reading or watching TV), don't have any medical issues that require raising or lowering your head or feet, and the option of getting a massage with a click of a button doesn't appeal to you, then you'll do just fine with a box spring.
A box spring is also a good pick for people who like their sleeping surface to be a bit higher off the ground. Finally, a box spring foundation is a must if you're using a standard metal bed frame—or any bed that provides only a rim around the perimeter to hold the mattress, perhaps with a few cross pieces of wood. Without a box spring, the mattress won't have adequate support.
Adjustable base vs. box spring comparison
To better help you choose between an adjustable base or a box spring, we've put together this chart which summarizes the differences between the two.
Comparison

Adjustable Base

Box Spring

What's the average bed height?

25"

25"

What mattresses is it compatible with?

Works with most mattress types; always check with your manufacturer first

Works with most mattress types; always check with your manufacturer first

Do you need to use a bed frame with it?

No

Yes

What are the top benefits?

Allows you to find the perfect position for reading and watching TV from bed

Adjustability helps alleviate snoring, acid reflux, and back pain

Massage setting helps soothe sore muscles

Least expensive mattress foundation option

Provides adequate support for most mattresses

High-quality box spring should last full life of mattress

What are the biggest drawbacks?

Expensive

Difficult to move

Motor can be noisy

Can be bulky (not a good option if you prefer a minimalist look)

Might make your bed too high

What's the average price for a queen?

$1,000-$3,500

$200-$500
Benefits of a foundation
The bottom line: The choice between an adjustable base and a box spring depends on your mattress and your preferences. Regardless of which one you choose, pairing your mattress with a foundation will help keep it in the best shape possible for as long as possible.
Pair These Saatva Mattresses with an Adjustable Base or Box Spring
Saatva Classic
Our flagship luxury mattress is expertly engineered with coil-on-coil construction for durability, a layer of memory foam for enhanced back support, and a cushiony Euro pillow top for extra comfort.
Shop
For more on the benefits of a foundation, and tips on choosing the right one for your mattress, read these articles: