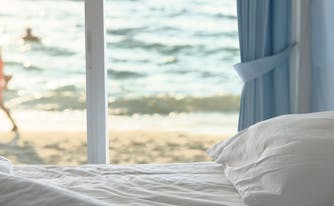 How to Keep the "First-Night Effect" From Ruining Your Sleep
You've been anticipating your summer getaway for months. The setting is bucolic, the rental cottage is charming. After an exhilarating arrival, you snuggle into a cozy bed. The room is pin-drop quiet.
So why can't you fall asleep?
As anyone who's spent a night in a hotel can attest, unfamiliar surroundings can make it tough to slumber. Scientists call it the first-night effect. In a nutshell, part of your brain is sleeping with one eye open because of "deviant external stimuli" —i.e., stuff you're not used to seeing.
How to sleep well every night in your summer rental
Since hotel stays typically last only a few nights, most people just cope. But in a long-term summer rental, your stay might last a month (or three). And if you're there only on weekends, you could end up reliving the first-night effect every time you return.
It doesn't have to be that way, says DeAnna Radaj. The Clearwater, Fla.-based decorator specializes in what she calls "prescriptions for healthy homes," including sleep-friendly environments. Small adjustments can make a big difference in how well you sleep in a summer rental, she says. Radaj shared her top tips with Saatva.
1. Buy natural bed linens
Linens are "one of the most important things in facilitating a good night's sleep," Radaj says. Her pick: Natural fibers like jute, bamboo, eucalyptus, and cotton, which are soft and breathe easy. Breathability is especially important for anyone who tends to "sleep hot," such as women going through menopause.
"Try to avoid anything with a coating or treatment," she advises, such as anti-wrinkle sheets. "Wrinkle-free" or "non-iron" fabric is typically treated with chemicals that can affect "anyone who has any type of chemical sensitivity, breathing issues, or chronic insomnia." Even conventional cotton can cause irritation—"especially if it's bleached," Radaj says.
Get a Comfortable, Cool Night's Sleep with Saatva's Breathable Cotton Sheets
2. Bring in colors that help you relax
Color is more than just an aesthetic choice. It also affects how you feel physically. Scientists have found that red light raises a person's heart rate, for example, while blue light lowers it. In a bedroom, Radaj says, you want cool temperatures, "not just literally, but looking at the decor and color. You want blues, purples, grays, whites, true green." Of course, you're not likely to repaint the walls in a summer rental, but it's easy to bring in calming colors with accessories like pillows, artwork, even your own curtains—"anything you can easily pack," Radaj says.
3. Don't overdo it on lighting
An overlit room is not conducive to a good night's sleep. Ever notice how hotel rooms rarely have a harsh overhead light? That's because bright light can have a stimulating effect—not the best thing when you're trying to wind down. If there's an obnoxious overhead fixture in your summer-rental bedroom, says Radaj, find an alternative, like a standing lamp or table lamp that emits a softer glow. And aim for as much natural light as possible during the day; that will help regulate your sleep cycle.
4. Add familiar pictures, pillows, and other touches
Minimize the "first-night effect" by accessorizing as if you're at home, Radaj suggests. "Bring blankets and pillows that feel familiar," she advises. Display personal photos that make you feel calm and relaxed in your vacation rental—you and your significant other, a landscape you find especially peaceful, a vacation spot with great memories attached. "Would I bring a picture of my in-laws? No," she says with a laugh. "A picture of a holiday with a partner? Sure."
5. Change what's hanging on the wall
You're not going to change the wallpaper, of course. But if there is any imagery you find disturbing—say a movie poster for the homeowner's favorite horror franchise, or even a nightmare-inducing museum print—pack it away in the closet for the duration of your stay at your vacation home. "The imagery will affect the energy in the room, which will affect your sleep," Radaj says. If the energy still feels "negative" after you take the offending art off the walls, she recommends burning some sage to banish the bad vibes.
6. Incorporate principles of feng shui
Radaj, a certified feng shui practitioner, teaches an entire course on bedroom feng shui alone. The philosophy is complex, but a few simple steps can have huge effects, she believes. For example, if a bed points directly out the door, Radaj suggests a hanging canopy or screen at the foot of the bed "to stop energy from rushing out the door and disrupting your sleep pattern." And avoid clutter under the bed. "We call it 'sleeping on unresolved issues,' " she says. "I know people who will look for another rental if all they have is a storage bed. I'm one of those people. " (Here are more feng shui tips for your bedroom.)
Most important, Radaj says, don't worry about making temporary changes to your summer rental if they help you sleep better; some renters hesitate for fear of offending the owner. "Make the space comfortable," she says. "And don't be shy about reconfiguring a place until it feels right to you."