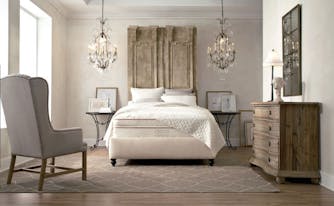 How to Stage Your Bedroom So Buyers Will Love It
In today's digital marketplace, where 44% of home buyers start their search online, having a well-decorated house—and beautiful listing photos that capture it—is crucial. To fetch top dollar, a home has to look its finest, and that often requires staging rooms, including the master bedroom.
Staging can not only boost sale price, but it can also help your house sell faster. Indeed, a study by the Real Estate Staging Association (RESA) found that unstaged homes spent an average of 184 days on the market, while homes that were staged prior to being listed sold, on average, in 23 days.
Professional staging can cost from a few hundred dollars to several thousand, depending on the size of the home and how many rooms you are staging. To save money, you can also stage your master bedroom yourself, using the furniture you already have.
Staging a bedroom: 7 tips to do it right
Here are expert tips for getting your master bedroom ready for showtime.
Do a thorough clean
Before prospective buyers step foot inside your house, the place should be cleaned from top to bottom. In bedrooms, that means vacuuming not just the obvious places, like the floors, but also the curtains, upholstered beds, and anyplace else dust can hide. If you have window blinds, wipe them down with a mixture of equal parts vinegar and water. Have your comforter or duvet professionally cleaned, and replace old pillowcases, sheets, and other bedding. Then make your bed like a pro.
Declutter like crazy
When selling your home, "less is more," says Manuela Ferguson, a home stager in Northern Virginia and Washington, D.C. Translation: Remove personal items from nightstands, hide laundry baskets, and store any excess furniture, especially pieces that don't belong in a bedroom like workout equipment.
Also remove items like family photographs, knick-knacks, or religious artwork, says Seattle-based home stager Barb Schwarz. While they are meaningful to you, these pieces can be distracting and make it difficult for homebuyers to envision making your home their own.
Additionally, overstuffed closets are an immediate turnoff, so put out-of-season clothes and shoes in storage. Still tight on closet space? Add hanging shelves for folded items, like sweaters or towels, and an over-the-door shoe organizer.
Related: A KonMari expert shares her secrets
Make the bed look inviting
The perfect sleep setup starts with a well-made bed but also includes having the right accessories. "A combination of European shams and decorative pillows makes a great presentation," Ferguson says. She recommends adding a throw blanket in gray, brown, or a combination of neutral colors.
Homebuyers want to be able to see that the space will accommodate a large bed, so if you have anything less than a queen- or king-size, consider upgrading or temporarily swapping out your bed for a larger size. The caveat: if it's a small bedroom, you're better off with a full-size bed that doesn't take up the entire room.
Stage a Bedroom with One of Saatva's Mattresses
Saatva Classic
Our flagship luxury mattress is expertly engineered with coil-on-coil construction for durability, a layer of memory foam for enhanced back support, and a cushiony Euro pillow top for extra comfort.
Shop
Stick to neutral colors
If it's been a while since you last painted your bedroom, it's time for a fresh coast. But don't choose a bold color. "If it's painted bright red or pink or dark blue, [homebuyers] may not have things to match that color to put in the room, so they think, 'Oh, now I have to paint this when I move in,'" Schwarz warns.
Ferguson agrees. "In today's market, buyers are looking for neutral colors," she says. "The most popular color that appeals to buyers is a shade of gray." Also, opt for white bedding and linens instead of bright colors or patterns.
Use Saatva's Neutral-Colored Sheets to Make Your Bed
Maximize light
Dark rooms look drab and uninviting. So make sure you're maximizing your bedroom's natural light by opening windows, blinds, or curtains. "Mirrors should be placed opposite a window to reflect light to that part of the room," Ferguson adds. "Recessed lighting in a bedroom, with a dimmer switch, adds ambiance and mood lighting," she says. And don't forget to replace any missing or burned-out light bulbs.
Related: 5 design tips for a sexy bedroom
Make a small room look larger
Have a small bedroom? "Use furniture that is scaled to the room and that fits the space, versus larger pieces that can close in a small room," Ferguson advises. This might involve removing a large dresser, bulky nightstands, or other pieces that eat up space.
Add the finishing touches
Details matter. Give your room a pop of color by adding a bright accent pillow. Hang an abstract painting above the bed that will appeal to the masses. And place lamps on nightstands. "People want light by them when they read, so by putting a lamp on [a nightstand], it sets the scene for the buyer to mentally move into the house," says Schwarz. "That is the purpose of staging."
Taking flattering photos of your bedroom for online listings is important too. Here, pros explain how to photograph your bedroom for real estate listings.