In today's digital marketplace, where 44% of home buyers start their search online, having a well-decorated house—and beautiful listing photos that capture it—is crucial.
To fetch top dollar, a home has to look its finest—and that often requires staging rooms, including the primary bedroom.
1. Do a thorough clean
Before prospective buyers step foot inside your house, the place should be cleaned from top to bottom. In bedrooms, that means vacuuming not just the obvious places, like the floors, but also the curtains, upholstered beds, and anyplace else dust can hide. If you have window blinds, wipe them down with a mixture of equal parts vinegar and water.
Have your comforter or duvet professionally cleaned, wipe down your headboard, and replace old pillowcases, linens, and other bedding. Then make your bed like a pro. You want potential buyers to see this room at its absolute best.
2. Declutter
When selling your home, less is more. Remove personal items from bedside tables, hide laundry baskets, and store any excess furniture that doesn't belong in the bedroom. Items like family photos, knick-knacks, and religious artwork should also be removed from your bedroom.
Lastly, your closet shouldn't be overflowing. Put some of your bulky winter gear in storage before your open house to ensure the room looks tidy.
3. Make the bed look inviting
The perfect sleep setup starts with a well-made bed, as well as the right accessories. A combination of European pillow shams and decorative throw pillows makes a great presentation.
We recommend adding a throw blanket in grey, brown, or a combination of neutral colors. You'll also want to consider matching your bedroom's color scheme with your duvet cover or bedspread.
Additionally, home buyers want to be able to see that the space will accommodate a large bed, so if you have anything less than a queen- or king-size, consider upgrading or temporarily swapping out your bed for a larger size.
However, if it's a small bedroom, you're better off with a full-size bed that doesn't take up the entire room.
4. Stick to neutral colors on the walls
Bold colors like red, pink, or dark blue can make it harder for potential buyers to envision themselves—and their things—in the room. If your room is painted anything but white, grey, beige, or very light pastel, it might be time for a fresh new neutral coat.
Aside from wall color, you should also opt for white bedding and linens on the bed.
5. Maximize light
Dark rooms look drab and uninviting. Make sure you're maximizing your bedroom's natural light by opening windows, blinds, and curtains.
Additionally, you'll want to make sure you change out any dim or burned-out lightbulbs before your realtor hosts the open house.
6. Strategically place the bed
Your bed should be placed strategically in the room, especially if you have a small bedroom, to help open up the space and make it seem bigger.
It is usually best to place the foot of the bed farthest from the door, so it's the first thing buyers see when walking into the room. Overall, this will make the space feel larger and much more inviting.
You should also place the bed on the largest wall to make the best use of the space. There should be space to walk around the bed on both sides too. (Learn about split bedrooms and why you might want one.)
7. Stage your other furniture
Ideally, you'll also be able to stage the rest of your bedroom furniture in a way that opens up the space. Since the bed is the first thing most people see in a room, that should be the first thing you place.
After that, you can fill in the gaps with dressers, nightstands, area rugs, and more.
Dressers should be against a wall with a mirror above it, facing a different direction than your bed. The reflection from the mirror will help open up the space even more.
You should also have one nightstand on each side of the bed for a more balanced look. If you don't have space, you can always opt for light fixtures on the wall on either side of the bed.
8. Don't skip on the finishing touches
Details matter. Give your room a pop of color by adding a bright accent pillow, some houseplants, and an area rug. Hang an abstract painting above the bed as the focal point of the room, and place light fixtures on nightstands. This will make the room feel more welcoming and homey.
Stage your bedroom with high-quality mattresses from Saatva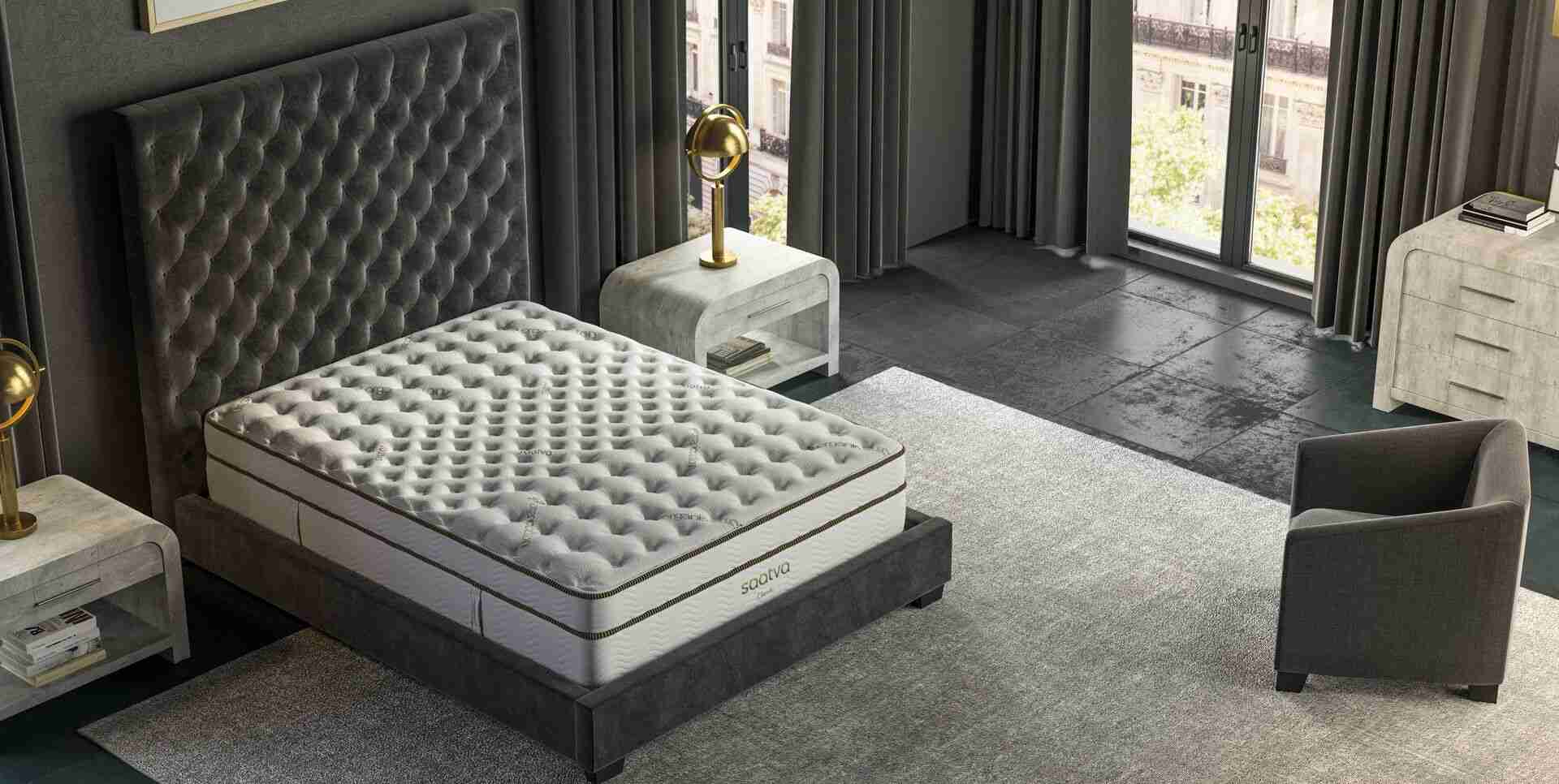 Our flagship luxury mattress is expertly engineered with coil-on-coil construction for durability, a layer of memory foam for enhanced back support, and a cushiony Euro pillow top for extra comfort.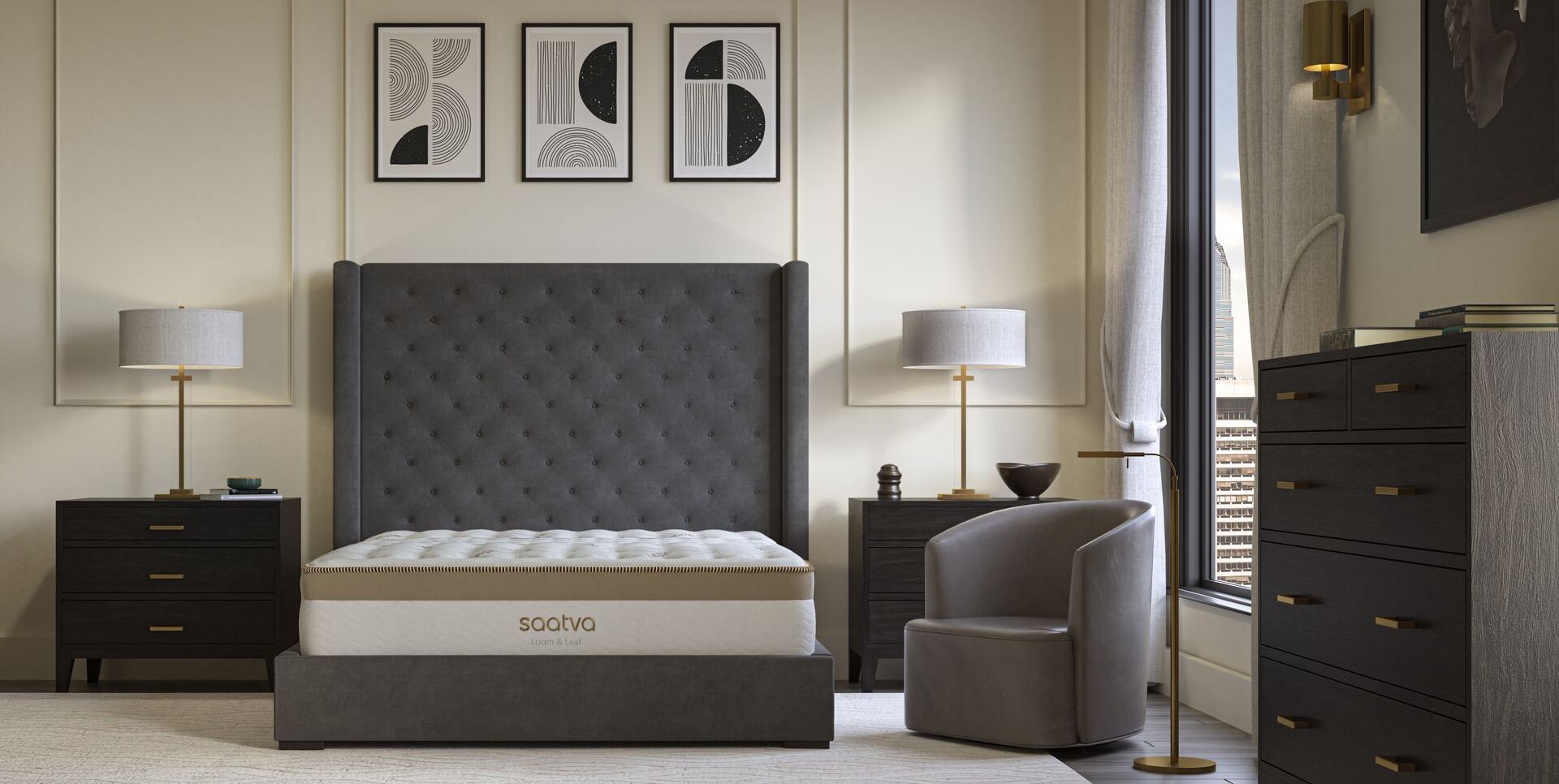 Premium memory foam, handcrafted in the U.S. with eco-friendly materials. Breathable organic cotton, cooling spinal gel, and layers of high-density support foam assure a cool, comfortable night's sleep.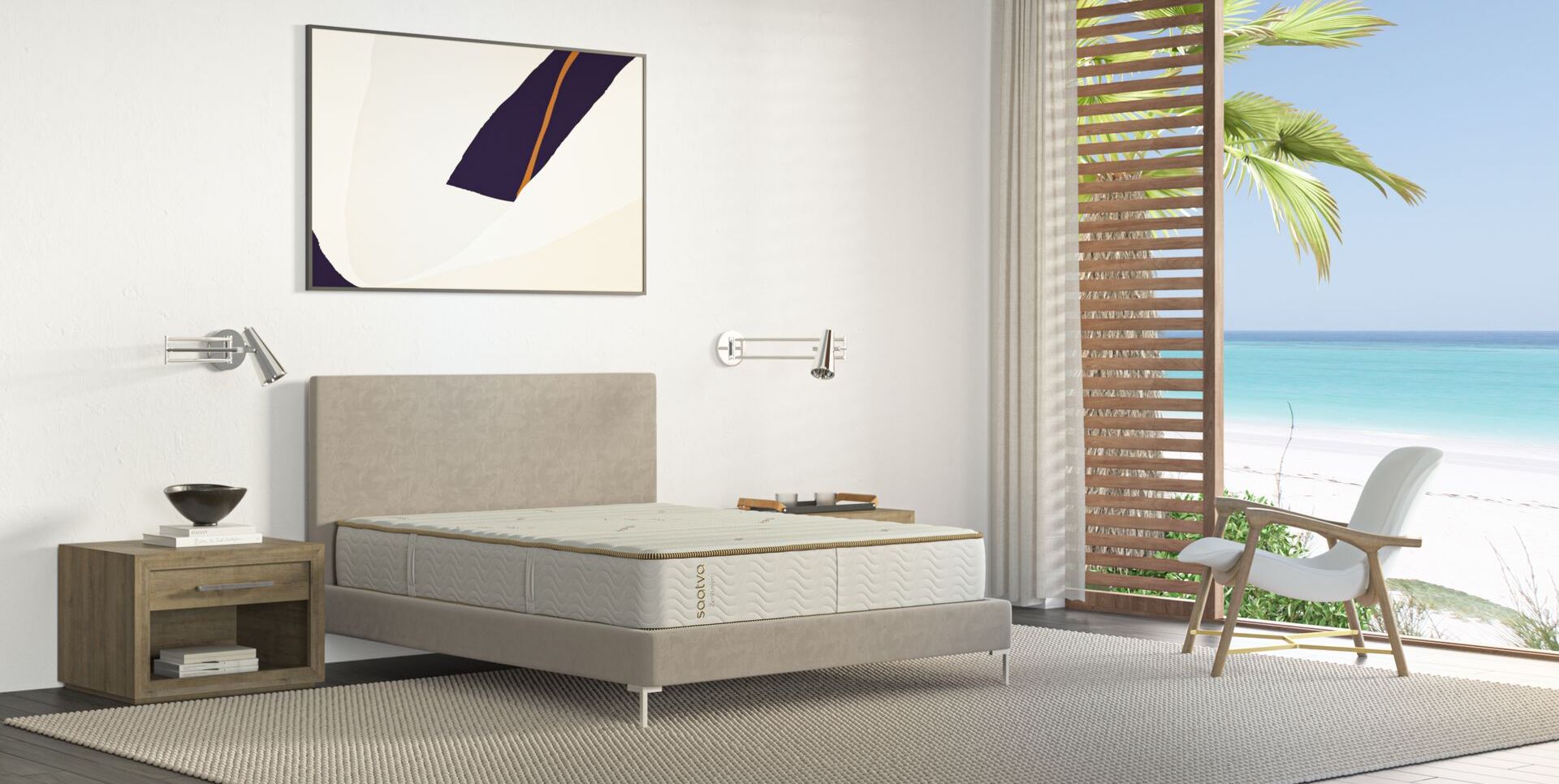 Natural latex responds to every curve for pressure-free support and responsive comfort. Natural latex is supple, resilient, and durable, for the ultimate in elevated sleep. (It's naturally hypoallergenic too.)
Bedroom staging FAQs
For more advice on staging a bedroom, we're answering the most commonly asked questions.
How much does bedroom staging cost?
Professional staging can cost from a few hundred dollars to several thousand dollars, depending on the size of the home and how many rooms you're staging. To save money, you can also stage your main bedroom yourself, using the furniture you already have.
Will staging a room help my house sell quicker?
Staging can not only boost the sale price, but it can also help your house sell faster. A study by the Real Estate Staging Association (RESA) found unstaged homes spent an average of 184 days on the market, while homes staged before being listed sold, on average, in 23 days.
Do I need to hire a professional?
While you can definitely DIY the home staging process, there are also professional home stagers that can help with the process. However, they do come with a higher price tag.
Check out Saatva's collection of high-quality mattresses and bedroom accessories
If you're getting ready to sell your home, it may be a good time to upgrade your bedroom furniture and accessories. Saatva has a wide variety of high-quality mattresses, bedding, and bed frames to give your bedroom a refresh before putting it on the market.
Let your buyers see your bedroom at its best—with a brand new mattress, bed frame, or bedding set. Take our online mattress quiz to find out which new bed is perfect for you.