For the last few weeks, I've spent most of my free time chopping wood, catching bugs, and buying and selling turnips for a profit—not IRL but in Animal Crossing.
I'm not the only one obsessed with building my dream island in Animal Crossing: New Horizons. According to market intelligence company SuperData, the latest iteration of Animal Crossing sold more digital copies in a single month—five million, in March—than any other console game ever.
Why Animal Crossing is so popular right now
It makes sense that Animal Crossing: New Horizons is so popular right now. After all, it came out at the perfect time, just as the world went into lockdown. Many people, including myself, find the game to be therapeutic as it offers a nice break from reality. Designing my house, which is mere steps from the beach, has been one of the most calming parts of the experience.
"For people in your age group [in their 30s] who are playing and enjoying the game, part of that enjoyment comes from the fact that there are no rules you have to follow when it comes to designing your home," says Mary Brennan, founder of House of Fine Design. "If you go through the exercise of changing your bedroom in real life, you really don't want to do that again—so part of the fun of the game is that you can be as crazy as you want to be and change things whenever you want."
The design aspect of the game also resonates with high school- and college-age kids. "When you're in high school, your parents tell you what your room has to look like," says Brennan, whose 19- and 21-year-old children are avid Animal Crossing players. "But in the game, all of the furniture can be moved around. You could put a coffeemaker in your bedroom if you wanted to."
You don't just want to throw items anywhere, though. Being strategic about how you design and decorate your Animal Crossing bedroom can help you do well in the game.
How to design the perfect Animal Crossing bedroom
In Animal Crossing: New Horizons, the Happy Home Academy (HHA) will score your home's design periodically, explains Celeste O'Connor, blogger for UniKeep Organizational Products, a company that makes Animal Crossing-themed Nintendo Switch accessories. There are a few ways to boost your HHA rank and nab a gold trophy—and you can even apply these tips to your own bedroom. Here's how to create a serene virtual sleep space and a real-life sleep oasis.
Pick a color scheme and furniture style
Start by deciding on a color palette, which will help improve your rank in the game. "Think of your bedroom like a spa, like a retreat," says Carmen Smith, founder of home decor and renovation site Living Letter Home and Animal Crossing enthusiast. The best bedroom colors for sleep include blue (which science shows promotes relaxation) and neutral earth tones. Brennan, meanwhile, says there are no rules when it comes to color, so choose whatever you like best for your bedroom. "It should be personal," she says. "It should be something that speaks to you."
Then consider your furniture style. "The HHA gives you extra points for using themed furniture," says O'Connor, who has been collecting antique items to decorate the main room in her home in the game. (Here's a good rundown on how to get new furniture in Animal Crossing.)
While there's definitely a temptation in the game to put as many pieces of furniture in your bedroom as possible just because you can, doing so won't impress the HHA. Instead, focus on adding the essentials to your room, says O'Connor. Besides the obvious—a bed—Brennan suggests a bench or chair to place clothes. "We don't all hang up our clothes every day, so it's great to have a little seat that can be a catch-all for items like that," she says. Smith recommends putting a nightstand or two in your bedroom if you have the space.
Add a pop of personality to your bedroom
One of the ways I've personalized my bedroom in Animal Crossing is by using the customization design app in the game. It allows you to download patterns and use them as comforters, wallpaper, artwork, and more. You also have the opportunity to buy funky rugs and wallpaper from Saharah, a camel who will stop by your island from time to time.
Here's a photo of my work-in-progress Animal Crossing bedroom: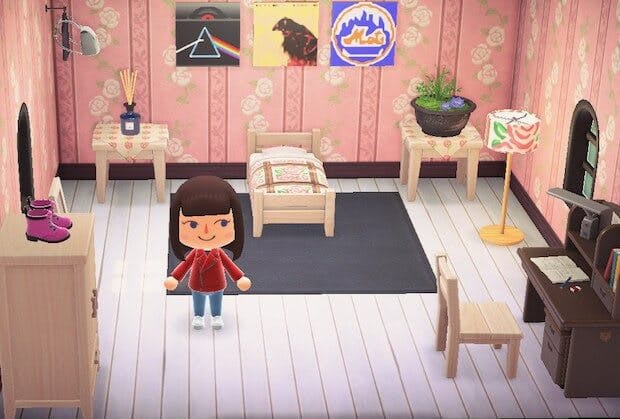 If you don't want a bold pattern on your walls, a comforter or rug is a great way to inject a dose of personality into your bedroom, says Smith. You could also use a quieter wallpaper pattern, like herringbone, she adds.
Embrace feng shui
The HHA will reward you handsomely if you follow the basic tenets of feng shui, an ancient art and science developed in China thousands of years ago. The purpose of feng shui: to create harmony between your energy and the energy within your surroundings.
One of the easiest ways to feng shui your bedroom is to rest your bed against a solid wall, says Smith. Ideally, this wall will be the one farthest from the door. (Read our guide to feng shui for more advice on putting this ancient art into practice.)
Get rid of clutter
One of the main principles of feng shui is freeing your home of clutter. Cleaning up your sleep space will not only up your HHA score in Animal Crossing, but it'll also help boost your mood in real life. "Clutter permeates our consciousness whether we're aware of it or not—it really disturbs people on a deep level," says Brennan.
In the game, it's pretty simple—all you have to do is hit a button to put unwanted items in storage. You'll have to work slightly harder than that in real life. Don't know where to start? Here's how to put the KonMari decluttering method to use.
As Brennan points out, most of us aren't inclined to put stuff, like our clothes, away immediately. So having some sort of storage unit with open shelves, or simply a place that's convenient to stack things out of your line of sight, is a great idea, she says.
The bottom line: Whether in Animal Crossing or real life, designing your bedroom should be fun. In the game specifically, you can build a fantasy home you could only dream of in your wildest imagination, so take advantage of that opportunity. "There's low risk," says Smith. "If you don't like something, you can change it with the touch of a button."
Looking to give your real-life bedroom a makeover? Try these Ikea hacks to transform your home.