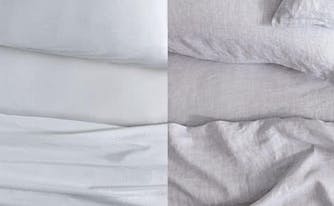 What's the Difference Between Cotton and Linen Sheets?
Our Best Linen Sheets
Linen Sheets
Handcrafted from the highest quality Belgian flax, our linen sheets are naturally hypoallergenic, antimicrobial, breathable, and will retain their beauty for years.
Shop
Our Best Cotton Sheets
Sateen Sheets
Made from long-staple cotton in a fine sateen weave. Soft and luxurious for a cool, comfortable night's sleep.
Shop