When you're shopping for sheets, one of the most important factors to consider is the fabric. Cotton and linen are two of the most popular sheet materials—and both have plenty of things going for them.
What exactly is the difference between linen vs. cotton sheets, though—and which of the two fabrics is right for you? To help you make an informed decision between linen sheets vs. cotton sheets, we've compiled this handy guide.
Linen sheets
Linen is undeniably an excellent sheet material with a lot going for it. But like everything else, it has both pros and cons.
Pros
These are the top four reasons to choose
linen sheets.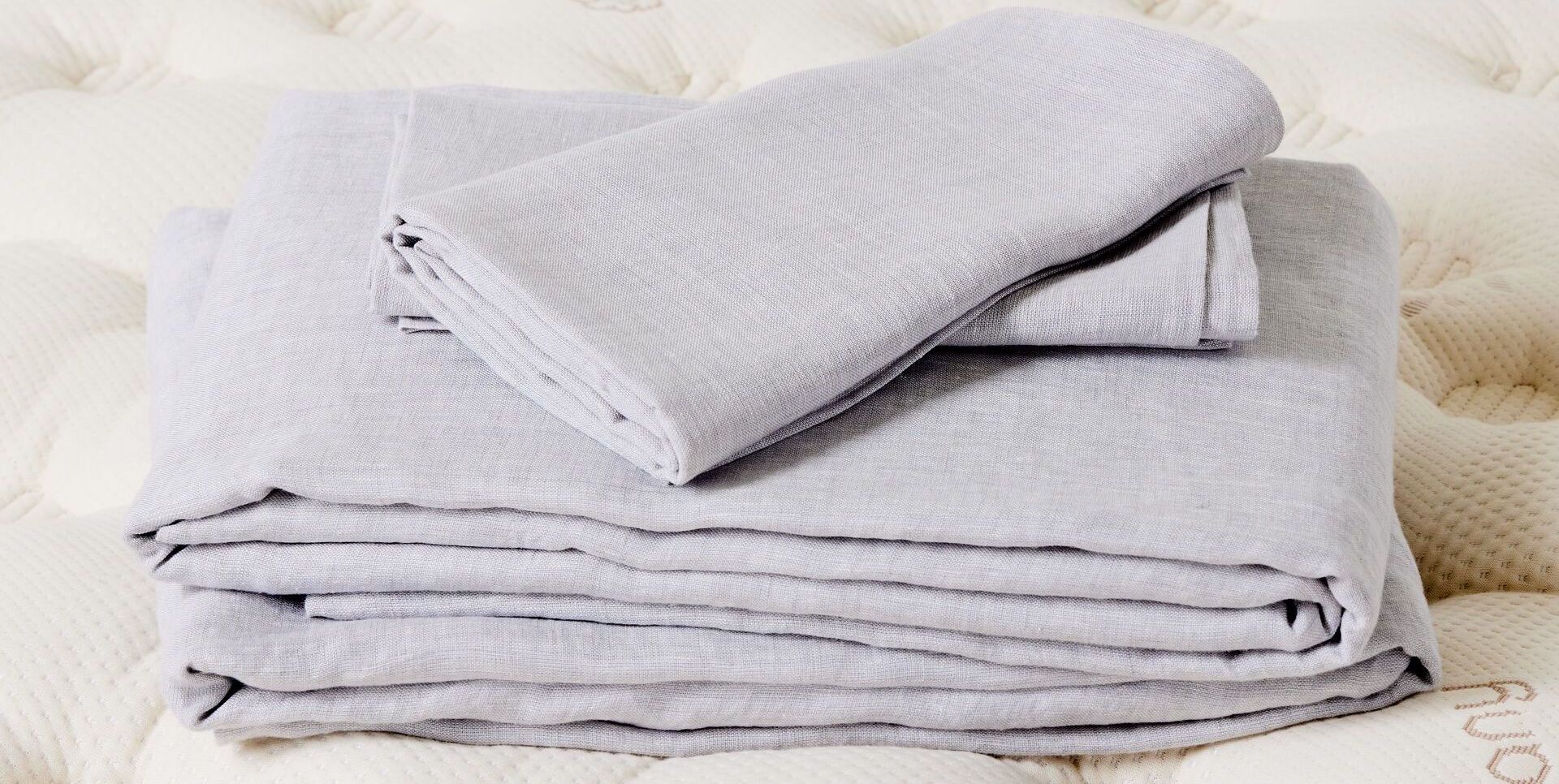 Linen Sheet Set
Airy and elegant linen sheets with a relaxed look
Linen is breathable. Linen is a highly breathable material that does a great job regulating your body temperature. Linen will keep you cool in the summer and warm in the winter.
Linen is durable. The threads of linen are usually longer and thicker than other fabrics, including those of cotton, making the material highly durable. Good-quality linen sheets can last you for decades.
Linen has a lived-in look and feel. The texture of linen is slightly coarser than that of cotton, giving it that lived-in look and feel that many linen fans love. Even better, linen sheets get softer with every wash, while maintaining their relaxed look. Many high-quality linen sheets come pre-washed so they will feel soft right from the get-go.
Linen is antimicrobial and hypoallergenic. Linen has unique filtering properties that greatly reduce the number of allergens and germs that can find their way into your bedsheets. It's also a naturally anti-static fabric, which means it repels dirt and stays cleaner longer than other materials (a huge bonus if you tend to put off washing your sheets!).
Cons
With all its advantages, there are certain qualities of linen that may not appeal to everyone.
Linen is expensive. The flax used to make linen requires very specific conditions to grow and takes more labor to produce than cotton. That's why linen sheets are generally more expensive than cotton ones. High-quality linen sheets will cost you $200-$350, depending on the size. If you're on a budget, linen might not be for you.
Linen can be coarse. Linen can feel coarse upon first use (and low-quality linen sheets may feel outright scratchy), although they do get softer over time. High-quality linen sheets often come pre-washed so they do feel pretty soft from the start. However, if you're after a silky-smooth feel from the get-go, linen might not be for you.
Linen wrinkles easily. While some people like linen's relaxed look, it does often wrinkle easily. This can be a drawback for those who crave a smooth and tidy look in their bedroom.
Cotton sheets
Just like with linen, there are various pros and cons to cotton sheets.
Pros
Here are the best reasons to buy cotton sheets.
Cotton is breathable. The most popular sheet fabric today, cotton is known for its great airflow and moisture-wicking properties, meaning you won't wake up sweating. (Learn about organic cotton and how it differs from regular cotton.)
Cotton is durable. Good-quality cotton sheets should last you many years. Long-staple cotton is more durable than cotton made from shorter fibers.
Cotton is affordable. The price of cotton sheets varies widely depending on many factors, but, generally, high-quality cotton sheets will cost you less than high-quality linen sheets.
Cotton is good for sensitive skin. This is true if you choose cotton that's certified to be free of irritating chemicals and dyes. (Here's how to choose the best sheets for sensitive skin.)
Cons
Even cotton has some drawbacks.
Organic cotton can still be expensive. While cotton is one of the most affordable sheet material, organic cotton can still be pretty expensive. Organic cotton sheets usually cost 20%-30% more than regular cotton sheets.
Low-quality conventional cotton is not as durable. Going for low-quality, inexpensive conventional cotton is an easy option—but it's not as durable as higher-quality cotton or linen.
Linen vs. cotton: How do they compare?
Now you know all about the benefits and drawbacks of these two popular sheet materials. To help make your shopping decision easier, here's how cotton and linen compare on a few key categories:
Durability: While both types of sheets can offer exceptional durability, generally high-quality linen sheets will have a longer lifespan than high-quality cotton sheets due to the nature of the material.
Coolness: Both materials are great for hot summer nights. Both linen and cotton (especially organic cotton) are highly breathable with excellent moisture-wicking abilities. (These are the best sheets to keep you cool.)
Comfort: Right out of the box, cotton sheets will feel softer and smoother than linen while linen will be more textured. When it comes to which one is more comfortable, though, that really comes down to personal preference. Some people prefer the softness of cotton, while others like the slightly more textured feel of linen. Keep in mind, also, that linen gets softer and smoother after every wash.
Care: Both types of fabrics are pretty easy to keep clean. Both can be put in the washing machine (always follow the manufacturer's instructions). That being said, it's easier to keep cotton looking smooth, while linen is prone to wrinkling.
Find the right cotton or linen sheets for you at Saatva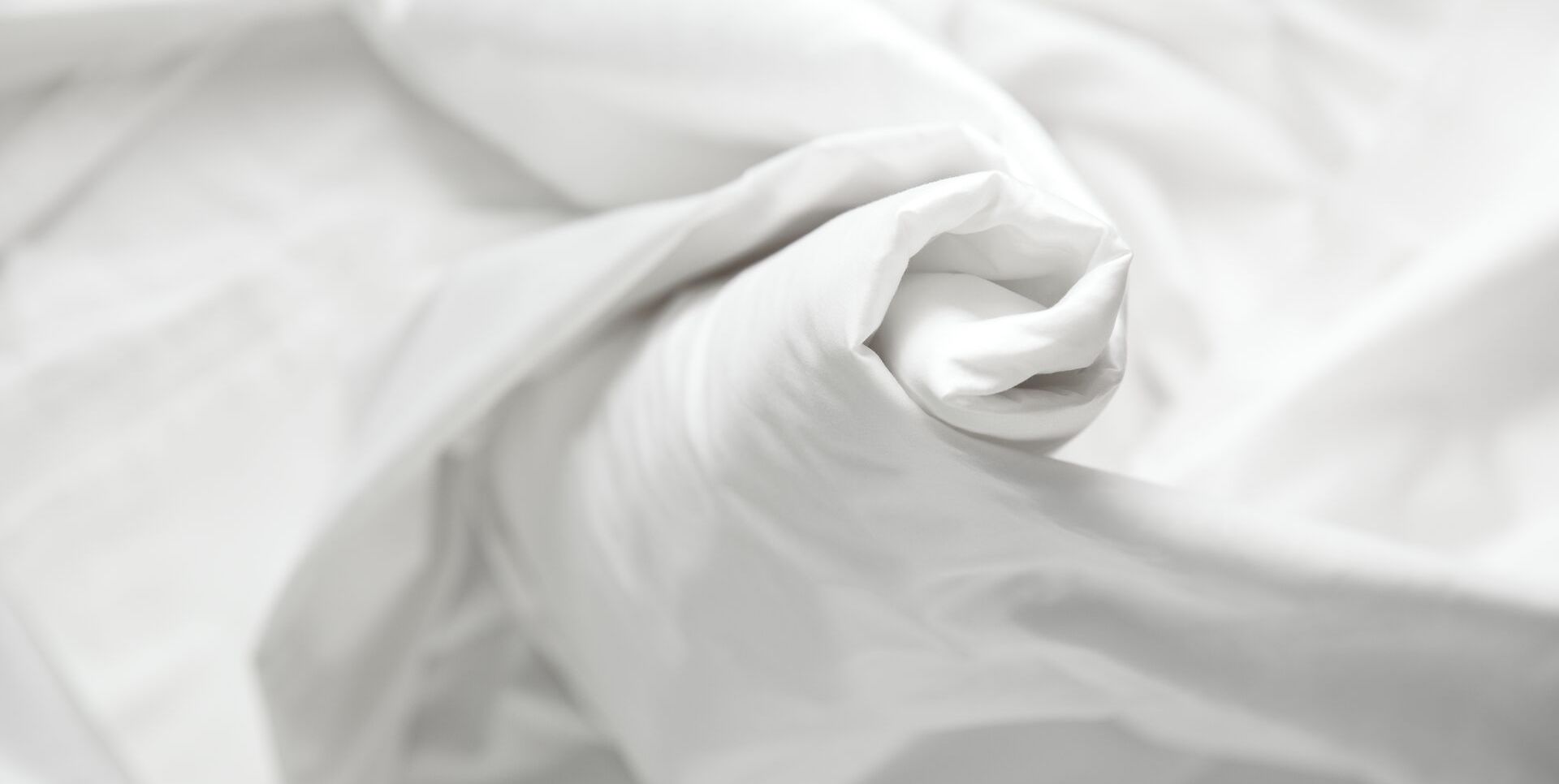 It's easy to see why our flagship organic cotton sheet is a bestseller. Its silky-soft, 300 thread count sateen weave is made with 100% certified organic cotton. It's better for the planet and feels indulgently luxurious on you.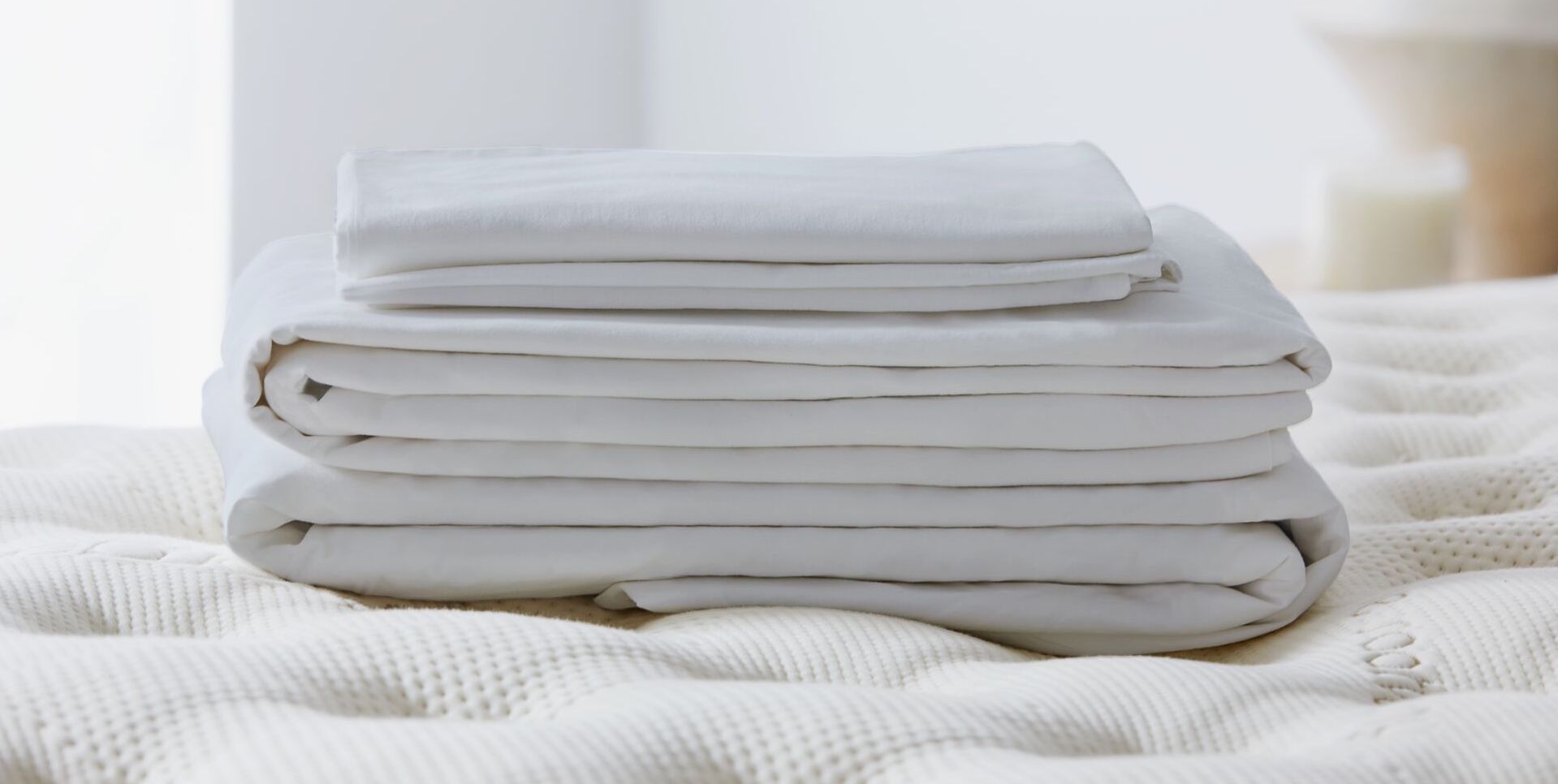 Pamper yourself in deluxe comfort with our breathable percale sheets. They're made from the world's best long-staple cotton that gets softer and better with every wash.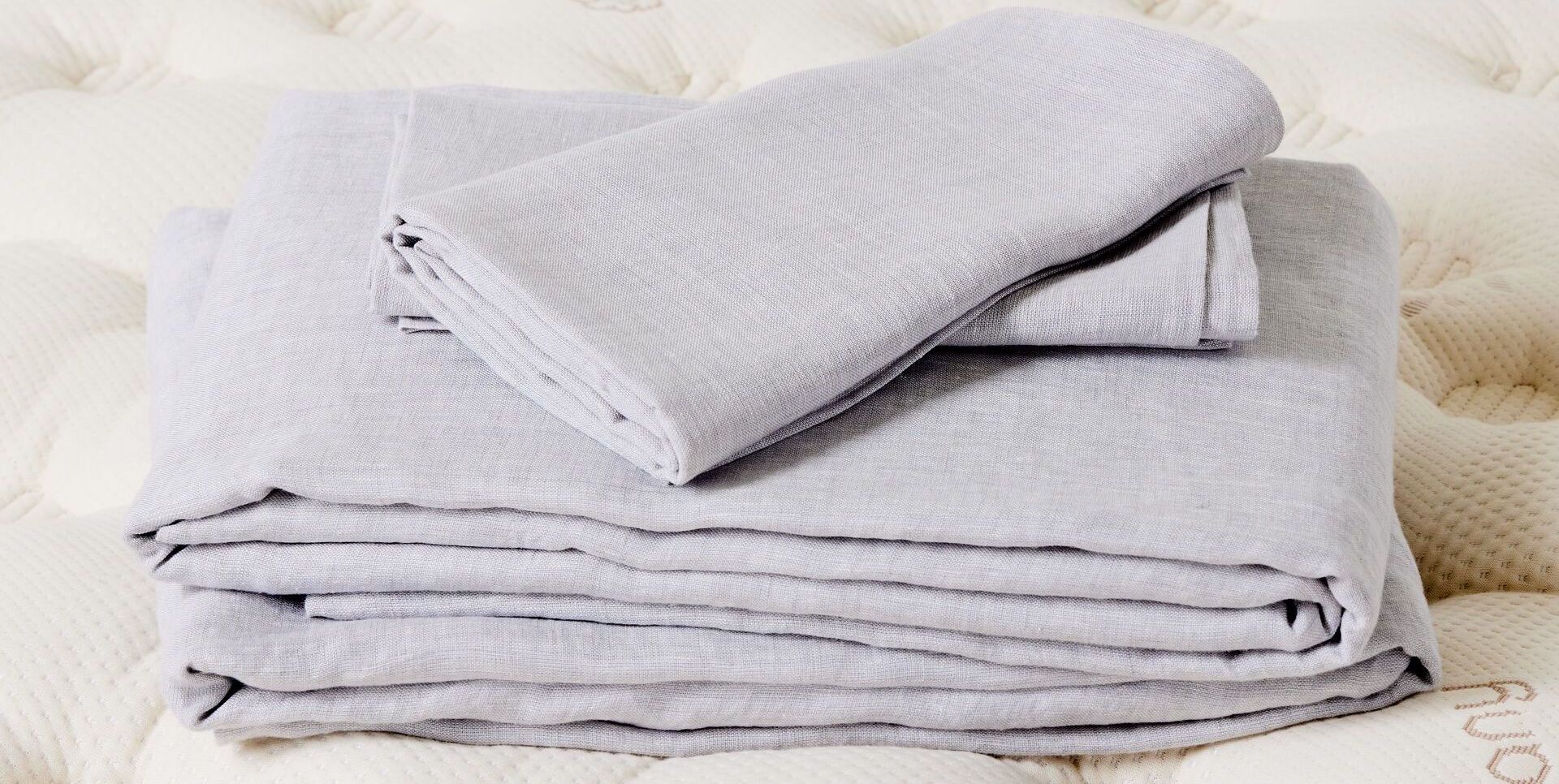 Sleep in effortless style with our deluxe linen sheets made with responsibly-sourced, all-natural Belgian linen. Stays cool in the summer, warm in the winter, and gets softer with every wash.
FAQs
Is it better to sleep on cotton or linen sheets?
When choosing which sheets are better for your sleep, it really comes down to personal preference. Cotton and linen sheets are both breathable, durable, comfortable, and easy to clean. However, cotton is great for sensitive skin and isn't as expensive as linen sheets. Alternatively, linen can be coarse and wrinkle easily, but it's antimicrobial and hypoallergenic, which can greatly reduce the number of allergens and germs that can find their way into your bedsheets.
Are linen sheets worth the extra money vs. cotton?
Linen and cotton sheets have pretty similar qualities, but high-quality linen can last longer than cotton sheets, give a "lived-in" feel and look, and get softer after every wash. So, if you feel like splurging a little on your bedsheets, linen sheets can be a great option for you.
Which sheet material will feel best against your skin? We've put together a list of the softest sheets, ranked.