7 Ways to Treat Mom to a Relaxing Mother's Day
Countless articles have been published over the last couple of months detailing the struggles working moms are going through right now, as they do their jobs remotely while also home-schooling their kids.
All that juggling can lead to major stress—and serious sleep deprivation. "Adults are supposed to sleep a minimum of seven and a quarter hours, and that really isn't happening, especially for moms who are multitasking," says Roseann Capanna-Hodge, licensed professional counselor and integrative mental health expert.
You might not be able to take your partner out for brunch or book her a spa appointment this Mother's Day, but you can still show her you care by treating her to the most relaxing day possible at home. Here are the top ways to soothe your partner's stress this Mother's Day. (And check out our Mother's Day gift guide for even more ideas!)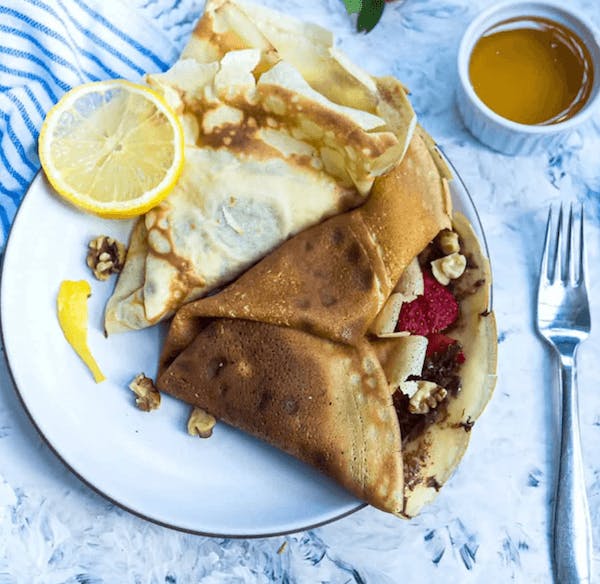 Parisian-inspired crepes from GarlicDelight.com
Serve her breakfast in bed
Start Mom's day off on the right foot with breakfast in bed, one of Capanna-Hodge's favorite ideas for a relaxing Mother's Day this year. Anna Rider, food writer and recipe developer for GarlicDelight.com, recommends crepes. "Crepes are really simple to make, and you can engage the whole family," she says. "Kids love to flip the crepes and fill them with their favorite treats like Nutella."
Rider suggests this easy crepe recipe from her blog:
Ingredients:
2 cups all-purpose wheat flour
4 large eggs
2 ⅛ cups whole milk
4 tablespoons salted butter, divided in half for the crepe batter and the pan
½ teaspoon salt (optional: add if using unsalted butter)
1 tablespoon vanilla sugar (can be substituted with 1 tablespoon of sugar and 2 teaspoons of vanilla extract)
Directions:
In a mixing bowl, sift flour using a fine-mesh sieve.
Make a well in the flour. Crack and add the eggs into the well.
Slowly add the milk while mixing the eggs, flour, and milk together with a fork.
Melt half of the butter in the microwave. Add the melted butter and vanilla sugar into the batter. Mix well with a fork until combined.
Pour the batter through the fine-mesh sieve. Push clumps through the sieve using a spoon or spatula. Let batter rest for an hour in the fridge if you have time. (You can even prep the better the day before and let it rest in the fridge overnight.)
Heat a nonstick pan over medium-high heat, then add a quarter-sized pat of butter to test the pan. If the butter sizzles, the pan is hot enough. If it doesn't, give it another minute to warm up. Swirl the butter around the pan, then add a ladle of batter into the pan in a circular shape. Tilt and swirl the pan evenly to spread the batter.
If you have excess batter, pour it back into the mixing bowl. If you have holes or areas of missing batter, pour in a little extra, using your spatula to smooth out the surface. Cook the first side for 3-5 minutes. Once the edges of the crepe appear to be pulling away from the pan and the middle of the crepe is bubbling, flip it over. To do so, slide your spatula between the crepe and the pan. Gently lift the crepe from the pan and flip it.
Cook the second side for about two minutes. Lift the underside to check if it's brown. If it is, it's done and ready to be served. If it's still pale in color, cook for 30 more seconds.
Fill with Mom's fillings of choice—some of Rider's favorite sweet fillings are Nutella with strawberries, honey with slivered almonds, and raspberry jam. You could also go for a savory crepe and fill it with egg, ham, and cheese.
"You could even recreate a Parisian theme," says Rider. "Although nobody can travel right now, it's easy to play some Parisian bistro music by finding a playlist on your favorite music streaming service and bring Mom brunch in bed by serving toasty and indulgent French crepes."
Book her a yoga class
"This year more than any other, I am finding the mamas I work with are dying for just a little extra quiet time alone," says Kelly Bryant, prenatal and postnatal yoga instructor and fitness trainer. "Gift Mom with an opportunity for some TLC like an at-home yoga class by packing the kids into the car and going for a drive, taking everybody outside and locking the door, or taking the crew on a walk or hike."
Not only will an hour or two of alone time feel like a luxury, but yoga is a proven stress-reliever. Many studios and instructors (including Bryant) are hosting classes via Zoom or other online platforms.
Create a coupon book with the kids
"My most memorable Mother's Day was when my son handmade little coupons for me with treats such as, 'this coupon good for one breakfast in bed,' and 'this coupon good for washing dishes,'" says Lynell Ross, certified health and wellness coach and founder and managing editor of Zivadream. As Capanna-Hodge points out, this is a cute idea that doesn't cost you anything—and allows your family to get creative.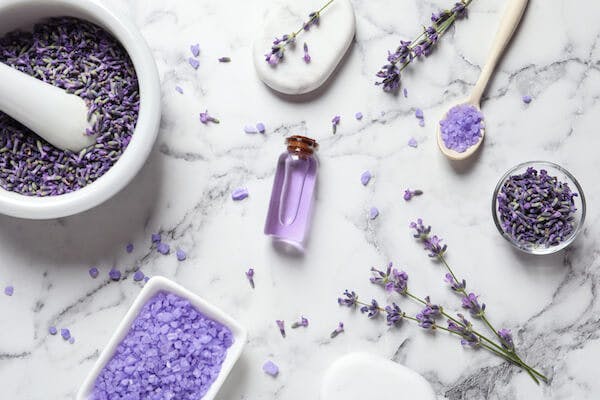 Lavender makes for a relaxing bath addition.
Host an at-home spa day
Your partner may not be able to get a professional spa treatment this Mother's Day, but you can easily put together a relaxing spa-like bath for her at home. Capanna-Hodge recommends adding magnesium salts to the bath. "Magnesium is so relaxing," she says. Essential oils are a great bath addition as well, as ones like lavender and jasmine promote sleep.
Here's a recipe from Michelle Christensen, spa director at Sense, the spa at the Rosewood CordeValle hotel in Northern California:
Combine four to six drops of an essential oil with Epsom salts in a medium mason jar. (Christensen likes lavender for relaxation or peppermint for soothing achy muscles.)
Write the recipe on a little card, punch a hole in the corner, and wrap it around the jar with string or raffia.
Add a wooden spoon as the final touch.
Just remember to throw a "Do Not Disturb sign" on the door so Mom can truly enjoy her time in the tub.
Give her alone time
"One important thing to remember is that after many weeks of quarantine, people are stressed, and many haven't had alone time," says Gert Mikkal, founder of DadProgress, a website for new dads. To help your partner relax, give her a couple of hours to herself.
"This requires some planning if you have a younger kid at home and can't go out," says Mikkal, whose wife works full-time as an ob-gyn. "Make a list of activities that will keep you and the little one occupied for a couple of hours and let Mom enjoy some alone time in a bed with her favorite book or Netflix."
Lynelle Schneeberg, PsyD, pediatric sleep psychologist and author of Become Your Child's Sleep Coach: The Bedtime Doctor's 5-Step Guide, Ages 3-10, suggests keeping your kids occupied with physical activity while your partner does her own thing for a couple of hours. "Physical activity is harder to come by [now], and moms spend lots of time trying to build this into the day—so having Dad do it could be a great break for Mom," she says. Taking the kids on a long bike ride or doing a scavenger hunt, relay race, or obstacle course in the backyard are all good ideas.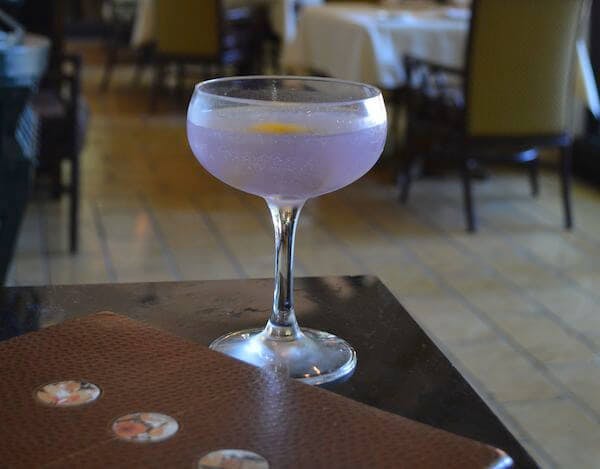 Lavender Aviation cocktail from Rosewood Mansion at Turtle Creek
Toast her with a cocktail
Lavender is super-relaxing, so incorporate it into a special cocktail and make a toast to tell your partner how much you care about her. Try this Lavender Aviation recipe from Rosewood Mansion on Turtle Creek in Dallas.
Ingredients:
2 ounces gin of choice
¾ ounces fresh lemon juice
½ to ¾ ounces lavender syrup*
½ ounce creme de violette
Luxardo Maraschino
Amarena cherries
Instructions:
Build over ice in a shaker.
Shake as much or as little as you like.
Pour into martini glass or cup.
Garnish with amarena cherries, a lemon peel, or fresh mint.
*Lavender syrup ingredients:
Simple syrup (50/50 sugar and hot water)
Honey (60/40 honey and hot water)
Several drops of lavender extract
2 ounces Luxardo Maraschino
Several drops of purple natural food coloring
Have a fancy dinner party
Follow up your cocktail toast with dinner. "Make her a fancy dinner and dress up—really do something special," suggests Capanna-Hodge. Take things to the next level by turning the meal into dinner theater. "Have the kids do a play," says Capanna-Hodge. "It's something really sweet and memorable."
And of course, Mom has no part in the cooking or after-dinner cleanup. "Tell Mom to put her feet up and relax because you and the kids are making dinner, doing the dishes and cleaning up the kitchen all while she gets to rest or do whatever she wants," says Ross. "The cleanup is an important part of cooking for her—if you put everything back where it belongs, she not only gets a break from cooking, but she doesn't have to lift a finger to clean up."
Need dinner ideas? Try incorporating these foods that promote sleep into your Mother's Day meal.