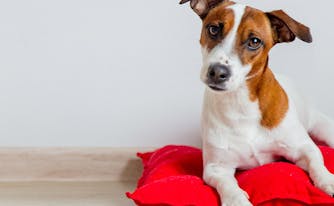 12 Things to Do With Your Old Pillows
If it's been a year or two since you last changed out your pillows and they're getting a bit too flat or lumpy for comfort, you're likely due for some new ones, per the National Sleep Foundation. But after you've found some comfy new pillows, what are you supposed to do with your old ones? If you throw them out, they'll just end up in a landfill. Your most eco-friendly option is to get crafty.
Because pillows collect lots of dead skin cells, dust mites, and other debris over time, be sure to wash your old pillows before you get started. Then, give them new life with these 12 creative ways to reuse old pillows.
1. DIY a floor cushion
For extra-comfy seating in your living room or bedroom, you can't go wrong with a large floor pillow. Rather than splurging on a new one, repurpose your old pillows as the stuffing for a simple, homemade pouf. For this Apartment Therapy tutorial, all you need is some scissors, a needle and thread, some fabric or old sheets, a few yards of welt cording, and your old pillows.
2. Create a kneeling pad
Hours of kneeling to tend to your garden or scrub the floors can often lead to super-sore knees. That's where a supportive kneeling pad makes all the difference. Use your pillow stuffing to make your own with old cloth napkins, sheets, or a waterproof fabric like oilcloth. Here, Washington Gardener provides a simple how-to.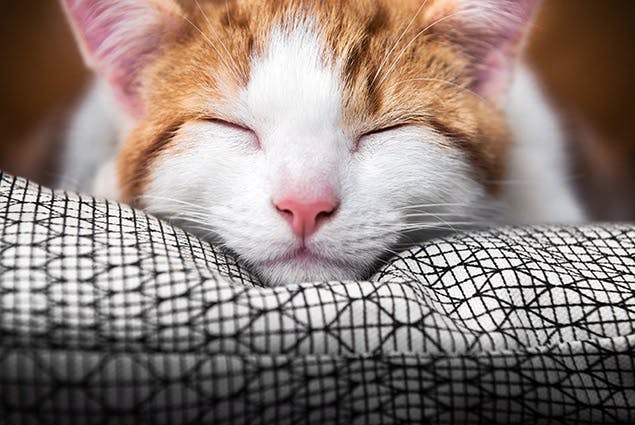 Turn an old pillow into a cozy cushion for your pet.
3. Make a pet bed
Research shows your dog literally loves your scent, which makes a pet bed made from your old pillows and clothes the perfect curl-up spot. For a small dog or cat, you can sew up an old pillow or two inside a sweatshirt or blanket according to this tutorial from Handimania. For a larger pup, use some old sheets or colorful fabric to make this two-pillow pet bed by Joyful Abode.
4. Block the breeze with a draft stopper
Hardwood floors and airy spaces are lovely until winter drafts and sky-high energy bills arrive. To keep your space warm and insulated throughout the winter, repurpose your old pillows as the stuffing for a door stopper. Simple Life Mom's guide makes it easy: Just stitch together strips from an old pillowcase or sheets and fill them with your old pillow stuffing and rice or sand.
5. Pack up valuables
While older generations tend to put down roots for good, younger Americans have made a habit of moving, picking up every year or two, finds a survey by Porch. If you know a move is on the horizon, you might want to hold onto your old pillows. When it comes time to box up ultra-fragile glasses and keepsakes, they'll make for great reusable padding and packing material. Old pillows can also serve as a buffer between your furniture and the moving truck to prevent dings and scratches along the way.
Need a New Pillow? See What Saatva Offers
The Saatva Pillow
A core of shredded American natural latex, wrapped in a breathable organic cotton cover. Plush and responsive for the perfect head and neck support.
Shop
6. Give stuffed animals new life
If your child's favorite teddy bear is looking saggy (or worse, has lost its fluff in a showdown with the family dog), you can give it a new lease on life with some old pillow stuffing. Simply cut a hole in your pillow, trim away a few stitches to create a small hole in the stuffed animal, fill it up with stuffing, and sew it back up. New to animal surgery? Here's your master guide from While She Naps.
7. Double-stuff pillows
If your pillow has flattened into a pancake but is in otherwise good shape, stuff it into your pillowcase with another less-than-fluffy pillow. With this simple trick, you'll make 'em last a few months longer.
8. Pamper your rodents
If you've got a pet hamster, rat, or other furry friend, you know how expensive their bedding can be. Save some cash and spoil your pet by lining their cage with your old pillow stuffing. Sure, you'll need to throw it out as soon as it's soiled, but you'll at least have lengthened your pillow's lifetime a little longer.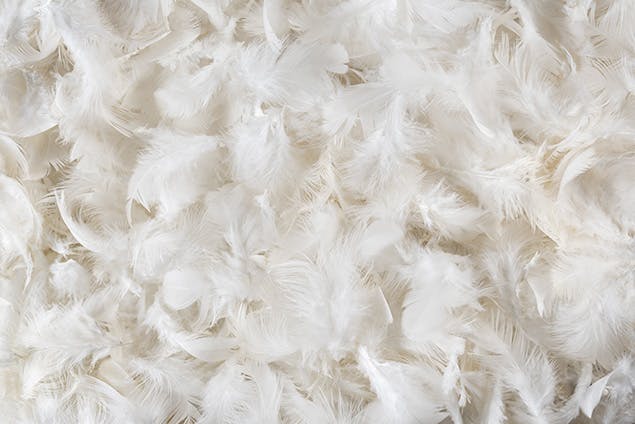 Compost down feathers in your backyard. They'll break down into nutritious fertilizer.
9. Compost pillow feathers
Stuck with a pillow full of down feathers? Mix them into a backyard compost bin. Naturally rich in nitrogen, a key building block of life, feathers break down into a nutritious fertilizer to support a lush, leafy garden. Learn how to compost with Better Homes & Gardens.
10. Cut up cleaning rags
If you don't feel like crafting but still want to reduce your environmental footprint, cut up some cleaning rags to lower your paper towel use. Simply remove your old pillow's stuffing and cut the remaining fabric into square cleaning rags.
11. Donate to a shelter
While homeless shelters and secondhand shops sometimes refuse pillow donations due to hygiene concerns, others accept (and have a need for) lightly-used pillows. Call or email your local shelter to see if they'll take yours, or try reaching out to your vet, an animal shelter, or a wildlife rehabilitation center—many will take pillows for bedding in animal crates. While you're at it, consider donating old sheets, comforters, and towels too.
If you don't feel like crafting but still want to reduce your environmental footprint, cut up some cleaning rags to lower your paper towel use. Simply remove your old pillow's stuffing and cut the remaining fabric into square cleaning rags.
12. Recycle
You can't just toss old pillows into the recycling bin, but there are textile recycling facilities across the United States that will gladly take them. As long as your pillows aren't stained with blood, grease, or oil, their fibers can be recycled into clothes, cleaning cloths, carpet, insulation, and more. Use Recycle Nation (or Home for Foam if you have foam pillows) to find a drop-off station near you.
Wondering what to do with your ready-to-retire bed sheets? Check out our 15 things to do with old sheets (instead of throwing them away!).