It can be tempting to change your bedroom design style every once in and while. After all, you spend so much time in your bedroom that it's nice to switch it up every so often to feel restored.
However, it can get tiring rotating the same old styles and design ideas that you find on the internet.
So, to uniquely and interestingly shake up your style, we've compiled a list of the top eight trendiest bedroom design ideas and ways you can easily incorporate them into your bedroom for a fresh new look.
1. Bohemian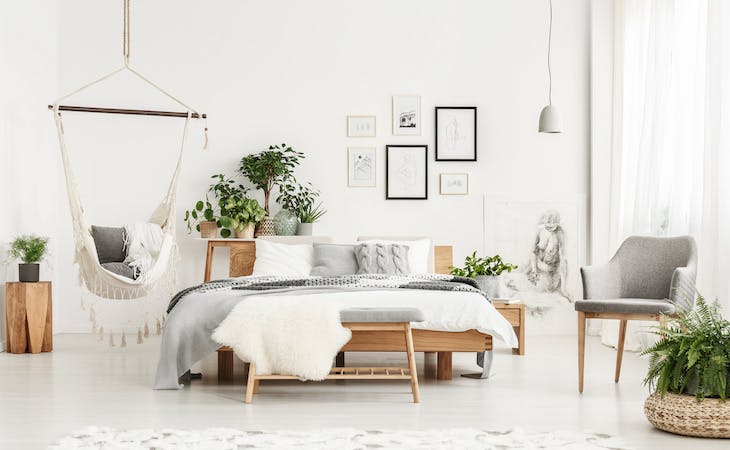 One way to upgrade your bedroom decorating is to use an eclectic bohemian style. This style is cluttered yet stylish—so if you're a minimalist, this one's not for you!
Boho-style bedrooms often use a mix of colors and textiles to make the space feel more visually dynamic and appealing. You can incorporate bright colors along with natural materials to achieve this look.
You can also use materials like rattan, linen, and wicker in your headboard and bedroom furniture for a more eclectic feel.
2. Scandinavian minimalism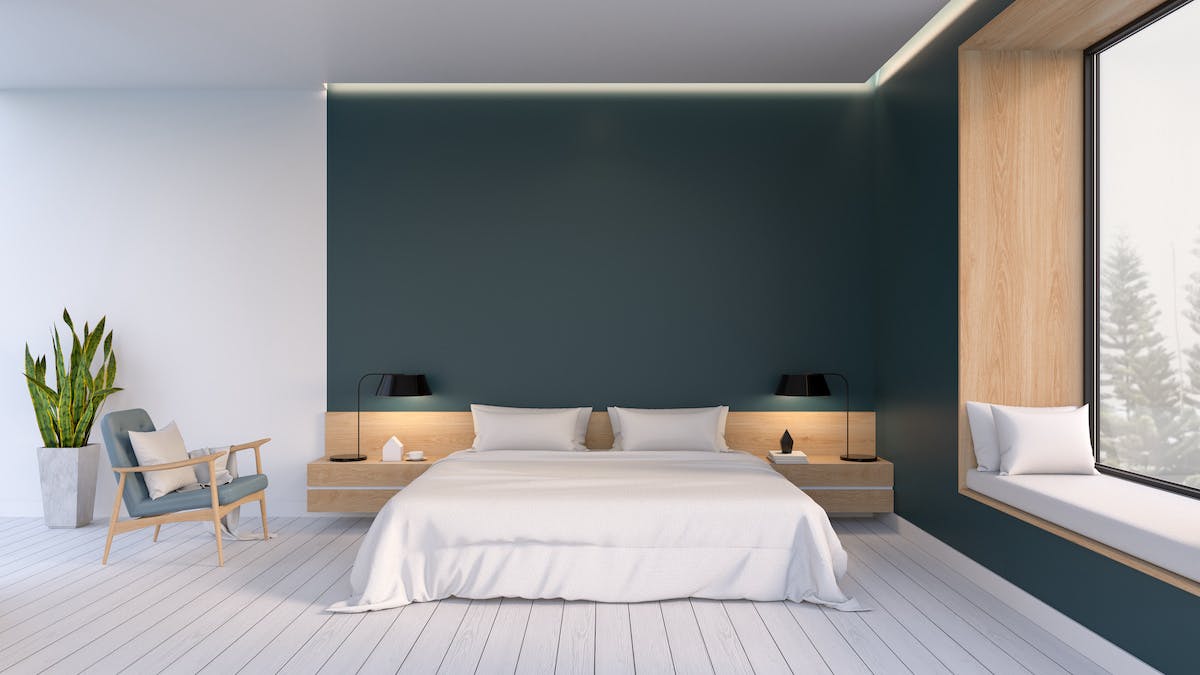 If you feel like your bedroom just doesn't need any more clutter—even if it's stylish—then consider taking inspiration from Scandinavian-style minimalism.
This bedroom decorating idea is essentially the exact opposite of the bohemian style. It takes away all clutter and focuses mainly on functional pieces that still look styled and beautiful.
Scandinavian-style minimalism is a great way to get a modern bedroom full of neutral colors—accentuating clean lines and a variety of textiles as opposed to color.
3. Farmhouse style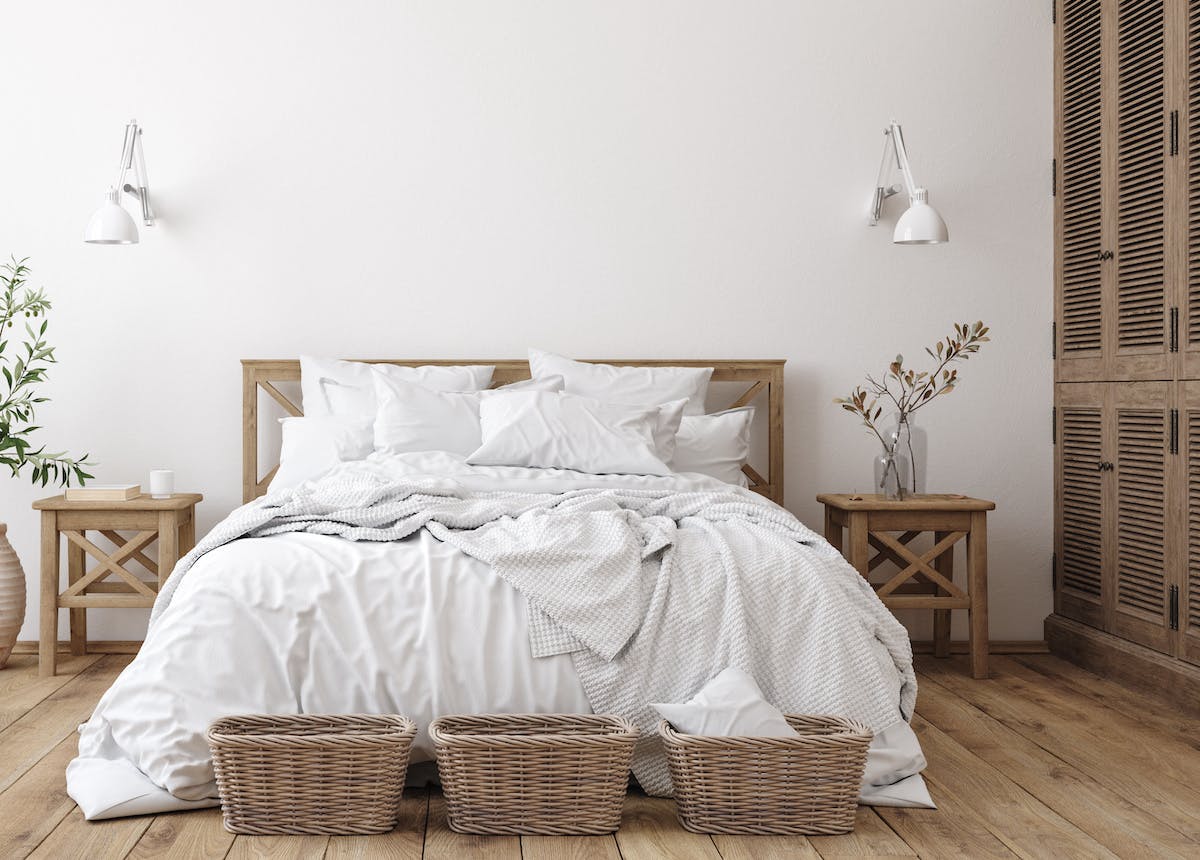 Farmhouse-style design is a great way to incorporate a cozy, traditional style into your bedroom. This rustic style is often described as shabby chic as it's made up of country style elements like natural wood, clean lines, and greenery.
It also uses a variety of textiles and neutral colors that still make the room pop. Most commonly, you'll see this style with white walls and lots of greenery as decor.
4. Modern design style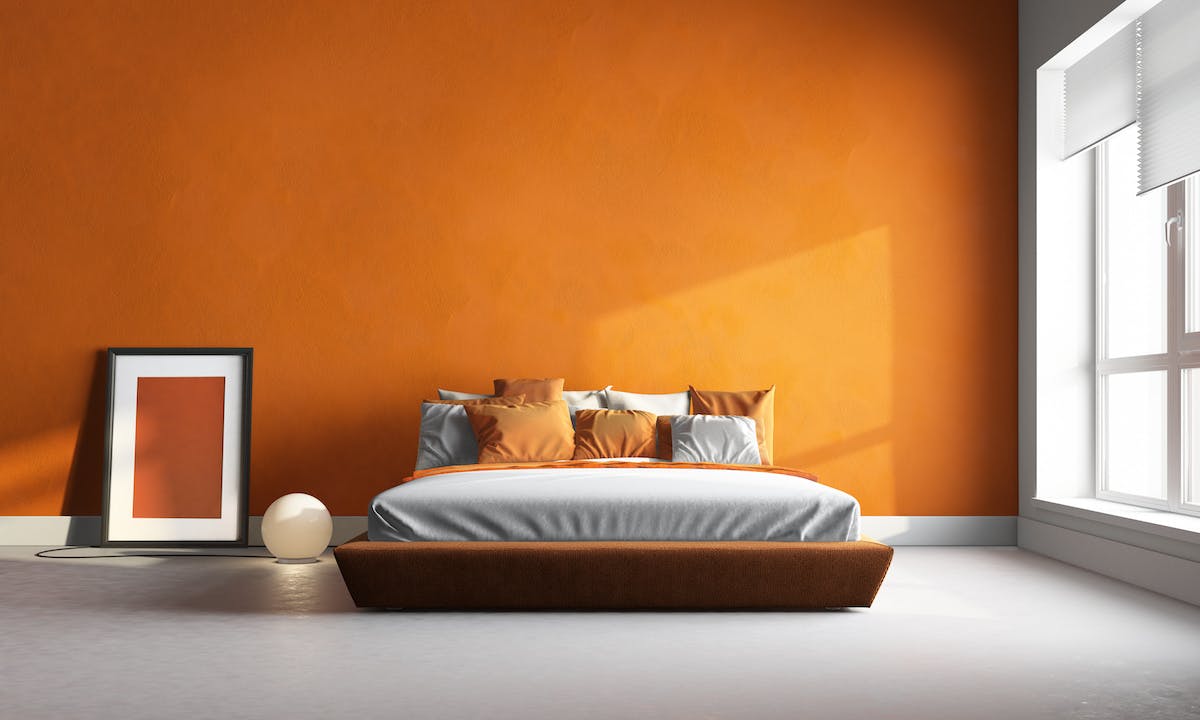 Modern design styles consisting of curved lines and unique shapes with pops of bright colors are also becoming increasingly popular, especially in bedroom furniture pieces.
For instance, an upholstered headboard can do wonders in your bedroom by bringing a variety of colors and textures into the space.
You can accomplish this style by having a uniquely colored bedroom wall, pops of color in your furniture, like nightstands or dressers, or different shapes in your light fixtures.
5. Mediterranean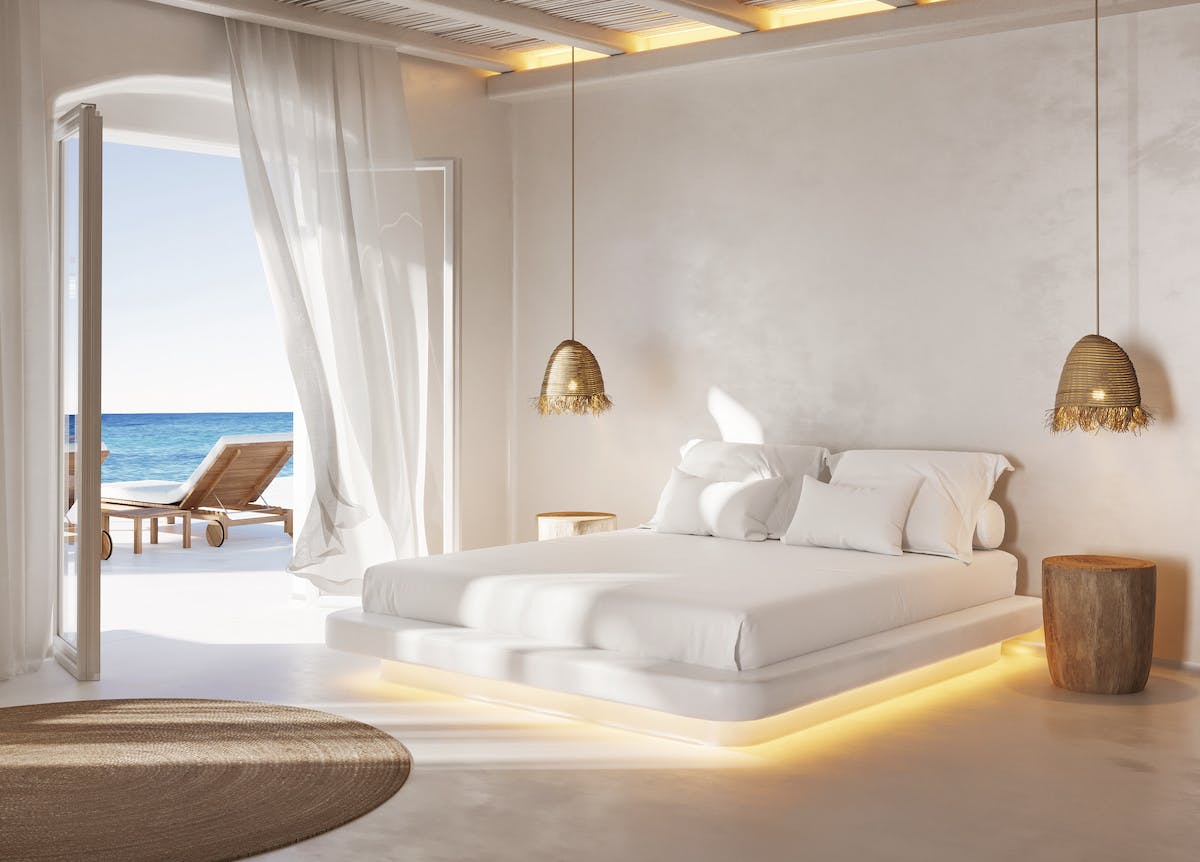 Mediterranean design elements like warm earthy tones, a lot of exposed wood, and unique textiles are oftentimes incredibly comforting and cozy. Commonly, you'll see detailed area rugs, wall tiles, or tapestries with this design.
You can incorporate this style into your bedroom by using natural-colored furniture (such as a bedside table or bed frame) and by using small decor items like table lamps and wall fixtures.
6. Coastal design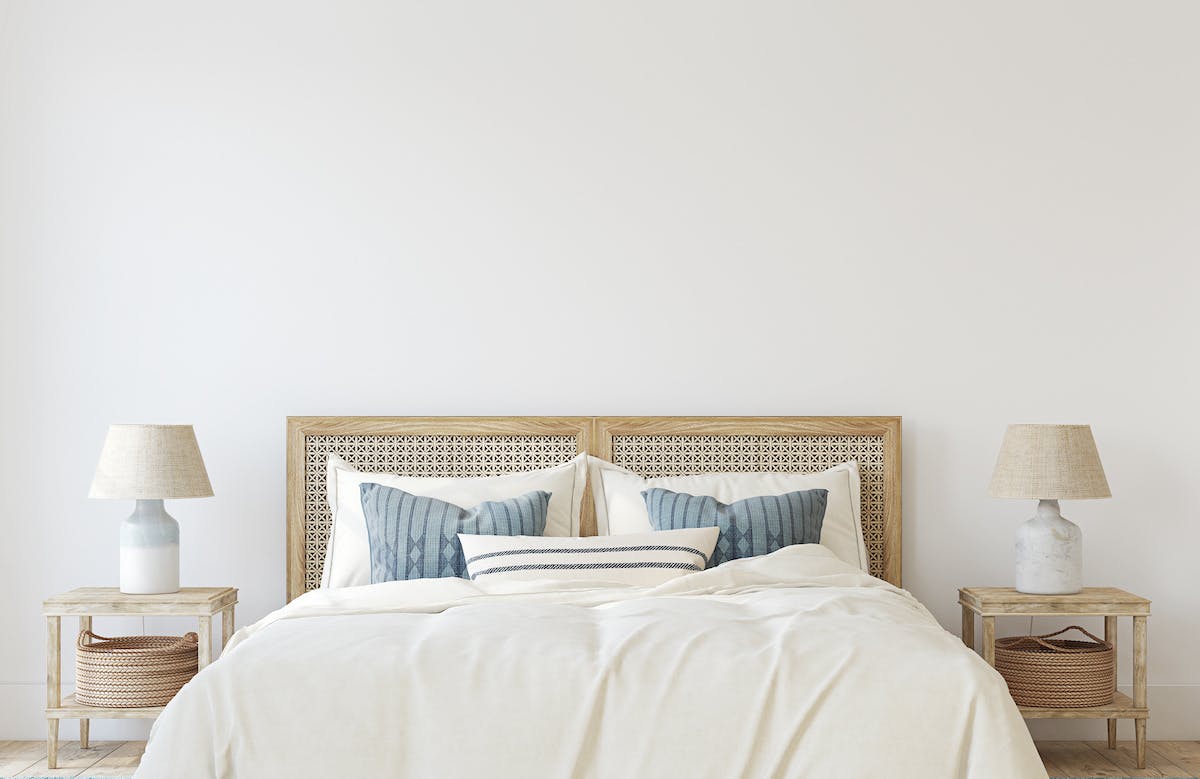 Coastal design is popular in beach towns and is typically found in lake houses. It often uses nautical decor, like anchors or seashells, to tie together the entire look.
It also uses a blue and white color palette, taking inspiration from the natural colors found on the beach.
If you're not a fan of these distinct nautical elements, you can still achieve this style in your bedroom by using light and airy textures, natural textiles, and elements like wicker.
7. Mid-century modern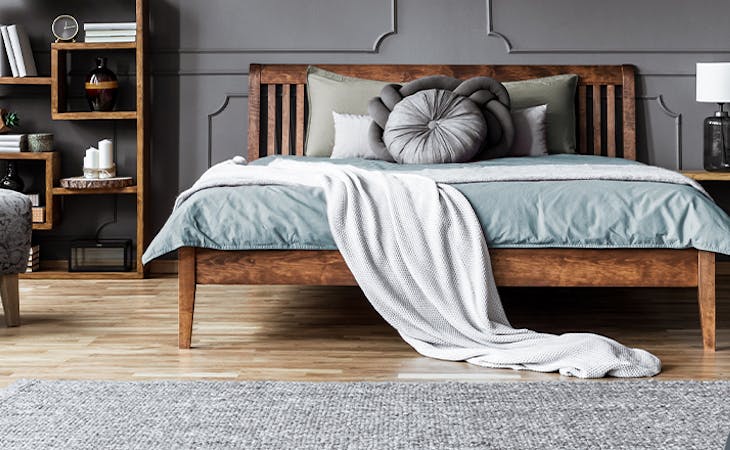 Mid-century modern design takes inspiration from the '40s and '50s and combines it with futuristic elements for a modern take on vintage.
This style typically uses straight lines, unique patterns, and natural materials. You'll also find that it uses very warm-colored woods and stark whites in its color palette.
8. Victorian-inspired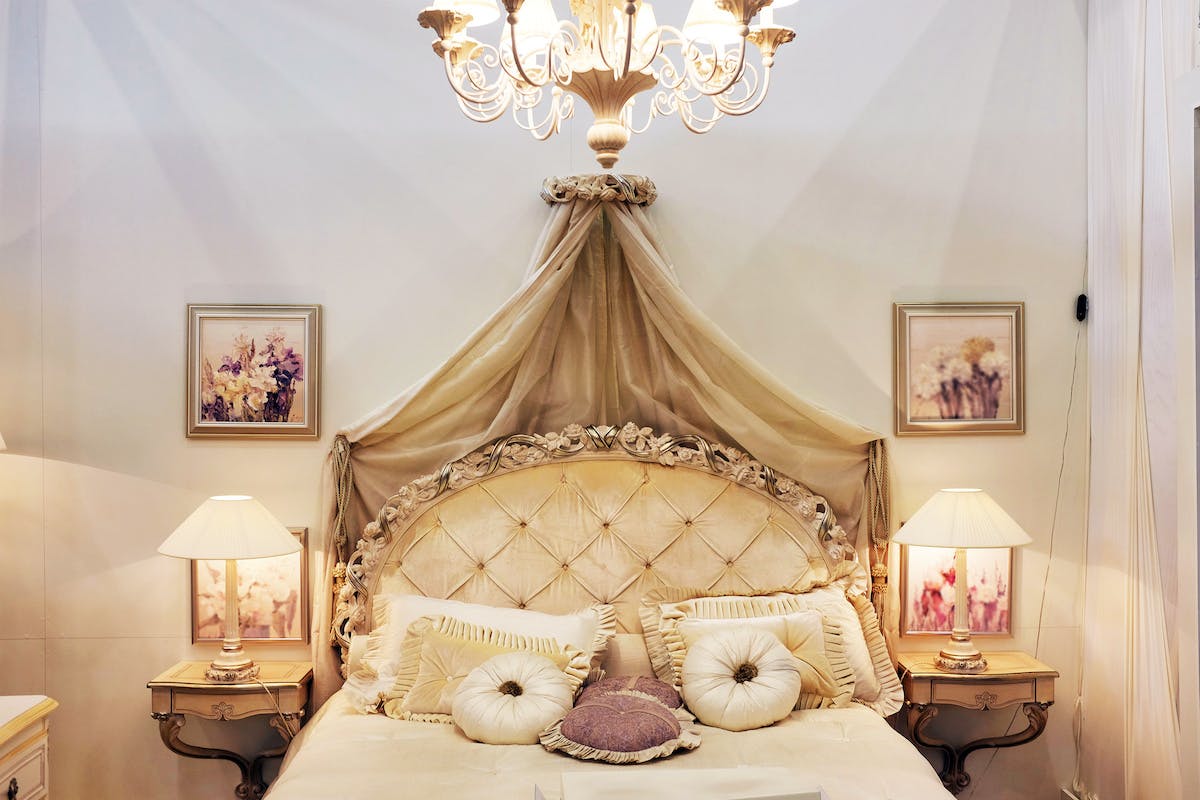 Interested in a design style that's classic like mid-century modern but just a bit fancier? Take inspiration from the Victorian era with a lavish four-poster bed, ornamental patterns on your walls, or lavish textiles.
This style uses a jewel-tone color scheme and textures like velvet and satin for an elevated look. It also traditionally uses darker-colored wood, long curtains, and lots of drapery.
5 extra bedroom styling tips to help create a cozy sleeping space
Sometimes, taking inspiration from a specific bedroom style isn't enough to make your bedroom feel complete. Luckily, all it takes are some tips and tricks to finish off your design (or redesign) to make your space feel fresh, cozy, and tailored to you.
Here, we give you five extra bedroom styling tips that'll turn your bedroom into the ultimate sleep space.
1. Switch up your color palette
There's nothing more boring than an all-white bedroom. Now, this doesn't mean white can't make your bedroom look and feel good—but it doesn't hurt to experiment with a new color scheme that could make your space feel more you.
From bright colors to pastels, to black and white and neutrals (and everything in between)—the possibilities are endless.
While adding some color to your bedroom can seem daunting, it's actually pretty easy to do. You can add color to your space with decor pieces like light fixtures, area rugs, and cozy bedding.
You can also change up the color of your walls or try adding an accent wall to make the room feel more complete. (Here are our top paint color trends for inspiration.)
2. Add fun throw pillows to your bedding
Another great way to elevate your bedroom style is to incorporate fun throw pillows into your bedding. Throw pillows are versatile and can fit into any interior design style. They're meant to add more texture to your sleep space, but they can still be super cozy.
Throw pillows can work in any bedroom setting and are useful all year. You can purchase multiple pillow covers to change out colors and themes based on the season (or just whenever you feel like you need a refresh).
3. Take advantage of natural light
Besides a new color palette and throw pillows, natural light can do wonders in your bedroom to make it feel homey. We recommend you take advantage of natural light, especially in small bedrooms, to make your room feel spacious.
Position your bed frame in a place that gets the most natural light, and use mirrors to reflect light across the full bedroom. This can help you feel more energized throughout the day and even help improve your mood.
Suppose you don't have a bedroom that's properly positioned for natural light (or you don't have any windows)—you can also use chandeliers, sconces, or other light fixtures to replicate the same effect in your bedroom. (Check out these bedroom lighting tips for more advice.)
4. Swap out your duvet cover seasonally
Another tip to consider when looking to upgrade your bedroom is to swap out your
duvet cover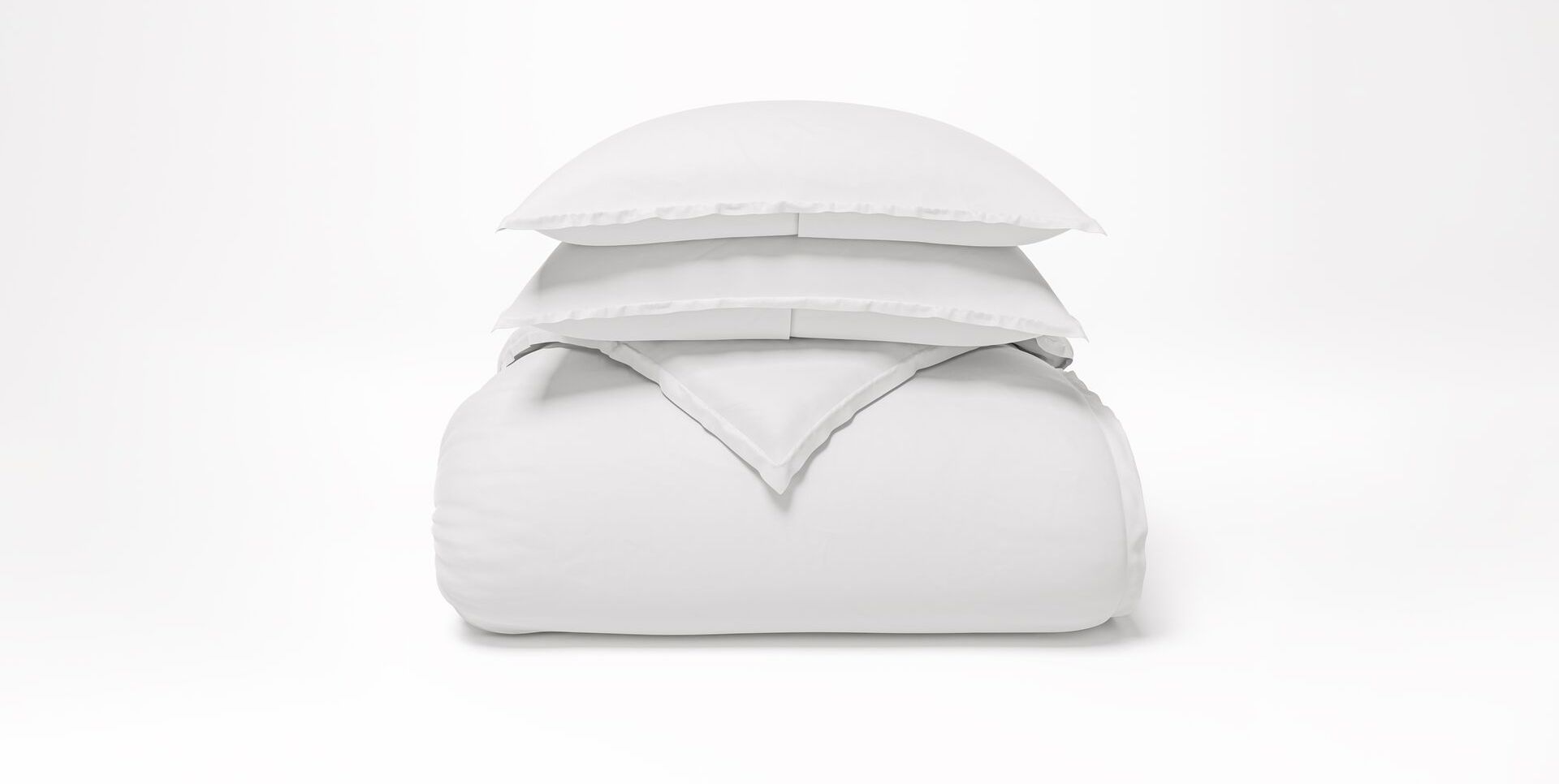 Organic Percale Duvet Cover Set
Crisp and cool organic cotton duvet cover and shams
seasonally. You can use transitional design elements in the rest of your room that will work in any season as well.
Changing your duvet cover is incredibly easy and allows you to refresh your bedroom look without spending a whole lot of money. In fact, duvet covers can be fairly inexpensive when compared to other bedroom decor items.
Plus, you can match your throw pillows and other small elements to the new duvet cover design.
5. Don't forget the artwork
Last but not least, find yourself some valuable artwork. Valuable doesn't have to mean most expensive—it's just whatever you deem significant to you or something you'd enjoy looking at every day that would match your interior design style and personality.
You can use it to highlight certain elements in your bedroom, play into your color scheme, or act as a cohesive element to the bedroom design.
Empty walls can be intimidating to start with—but finding a few art pieces you really love can be a great start to making your bedroom not only feel refreshed but also more you.
Give your bedroom a makeover with these Saatva mattresses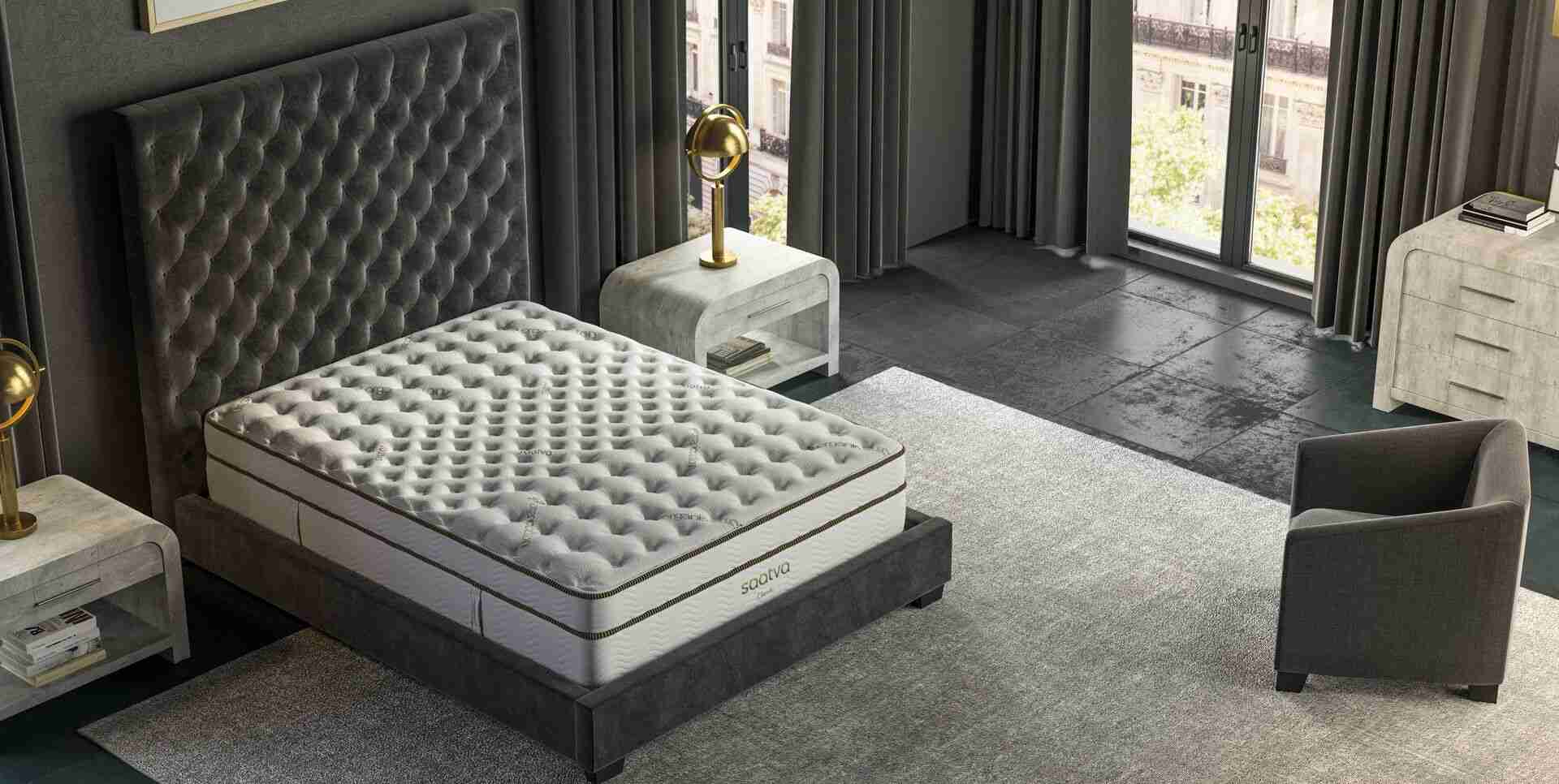 Our flagship luxury mattress is expertly engineered with coil-on-coil construction for durability, a layer of memory foam for enhanced back support, and a cushiony Euro pillow top for extra comfort.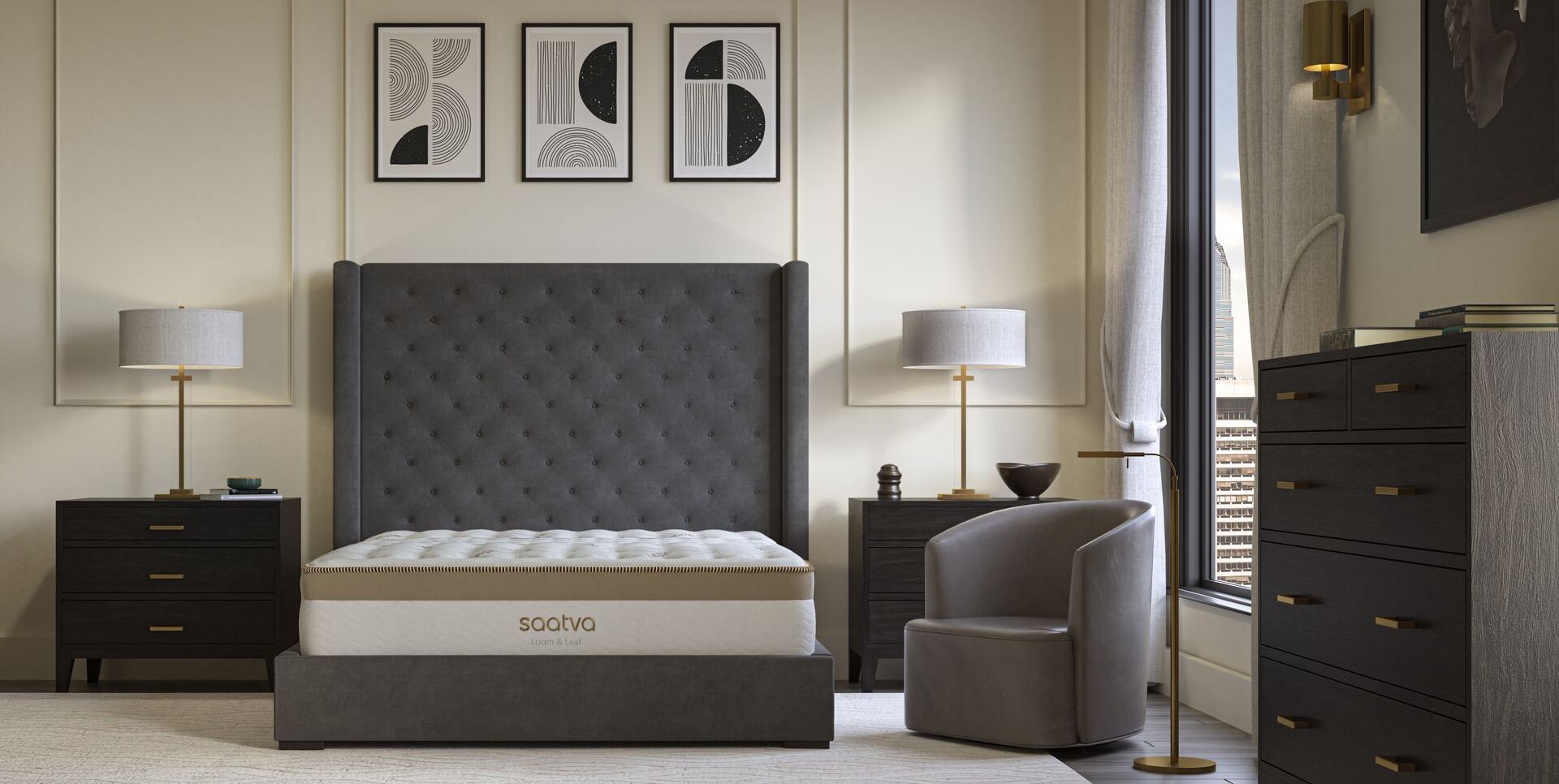 Premium memory foam, handcrafted in the U.S. with eco-friendly materials. Breathable organic cotton, cooling spinal gel, and layers of high-density support foam assure a cool, comfortable night's sleep.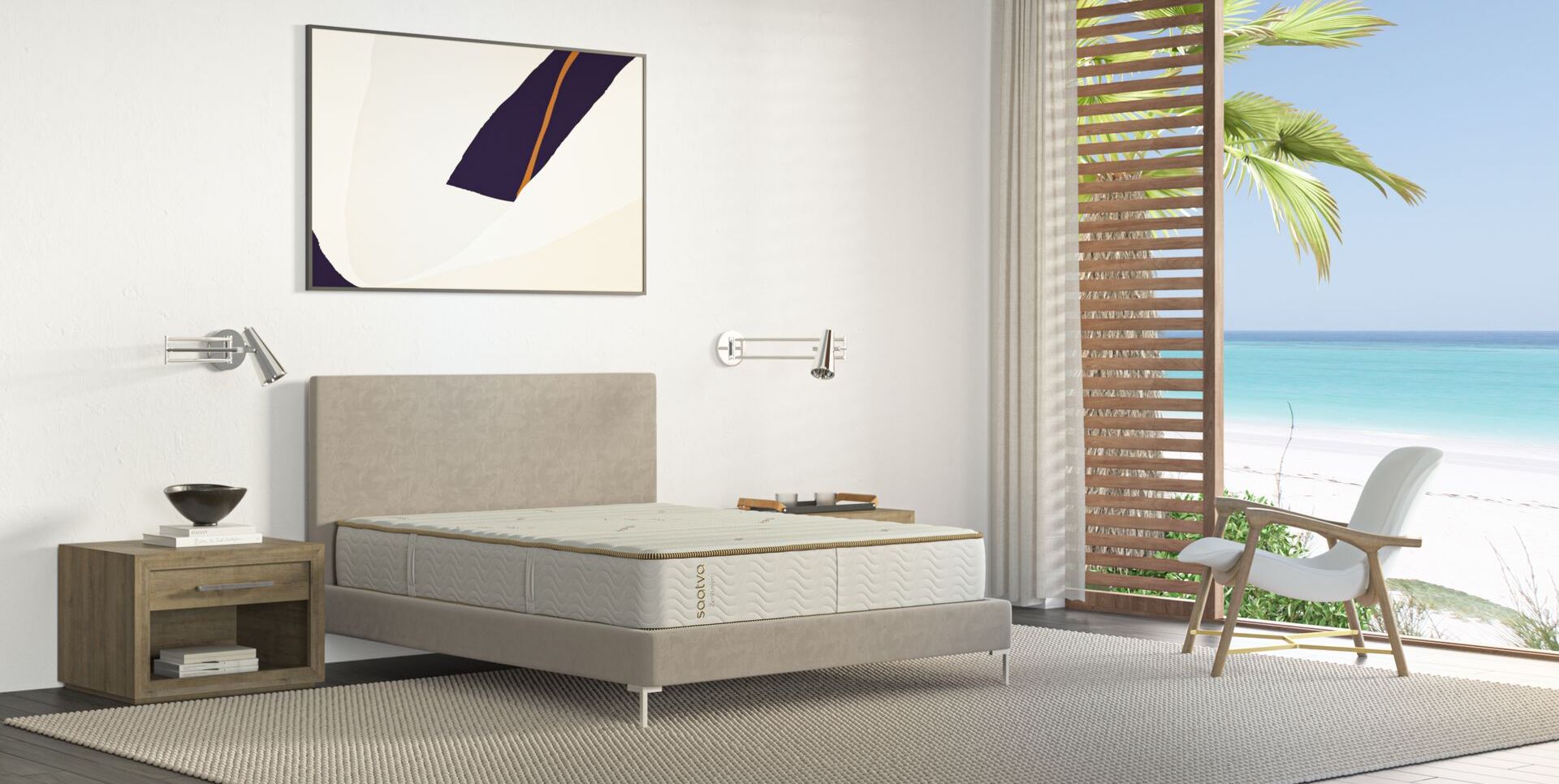 Natural latex responds to every curve for pressure-free support and responsive comfort. Natural latex is supple, resilient, and durable, for the ultimate in elevated sleep. (It's naturally hypoallergenic too.)
Upgrade your bedroom space with Saatva
Upgrading your bedroom design is a nice way to refresh the way your sleep space looks and feels. But it's important you don't neglect the quality of your sleep either.
With Saatva, not only can you find beautiful bedding and bedroom accessories that can elevate the design of your sleep space, but you can also upgrade your mattress and pillows for an even dreamier experience. Call it sleeping in style.
Saatva offers a variety of high-quality mattresses and bedding tailored to your sleep needs so you can get better shuteye. Plus, all of our mattresses come with a 365-night home trial so you can try one out before deciding if it's right for you.
Take our online mattress quiz to find out which of our mattresses is your perfect match.