Breakfast-in-bed is a fun and thoughtful gesture to show loved ones you care and appreciate them. After all, life is hectic and stressful—and far too often, breakfast is grab-and-go or skipped entirely. Whether it's Valentine's Day, Mother's Day, a birthday, or just a random Tuesday, serving someone breakfast-in-bed will give that special person in your life a leisurely, relaxed start to their day.
How to create the perfect breakfast-in-bed
Before getting started, here are a few simple tips to keep in mind:
Prep what you can ahead of time or choose recipes you can make the night before for a stress-free morning.
Keep it neat! A tray with a handled rim will help in case of a spill. If you don't have a tray, a rimmed sheet pan lined with a nice tea towel will work.
Carry beverages separately to avoid an awkward balancing act.
Personalized details like sourcing special ingredients or re-creating a dish from a favorite restaurant or moment in time can make the gesture extra meaningful.
Above all, take time to relax and connect. (Here are overnight breakfast recipes you can make ahead.)
Now that you know how to prep breakfast-in-bed like a pro, we're sharing breakfast-in-bed ideas specifically for Valentine's Day, Mother's Day, and Father's Day—as well as delicious recipes you can whip up anytime.
Romantic breakfast-in-bed ideas for Valentine's Day
Feeding someone is a love language, so prepare something special for your sweetie and take the time to truly relax, connect, and enjoy the meal—it's your holiday too.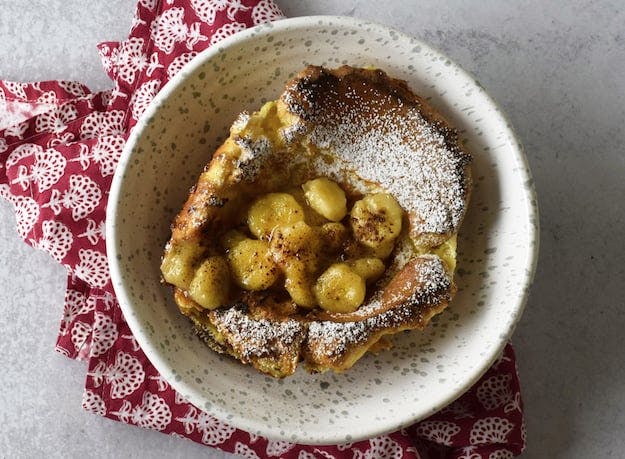 Photo by Alisha Hidalgo
Mini Dutch baby with caramel bananas
Puffy Dutch baby pancakes are glorious to behold but not conveniently sized for breakfast-in-bed. This smaller version is easy to make and just as impressive, with luscious bananas in brown sugar caramel.
Serves 2
Prep time: 10 minutes
Total time: 30 minutes
Special equipment: blender
Ingredients:
2 ripe bananas, cut in ¼-inch slices
2 tablespoons brown sugar
Kosher salt
75 grams all-purpose flour (about ½ cup)
2 large eggs
½ cup whole milk
½ teaspoon vanilla extract
4 tablespoons unsalted butter, divided into single tablespoons
Wedge of lemon
Icing sugar, for garnish (optional)
Steps:
Preheat oven to 475 degrees F.
In a small saucepan off the heat, add bananas, brown sugar, and a pinch of salt; gently turn to coat. Set aside.
Melt 2 tablespoons of the butter. To the jug of a blender, add flour, eggs, milk, vanilla, pinch of salt, and melted butter. Blend on high speed until smooth, stopping to scrape down the sides of the blender once, about 30 seconds.
Add a tablespoon of the remaining butter to a small, ovenproof skillet or cast-iron pan (about 6 or 7 inches diameter) and heat over medium-high until foamy. Carefully pour in the batter then immediately put the pan in the oven and bake until puffed and set, about 16 to 18 minutes.
During the last five minutes of baking, add the remaining tablespoon of butter to the banana/sugar mixture and place over medium-high heat, cooking until caramel is bubbly, about three minutes. Remove from heat and add a squeeze of lemon juice, then turn gently.
Remove the Dutch baby from the oven and dust with powdered sugar, if using. Top with bananas and caramel. Serve with butter and syrup, if desired.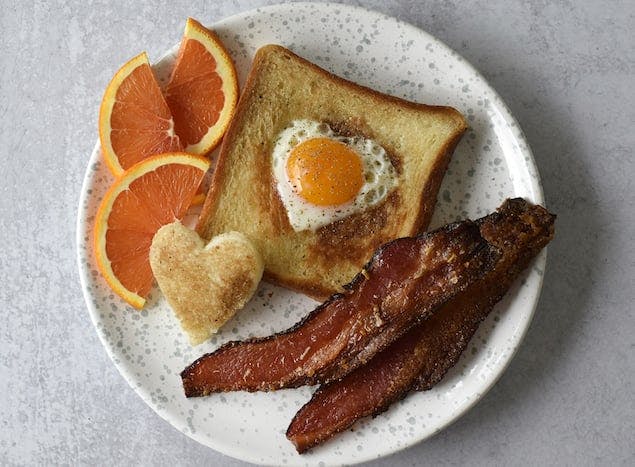 Photo by Alisha Hidalgo
Egg in a heart with candied bacon
A heart-shaped cookie cutter adds a Valentine's Day touch to this breakfast staple, while candied bacon is the perfect sweet and smoky partner.
Serves 2
Prep time: 10 minutes
Total time: 30 minutes
Ingredients:
6 slices thick-cut bacon
¼ cup light brown sugar
½ teaspoon fennel seed, coarsely ground (optional but recommended)
2 tablespoons unsalted butter
2 thick slices of bread, like shokupan, brioche, or challah
2 large eggs
Kosher salt and freshly ground black pepper
Steps:
Preheat oven to 350 degrees F.
Set a wire rack over a rimmed baking sheet lined with parchment paper or foil. Place the bacon in a single layer on the rack without overlapping slices. Distribute half of the brown sugar evenly among the slices of bacon and spread using the back of a spoon. Season with half of the fennel seed, if using.
Bake for 10 minutes, then turn each slice of bacon and apply the remaining sugar and fennel. Continue to bake until bacon is crisp and all the sugar has melted into a shiny glaze, about 10 to 15 minutes. Remove from the oven and allow to cool on the rack.
Using a 2- or 3-inch heart-shaped cookie cutter, cut the centers out of each slice of bread. To a large skillet over medium-high heat, add the butter. When foamy, add bread and crack an egg into the center of each heart cut-out; season with salt and pepper. Cook until egg whites are starting to set up and bread is golden brown (use the heart shapes to gauge browning) then carefully turn with a spatula and continue cooking until eggs reach desired doneness.
Serve immediately with candied bacon on the side.
Grapefruit mimosa
A simple mimosa will cut through the richness of a decadent breakfast. If grapefruit isn't your thing, try Cara Cara, blood orange, or even tangerine juice. (You can also stir up one of these mocktails.)
Serves 2
Prep time: 5 minutes
Total time: 6 minutes
Ingredients:
Pink sanding sugar, for rims
¼ cup freshly squeezed grapefruit juice
1 half bottle sparkling wine, chilled
Steps:
Place a few spoons of sanding sugar in a small saucer. Run a little piece of the grapefruit around the rim of two champagne flutes, then dip into the sugar.
Divide the grapefruit juice between each glass then top off with sparkling wine. Serve immediately.
Gracious breakfast-in-bed ideas for Mother's Day
Mother's Day is a wonderful time to show the maternal figures in your life just how much you appreciate them. A lovingly prepared breakfast-in-bed is a thoughtful treat for someone who is usually a caretaker. Here are a few simple but impressive recipes to get you started.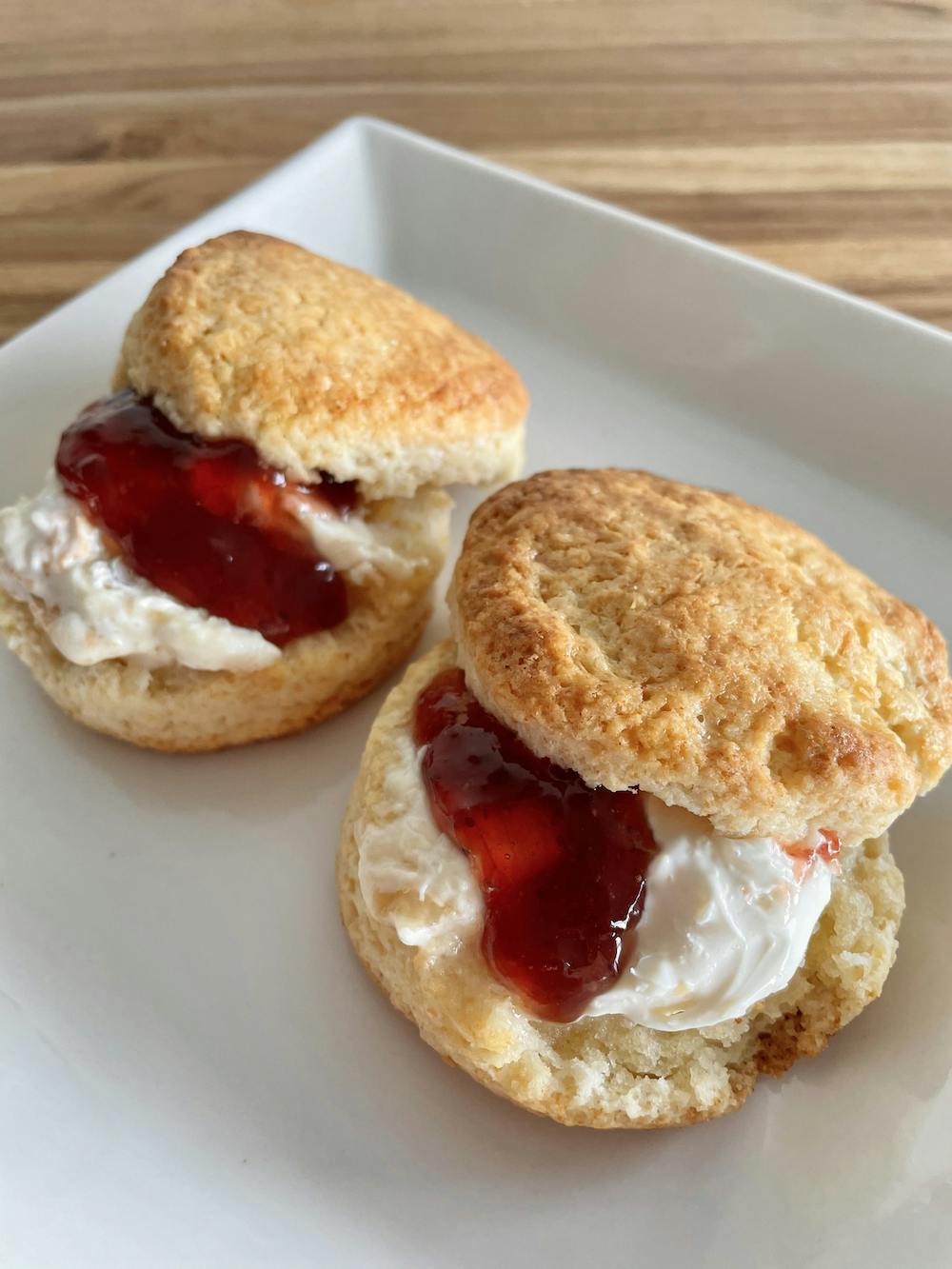 Photo by Alisha Hidalgo
Classic British scones with cream and jam
Warm scones are a wonderful treat and take almost no time to put together, so bake them fresh just before serving.
Makes about 8 scones
Ingredients:
230 g cake flour, plus more as needed
2 tablespoons sugar
2 teaspoons baking powder
½ teaspoon kosher salt
5 tablespoons unsalted butter, chilled, cut into cubes
1 egg, lightly beaten
½ cup heavy cream, plus more as needed
Clotted cream, for serving
Jam or preserves, for serving
Steps:
Preheat oven to 450 degrees F.
To the bowl of a food processor, add cake flour, sugar, baking powder, and salt; pulse to combine. Add butter and pulse until the mixture resembles coarse crumbs. Add egg and ¾ of the cream, pulse a few times to form a cohesive dough, and add the remaining cream if necessary. The dough should be a bit sticky. If it's dry or crumbly, add a bit more cream one teaspoon at a time until it comes together.
Turn out the dough onto a lightly floured work surface and press into a rectangle, about 1-inch thick. Cut scones with a floured 2-inch biscuit cutter, pressing straight down, being careful not to twist the cutter. Place the rounds on a parchment-lined baking sheet, about 2 inches apart. Dough scraps can be gently patted together and cut as well. Brush the tops of the scones with cream.
Bake for 10-11 minutes until golden. Serve warm with clotted cream or butter, and jam.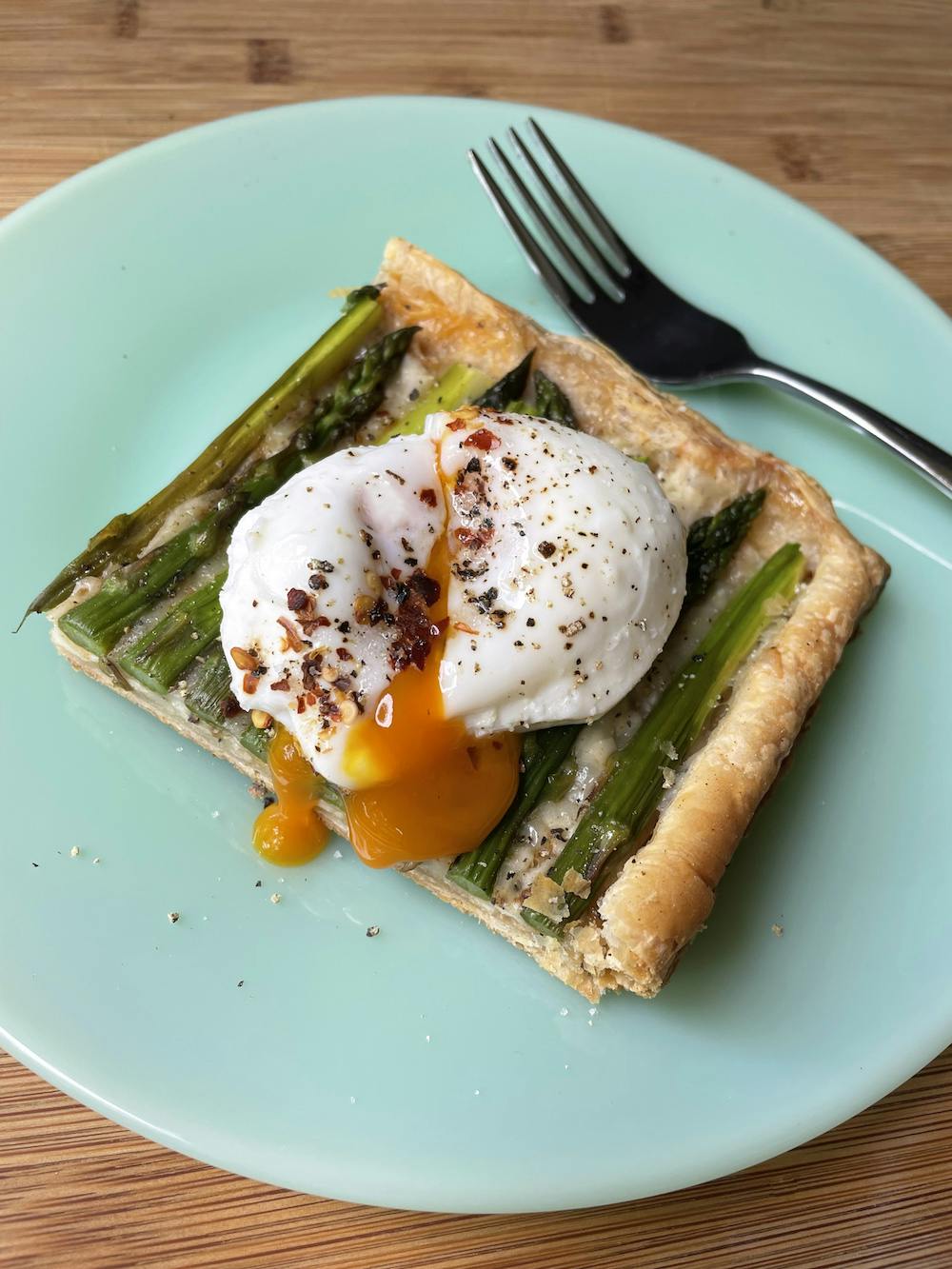 Photo by Alisha Hidalgo
Asparagus tart with poached eggs
Mother's Day coincides with asparagus season, making it the perfect time for this easy yet impressive tart. Bake the tart a day ahead and reheat while you poach the eggs.
Serves 4
Ingredients:
1 sheet frozen all-butter puff pastry, thawed
2 ounces Gruyere cheese, grated
3 ounces aged white cheddar, grated
1 pound medium asparagus
Smoked paprika, to taste
Freshly ground black pepper, to taste
4 pasture-raised eggs
1 tablespoon vinegar
Flaky salt, for serving
Red pepper flakes, for serving (optional)
Steps:
Preheat oven to 400 degrees F.
On a lightly floured work surface, gently roll the puff pastry into a 10 x 12 inch rectangle. Place the pastry on a parchment-lined baking sheet. Using a sharp paring knife, score a ¾-inch border around the perimeter, then, using a fork, dock the inner rectangle in ½-inch intervals. Par-bake until lightly golden, about 15 minutes.
While the pastry is par-baking, bring a saucepan of salted water to a boil and prepare a bowl of ice water. Trim the woody ends of the asparagus and remove the last few inches of tough skin with a vegetable peeler. Blanch the asparagus for about 20 seconds, then place the spears in the ice water bath to halt the cooking process.
Remove pastry from the oven and using the back of a fork, gently press down the inner section of the shell. Sprinkle the cheeses evenly over the pastry and season with smoked paprika and pepper. Arrange the asparagus in a single layer over the cheese, alternating ends and tips. Bake until asparagus is tender and the pastry is fully golden and crisp, 20 to 25 minutes.
When ready to serve, poach the eggs: Bring a medium saucepan of water to a bare simmer and add the vinegar. Crack one egg into a small bowl, then tip into a fine mesh strainer. Carefully swirl egg around the strainer, so any loose whites can drop through. Gently tip egg into water. Swirl gently with a spoon, just until the egg begins to set, about 10 seconds. Repeat straining and tipping with remaining eggs. Cook, swirling occasionally until egg whites are fully set but yolks are still soft, about four minutes. Carefully lift eggs from pot with a slotted spoon.
Serve a slice of tart topped with an egg. Offer flaky salt, freshly ground black pepper, and red pepper flakes for seasoning.
Thoughtful breakfast-in-bed ideas for Father's Day
This Dad's day, celebrate the father figures in your life with a lovingly crafted breakfast-in-bed. Show them how much you care with a little doting and a few delicious dishes. Here are a few fun and easy recipes to get you started.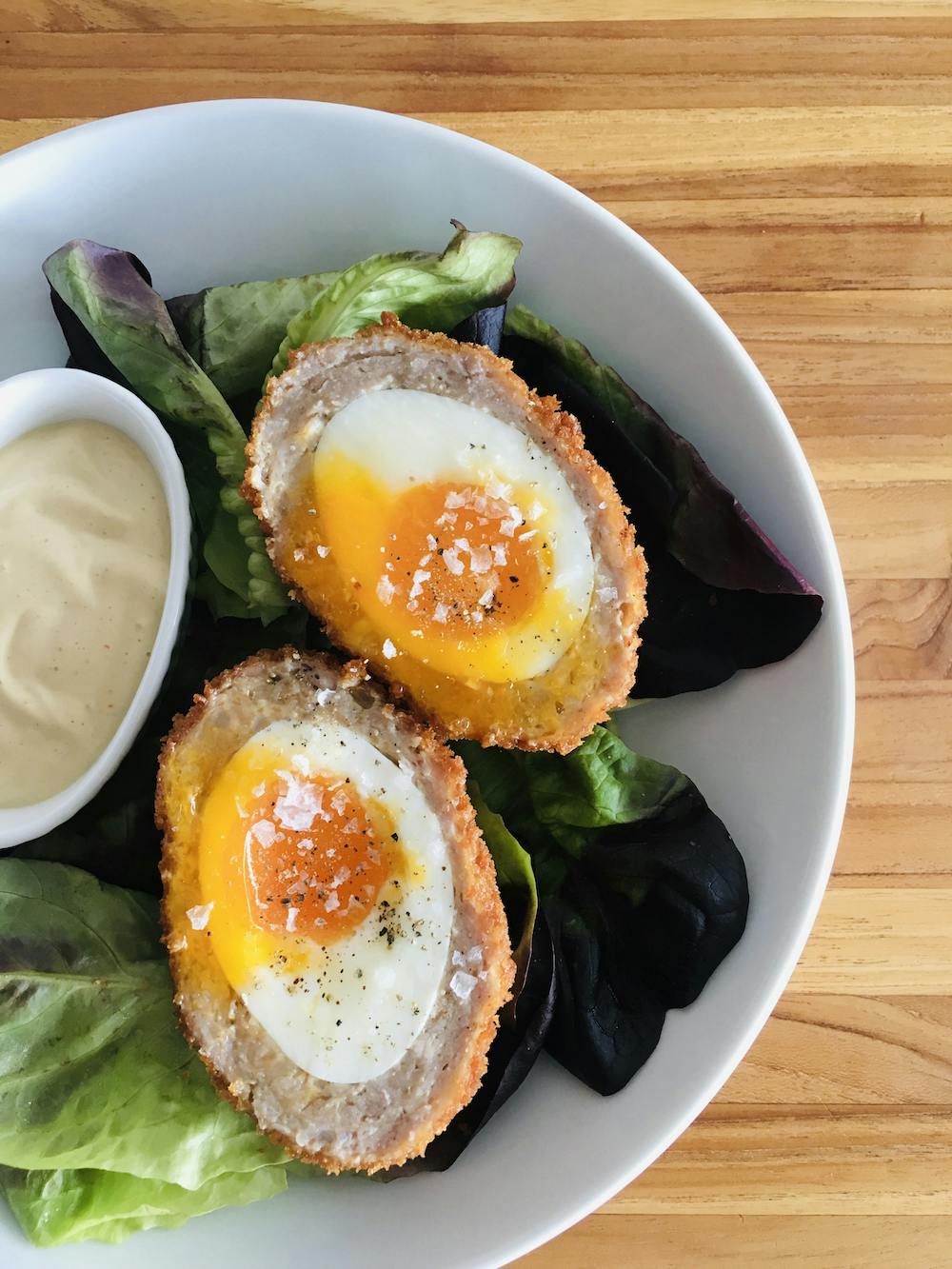 Photo by Alisha Hidalgo
Scotch eggs
While Scotch eggs were originally a picnic food, savory sausage, jammy eggs, and a crispy breadcrumb coating tick all the right boxes for a tasty breakfast or brunch.
Serves 2
Ingredients:
3 pasture-raised eggs, divided use
7 ounces sausage meat
2 tablespoons finely chopped chives
¼ teaspoon smoked paprika
⅛ teaspoon freshly grated nutmeg
Freshly ground black pepper
¼ cup flour
½ cup panko breadcrumbs
Peanut oil, for frying
Flaky salt, for serving
Red pepper flakes, for serving, optional
Mustard Sauce (optional)
2 tablespoons Dijon mustard
1 tablespoon mayonnaise
1 tablespoon sour cream
Hot sauce, to taste
Salt and freshly ground black pepper, to taste
Steps:
Bring one inch of water to a boil in a medium saucepan with a tight-fitting lid. Carefully place two of the eggs in the water, being mindful not to crack them. Put the lid on and set a timer for six minutes. When the timer goes off, bring the pan to the sink and run cold water over the eggs until cool. Set aside.
To a medium bowl, add sausage meat, chives, paprika, nutmeg, and pepper; mix to combine.
Set up three bowls for dredging. Add flour to bowl one, the remaining egg (beaten) to bowl two, and the panko breadcrumbs to bowl three.
Carefully peel eggs and dry well with a paper towel. Divide the sausage mixture into two portions and flatten each into a half-inch disk. Place an egg in the center of each disk and gently fold the sausage meat around the egg, using wet fingers to completely encase the eggs and smooth the sausage into an even layer.
Dredge each sausage ball in flour, then egg, then breadcrumbs, and set aside. Heat about three inches of oil in a medium saucepan to 340 degrees F. Carefully place Scotch eggs into the oil and fry, turning often, until coating is evenly golden brown and sausage mixture is cooked through, about six minutes. Carefully remove them with a slotted spoon and drain them on paper towels.
While the eggs are resting, stir together all ingredients for the mustard sauce, if using.
Using a sharp knife, slice Scotch eggs in half and serve immediately. Offer flaky salt and red pepper flakes, for seasoning.
Photo by Alisha Hidalgo
Sweet potato biscuits
These biscuits are like perfectly spiced pillows of love. Roasted yam keeps the biscuits moist and gives them a hearty yet tender texture. Serve with honey butter for extra credit.
Makes about a dozen
Ingredients:
1 medium garnet yam
300 grams all-purpose flour
2 packed tablespoons brown sugar
2½ teaspoons baking powder
½ teaspoon baking soda
1 teaspoon kosher salt
¾ teaspoon ground cinnamon
½ teaspoon ground ginger
½ teaspoon freshly ground nutmeg
1 stick (8 tablespoons) unsalted butter, chilled, cut into cubes
¾ cup buttermilk, plus more as needed
1 tablespoon melted butter, for brushing
Honey Butter (optional)
Makes about ⅔ cup
1 stick (8 tablespoons) unsalted butter, softened
2 tablespoons honey
Pinch kosher salt
Steps:
The night before you plan to bake, roast the yam. Pierce with a paring knife several times and roast at 350 degrees F, until soft, about 45 minutes. Chill in the fridge overnight.
Preheat oven to 450 degrees F.
Peel yam (skin should come off very easily) and press through a ricer into a medium bowl. If you don't have a ricer, mash the yam very finely with two forks. Stir in buttermilk and mix well. Chill mixture until ready to use.
In a large bowl, whisk together flour, brown sugar, baking powder, baking soda, salt, cinnamon, ginger, and nutmeg. Add chilled butter cubes, tossing to coat in the flour mixture. Using a pastry knife or your fingers, cut in the butter until the mixture resembles very coarse crumbs with some pea-sized chunks. Add the yam/buttermilk mixture and gently fold in to create a shaggy dough.
Turn the dough out onto a lightly floured work surface and pat into a one-inch thick rectangle. Using a floured, three-inch biscuit cutter, cut biscuits pressing straight down without twisting and arrange on a parchment-lined baking sheet at least two inches apart.
Bake for 15-17 minutes, until golden brown and cooked through. When just out of the oven, brush the tops with melted butter. Serve warm with honey butter on the side, if using.
To make the honey butter, stir together butter and honey in a small bowl until evenly combined and completely smooth. Season to taste with salt, stirring well. Chill until ready to use.
Breakfast-in-bed ideas you can enjoy any day of the year
You don't have to wait until Valentine's Day or another holiday to treat your significant other to breakfast-in-bed. These easy breakfast-in-bed ideas can be enjoyed year-round.
Chorizo hash and eggs
Crispy potatoes, smoky sausage, and baked eggs are an excellent start to the day. This epic breakfast feast from J. Kenji Lopez-Alt is packed with spicy chorizo, green chilies, and topped with avocado.
Stuffed French toast
Level up French toast with fillings like fruit, sweetened cream cheese, or even a chocolate spread. This French toast recipe from Jerrelle Guy is stuffed with homemade blackberry compote and dusted with powdered sugar that she says is reminiscent of a jelly doughnut. Yes, please.
Quiche with hash brown crust
Quiche may seem old-fashioned, but a crispy hash brown base gives the classic dish a tasty update. With creamy egg custard, two kinds of cheese, smoky bacon, and golden potatoes, this savory quiche recipe from Maki Yazawa ticks all right boxes.
Fancy oatmeal
Oatmeal is already a warm hug in a bowl, but creative mix-ins make it extra special. From spiced honey to toasted coconut to candied bacon, the combinations are endless. This oatmeal recipe by Aaron Hutcherson has silky pumpkin, warming spices, and walnuts—but the real star is fresh pomegranate seeds which add sweet-tart flavor and a pop of pink.
Eggs Benedict
Homemade Eggs Benedict is always impressive, and it's easier than you'd think. Use these clever, time-saving hacks for perfectly poached eggs and decadent hollandaise on-the-fly from Recipe Tin Eats.
Homemade granola
Freshly baked granola, yogurt, and seasonal fruit thoughtfully layered in a lovely glass can be special occasion-worthy. This turmeric and honey granola from the blog My Moroccan Food is beautifully spiced easy to make.
Skillet omelet
The genius of skillet omelets is being able to pack in tons of delicious fillings without having to fold or flip. This one-pan wonder from the duo at Food Heaven is full of flavor, looks beautiful, and is healthy to boot.
FAQs
What can you do for breakfast-in-bed?
There are a lot of breakfast-in-bed ideas you can try. Popular options include biscuits, omelets, fancy oatmeal, and quiche.
Is breakfast-in-bed romantic?
Breakfast-in-bed is definitely romantic. It's a nice way to show your partner you care about them on Valentine's Day or any other day of the year. Let your loved one sit back and relax while you prepare something special for them.
How do you make breakfast-in-bed for your mom?
If you're looking for breakfast-in-bed recipes for Mother's Day, you can't go wrong with classic scones with cream and jam. An asparagus tart with poached eggs is also a nice option. Breakfast-in-bed is a thoughtful treat for someone who spends most of their time caretaking.
Smoothies are refreshing, tasty, and an easy way to get lots of nutrients. Here are the best smoothie recipes to start and end your day.