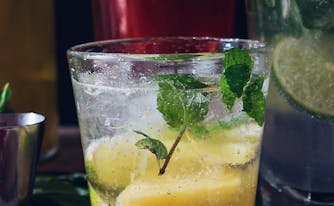 9 Booze-Free Cocktails That Won't Ruin Your Sleep
It's a tale as old as happy hour. You go out for a couple of cocktails with friends, come home after a great time, and fall blissfully asleep...only to wake up an hour later and spend the rest of the night staring at the ceiling.
Health experts are pretty much all in agreement: Booze can wreak havoc on your rest, robbing you of deep sleep or making problems like insomnia, sleep apnea, or sleepwalking worse. If getting more Zs is on your list of resolutions for 2019, you may have already decided to steer clear of drinks in the new year.
And that's not the only reason you may want to say buh-bye to alcohol—whether you're participating in dry January or just want to make it easier to hit your fitness goals. The good news: The rise of creative "mocktails" means you won't have to say no to fancy, satisfying, and delicious drinks.
"We really like to provide mocktail versions of almost every specialty cocktail on our menu," says Andy Maturana, the head mixologist and owner of catering and events company RAPT. "It's always a treat for guests who are either [not drinking], pregnant, assigned designated driver, or underage to be able to enjoy the same flavors as everyone else."
The secret to a good mocktail
What makes for a good mocktail? "The biggest mistake made with mocktails is approaching them like an afterthought or second-rate option rather than a high-quality beverage with a great recipe," Maturana says. "An awesome mocktail should look and taste delicious with vibrant, complex flavors, good ice, and proper glassware."
When it comes to non-alcoholic sips, Maturana only has one rule: "Drink irresponsibly." Ready to give some booze-free beverages a try? Here are nine mocktails that won't ruin sleep or mess up your resolutions.
1. Strawberry margarita mocktail
It might be frigid outside, but you can still pretend that you're kicking back on a warm and sunny tropical island with this strawberry-centric beverage. Its vibrant color and sweet-meets-sour taste will keep you coming back for more. The refreshing concoction from Sober Julie has all the flavor you want without being overly saccharine.
2. Ginger basil grapefruit mimosas
Almost nothing goes together better than brunch and mimosas. In this take from onetwosimplecooking.com, ginger soda and grapefruit take the place of orange juice and champagne for a perfect companion to your Sunday morning eggs and bacon.
3. Non-alcoholic mojito
Want to show your mixing prowess? Then this mojito is for you. Muddle up some mint, add in a blend of juices over crushed ice, and top with the most Instagrammable drink stirrer you can find. Head over to Fab Food 4 All for the step-by-step guide.
4. Shirley Temple
A classic that stands the test of time. This fizzy and sweet concoction of grenadine and 7-Up from Culinary Hill reminds us what it's like to sit at the kiddie table again, if only for a moment.
5. Cotton candy mocktail
This drink from Juggling Act Mama is beyond pretty in pink. Pour sparkling pink lemonade or other pink soda (or rose-colored juice and seltzer) into a chilled glass and then top with a puff of cotton candy. The circus was never like this!
6. Crockpot hot apple cider
The holidays might be over, but the time for cozy and festive drinks isn't. Put your slow cooker to work to make this spicy and warm cider from Gimme Some Oven and raise a mug to sticking to your 2019 goals!
7. Sparkling cranberry kombucha mocktail
No sweet tooth needed to enjoy this kombucha-based beverage from The Real Food Dietitians. Tart cranberry juice plays well with muddled ginger and rosemary for a fizzy booze-free refreshment. As an added bonus, kombucha has a host of beneficial probiotics and antioxidants—so every sip brings you one step closer to a healthier gut.
8. Non-alcoholic sangria
The best part of drinking sangria is loading up your glass with all the fruit that can fit. A pitcher of the virgin drink with blueberries, strawberries, apples, and oranges is a surefire crowd pleaser. Head to The Anti-June Cleaver for the recipe.
9. Cucumber ginger mocktail
There's a reason cucumber water is associated with a relaxing, spa-like atmosphere: It just makes you feel ready to unwind. This mocktail from 40 Aprons is a cool, quenching upgrade of the wellness center staple. Massage unfortunately not included (but at least this mocktail won't ruin your sleep!).
Another one of the biggest health trends for 2019: the ketogenic diet. Before you try it, learn all about how keto affects your sleep.