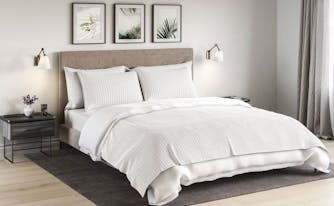 Comforter vs. Blanket: Which One Is Right For You?
It's no secret that optimal sleep provides you with the energy you need to live each day to its fullest. The right bedspread can go a long way toward ensuring comfortable sleep. 
Finding the right bedspread ultimately depends on your needs and preferences. Below, we explain the key differences between comforters and blankets (two popular types of bedspreads) to ensure you choose the best one for you. 
Key differences between a comforter vs. blanket
There are several key differences between comforters and blankets to keep in mind before buying a new top layer of bedding. 
For example, comforters are filled with down or synthetic fibers for added warmth, while blankets don't have any filling and tend to not be as warm. Comforters are also usually harder to care for and come with a higher price tag than blankets.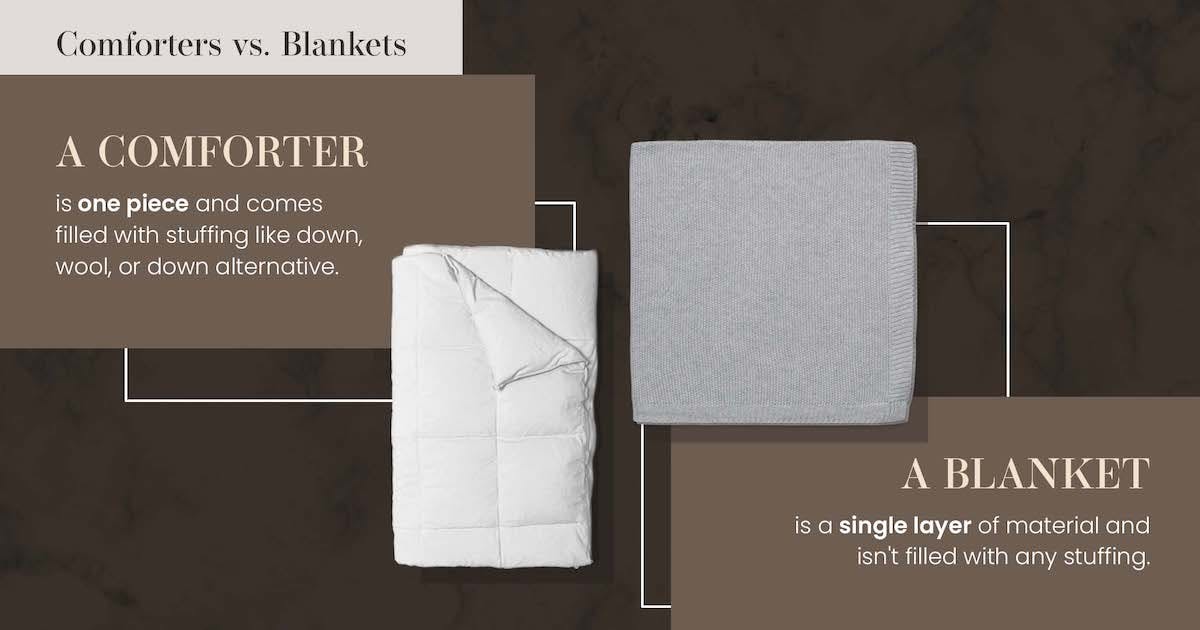 The most common differences between comforters and blankets include: 
Filling material
Maintenance
Resistance to dust mites and other allergens
Price
Warmth level
All of these factors play a role in determining which bed covering is best for your sleeping habits and lifestyle. 
Filling material 
One of the main differences between comforters and blankets is the filling material. Blankets are usually composed of a single layer of fabric, while comforters are generally filled with down feathers or a down alternative. 
You can find blankets made out of a variety of materials, including cotton blankets, microfiber blankets, fleece blankets, and even cashmere blankets. These types of blankets are best suited for warm sleepers because they don't have filling material.  
On the other hand, down comforters are known for their incredible warmth. You can also find comforters filled with synthetic fibers. These will also keep you warm throughout the night. 
If you tend to sleep on the cooler side during the night, then this type of bedding may be best suited for you.
Maintenance 
Comforters and blankets have different maintenance and care routines, depending on the type of fabric and filling. Always check the label for the proper care instructions. 
For example, some comforters are machine washable while others are dry cleaning only. However, most throw blankets are machine washable (although you should always double-check the maintenance tag in case there are any special instructions). 
Comforters are typically higher maintenance when it comes to caring for them. It can be challenging to keep comforters fluffy during the wash cycle. To help keep your comforters fluffier and reduce lumping, try putting clean tennis balls in the washing machine with them. 
Blankets, on the other hand, tend to be lower maintenance depending on the material you choose. 
Resistance to dust mites and other allergens 
If you have allergies, it's important to keep the fabric of your bedding in mind since certain materials are more prone to attracting allergens than others. 
While comforters with down or down alternative filling do an excellent job of keeping you warm, they can also trap dust mites and other allergens. This could potentially make your allergy symptoms worse. 
Many woven fabric blankets (like ones made out of cotton) tend to be hypoallergenic because the tight weave keeps away dust mites and other allergens. They may be a better option for you if you suffer from bad allergies. 
Price 
Blankets and comforters are available at different price points, which could be a large factor in determining what type of bedding is best for you. 
Comforters vary in price depending on the material and filling you choose. They usually start at $50 and can go up to hundreds of dollars. That said, you can often find a matching set that comes with a top sheet, fitted sheet, and matching pillowcases. 
On the other hand, blankets tend to be more affordable than comforters as they consist of a single piece of fabric and aren't filled with insulating material. Layering a few blankets on top of each other could be a more cost-effective way to stay warm than getting a comforter. 
Note that specialty blankets, like electric blankets and weighted blankets, are usually more costly than your typical blankets. (Check out our guide to blanket sizes to find your perfect match.)
Warmth level
The warmth level of your bedding is one of the most important (if not the most important) factors to consider. That's because it'll have the biggest impact on your comfort during the night. 
Down comforters and down alternative comforters have excellent insulation properties. They tend to be on the warmer side so if you're looking for extra warmth throughout the night, then a comforter could be right for you. If you're someone who deals with overheating during sleep, though, a comforter may be too warm for you. 
Blankets are usually lighter and more breathable since they don't have filling. They're a great option for warm sleepers. You can add and remove blankets as needed for a more customized warmth level. 
Alternatives to blankets and comforters
Maybe you've decided that neither a comforter nor a blanket is the right option for you. Fortunately, there are a few alternatives to blankets and comforters on the market. These include:
Duvet cover
A duvet cover is a large cloth bag used to cover a duvet or comforter. Duvet covers come in a variety of colors and are extremely versatile so you can easily find one that complements your bed linens and bedroom decor.
Duvet covers are also less prone to dust mites and other allergens because the comforter is tightly zipped inside. They also protect the comforter inside from dirt and can easily be removed and cleaned regularly. 
Quilt
A quilt is a multi-layered type of blanket that has a small amount of filling between the layers. It makes a great bed topper but can also function as a blanket in a living room as well.
Quilts are the perfect middle option when deciding between a comforter and a blanket. The small amount of filling between layers allows for good airflow, while still offering additional warmth from the filling between layers.
If you think a comforter might be too stuffy for you but a blanket won't provide quite enough warmth, then a quilt may be a good bedding option for you to explore.
Shop high-quality bedspreads and bed sheets with Saatva
It can be difficult to find the perfect bed topper or bedspread to suit your needs with so many options on the market. If you're a person who tends to sleep cooler during the night, then a blanket or blanket alternative may be your best choice. But if you want a little extra warmth, then a comforter could be ideal for you. 
Saatva has a wide range of high-quality mattresses and bedding. We offer comforters, quilts, duvet covers, and more to keep you comfortable and cozy in bed. Check out our selection of products to upgrade your bedroom and get your best sleep.