Eco-friendly home design has been trending more and more in recent years and for good reason. Eco-friendly interior design not only benefits the environment but is good for your health too.
One of the best places in your home to incorporate eco-friendly design principles? Your bedroom, where you spend at least one-third of your day. Read on to discover more about eco-friendly interior design and how to give your bedroom a green makeover.
What is eco-friendly home design?
Shelly Lynch-Sparks, designer and principal of Hyphen & Co, specializes in eco-friendly interior design, which is sometimes also referred to as green design or sustainable design. She defines it as "minimizing the resources involved in construction and choosing eco-conscious materials with an emphasis on human health and the environment."
Lynch-Sparks elaborates on eco-friendly design and her work in this area by saying: "It's all about the materials we use in each space. We have to be conscious about how each material impacts the environment in the long term, what properties each material has, and whether or not it will off-gas or emit low levels of harmful toxins into the air."
For example, eco-friendly mattress foams, which contain a percentage of natural ingredients, meanwhile, won't off-gas harmful chemicals into the air.
The bottom line on why should you practice green interior design in your home: "It's simultaneously important for the longevity of our wellbeing and the environment's wellbeing," Lynch-Sparks says. "Like in other areas of life, by choosing to be eco-friendly in design, you're not only getting a healthier product for you, but you're ensuring that the result won't take too many resources or be a strain on our earth."
4 tips for bringing eco-friendly home design into the bedroom
When weaving green design into a bedroom, you're not only helping the planet and your health—you could be improving your sleep too.
"Clean and sustainable materials do not give off gas and can improve your life and sleep in the long term," says Lynch-Sparks. "Also, by using eco-friendly products and materials, you'll have greater peace of mind knowing that your mattress or rug won't sit in a landfill for 100 years after you use them—less stress for you and the earth."
Below, Lynch-Sparks shares her top tips for being more eco-minded in the bedroom.
Pick an eco-friendly mattress
Lynch-Sparks says that unfortunately, most commercial mattresses have petroleum-based polyurethane foam, toxic fire retardants, chemical adhesives, dangerous pesticides, or other off-gassing chemicals. That's why it's key to purchase a mattress with materials like latex, derived from rubber trees, and a transparent manufacturing process that doesn't harm the earth.
Saatva is committed to bringing you bedding that's good for the environment—and your health. We use eco-responsible manufacturing processes to make our mattresses, including sustainably harvesting latex so that it doesn't damage rubber trees and replacing 30% of our foams with natural ingredients derived from soybean and corn oil.
The foams in our mattresses are all CertiPUR-US certified, meaning they are guaranteed to be low in VOCs, and they also carry the OEKO-TEX 100 seal, assuring they've been tested to be free of harmful chemicals. (Learn more about mattress certifications to look for when buying a new bed.)
What's more, all of our mattresses are made in America—and with 18 partner factories across the country, our mattresses travel less than 100 miles, on average, from the factory to your home, cutting down on emissions.
Go green in the bedroom with these eco-friendly mattresses from Saatva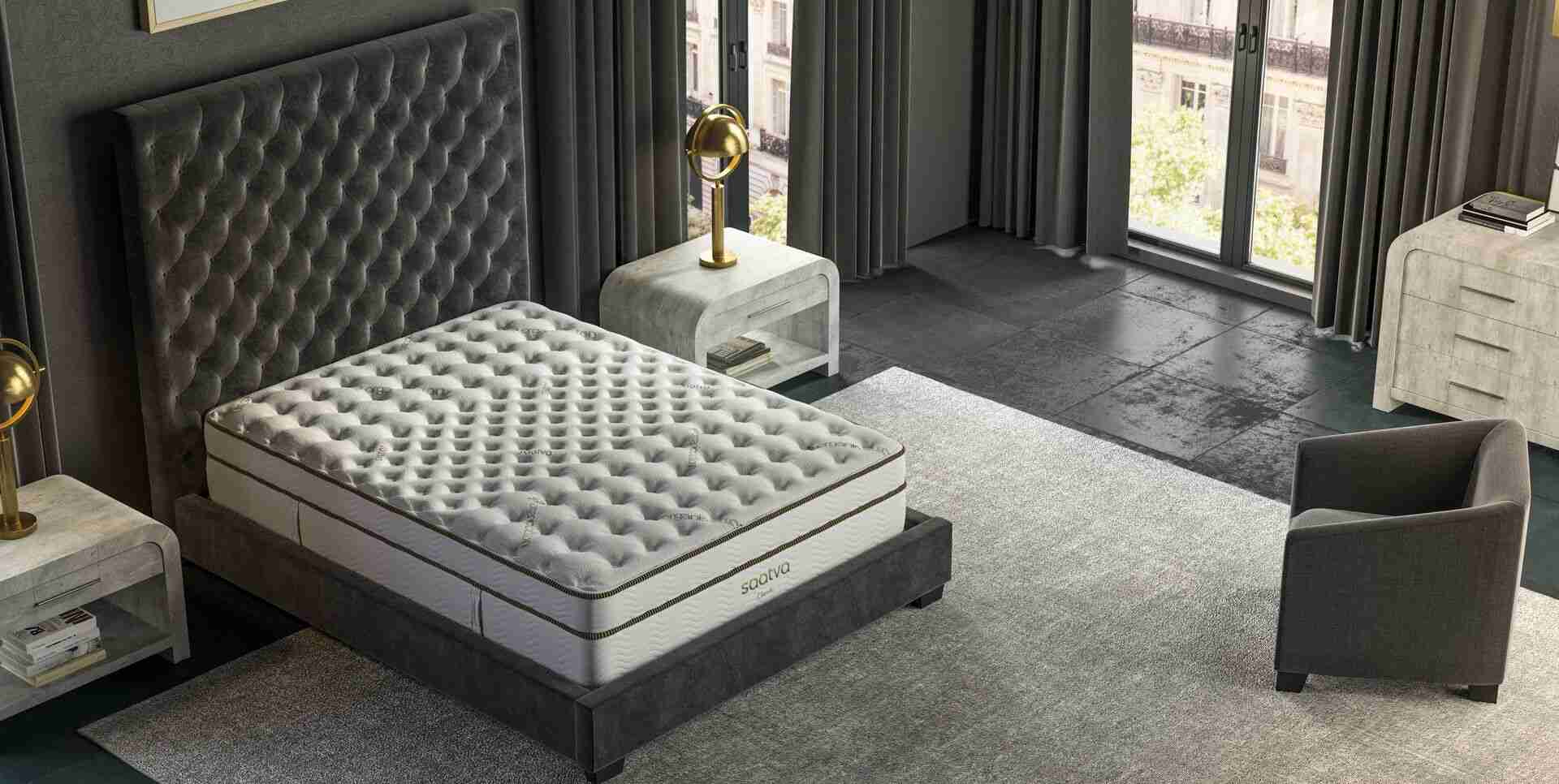 Our flagship luxury mattress is expertly engineered with coil-on-coil construction for durability, a layer of memory foam for enhanced back support, and a cushiony Euro pillow top for extra comfort.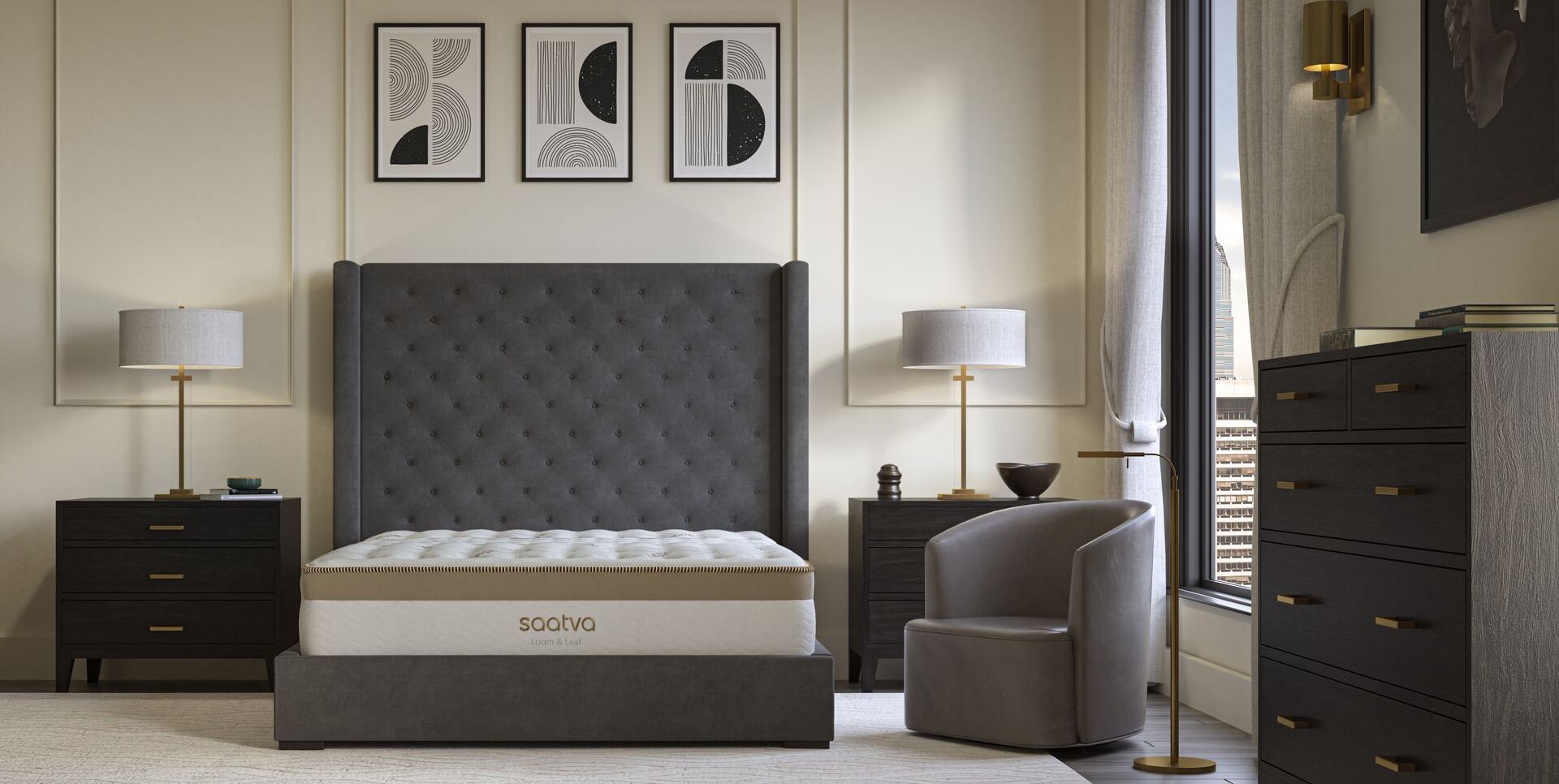 Premium memory foam, handcrafted in the U.S. with eco-friendly materials. Breathable organic cotton, cooling spinal gel, and layers of high-density support foam assure a cool, comfortable night's sleep.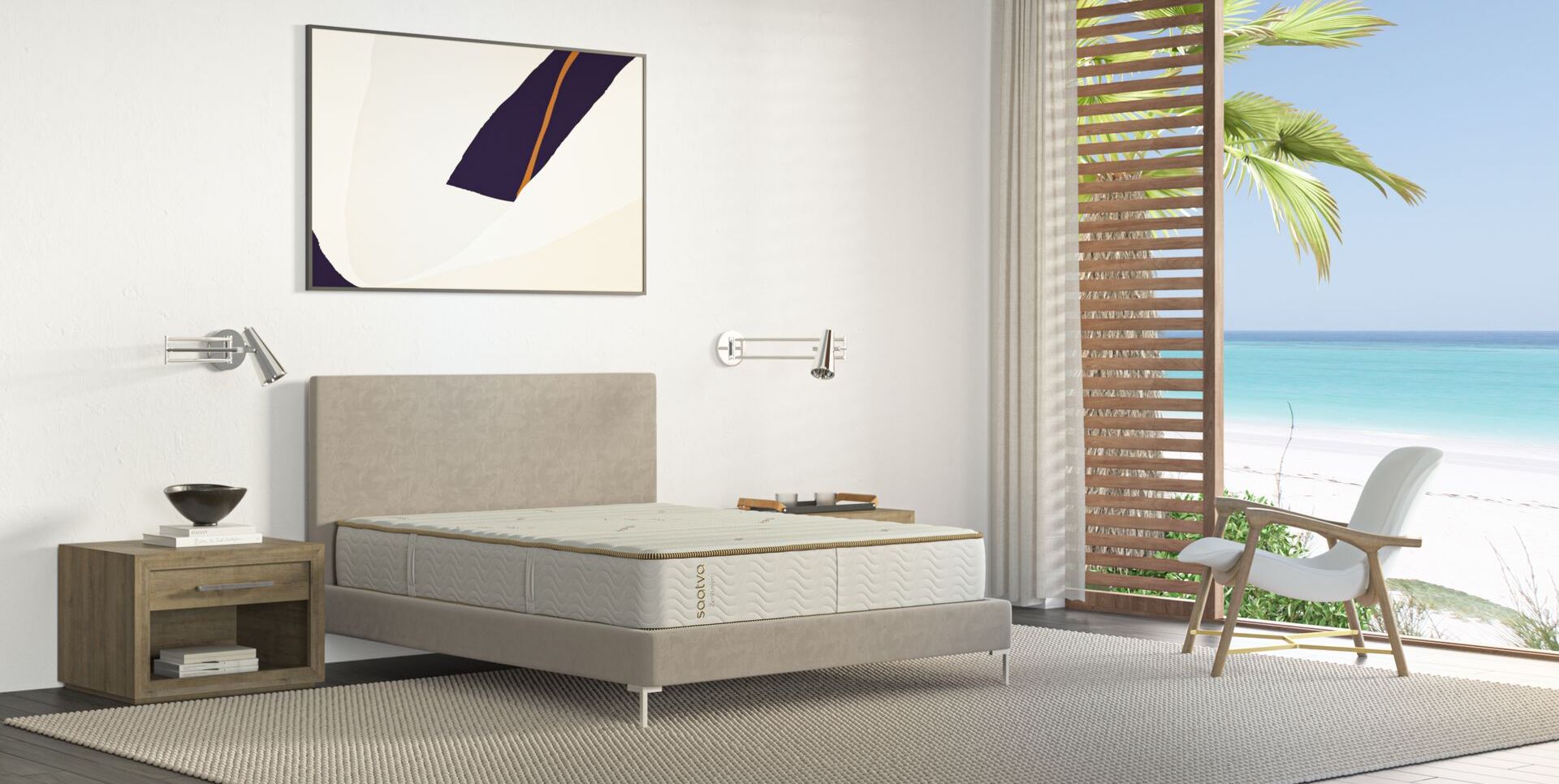 Natural latex responds to every curve for pressure-free support and responsive comfort. Natural latex is supple, resilient, and durable, for the ultimate in elevated sleep. (It's naturally hypoallergenic too.)
Opt for natural materials
As for the decor throughout your bedroom, look for environmentally friendly textiles. For instance, Lynch-Sparks recommends selecting a natural fiber rug for your bedroom, made from like a 100% wool or cotton rug. "Reduce the use of synthetic materials whenever possible by asking the manufacturer about the construction and the materials used," she suggests. (Here's how to create a zero-waste bedroom.)
Embrace houseplants
Some studies show certain houseplants, when grown in abundance in a space, can clean the air. It's something that Lynch-Sparks adheres to, and you can do the same by growing English ivy, spider plants, or aloe vera in your bedroom. Here are the best plants to help you sleep.
Do your homework
From the bedroom furniture to the linens to the decor, to frankly anything in your home, Lynch-Sparks stresses the importance of knowing where your pieces come from.
"Only shop at responsible socially conscious retailers," she says. These can include things like seeking out companies that are B Corp certified, researching where retailers donate or invest, and looking for brands that do as much as they can to reduce their overall carbon footprint.
Since launching in 2010, Saatva has always put eco-consciousness at the heart of our business. Learn about the many ways we support the environment, from sustainably harvesting materials to partnering with a solar-powered factory to using eco-friendly foams in our mattresses.