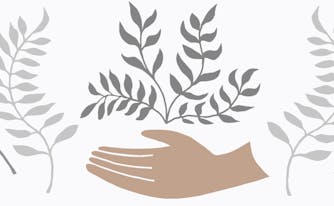 9 Ways Saatva Supports the Environment
Eco-consciousness is at the heart of what we do at Saatva. We're committed to bringing you bedding that's good for the environment—and your health—and the proof is in our green certifications and eco-responsible manufacturing processes. In honor of Earth Day, April 22, here are the top ways Saatva shows it cares.
1. We use eco-friendly foams in our mattresses
The foam in some mattresses contains petroleum-based chemicals that can off-gas in your home, leaving you with a stinky "new mattress" smell that can cause irritation if you have chemical sensitivities or a respiratory condition like asthma. We replace 30% of our foams with natural ingredients derived from soybean and corn oil. Saatva mattress foams, including the ones in our Loom Leaf memory foam mattress, are certified by CertiPUR-US®, so they're guaranteed to be free of toxic chemicals. Plus, we ship all of our foams stable and not shrink-wrapped, so any off-gassing happens in our factories before a mattress ever gets to you. (Learn more about mattress chemicals and how to avoid them.)
2. We cover our mattresses in organic cotton
Organic cotton contains fewer chemicals than conventionally grown cotton. Because organic cotton is grown without chemical insecticides or synthetic fertilizers, it's hypoallergenic, much less likely to cause skin irritation, and it won't damage soil or water. All of our mattresses are covered in breathable, certified organic cotton treated with Guardin®, a botanical antimicrobial agent that curbs bacteria growth to prolong the life of the fabric. Saatva sheets and pillowcases are made with organic cotton certified by the Global Organic Textile Standard (GOTS).
3. We make our innerspring coils out of recycled steel
The key feature in an innerspring mattress is, of course, the springs. These are typically made of steel, which can be recycled post-use. However, we use recycled steel from the outset to make the tempered coils in our Saatva Classic innerspring mattress.
4. We harvest our latex sustainably
Latex is a greener alternative to conventional foams—so long as it's natural and not synthetic. The latex in Saatva's Zenhaven mattress is 100% natural and harvested sustainably so as to not cause any damage to the rubber trees. Our latex is certified pure by the OEKO-TEX® Standard 100, the internationally accepted standard for certifying textiles and home furnishings.
5. We rely on natural flame retardant
By law, all mattresses must be able to withstand 30 minutes of exposure to an open flame. To meet that standard, mattress companies often use chemical treatments. While not all chemical flame retardants are harmful, there are a few that are. We use a natural plant-based thistle, mainly made of wood pulp, as the flame retardant in the Saatva Classic and Loom & Leaf mattresses and New Zealand wool as the flame retardant in the Zenhaven mattress. Both fire barriers are chemical-free and nontoxic.
These Saatva Mattresses Are Good for the Environment (and Your Health)
Saatva Classic Innerspring
Our flagship luxury mattress is expertly engineered with coil-on-coil construction for durability, a layer of memory foam for enhanced back support, and a cushiony Euro pillow top for extra comfort.
Shop
6. We manufacture our mattresses in the U.S.A.
Saatva has 19 partner factories in the United States where our mattresses are "made to order," so they're always manufactured fresh and never sit in storage. On average, our mattresses travel less than 100 miles from the factory to your home, cutting down on emissions. In fact, Saatva's entire business model aims to reduce environmental impact: By selling our products exclusively online and ensuring they don't have to travel very far to get to you, we're able to significantly lower our carbon footprint. (Here are more reasons to buy an American-made mattress.)
7. We've partnered with a solar-powered factory
One way we've been able to scale our environmental efforts is by partnering with like-minded companies, such as manufacturing partner Bedding Industries of America. BIA operates a solar-powered factory in New Jersey. A 300kW solar array on the roof not only powers the plant's operations, but it also produces enough surplus energy to return some to the electrical grid.
8. We produce our sheets in a Fair Trade Certified™ factory
When a product carries the Fair Trade Certified™ label, that means you can trace the raw materials from their origins to their destination. It also means Fair Trade policies are upheld every step of the way. These policies include being transparent along a product's entire supply chain, ensuring worker safety in factories, supporting workers with economic empowerment that helps their communities thrive, and giving workers a voice to negotiate and address concerns. We produce our sheets, which are made from organic cotton and eco-friendly, nontoxic dyes, in a Fair Trade Certified™ factory.
See How Saatva's Eco-Friendly Sheets Can Help You Get Better Sleep
9. We're a member of the Sustainable Furnishings Council
The Sustainable Furnishings Council was launched in 2006 with the goal of raising awareness about sustainability issues and helping companies adopt eco-friendly policies. We've been a member of the Sustainable Furnishings Council for many years. Members qualify by completing the Sustainable Furnishing Council's Best Practices Agreement, which includes an eco-action plan detailing what you're doing to reduce your impact on the environment and how you're educating others on the importance of going green.
Ready to switch to a mattress that's better for the environment? Here are the benefits of choosing an organic mattress.