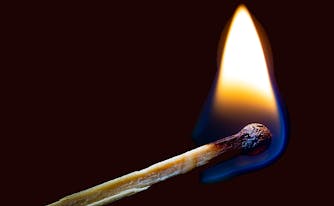 Is Your Mattress Flame Retardant Making You Sick?
Every mattress is required by law to have a flame retardant, but some are safer for your health than others. How can you tell whether or not your mattress flame retardant contains ingredients that may be harmful? Here, we take a look under the covers and explain everything you need to know about flame retardants.
What is a flame retardant?
According to the National Institute of Environmental Health Sciences (NIEHS), "flame retardants are chemicals that are applied to materials to prevent the start or slow the growth of fire."
What products typically contain flame retardants?
Per the NIEHS, flame retardants have been used in many consumer and industrial products since the 1970s. They're often applied to the following products:
Furniture: mattresses, foam, upholstery, carpets, curtains, fabric blinds
Electronics: computers, laptops, phones, TVs, household appliances, wires, cables
Building and construction materials: electrical wires and cables, insulation materials like polystyrene and polyurethane insulation foams
Transportation products: seats, seat covers and fillings, bumpers, overhead compartments
Do all mattresses have a flame retardant?
Yes. In 2007, the U.S. Consumer Product Safety Commission (CPSC) issued new federal guidelines to ensure that mattresses are able to withstand the required 30 minutes of exposure to an open flame.
That said, mattress manufacturers aren't required to disclose any of the flame-retardant chemicals they use—and harmful chemicals are often still used in mattresses made overseas, says Joe Charbonnet, PhD, staff scientist at the Green Science Policy Institute.
One way to eliminate some of the guesswork is by buying an American-made mattress. Mattresses made in the United States are subject to strict safety regulations that prohibit the use of harmful or toxic chemicals in the production process.
What are the health risks associated with chemical flame retardants?
Some chemical flame retardants can make you sick, while others have been proven to cause birth defects. More specifically, some flame retardant chemicals can mess with your thyroid, immune system, fertility, and neurologic function—and some chemicals are even linked to cancer, according to the NIEHS.
What chemical flame retardants should you avoid?
Not all chemicals used as flame retardants are a cause for concern, but there are a few you should watch out for, namely halogenated flame retardants (a.k.a. organohalogen flame retardants), which contain chlorine or bromine bonded to carbon, and organophosphorous flame retardants, which contain phosphorus bonded to carbon.
In a peer-reviewed research paper, the Green Science Policy Institute found that these chemicals can build up in your body, which is why they're associated with the health effects we mentioned earlier.
Another class of chemical flame retardants to steer clear of is polybrominated diphenyl ethers (PBDEs). According to the U.S. Environmental Protection Agency, PBDEs are linked to thyroid disruption and neuro-developmental toxicity in rats and mice—and traces of PBDEs have also been found in human tissue, blood, and breast milk.
PBDEs have been banned in the U.S. since 2005. If you own a mattress that was manufactured prior to the ban, and it has a ripped cover or foam that's misshapen or breaking down, it's a good idea to replace your mattress.
Flame-retardant socks (also called silica socks), which contain fiberglass and are often used in cheap foam mattresses, can also be an issue. Recently there have been a number of documented customer complaints about flame-retardant socks. If you remove the cover of your mattress to clean it, this exposes shards of fiberglass that can not only end up all over your home but irritate your skin and cause respiratory issues too.
Some manufacturers that use fire-retardant socks warn that you should not remove the cover of the mattress—and if you do, you should not touch or place anything on the sock.
Sometimes it's not the chemicals in the flame retardant you need to be concerned about but how the chemicals are applied. Charbonnet advises against buying a mattress with a flame retardant applied to the foams inside because foams can off-gas and release chemicals into the air.
What are some safer mattress flame retardants?
Many manufacturers use blends made of natural fibers like wool, silk, and cotton, mixed with manmade fibers including rayon and polyester. These are all safer options for your health.
At Saatva, we don't use any chemicals or sprays in our mattresses. Instead, we use natural, plant-based thistle, which is made mainly from wood pulp and bonded with a small amount of polyester, and natural 100% organic New Zealand wool. These materials create a flame retardant barrier without the use of harmful chemicals.
These Saatva Mattresses Have Natural Flame Retardants
Saatva Classic
Our flagship luxury mattress is expertly engineered with coil-on-coil construction for durability, a layer of memory foam for enhanced back support, and a cushiony Euro pillow top for extra comfort.
Shop