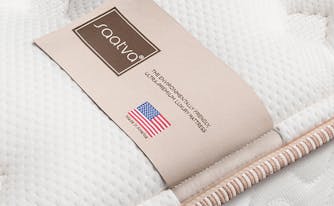 Why You Should Buy an American-Made Mattress
For both retailers and consumers in the US, the fact that something is American-made is a huge selling point. In fact, it's so important for some companies that they'll do anything to make it seem like their products are made in America, even when it isn't true.
The Federal Trade Commission (FTC) recently settled a complaint with a prominent online mattress company for attempting precisely this. The company had claimed that their mattresses were "designed and assembled in the USA" but, according to the FTC, "in fact the mattresses are wholly imported from China, with no assembly taking place in the United States." In a settlement, the company agreed to stop making false claims about their product's origin. Why would a company do this? It's possible they were trying to avoid the negative associations some people have with Chinese manufacturing. But there are other reasons too.
Why buy an American-made mattress?
There's nothing inherently superior about American manufacturing, just as there's nothing inherently inferior about Chinese manufacturing. After all, some of the most popular products in the world are made in China, including the iPhone. Problems arise when companies try to mislead their customers about a product's origin.
In the spirit of transparency, here's why we choose to make our mattresses in the USA:
Quality control matters
Because we're an American company, it's easier for us to monitor the quality of our products if they're made in American factories. If there's something wrong at any point in the production cycle, we can go straight to the source and figure it out. We don't have to account for time zones or excessive travel distances. With 19 factories in the US and Canada, we're able to work closely with our partners to continuously refine our manufacturing process.
Ease of delivery
Because our mattresses are shipped whole, without being compressed into boxes, they require a lot of space, and a competent delivery team to handle them. It would be expensive and risky to ship our products internationally, across great distances. Instead, we have over 145 fulfillment centers in America, meaning our American-made mattresses travel on average less than 100 miles from the factory to a customer's bedroom. This means we can provide accurate delivery estimates, with full control over the shipping process.
Learn More About Saatva's American-Made Mattresses
Saatva Classic Innerspring
Our flagship luxury mattress is expertly engineered with coil-on-coil construction for durability, a layer of memory foam for enhanced back support, and a cushiony Euro pillow top for extra comfort.
Shop
A greener planet
Making our mattresses in America allows us to keep costs low, but it also helps us fulfill our commitment to a cleaner world by reducing our carbon footprint. Cutting the distance between factory and home also cuts emissions, and it gives us time to allow our mattresses to stabilize after production, so they don't off-gas in a customer's home. Finally, local manufacturing means it's easy to achieve and verify our eco-friendly and organic certifications.
Supporting the local economy
At Saatva, we're big fans of the "buy local" philosophy. That's why we work with dozens of local partners around the country to help bring our mattresses home to customers. We believe strongly in the quality of American craftsmanship, and in the integrity of our factory workers and delivery teams. We work to ensure all our partners adhere to the strictest safety standards when producing our mattresses, and we believe the results speak for themselves.
Safety first
Having our mattresses made in the US means we're subject to strict safety regulations. We're forbidden from using harmful or toxic chemicals in the production process, and our mattresses include natural flame retardant ingredients. We don't use mercury, lead or heavy metals, formaldehyde, phthalates, or ozone depleters. We believe all companies should be held to these standards.
It's part of our story
Our CEO and founder Ron Rudzin is a native of Queens in New York City, and that's where he decided to start Saatva. We grew up here, and our connection as a company will always be strongest to where we came from. That's where we live, to this day. No matter where the future takes us, we'll always have a place in our heart for home.