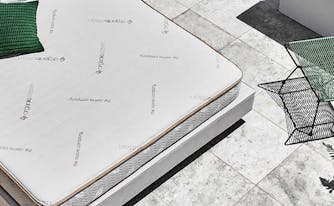 Why Flippable Mattresses Are Making a Comeback
Mattress flipping used to be a thing—the idea being that if you flipped your mattress, say, twice a year, the mattress would wear out equally on both sides and last twice as long.
In fact, virtually all mattresses used to be flippable. Most of them had innerspring construction throughout, which provided an identical feel on both sides.
In the 2000s, one-sided mattresses, constructed with the support layers on the bottom and comfort layers (including pillow tops) closer to the sleeper, took over as the industry standard, and flippable beds became a rarity, says Bill Fish, certified sleep coach and co-founder of the sleep website Tuck.com.
Now, flippable mattresses are making a comeback, though they are different in key ways from those of the past. If you're replacing an old flippable mattress, or considering one of these for the first time, here's what you need to know.
What is a flippable mattress?
The difference between the new flippable mattresses and the ones from back in the day is that you don't flip them just to get more use out of them. These new models typically have different comfort levels on each side, so if you want to try the firmer surface, or the cushier one, you simply flip the mattress over.
Advanced materials and production processes allow for foams or latex with different densities on each side of the mattress, which accounts for their versatility. Some are constructed with coils in the center as well. Saatva's Zenhaven's natural latex mattress, for example, is among this new breed of flippable options. One side has a Luxury Plush feel; the other side is Gentle Firm, which is 18% firmer.
The reason why we're able to offer a different firmness level on each side of the mattress is because we vary the size and distribution of the "pinholes" formed in the production process, creating areas of different density. This is also how we create zones of lumbar support.
Why would you want a flippable mattress?
The pros of flippable mattresses are that they allow the sleeper some control over the feel and level of support that's best for them at any given time. Let's say you're recovering from surgery or rehabbing an injury and temporarily require a softer (or firmer) sleep surface for optimal comfort. Or you might anticipate preferring one of the surfaces as you age.
"Flippable mattresses can come in quite handy for people who are unsure about their sleep preferences and like the ability to switch it up," says Fish. "The cons of these types of mattresses are that they may not have as robust of a support system since most of the support materials are in the center of the mattress." To mitigate that, make sure you choose a quality product that's been engineered for optimal support regardless of comfort level.
As far as cost, flippable mattresses tend to be in the same price range as their non-flippable counterparts.
Learn More About Saatva's Flippable Latex Mattress
Zenhaven Latex Mattress
100% natural latex responds to every curve for pressure-free support and responsive comfort. Natural latex is supple, resilient, and durable, for the ultimate in elevated sleep. (It's naturally hypoallergenic too.)
Shop
Flippable mattresses also come in crib and youth sizes, which in this case does extend their lifespan and also provides growing children with more customized surfaces as their bodies and comfort needs change. With a crib mattress, for example, the side geared toward an infant would be firm, designed to provide extra support, while the side for a toddler would offer a more cushioned feel.
Flippable twin- and full-size youth mattresses, designed for children age 3 and up, are also hitting the market. They typically feature a firmer side to provide optimal comfort and support to younger children and a slightly softer side to promote healthy sleep posture in older children.
Check Out Our Flippable Mattress for Children
Saatva Youth
This dual-sided innerspring mattress provides optimal support and comfort to children of all ages. Simply flip it over from the 3+ side to the 8+ side when your child is ready.
Shop
How to flip your mattress
Again, the decision to flip or not to flip is strictly based upon your whims and sleep preferences. The mattress configuration should only be changed if you and/or your sleep partner are looking for a different experience for a specific reason.
Should you choose to flip, it's important to keep in mind that this is a two-person job. Fish offers step-by-step instructions:
Remove the sheets and the mattress protector until just the mattress is sitting on top of the platform or foundation.

Position one person on each side of the bed. The stronger of the two should tilt their side of the mattress up in the air and toward the other person.

Once the person on the other side has control of the mattress, the first person moves to the foot of the bed and slides the portion of the mattress touching the foundation to the opposite side, thus flipping the mattress.

Finally, flippable mattresses are compatible with traditional foundations as well as platform beds. If you're using a platform with slats, Fish notes, make sure the slats don't shift while you're in the process of flipping the mattress.