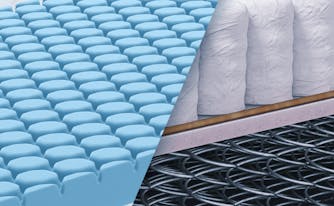 Memory Foam vs. Innerspring Mattresses: Find the Perfect Mattress for You
If you're in the market for a new mattress, then odds are you've heard of both memory foam and innerspring mattresses. If not, here's a pretty basic overview:
Innerspring mattresses are made out of a layer of coils and additional padded foam layers for comfort. They're the traditional bouncy mattresses you can find almost anywhere.
Memory foam mattresses are made of multiple layers of dense and durable foam, making them softer and plusher. 
The main difference comes down to the way these mattresses are constructed. This can determine the way the mattress feels, support levels, preferred sleeping positions, and more. 
Memory foam vs. innersprings: What are they made of? 
Memory foam, also called viscoelastic foam, is a high-density polyurethane foam that responds to heat and pressure. It can mold to your body's contours and has a soft and plush feel to it. Memory foam mattresses usually have a high-density foam upper layer for added durability. 
On the other hand, traditional spring mattresses are made with either steel coils or springs that give shape and support to the bed. The coils are topped with a layer of padding, foam, and sometimes even additional springs.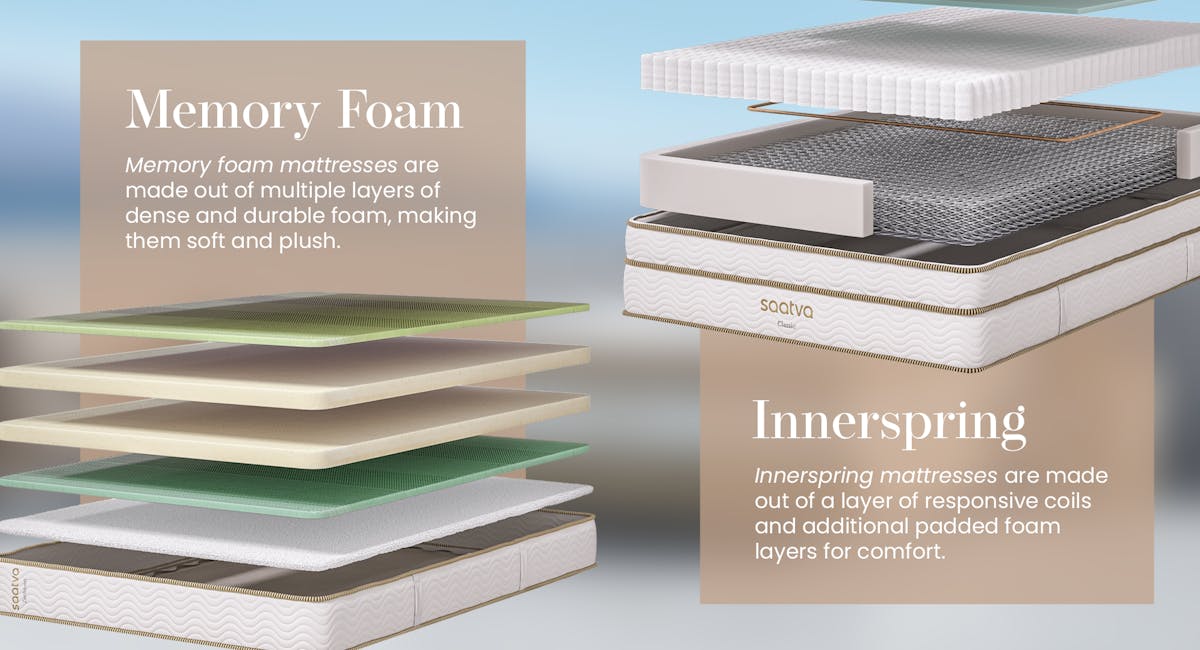 Both innerspring and memory foam mattresses provide about the same comfort and firmness levels.  Innerspring mattresses offer support by resisting compression, thereby providing a firm yet comfortable surface.  Plus, this mattress type is better suited to heavier individuals and stomach sleepers.  
Key differences between memory foam and innerspring mattresses
Memory foam and innerspring mattresses both have plenty of benefits, but there are some key differences to keep in mind before deciding which one is the right mattress for you. 
For example, memory foam is usually more durable because the lack of coils reduces the chances of sagging. Memory foam is also better at motion isolation, so you won't feel your partner moving around during the night. Because of its longer lifespan, memory foam is slightly more expensive than an innerspring mattress.
Innerspring mattresses, on the other hand, are bouncier compared to memory foam thanks to the base layer of coils. Innerspring mattresses are also more breathable because coils allow for excellent airflow. These mattresses also have better edge support than memory foam, although they don't do quite as well at limiting motion transfer because the coils are so springy.
We put together the following chart to highlight the main points of comparison between memory foam mattresses and innerspring mattresses, including firmness levels, motion isolation, edge support, and more. 
| Quality | Memory Foam Mattress | Innerspring Mattress |
| --- | --- | --- |
| Average Lifespan | 10 years | 6-8 years |
| Firmness Levels | Soft to medium-firm | Medium-firm to extra firm |
| Best Sleeping Position | Side sleepers and back sleepers | All sleep positions, including back, side, and stomach sleepers |
| Motion Isolation | High - you won't feel much movement from your sleeping partner | Low - you will feel movement from your sleeping partner |
| Edge Support | Low | High |
| Cost | $700-$2,000 | $500-$1,800 |
Types of innerspring mattresses 
When it comes to innerspring mattresses, it's best to think about the type of coil inside the mattress. Different coils result in different firmness levels, ideal sleeping positions, and more. There are four main types of innerspring mattress coils. 
Bonnell coils are firm with reliable edge support. However, they can sag in the center, which can aggravate pressure points like the hips and back.  
Offset coils are responsive and provide good support, even under increased weight, while limiting motion transfer. Offset coils are more expensive than Bonnell coils due to production costs.  
Continuous coils are firm and stable, but they don't provide the same level of contouring as offset coils. Continuous coils require less time and money to produce, making them less expensive than any other type of coil mattress.  
Pocketed coils are commonly found in hybrid mattresses. Each coil moves only when pressure is applied, resulting in minimized motion transfer and improved body contouring. Compared to Bonnell coils, pocketed coils are more durable. Producing pocketed coils is more involved than other types of coils, which in turn commands a premium price.
Types of coils 
Understanding the differences between the types of coils in an innerspring mattress can help you determine which mattress is best for you. 
This information will help you find the right coil system for your sleeping habits: 
Bonnell coils: Also called "open coils," these are the oldest and least expensive mattress coils on the market. Bonnell coils are hourglass-shaped and often wired together to form a continuous unit. While they're durable, they're not good at controlling motion transfer. They also don't offer much relief for pressure points. 
Offset coils: Like Bonnell coils, these are also hourglass in shape. However, the bottom of these coils is offset when compressed to create a hinging effect. This hinging effect delivers body-contouring support—but it also means offset coils are noisier than traditional coils. 
Continuous coils: These feature several rows of singular wires in an 'S' shape molded into the shapes of a circle. Continuous coils are durable, firm, and inexpensive—but they tend to provide less support than most other mattresses. 
Pocket coils: These coils are individually encased in fabric, which means they can move independently and contour to your body. Because they aren't physically attached to each other, they provide great motion isolation, so you won't feel your sleep partner move during the night. You can find pocketed coils in traditional innerspring mattresses and hybrid mattresses. 
Traditional innerspring mattresses 
Traditional innerspring mattresses have been around for over a century and are known for their springy and bouncy feel. Most traditional innerspring mattresses fall between a medium-firm to extra firm and are therefore good options for most sleep positions. 
Traditional innerspring mattresses are known for their temperature regulation. They tend to sleep much cooler than other types of mattresses, making them an ideal choice if you sleep hot. 
Most traditional innerspring beds have a lifespan of six to eight years, which is less than a quality memory foam mattress lasts. That said, they also tend to be much less expensive than other mattress types.  
Hybrid innerspring mattresses 
Hybrid innerspring mattresses combine the best features of innerspring and memory foam mattresses. This mattress type has a base layer of support coils, which is topped with a thick foam comfort layer. The foam comfort layer ensures you won't be disturbed if your partner changes sleep positions throughout the night.
The firmness level of hybrid mattresses typically falls between medium to firm. They provide excellent support for all sleep positions. 
Hybrid mattresses tend to cost more than traditional innersprings but have a longer lifespan of eight to 10 years, on average.
Types of memory foam mattresses 
There are a few main types of memory foam mattresses. The three most popular are traditional memory foam, gel memory foam, and plant-based memory foam. Each type of foam has individual benefits and unique properties. The type of foam you choose will affect the firmness levels, temperature regulation, and even price. 
Traditional memory foam mattresses 
Traditional memory foam is made from polyurethane, a petroleum derivative, and is also known as viscoelastic foam. Because of this, it can sometimes give off a chemical smell, known as off-gassing.
Traditional memory foam mattresses are soft, plush, and pliable. Unlike innerspring mattresses, these don't have much spring to them. 
Traditional memory foam mattresses are usually available in a soft to medium firmness level, making them ideal for side and back sleepers who need extra cushioning. Traditional memory foam tends to get hot easily, so it's best for people who sleep cool. 
While traditional memory foam mattresses are more expensive than innerspring mattresses, they're still less costly than other types of memory foam. 
Gel-infused memory foam mattresses
Gel-infused memory foam contains cooling gel mixed into the foam (infused) or applied as a layer on the surface (laminated). This provides a cooler sleep surface than traditional memory foam, making it a better option for people who sleep hot.
When it comes to most other features, gel memory foam is pretty similar to traditional memory foam. It also feels soft and plush and comes in soft to medium firmness levels. 
Due to the added cooling properties, gel-infused memory foam costs more than its traditional counterpart. 
Plant-based memory foam mattresses 
Of the three memory foam mattress types, plant-based memory foam is the most environmentally friendly and can be a healthier option for you than traditional memory foam. Plant-based memory foam uses plant-based ingredients, like soybean and corn oil, in place of some of the petroleum derivatives. 
Plant-based memory foam that carries a third-party certification such as Certi-PUR is guaranteed to be free of harmful chemicals that can off-gas. Plus, plant-based foams have a more open-celled structure, so they're more breathable. This allows you to sleep cooler than you would on traditional memory foam.
As far as firmness levels go, these beds fall into the soft to medium range. They're also typically a little bit more responsive than traditional memory foam so you won't sink in quite as much. 
Like gel-infused memory foam, plant-based memory foam has a higher price tag than the traditional kind, due to the nature of the material and how it's produced. 
Memory foam vs. innerspring: how to choose  
While there are some essential differences between mattress types, there's also enough variety within each category that no one sleeping surface is best for any one type of sleeper. To make the right choice, you'll have to consider your sleep style and comfort preferences. For example:
Whether you'd rather sink or spring. Some people love memory foam's body-hugging feel; others, not so much. The good news here is that, while innersprings will always be "bouncier" than polyfoam, many newer innerspring designs feature foam comfort layers that offer some of the best of both worlds: innerspring's responsiveness with foam's cushioning and pressure-relieving qualities. 
If you're a hot sleeper. Memory foam mattresses are known for their low breathability, which makes them prone to trap body heat. Innerspring mattresses, on the other hand, have more open space within the bed with better airflow, which helps keep things cool. Additionally, you can opt for a gel memory foam bed, which uses a cooling gel throughout the layers of foam to regulate temperature.
Whether you share your bed with a partner: One major brag for memory foam mattresses is how well they handle motion transfer, meaning that someone sleeping on one side of the bed feels little to no movement when the person on the other side tosses and turns or gets up in the night. Innerspring mattresses in the past performed a lot worse on this score, but pocketed coils, better coil design, and all-foam comfort layers can help isolate motion and minimize disturbances.
If you have back pain or other orthopedic conditions. Some people with neck and joint problems enjoy the extra support of their affected areas with a memory foam mattress. If you tend to move around at night or are concerned about back pain and spinal alignment, you may benefit more from the firmer feel and durable support layer in an innerspring mattress.
Memory foam vs. innerspring: value per dollar  
Both memory foam mattresses and innersprings tend to be fairly similar in value between cost and average lifespan. However, a higher price tag doesn't necessarily mean a higher quality product.
That said, memory foam mattresses have an average lifespan of 10 years and generally cost between $700-$2,000. On the other hand, innerspring mattresses have an average lifespan of six to eight years and generally cost between $500-$1,500. 
Though when it comes to buying a new bed, it's best to not focus on the price point and heavily consider your sleeping habits as the most important factor. 
Innerspring and memory foam alternatives
If memory foam and innerspring mattresses don't appeal to you, don't worry. Hybrid mattresses or latex mattresses are two good alternatives to consider. 
Latex foam mattresses are a cooler alternative to memory foam. They're great for hot sleepers who still want the soft and plush feel of a memory foam bed. 
Latex mattresses come with a higher price tag, but they're more durable than memory foam and tend to last upwards of 15 years. 
Hybrid mattresses are a softer alternative to traditional innerspring mattresses. They have a transition layer of foam between the coils and soft pillow top. 
Hybrid beds are great for those who want the support of an innerspring mattress but prefer a slightly softer, plusher feel. Due to the added foam comfort layers, hybrid mattresses are more expensive than traditional innersprings, but they also last longer.
Take Saatva's online mattress quiz  
Whether you've decided on an innerspring mattress or a memory foam mattress, finding a high-quality bed that meets your sleep standards is of the utmost importance. 
Saatva carries a wide variety of memory foam mattresses and innerspring mattresses in different sizes and firmness levels.
To find the best mattress for your sleeping habits, take our online mattress quiz. Then take advantage of our 180-night home trial and industry-leading warranty for your best sleep yet.